From Bollywood to Hollywood, Priyanka Chopra Jonas is taking the entertainment industry by storm. Increasing representation and breaking barriers, Chopra Jonas continues to surprise viewers with the types of roles she takes on.
Most recently Chopra Jonas appears in New Line Cinema's romantic comedy "Isn't It Romantic," starring alongside Rebel Wilson, Liam Hemsworth and Adam Devine, under the direction of Todd Strauss-Schulson.
"Isn't It Romantic" is a romantic comedy within a romantic comedy. A parody of films we all grew to love like "Pretty Women," "Isn't It Romantic" reminds us of the ridiculous illusions romantic comedies promote. Whether it's slow-motion running to stop a wedding or the cliche makeover scene, "Isn't It Romantic" pays tribute to it all.
https://www.instagram.com/p/BlQv-ImA97D/
The story revolves around protagonist Natalie, played by Wilson. Natalie is a New York City architect, who is constantly mistaken for the coffee girl. She claims to hate romantic comedies, yet knows so much about them. After a subway mugging gone wrong, Natalie finds herself trapped in a romantic comedy. She desperately follows the scripts and cliches she knows to find a way out. While the ending is first predictable of who she will end up with, the film takes twists and turns to keep the audience on edge. Its overall message of accepting and loving yourself more than anyone else is a refreshing theme to a romantic comedy.
Priyanka Chopra Jonas plays Isabella in the film, the perfect heroine to star in a romantic comedy. She comes into play as "the dream girl" just when Natalie begins to see her favorite colleague Josh in a new light. She explained how her character becomes intertwined in the story,
Josh and Isabella meet by chance when he sees her choking on, of all things, a cupcake. Josh saves her life with the Heimlich technique and instantly becomes her knight in shining armor.
Brown Girl Magazine had the opportunity to speak with Chopra Jonas on playing the character of Isabella. She told us about her character and spoke of the importance of South Asian representation in the entertainment industry.
"Isn't it Romantic" was a "fun" thing Chopra Jonas did between her season 2 and season 3 hiatus on "Quantico" last year, she told us. Being in New York, where the film was shot, it was a quick thought for her to say yes to the film.
Her character Isabella is meant to portray the dream girl, perfectly dressed and always happy despite circumstance when asked how she felt playing such a character Chopra Jonas said the experience and cast allowed her to have fun with it.
I think Isabella's character is so nonchalant, she has the best in life, she's a yoga ambasassor. There's no such thing as a yoga ambassador, you know, so she's just a really funny flaky character.

I loved playing that because I always end up playing these really solid female characters, so this was like a breathe of fresh air for me. It was really fun to do a romantic comedy.
When asked about the inspiration she used to embody the character, Chopra Jonas told us there wasn't much to it. 
I don't think that there was so much thought behind it. The only thing I knew was that Isabella is someone who, you know, got whatever she wanted in life, whenever she wanted it. She's a little bit spoiled, and I spoil myself, so it was easy to get into that character.
Priyanka Chopra Jonas emphasized the importance of self-care and taking care of ourselves. She spoke of how an individual should spoil themselves. She was able to play the character of Isabella well because of her belief in this thought.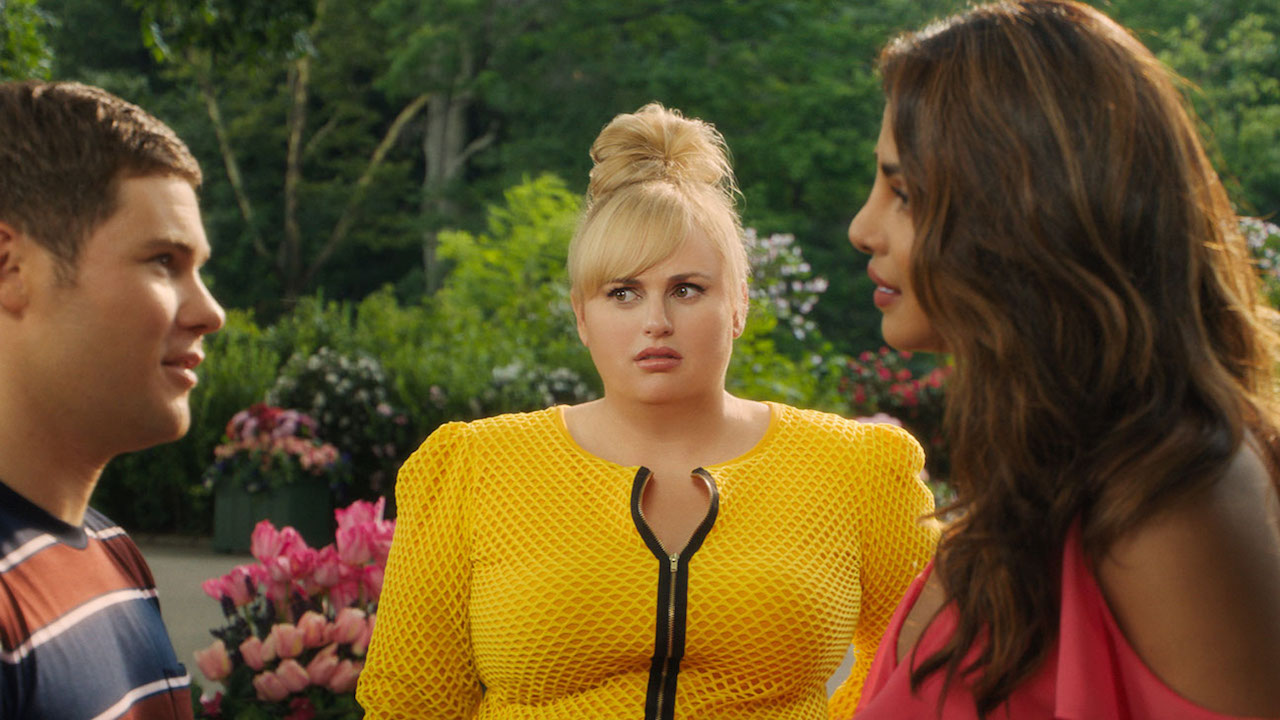 Acting in an American romantic comedy was very similar to her experience in Bollywood, except she sang parts of the music, Chopra Jonas said. Being part of the two big musical numbers in the film was "home territory" to her.
Being an actor from Bollywood, it was like home territory for me. It was so much fun to do that here and to see something that we do in Hindi films back home, as the norm, is something that is so fascinating to American movies. It was just really cool to see that and do it.
Chopra Jonas explained that the musical dance scenes were her favorite part of working on the film. She told us how comfortable she was and how much fun she had working on the choreography with the cast.
I think the cast, all of us together, every take we would have so much fun. Everyone would clap at the end because there was so much joy associated with doing that.

I think it's eventually what Hindi films stand for. They are an experience, they are inclusive and the music gives them a spirit and life. I feel like that's what these songs have done to this movie as well.
Chopra Jonas talked to us about the importance of following your dreams and aspirations. Acting both in Hollywood and Bollywood, Chopra Jonas spends a lot of time traveling and on the plane. While it is difficult, she said, she does not intend to choose one over the other, and she plans to continue working in both India and America.
We're in 2019 right now, and having two careers in two different continents is not as hard as it seems. I mean, it is difficult, you can't sleep, you live with jet lag, you're traveling all the time. I forget to eat sometimes, but, you know, there's no free lunch in the world. So if you want something, you have to work for it.
Her presence and careers in both India and the United States are very important to her, Chopra Jonas said. It's a life she has chosen and she wants to be able to balance both for as long as people wish to see her on screen, she added.
Upgrade your frenemy feud to rom-com proportions! #IsntItRomantic is only in theaters tomorrow. Get tickets now: https://t.co/sxuXuiqCjG pic.twitter.com/G1oDZQaCBI

— Isn't It Romantic? (@isntitromantic) February 13, 2019
In regards to being the first Indian actor to star as the lead of an American TV drama series, Chopra Jonas spoke to us about the feeling of honor she has. She continued to speak of the meaning of representation to her and the importance of representation of South Asians in the entertainment industry.
Representation is such an important conversation. I mean, South Asians are truly, truly under represented in entertainment, especially in global entertainment.

To be able to contribute to moving the needle, I think is so important, and I really wish and hope that there are so many more South Asians that come here together so that we can create a community that is undeniable.
According to Chopra Jonas, it is really important to be able to get our talent out there and say that we, as South Asians, can stand shoulder to shoulder with global entertainers.
She emphasized that representation is not a topic of the day you can check off a box, it's a serious issue.
When you look at entertainment, it should look like our world, and it doesn't. I didn't realize that until I started working in America.
Priyanka Chopra Jonas spoke of the importance of finding the empowerment to stand together, and diversification of entertainment. Now is the time where opportunities are arising and representation is increasing, with having people in not only the cast but also in writing and directing, she said.
When asked about the advice she would give to fellow brown girls, especially those who wish to follow in her footsteps, Chopra Jonas spoke of the importance of following your ambitions and speaking up.
 I think the one thing that worked for me that I really want to tell everyone is that, we as women, especially as South Asian women, have always been told to sort of be passive. 'Don't cause trouble. Don't attract attention. Don't do this.' 

I think we women need to find that empowerment within ourselves to know that it's okay to make noise. It's okay to have an opinion. It's okay to have ambitions.

Allow yourself to break out of the clutches of the burdens that have held us down for so long.
According to Chopra Jonas, society and the world are always going to try and conform women to what they think and want us to be. We, as women, need to continue to empower ourselves to change this.
Chopra Jonas also reminded us that you can respect your culture and have traditional values while being someone who moves forward in the direction that you want.
Just because you have drive, it doesn't mean you don't value your traditions and your culture.
For the future of our children and generations to come, it is on us to make a change. We need to be bold, driven and ambitious, she emphasized.
If we want to change the future for our children, it's on us and our generation to be able to do that right now, so that our kids don't have to think about it. We need to be ambitious. We need to be bold. We need to be driven.
"Isn't it Romantic" opens in theaters February 13.