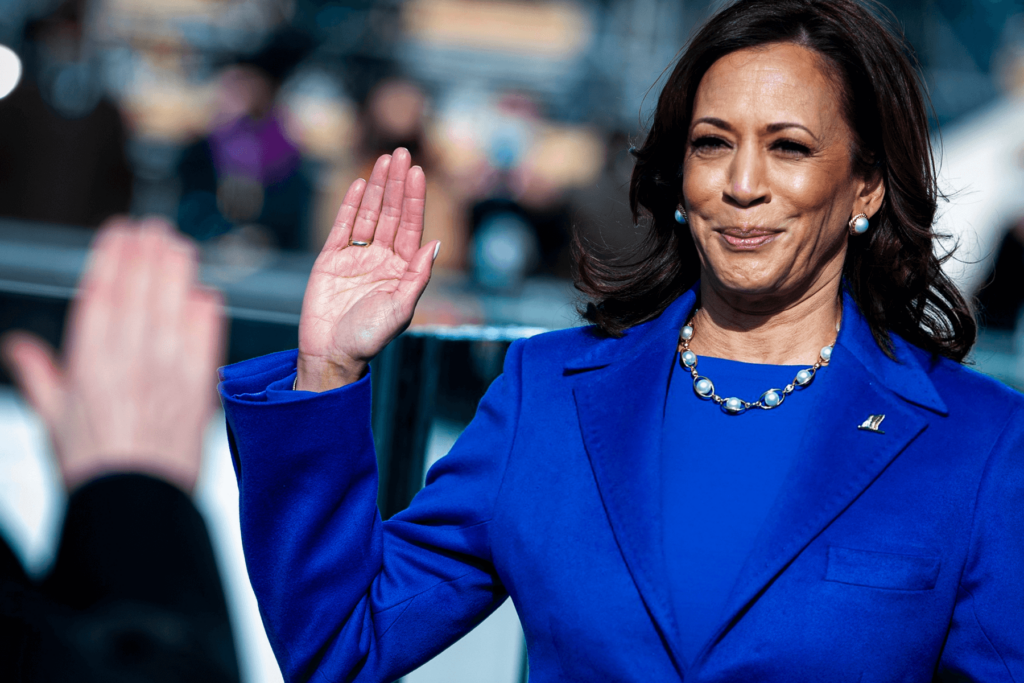 Brown girls, like me, had been waiting for *that* moment for a long time. To be honest, we didn't think *that* moment would happen but on a crisp January morning the first woman, first Black, first South Asian was sworn in as Vice President of the United States.
Like most people I was enjoying the inauguration, a highly cathartic few hours, while chatting with some of my favorite people on numerous WhatsApp chains—mostly groups of women I've befriended over the years, all sharing my enthusiasm to see a woman of color ascend to the second-highest office in the U.S.
I was not surprised to see that the moment that really blew up the text chains—prior to Amanda Gorman's poetic brilliance, of course—was when Supreme Court Justice Sonia Sotomayor, the first Latina Supreme Court Justice—handpicked for this moment by the VP-Elect—said the name we had been waiting to hear…and she said it wrong. 
I think it is fair to say that there was a collective groan across the country, perhaps the world. My text chains shared frustration, annoyance, some were ruminating that Kamala's moment was perhaps, ruined?
I don't think so.  
There are so many names, usually ethnic ones, that are mispronounced in our society and it is done on a spectrum ranging from understandable to despicable. People say names incorrectly sometimes out of nerves, sometimes out of disinterest in paying attention to something they deem difficult and then, of course, simply to be disrespectful. 
Recently, comedian Hasan Minhaj joked that if people can pronounce Timothee Chalamet then they can surely say his name correctly! I couldn't agree more but also know that whether it be someone's nerves or malicious intent, the mispronunciation of my name will not ruin a moment I've worked for. I am, unfortunately, often in this position. 
My last name is long and Sri Lankan. My first iPhone autocorrected my name to "angry warden" (which my husband found funny). Years of having my last name mostly said in ways it's not supposed to be said culminated at the 2019 Global Citizen Festival where I shared the stage with the Prime Minister of Barbados to share New York City's work on climate action. We were in front of 60,000 screaming people and the event was broadcast live on national television. A fellow South Asian who introduced us massacred the pronunciation as he called me on stage. I was momentarily annoyed but did it ruin the moment? Absolutely not.  
Disrespecting Kamala Harris' name was a hallmark of GOP campaigning last year. Former Senator Perdue of Georgia not only proudly said her name incorrectly, but he also made a racist song of it at a campaign rally. It was despicable.  
I want to take this opportunity to share the other side of the spectrum, where people like Justice Sotomayor, a proud advocate for decency and diversity, likely had some nerves. She made a mistake and I'm pretty sure Madam Vice President is okay. She is likely full of empathy, as many of us have when people make mistakes.  
And most importantly, it did not ruin her moment. 
---
The opinions expressed by the writer of this piece, and those providing comments thereon (collectively, the "Writers"), are theirs alone and do not necessarily reflect the opinions of Brown Girl Magazine, Inc., or any of its employees, directors, officers, affiliates, or assigns (collectively, "BGM"). BGM is not responsible for the accuracy of any of the information supplied by the Writers. It is not the intention of Brown Girl Magazine to malign any religion, ethnic group, club, organization, company, or individual. If you have a complaint about this content, please email us at hello@browngirlmagazine.com. This post is subject to our Terms of Use and Privacy Policy. If you'd like to submit a guest post, please follow the guidelines we've set forth here.