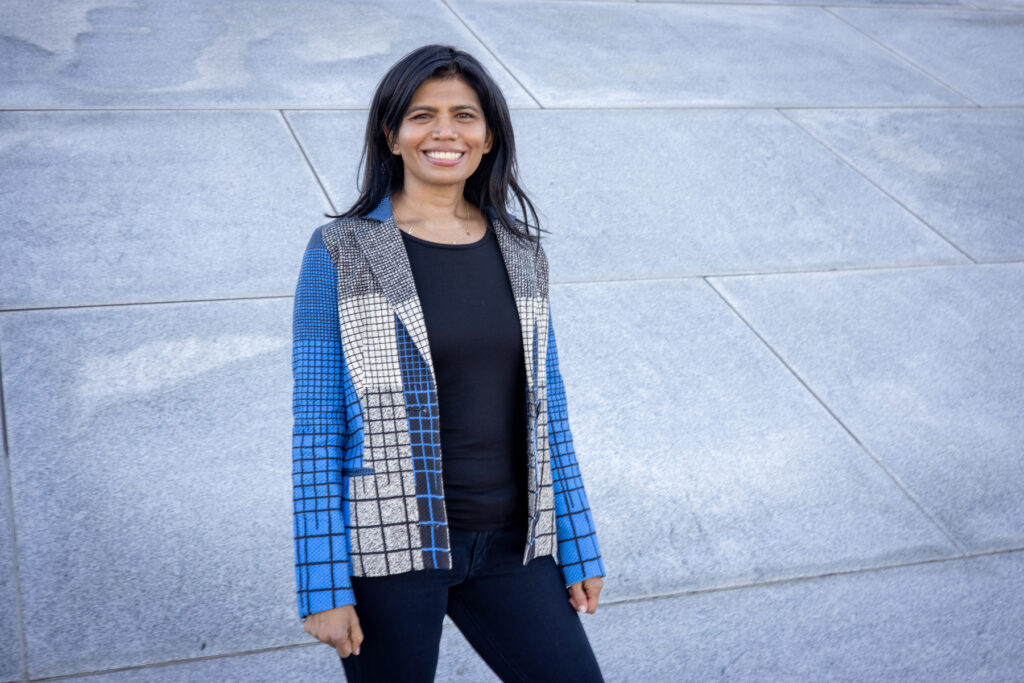 Reshma Patel, a first-generation immigrant from Gujarat, India, is running to be New York City Comptroller. If elected, she would be the first South Asian woman, and second woman overall, to serve in the position. She would replace current comptroller Scott Stringer, whose two-term limit will be up this year. He is now running for Mayor of New York City. Stringer's move is well-precedented, as only one of the past nine city comptrollers did not subsequently run for mayor, though most were unsuccessful. 
Patel, a Democrat, has built her career in public finance, working on over $40 billion of financings for New York City. She spent eight years at a firm that served as a financial advisor to the Comptroller's office. She describes the Comptroller's role as "essentially the CFO of New York City." The Comptroller conducts audits of city agencies and oversees the city's five public pension funds, serving as a "fiscal watchdog" over the mayor and the city budget. While the Comptroller wields the power to make direct policy recommendations, only the City Council and mayor can actually implement reforms. 
Patel entered a crowded field, with 10 candidates having filed paperwork to run as of Feb. 7. Her competition includes state Sens. Brian Benjamin and Kevin Parker, City Council Member Brad Lander, Assembly Member David Weprin and former Marine and mayoral race dropout Zach Iscol. Also in the running is Michelle Caruso-Cabrera, who unsuccessfully challenged Rep. Alexandria Ocasio-Cortez in the 2020 Democratic congressional primary. Patel believes her professional experience and proximity to the Comptroller's office coupled with her involvement in the local community sets her apart from her competitors. 
View this post on Instagram
"I've been the person behind the scenes doing the work on a lot of the areas that the Comptroller's office should be focusing on," Patel said. "And at the same time, I've also been grounded in community and have been working on the ground with organizations but also have been involved in many different parts of the city." 
Patel points out that while many of her competitors either understand the needs of the city after serving as elected officials or bring experience from the financial services industry, she is the only candidate with knowledge in both realms. She serves as vice-chair of Budget and Government Affairs on Manhattan's Community Board 6, president of the Eleanor Roosevelt Democratic Club and co-chair of the Chhaya Community Development Corporation board, which serves immigrant communities in Queens that have been disproportionately impacted by the pandemic. She decided to run for office after seeing through her community involvement how COVID-19 had affected poor and middle-class communities in New York City. 
"Despite having such a large budget, $92 billion this year, if you ask most community groups, almost everybody says that they're not getting the services that they need from the city," Patel said. "And this was before COVID. Now with COVID, obviously, those needs have just increased."
The next New York City Comptroller will face an expected $5.25 billion budget gap for the next fiscal year alone. Most Democratic candidates in the race agree with Mayor Bill De Blasio that the city cannot make up this deficit without additional assistance through federal funds. One core tenet of Patel's policy platform is refinancing the city's outstanding bonds in the current low interest-rate environment, which she estimates can save the city around $100 million. She touts investing in infrastructure as a potential solution to the City's long-term financial woes, arguing that doing so would create high-paying middle-class jobs. Both proposals fit into her belief that New York City should use any federal funding it receives to build a more sustainable economy in the wake of COVID-19. 
Oversight of the city's public pension funds is one of the comptroller's most salient responsibilities. The comptroller guides allocation of $240 billion across the funds alongside trustees. Under Comptroller Stringer's oversight, three of the five pension funds have begun divesting from fossil fuels. Patel supports divestment, saying that she believes that what is good for our environment is, in the long run, going to deliver the highest returns for pensioners who rely on the funds. She also believes that pensions can play an important role in spurring local economic growth and in pushing for more diversity on corporate boards of the companies in which pensions invest. 
Candidates are also debating the city's plan to close the Rikers Island jail complex and replace it with four new borough-based jail facilities. The proposal would cost roughly $8.2 billion. Patel supports closing Rikers, saying that bringing jail facilities closer to the boroughs would help keep families together and deter further crime. However, Patel believes the city needs to do a better job of liaising with the community about building the new facilities. 
"We have a lot of community upset about where these prisons are coming up, and we have to do a lot of education. We have to have community buy-in which the city hasn't done. The problem is that when the city doesn't do that, then we're stuck in a perpetual lawsuit. And that's costing us money, which we don't have right now," Patel said.
Patel's background as an immigrant has informed her decision to run for office and her platform. She is a product of public schools in a blue-collar town, after which she attended the Massachusetts Institute of Technology. She says that her familiarity with poverty both in her travels to India and in her early upbringing after coming to the United States motivated her to get involved. 
"I've seen personally, and through the work I've done, the way society treats you when you don't have resources. I think that a lot of people [who have] grown up with privilege don't have that experience of seeing what it's like to struggle," Patel said.
She encourages women who want to get involved in their communities to run for office.
"I have been interested in government and been working on campaigns as volunteers for a long time, but I've never really thought I'd actually [run]. I still can't believe that I'm doing it. The first friend who asked me to run said, 'when you've asked a woman seven times to run before she will, but men will run the first time," Patel said. "That was definitely true for me."
While Patel's race will certainly be competitive, she hopes her candidacy will ultimately shed light on important issues facing New York City. 
"I am not sleeping and eating because there's that much that needs to get done," Patel said. "But at the same time, it's a good learning experience, personally, and I also think it's a good platform for me to then bring out issues that impact my community."
The primary will take place on June 22 and will be followed by a general election on Nov. 2. The general election will use ranked-choice voting for the first time in the history of the Comptroller race. Reshma Patel's platform can be found on her website, and you can follow her campaign on Twitter, Instagram and Facebook for more updates.