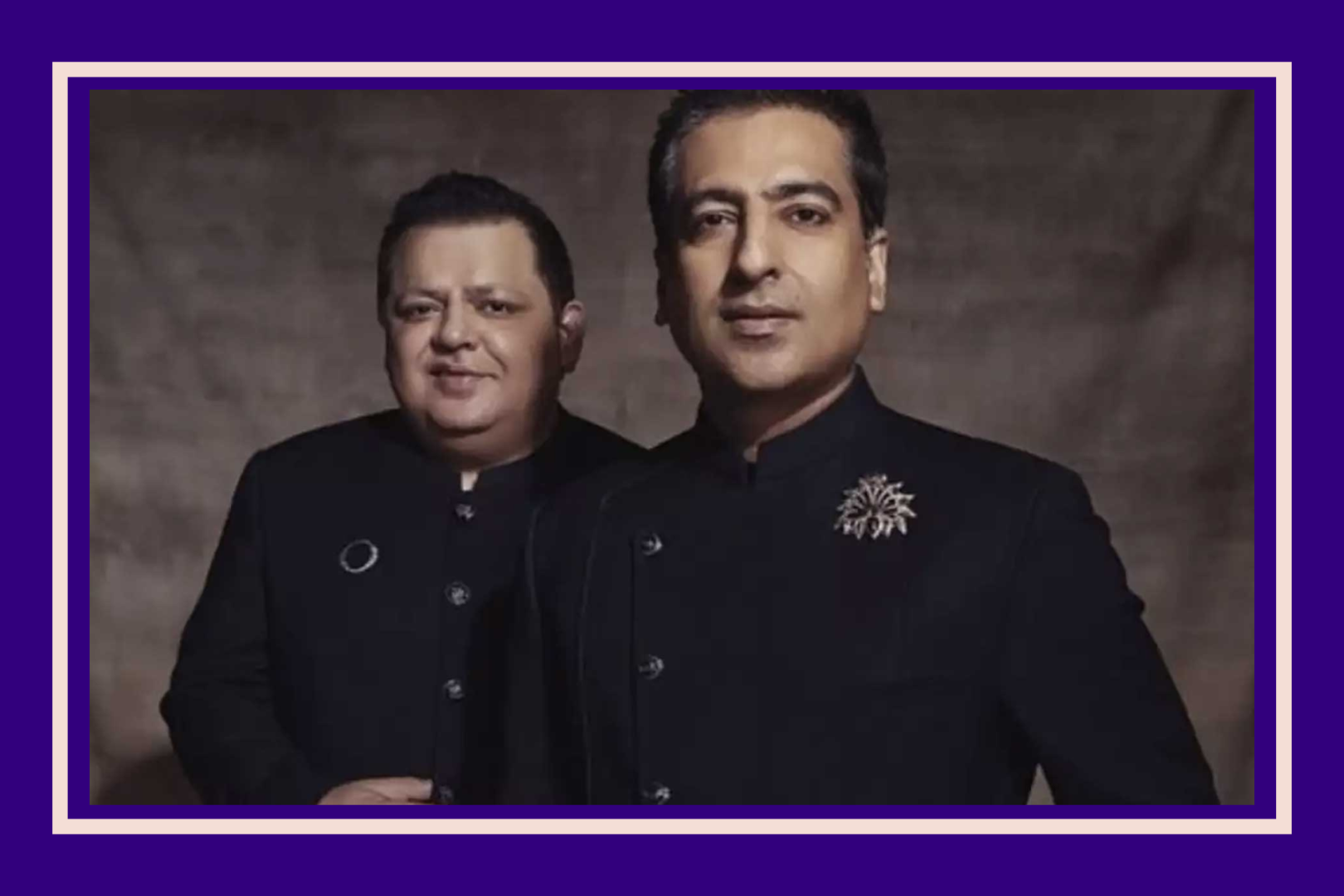 From humble beginnings, Rohit Gandhi and Rahul Khanna joined forces to create the worldwide fashion design brand Rohit + Rahul. Based in one of India's fashion capitals, Delhi, the two take an eccentric approach to designing by utilizing geometry and modern art to build their design lines. This is commonly seen in some of their more recent design lines such as the 'Fibonacci' line. Also, the founding members of the brand Fashion Design Council of India, Rohit Gandhi and Rahul Khanna insert new meaning into fashion by telling a story to the younger generation. With their bold pieces, Rohit and Rahul want consumers to feel empowered and individualized.
View this post on Instagram
Tell us about your journey and where it all started.
We began our design journey in 1997. We saw a significant gap in the global market between Western and Indian couture segments and [so] amalgamated our personal style statements to merge it with our conviction to cater to this deficit, and launched our brand. The brand stands for contemporary designs and embodies an aesthetic of understated red carpet creations. As designers, we believe in curating garments that are timeless and decorous. Also, we have entered our 25th year of creative partnership as an established designer brand.
View this post on Instagram
Where do you see this company ten years from now?
Ten years from now we see our company with corporate backing, more evolved with exponential growth.
Which client are you most looking forward to working with?
The client we most look forward to working with is the youth of today. The younger audience is experimental and bold; they don't shy away from trying new trends. We look forward to dressing clients who are ahead of their time, love to explore the world and understand our structure and silhouettes.
View this post on Instagram
What was one of your favorite showcases? What was different about this showcase compared to the others you have had?
We embroidered our surface textures and did a presentation with masks which was quite unusual. Another interesting project we did was inspired by art which is the ethos of the brand. It's our sublime passion for art that reflects in the thoughtful craftsmanship of our brand.
What was it like having a partner?
Two is a team and it is great fun working together. We take various aspects from each other's lives and put those thoughts into our design process. We both are different personalities and critics of each other which helps us understand things better. The journey so far has been exhilarating and challenging too; we were a two-man army. Back then from managing designing to marketing, merchandising, and sales, all of it was managed by the two of us. Now, we have a team working alongside us which makes us feel we have come a long way.
What interests do you have outside of fashion?
Outside of fashion design, our interest lies in art. Our design inspiration is derived from art and architecture. The heritage and the vintage lineage of the city of New Delhi where we are based are what instill our passion for finesse and immaculate grandeur in the minutest of details. We have been successfully running our art gallery, Palette, which houses modern contemporary artworks of young and established minds alike.
Where did the idea for the Fibonacci show come from? What's one of your favorite looks?
'Fibonacci' at its heart, is a nod to craft — both structural and artistic — where every piece is a study in precision. The collection brings together this iconic designer duo's dedication to the study of structure in art and architecture, transferring these learnings to design. The idea of the Fibonacci show was inspired by the artist named Zaha Hadid, who is known for her liberated architectural geometry. Our favorite look is a mosaic sherwani which was recently worn by Indian megastar Ranveer Singh.
View this post on Instagram
And, what inspired the Astral Gala line?
The Astral Gala line is inspired by stars and galaxies. It is a reflection of our love for the cosmic universe which is surreal. The line is inspired by the old-age divas from the retro era fused with new modern techniques of boning and construction.
What is your favorite type of clothing piece to design? Which clothing pieces do you find most challenging to design?
Constructed jackets are our favorite piece of clothing; we pay a lot of attention to our finishing and construction. Constructed pieces are the most challenging to design but it also gives us more room for experimentation. Also, heavy ornamentation/surface textures make the garments difficult to mold and sculpt hence, we face challenges with those garments.
View this post on Instagram
Who is the one celebrity you would love to dress?
It would be Billy Porter for his unique fashion sense.
What do you hope to take away from this interview with Brown Girl Magazine?
It is inspiring to connect with a global community-building publication like Brown Girl Magazine which reaches out to a huge audience. One of the key takeaways from this conversation would definitely be the power of storytelling and narration as an individual from the creative industry and its influence on the upcoming generation of designers.
How has the power of storytelling influenced your past shows and how do you plan to utilize it in your future shows?
Storytelling is a key aspect and we utilize our runway sets to showcase our brand ethos and the inspiration behind the collection. We showcased the Fibonacci collection at Couture Week last season. The collection was inspired by the movement that marries precision with an architectural penchant for precision, guided by nature's invisible rule — the Fibonacci wave. The intricate set for the show was built by artist Akon Mitra by combining thousands of origami pieces that arched over a ramp to depict a wave in perfect mathematical proportion. The set design reflected the beauty of patterns defined by Fibonacci's irrational number, where every pattern is uniform and built with clear lines and divisions.
View this post on Instagram
What do you want people to feel when they wear your designs?
Brides and grooms should be comfortable and feel true to themselves when they choose to wear us. We want our designs to empower their true personalities and shine through on their big day!
Rohit Gandhi and Rahul Khanna have taken a unique approach to fashion design not only utilizing storytelling to define the identity of their goal consumer, but also modern art to shape their clothing lines. The brand has been featured in GQ, multiple fashion shows such as Amazon India Fashion Week, and dressed famous clients such as Aishwarya Rai, Deepika Padukone, and many more. Rohit and Rahul aren't just two fashion designers that came together; Rohit + Rahul is a team that gives you an identity with their design work.
Featured image courtesy of Elevate Promotions.