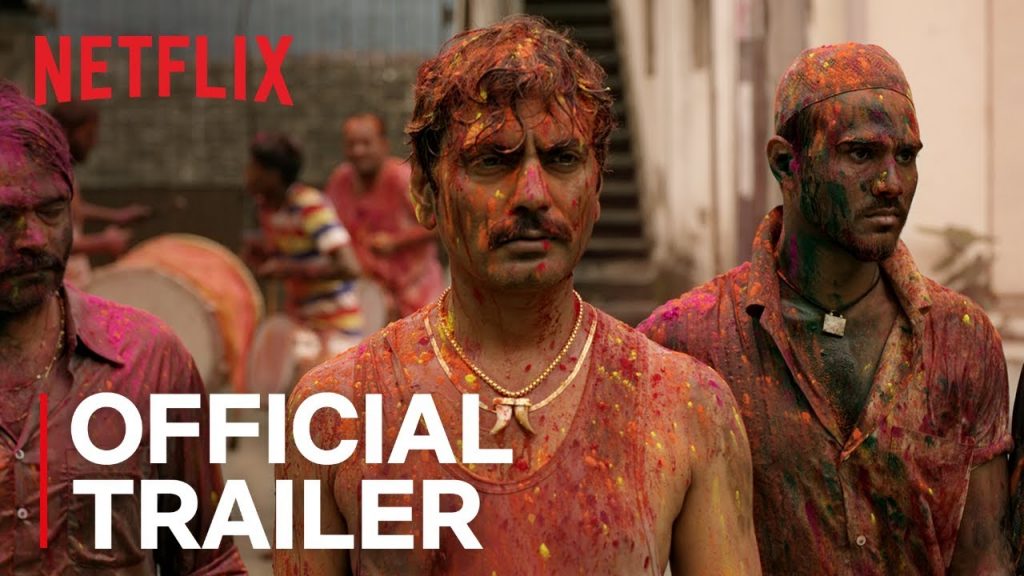 "Sacred Games" is the first Indian original series released by Netflix based on a 2006 novel of the same name by Vikram Chandra. Starring Nawazuddin Siddiqui, Saif Ali Khan, and Radhika Apte, it is a classic crime thriller told in the form of an epic saga that unfolds in Mumbai's seedy underbelly.
The series is partly about the rise and fall of Ganesh Gaitonde, a notorious gangster that ruled the Mumbai streets in the 80s, and partly about the modern-day investigation carried out by Sartaj Singh, a jaded cop who pieces together the reason for Gaitonde's mysterious suicide. All Sartaj knows is that something terrible will happen to Mumbai in 25 days. With a premise like that, it's hard to go wrong.
Saif Ali Khan as Sartaj Singh [Photo Source: Netflix]

"Sacred Games" is not only a narrative about its characters, but it is a story of the city of Mumbai itself. The politics and the social issues of the city constantly inform the characters and the show does a good job of merging the personal with the political. Of course, it deals with the corruption, violence, and crime as it is a gangster narrative. But it also focuses on bigger issues such as the Hindu-Muslim conflict, Partition, terrorism, and more.

The show does justice to Mumbai by depicting its beauty and its ugliness, unafraid to get dirty and disturbing. From animal violence, sexual explicitness, to even dismemberment, the show shies away from very little. While the plot can get confusing, the thrill is alive and well in the fast-paced turns of the story. One is easily drawn into the dark and dirty alleys of Mumbai as power is traded on the corner like currency.

Nawazuddin Siddiqui as Ganesh Eknath Gaitonde [Photo Source: Netflix]

It will come as no surprise that the highlight of the series is definitely Nawazuddin Siddiqui's portrayal of Gaitonde. His gives us a relatable and empathetic villain. Yes, Gaitonde is the villain, even though it hardly feels like it. He is greedy, violent, murderous, power-hungry, and yet the audience still roots for him. Gaitonde feels more like a victim of his circumstance than an evildoer, and that is the mark of a good performance.

On the flip side, Saif Ali Khan's portrayal of Sartaj Singh leaves more to be desired. Firstly, it is problematic that Khan was cast to play a Sikh character instead of a Sikh actor, especially when Sartaj's religious and cultural identity seems more or less irrelevant to the plot. But even if we put that aside and look at performance alone, Khan still leaves us wanting more. Because of his status as a Bollywood star, Khan had more to prove to the audience. While he delivers a perfectly okay performance, he fails to dazzle, especially in light of Siddiqui's great work.

Khan and Radhika Apte as Anjali Mathur [Photo Source: Netflix]

Another shortcoming of the series is how it handles its female characters. It is very noticeable that "Sacred Games" is a man's world, and the women of the story are collateral damage. Radhika Apte, the only main female character, is reduced to a robotic investigator with little backstory. On the one hand, it is cause for celebration that a woman can play the role of an unattached professional. However, it would have been better to have one that was fully developed as well, especially given the exceptional talent of Apte.

While the other women in the series — Subhadra, Zoya, and Nayanika — were emotionally developed, they only served as helpless victims that were too weak to survive the harsh realities of the underworld. They were used by men for sex or as punching bags, generally unable to defend themselves. And the characters that did get to speak up, such as Kanta Bai, got little screen time. The constant imagery of abuse, both sexual and physical, felt a bit too much. "Sacred Games" suffered from the same syndrome as "Game of Thrones," to a certain extent — that being the abuse of women for the sake of fueling male experiences without any real attempt to address the issue.

Siddiqui and Kubra Sait as Kuckoo [Photo Source: Netflix]

The sole exception to this was Kuckoo, a tremendously interesting and powerful character in the narrative. She was bold and confident, with the gall to talk back to the most powerful of men. Despite once again being treated like a trophy rather than a person, she makes it clear that she operates on her own terms, and she maintains her bodily autonomy throughout. She may, perhaps, also be the first depiction of a trans person being loved and accepted without hesitation in mainstream Indian media, though unfortunately, they did not hire a real trans person to play the part. However, she, too, is denied the opportunity to endure, leaving Kuckoo's story incomplete.

Another topic which "Sacred Games" leaves underdeveloped is the Hindu-Muslim conflict. The show does an excellent job of showing the diversity of Indian society, representing many religions, ethnicities, and languages. However, considering today's political climate, the series does little to combat Islamophobia. While Islam is used to motivate the series' terrorist subplot, little is done to redeem the Muslim characters of the show. They are depicted as either serving Hindus, or as villains of the story. On top of that, none of the main characters of the series are Muslims, and thus there are no fully realized Muslim characters that can speak to their experiences. For a series that wants to tackle the Hindu-Muslim conflict, this seems like an irresponsible oversight.

There are significant issues with the series, but all in all, "Sacred Games" is still a big leap in the right direction of the type of content Indian television should be and is capable of producing. The writing, cinematography, plot, and characters are well done. The cast puts forth a solid effort, with Siddiqui carrying much of the burden.

The show is grimy and dirty, but it is also realistic and bold. It maneuvers through many complex issues seamlessly, albeit imperfectly. If nothing else, "Sacred Games" is definitely going to be a pioneer in its raw depiction of Indian society. Just for that, the series is worth a watch.

It's never a dull moment with your girl gang; some shots and conversations about sex, right? If you agree, you're in for a treat with Karan Boolani's directorial venture, "Thank You For Coming," which had its world premiere at the 48th annual Toronto International Film Festival. This coming-of-age story unapologetically begs the answer to a very important question: Why should women be left high and dry in bed?

Kanika Kapoor (Bhumi Pednekar) is a successful, 32-year-old, Delhi food blogger who makes a huge revelation on her 30th birthday: She's never experienced an orgasm. This dirty little secret (no pun intended!) has now become detrimental to her self-esteem. She feels so down and out that she even accepts the proposal of a very boring suitor, Jeevan-ji (Pradhuman Singh Mall).

But, it's not like she hasn't tried. Kanika's been a monogamist since her teenage years, starting with puppy love in high school — unfortunately, their sexual endeavors coined her as "thandi" (cold) by her first boyfriend — all the way to dating in her adulthood. But, regardless of how great any relationship was, nobody had her achieve the big O. All until the night of her engagement with Jeevan, when the drunk bride-to-be leaves the party for her hotel room and gets into bed. What follows is her very first orgasm. Ghungroo, finally, tute gaye! But, with whom?

The morning after, an initially-satisfied Kanika works herself into a frenzy of confusion and frustration as she makes her way through the list of potential men who could've been in her room the night before.

Was it one of her exes? She'd simply invited them to come to wish her well.

Was it her fiance?

Or, God forbid, was it actually the rabdi-wala (ice cream man)?

Boolani takes a straight-forward and on-the-nose approach to drive the point home. There are no cutting corners, no mincing words, and no hovering over "taboo topics." The dialogue is raunchy, the characters are horny, and no one is apologetic. It's important for a film like "Thank You For Coming" to be so in-your-face because the subject of women achieving orgasms can't really be presented in any other way. Anything more conservative in the narrative would feel like the makers are being mindful of addressing something prohibited. And there is no room for taboos here.

But, there is room for a more open conversation on the reasons why many women feel the need to suppress their sexual needs in bed; how generally, women have been brought up to be the more desirable gender and hence not cross certain boundaries that would make them appear too brash. The fight for the right of female pleasure would have been a little more effective if the modesty around the topic was addressed. But, that doesn't mean that the point is remiss.

The plot moves swiftly along, never lulling too long over everything that seems to be going wrong in Kanika's life. "Thank You For Coming" is full of all the right tropes that belong in a comedic, masala film, too; the direction very seamlessly takes classic fixings like the abhorrent admirer (enter Jeevan-ji) and effectively plugs them into this contemporary feature that will remain perpetually relevant.

And now, let's come to the star of the show: the well-rounded characters.

Producer Rhea Kapoor has mastered the formula of a good chick flick and her casting is the magic touch. She's got a knack for bringing together the right actors — cue, "Veere Di Wedding." So, just when we think that it doesn't get better than the veere, Kapoor surprises us with a refreshing trio — they're modern, they're rebellious, and they say it like it is. Thank you, Dolly Singh (Pallavi Khanna) and Shibani Bedi (Tina Das) for being the yin to Kanika's yang — and for the bag full of sex toys your homegirl oh-so needed!

To complete Kanika's story, we have her single mother, Miss. Kapoor, brilliantly portrayed by Natasha Rastogi. She is the face of a headstrong and self-assured matriarch and a symbol of the modern-day Indian woman. Rastogi's character exemplifies the fact that with access to education, and a stable career, women do not need to mold their lives around men.

I love the fact that Miss. Kapoor is almost villainized by her own mother (played by Dolly Ahluwalia) in the film because she had a child out of wedlock in her yesteryears, she chooses to remain single, and she brings her boyfriends around the house to hang out with. But, there's a point to be made here. The fact that Kanika's mother is being antagonized just highlights that she is challenging the norms and pushing the envelope for what is socially acceptable for women. Miss. Kapoor definitely deserves an honorable mention.

Pednekar's unexpected yet impeccable comic timing is the highlight of the entire film. Everything from being a damsel in sexual distress to a woman who unabashedly chases self-pleasure, Pednekar puts on a genuinely entertaining act for the audience. From being portrayed as a high-schooler to the 32-year-old, independent woman, Pednekar is fit for each role. Her naivety as a teen wins you over, as does her gusto as a full-blown adult with a broken ankle and some very messy relationships. This also speaks volumes about the versatility of her looks.

And, of course, Pednekar is not new to films that address social topics, but "Thank You For Coming" challenges her to balance Kanika's droll with the responsibility of delivering a very important message to the viewers. Mission accomplished, Ms. Pednekar!

"Thank You For Coming" is a through-and-through entertainer. Everything from the casting — a huge shout out to the rest of the supporting cast including Anil Kapoor, Shehnaaz Gill, Karan Kundra, Kusha Kapila, Gautmik, and Sushant Divkigar, without whom this roller coaster would have lacked the thrills — to the homey locations and even the glitz and glamor in the song sequences, they're all perfect pieces to help drive home a powerful message: Smash patriarchy!

All images in this article are courtesy of TIFF.

"Ghoomer," R. Balki's latest directorial venture, had its world premiere at the Indian Film Festival of Melbourne 2023 (IFFM), earlier this month, and the moment was nothing short of memorable. Lead actors Abhishek Bachchan, Saiyami Kher, and Angad Bedi, were present to unveil their labor of love to the world, and all three were left speechless at the reaction of the global audience; the film received a standing ovation on opening night, leaving the team extremely emotional — a feeling that Bachchan tells Brown Girl is one he cannot put into words.

"Ghoomer," tells the story of Anina (played by Kher), an exceptional cricket player who loses her right hand in an accident. Downtrodden and with no will to live, Anina finds a mentor and coach in Padam Singh Sodhi (played by Bachchan), an insensitive and brash failed cricketer who helps her turn her life and career around; Anina also has the unwavering support of her husband, Jeet (played by Bedi). Sodhi teaches Anina unorthodox techniques to make her mark on the cricket ground once again. Enter, ghoomer, a new style of bowling.

Balki checks all the boxes with this feature — his protagonist is a female athlete, the film is his way of giving back to cricket (a new form of delivery), and he highlights the idea that nothing is impossible for paraplegic athletes. The heart of Balki's film is in the right place — Kher mentions that the film is meant to be more of an inspirational movie and less of a sports-based movie. One can only imagine the impact that a film like this would have on an audience that's hungry for meaningful cinema.

And, to chat more about "Ghoomer," Brown Girl Magazine sat down with the stars of the show. Bachchan, Bedi, and Kher came together to talk about their inspiring characters, the filming journey, and how their film aspires to change the landscape of cricket and paraplegic athletes in the country. It was all that, with a side of samosas.

Take a look!

The featured image is courtesy of Sterling Global. 

If you are a South Asian, born in the '80s or the early '90s, chances are your ideas of love and romance are heavily influenced by Hindi films — that first gaze, the secret love notes, that accidental meeting somewhere in Europe, over-the-top gestures and dancing around trees. While reality may have been far from what was promised on reel, you still can't stop pining over a hopeless romantic, with chocolate boy looks, chasing you across the earth and many universes; in the life here and the ones after. Somewhere deep down, you still dream of that possibility despite your husband sitting and sipping his morning coffee right next to you. And much of the credit for weaving this dreamland, that we can't resist happily sliding into, goes to the legendary Yash Chopra. Award-winning filmmaker Smriti Mundhra's docu-series, "The Romantics," that released on Netflix on February 14, chronicles Chopra's prolific career; offering an illuminating look into the highs and lows of his journey, his unblemished vision for Hindi cinema and sheer love for filmmaking. 

I wanted to look at Indian cinema through the lens of it being a major contributor to the global cinema canon and Yash Chopra seemed like the perfect lens to explore that because of the longevity of his career and the fact that he had worked across so many different genres. His films, for so many of us, defined what Hindi cinema is.

— Smriti Mundhra

As "The Romantics" unveils, in a mere episode — a challenging feat in itself — Chopra did experiment with multiple genres as a budding filmmaker, initially under the shadows of his elder brother B.R. Chopra. From the religiously sensitive "Dharamputra" and the trendsetting "Waqt" to the action-packed and iconic "Deewaar." It wasn't until later on in his career that he set a precedent for a Hindi film having a wholly romantic narrative; though "Waqt" did offer the perfect glimpse into what would go on to become Chopra's cinematic imprint. And then came "Chandni" which ushered in a new era for Hindi cinema; defying the formulaic approach to box office success and making love stories the golden goose.

In the words of more than 30 famous faces, a host of archival videos and interviews, and personal anecdotes, audiences get an extensive insight into the life and career of Yash Chopra and the evolution of his vision through the business acumen and genius of his polar opposite son and a famous recluse,

Aditya Chopra

. "The Romantics" is not a fancy portrait of a legendary filmmaker but an exploration of what goes into making a successful film family and a path-breaking production house. As viewers, we not only get a peek into the making of a fantasy creator but also learn of the many failures, hurdles and uncertainties that the business of filmmaking comes packaged in, the impact of socio-political shifts on the kind of content being produced and demanded, and just how much control we have as an audience over the fate of the film and the filmmaker.

For both the uninitiated and fanatics, there are some interesting revelations like Shah Rukh Khan's lifelong desire to become an action hero as opposed to a romantic one and the creative conflict between Aditya Chopra and his father Yash Chopra on the sets of "Dilwale Dulhania Le Jaayenge" — a project that, surprisingly, did not seem too promising to the latter. Mundhra penetrates deep into the family's history and industry relationships evoking some really candid conversations; almost as if these celebs were eagerly waiting for their moment to speak. With one appraising interview after the other, it's a panegyric that does border on being a tad tedious but there is enough depth and fodder in there to keep one hooked. Kudos to Mundhra for managing to achieve cohesion despite there being more than enough material to chew on. In the process of bringing this project to life, Mundhra also ends up achieving a number of milestones: one that the series features the last of actor Rishi Kapoor's interviews and two, it brings Aditya Chopra, who, it appears, can talk a blue streak contrary to popular belief, to the front of the camera after almost two decades. The moment when he puts the nepotism debate to rest by referring to his brother's catastrophic attempt at acting is quite the show-stealer.

View this post on Instagram

At some point during the four-episode series, you might question if it's fair to credit the Yash Raj family for being the only real changemakers of the Hindi film industry and for picking up the baton to get Hindi cinema the global recognition that it has. But then there is no denying the Chopra clan's body of work, their ability to understand what pleases the crowd and their commitment towards growth and progress amidst changing times and technology — Yash Raj Studios is in fact the only privately held and one of the biggest, state-of-the-art film studios in India. Chopra's career and legacy are in no way under-lit that Mundhra can claim to throw new light on with "The Romantics." But what she really has on offer here are sheer nostalgia, some fascinating discoveries and an ode to a cinephile and his art with a bit of fan service.

In an interview with Brown Girl Magazine, Mundhra discusses why it was so important for Chopra to be the subject of her docu-series, her own learnings during the series' research and creative process and her accomplishment of getting Aditya Chopra to talk, and that too, at length.