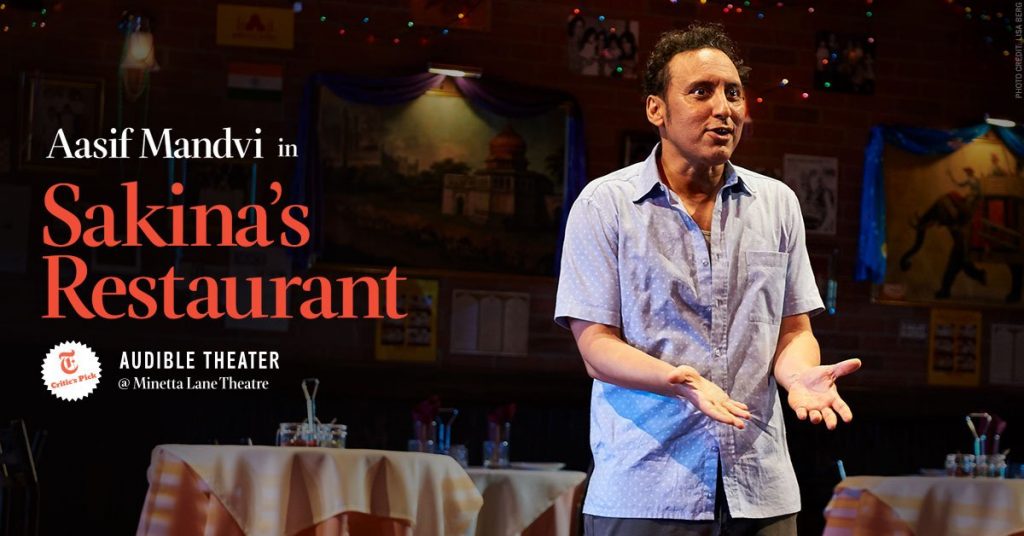 Twenty years after its Off-Broadway review, Aasif Mandvi's "Sakina's Restaurant" returned to the Minetta Lane Theatre in New York this October.
The former Daily Show correspondent's return to the stage in "Sakina's Restaurant," his Obie Award-winning one-person show, features the actor playing six different Indian immigrants, both male and female, living in New York City in the 1990s.
Mandvi said in a statement:
"Despite 20 years having passed since I first performed it at the American Place Theater, the themes I was grappling with then, those of an immigrant family, struggling with the joys, heartbreaks and sacrifice of what it means to leave one's home and create a new American life, seem as relevant today as they ever did." 
"Sakina's Restaurant" begins with Mandvi introducing himself as Azgi, an Indian immigrant arriving in New York City to pursue the American Dream. Azgi plans to work in a family friend's restaurant as a waiter and is portrayed as a narrator throughout the play introducing the restaurant owner, Mr. Hakim, and his family.
Mandvi brings the different characters of "Sakina's Restaurant" to life with a minimum of costume changes or props, such as a mere scarf for Farida, Mr.Hakim's wife. He uses physical gestures and mannerisms to transform from one character to the next with a recognizably new persona.
While not political upfront, the play's portrayal of immigrants as they adjust to a new life and struggle with cultural identity and acceptance connects to the current political climate. On social media, Mandvi related the revival to "an act of political resistance against an administration that is at war with immigrants."
.@aasif returns to the stage tonight in the Obie Award-winning #SakinasRestaurant! Happy first preview to the entire company. #AudibleTheater pic.twitter.com/mo7PNP4Azn

— AudibleTheater (@AudibleTheater) October 5, 2018
Walking into the theater to see Sakina's Restaurant, I was skeptical. Being the only brown skinned audience member in a room full of old white people, I hoped the play did not cater to a white audience emphasizing stereotypes of the South Asian immigrant.
While the script is not as powerful and dramatic as Mandvi's performance, certain sequences of it were both relatable and emotional to the South Asian, Muslim immigrant experience.
The struggles Mr. Hakim's family faces in adopting American culture but continuing to identify as Indian Muslims is all too relatable. Mandavi portrays two very different perspectives, one being Mr. Hakim and his wife Farida and the other of their children Sakina and Samir.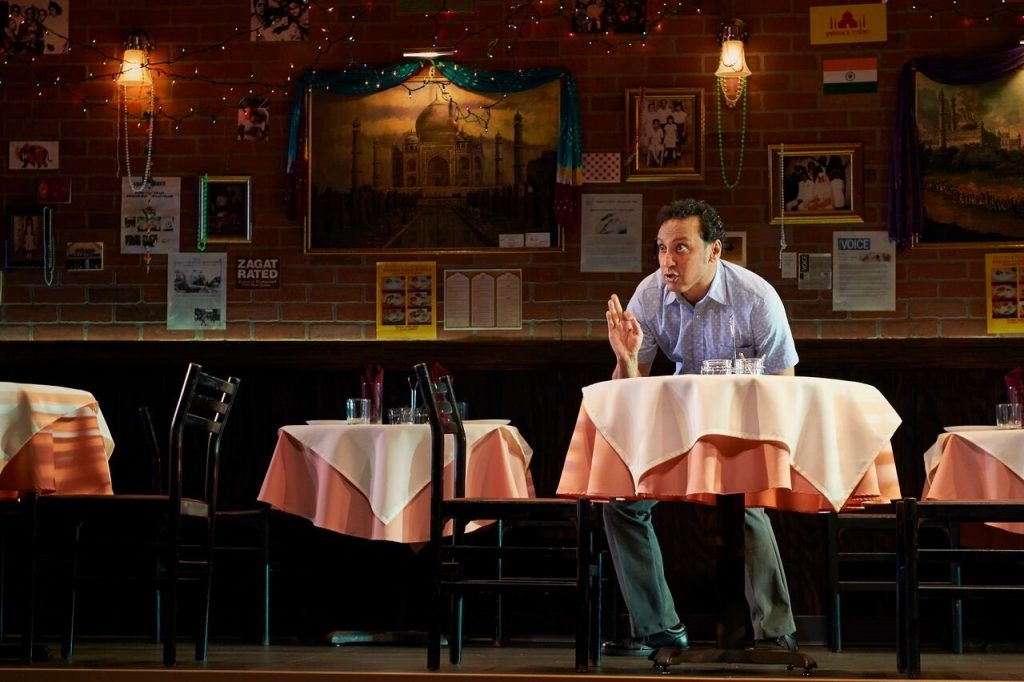 Mr. Hakim and Farida are shown to have left everything to begin a new life in hopes to pursue the American dream and provide more opportunities to their children. We hear conversations between Mr. Hakim and his wife, as a newly married couple, struggling to make both end's meat and happiness.
Farida reflecting on her life prior to the United States is an immigrant story we hear all too often. Her monologue describes her life in India to be carefree and happy, one where she would always be dancing and socializing, but now in the United States, she doesn't have time to do either.
Mandvi says in Farida's monologue, 
"Where have you brought me? Where have we come? To this cold country where nobody talks to anybody."
The Hakim children Sakina and Samir depict the struggle between accepting your roots and adopting the American lifestyle and experience. Sakina is portrayed as a teenager struggling with her identity as both Indian and American, while Samir is depicted as fully identifying as American. The two face different challenges including the dilemma children of immigrants often face, the fear of disappointing their parents.
Mr. Hakim's monologue involves his fear and disappointment of Sakina's appearance referring to a "cheap" dress she wears going on to say how "Indian girls make their parents proud" and how Sakina will "never be an American girl."
Hakim wants to talk to you about "real" American women. Please turn your SOUND ON to enjoy. #SakinasRestaurant #AudibleTheater pic.twitter.com/BAzv2THrrQ

— AudibleTheater (@AudibleTheater) October 31, 2018
The line that most aligns with the current political climate is when Mr. Hakim emphasizes that her friends may see her as American and one of their own but as soon as she does one disproving action, such as liking one of their own, she will be reminded of her outsideness. The feelings in this monologue were raw and real, it showed the audience the struggle that many teenagers face in efforts to fit in being seen as drifts away from the culture.
Samir's monologue consisted of whining and complaining about going to India instead of Disney World. He described the country as smelly and poor, a place where he had to give his things to his relatives. Samir's monologue depicting a conversation with his father reminds me of the stereotype many South Asians within the diaspora have of American born children of immigrants. He seems to be "fully American" and disassociated with his Indian roots uncaring of his father's feelings until he realizes he has hurt his father by not respecting his grieving during the death of his mother, Samir's dadi.
While the script was not always the most appealing aspect of the play, Mandvi's acting made the play compelling as a whole. His portrayal of different personas, ages and gender were so raw, there were both insightful and entertaining moments during the performance.
"Sakina's Restaurant" is not the American dream, but the immigrant experience. It may not be as relatable for new immigrants but depicts what many millennial children of immigrants have experienced in terms of adapting to American culture while accepting and appreciating their roots.
Written and performed by Mandvi, "Sakina's Restaurant" was originally directed and developed by Kimberly Hughes. The play's limited run is being presented by Audible, who will release the show in audio form next year.