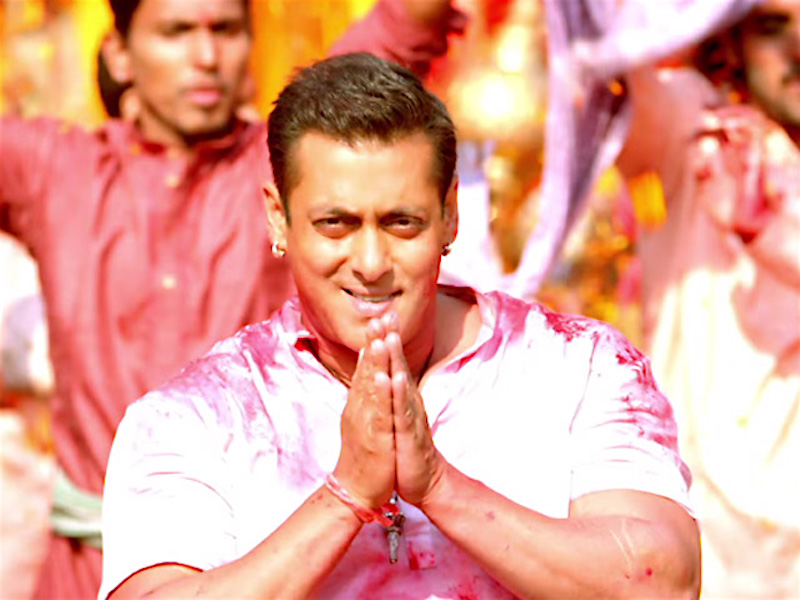 My eyes still hurt from all the rolling they did watching that video of Salman Khan waving benevolently from his balcony at the hordes of his devoted fans. The man spent two nights in jail before he was granted bail (about $1500, a measly sum for the 9th highest paid actor in the world mind you), but if you go by the welcome he received from his legions of fans you'd think he had just been freed after a decades long prison stint for a crime he hadn't actually committed.
https://twitter.com/salman2979/status/982677395265277952
For his millions of fans the world over, the five-year prison sentence handed down by an Indian Court on April 5th was way too harsh a punishment for their precious bhai (either brother in Hindi… Or underworld don, interestingly enough). They argue he's a changed man, or he's misunderstood, and anyway, hasn't he atoned for his past transgressions with his Being Human Foundation?
This blind devotion is baffling.
This wasn't even Khan's first rodeo; he's been a frequent flyer with the Indian Justice system for a while now. This most recent conviction came for the alleged poaching of two blackbucks in Rajasthan back in 1998. In the previous two cases involving this incident, he was sentenced to jail and then quickly acquitted by a higher court. He was also acquitted in 2015 after he appealed his conviction for the fatal hit-and-run case where prosecutors say he ran over five sleeping men while drunk, and killed one of them.
His past aggressive and violent behavior towards women has also been well-documented. His ex-girlfriend, former Miss World, and one of Bollywood's biggest names – Aishwarya Rai Bachchan – has spoken about the physical and emotional abuse she suffered at his hands during their relationship. While he has refuted that he ever got physical with her he has freely admitted his threats of self-harm, "misbehaving with her family", and general aggressive behaviour, which grew worse with alcohol. Somy Ali, another ex-girlfriend (preceding Rai, but there was overlap), only recently (2015) denied the well-circulated story of him breaking a bottle over her head out of anger at her for trying alcohol for the first time.
Another thing, I think Beyonce's 'Irreplaceable' must be his theme song because he taken the lyrics "I can have another you in a minute" seriously. I mean the man has a penchant for seeking out and launching new actresses that are dead ringers of his exes. It is creepy and it showcases his overblown sense of entitlement. He also has a history of saying gross, misogynistic things over and over again.
However, none of this seems to dent his popularity with the masses. They still flock to his films in droves. This unwavering support is, I believe, a symptom of a much more systemic problem. The normalcy of the inherent inequality, which is founded in the caste system, permeates all aspects of Indian society. Salman Khan enjoys immense power and privilege. He's a man with more wealth than billions of people in his country (and money can buy you a lot in India). Along with that he's got an almost unrivaled fan base, and in a country where movie stars are literally worshipped, he reigns (almost) supreme.
His power and privilege is also the reason for the unwavering, almost sycophantic public display of support from within Bollywood during every single one of his brushes with the law. It's amazing how the "film fraternity" comes out to stand in solidarity with bhai every single time. You'll see them, all sullen faced, paying homage to him and gathering around his family at his home, or taking to social media to share pictures and messages. Most of these are hilariously tone deaf or go completely against their own projected brand image.
You're the best! Always by your side! pic.twitter.com/40GrtD4afU

— Sonam K Ahuja (@sonamakapoor) April 7, 2018
As I've written before, this elitism, this unchecked power and privilege that goes unacknowledged and therefore unchecked by the Bollywood elite, leads to the dismissal of real inequities and problems both within the industry and in the country. They refuse to see and their power and privilege protects them anyway.
This lack of self-awareness is why we have Sonam Kapoor, self-professed feminist, newly minted vegan, and supporter of PETA India, taking to her Instagram to share a still from her nonsensical (and completely un-feminist) film with Khan in support without making the link. It's why we see another Peta India supporter and self-professed lover of animals, Sonakshi Sinha, sharing a candid picture of herself hugging bhai, her "the force and the force field" indicating that she would protect him from anything. The internet obviously came at them with the receipts! But they'll be fine because bhai will remember and bhai blessings are everything.
https://www.instagram.com/p/BhQ946JnWQo/?hl=en&taken-by=aslisona
Bollywood is an exclusive club. Usually, you're either born into it, marry into, or are deemed pretty enough or popular enough to hang with the cool kids who grant you an exclusive (but as many find out, conditional) pass into it. Very few – I'm talking the likes of Shah Rukh and Akshay – actually fight through to the top by sheer force of will, coupled with talent and general badassery.
Salman Khan was born into it, and he was also pretty and popular enough to become the coolest of the cool. He has the power to bring you into the club and the power to kick you out. Everyone wants to stay in and that's why we see the blatant hypocrisy run rampant during times of trouble. Keep Salman bhai happy and he'll protect you. Upset bhai and you'll be out on your butt quicker than you can say Vivek Oberoi. Bhai's retribution is swift!
The 'Salman Saga' will continue, and I do wish him well, because no one is irredeemable if they truly want to change and make amends. But unlike his legions of fans (including some of my own family and friends), I'm waiting to see when or if this happens. Now if his enablers and worshippers would just get out of his way, he might be able to see his false sense of entitlement holding him back, and he might actually be able to make a go of it.