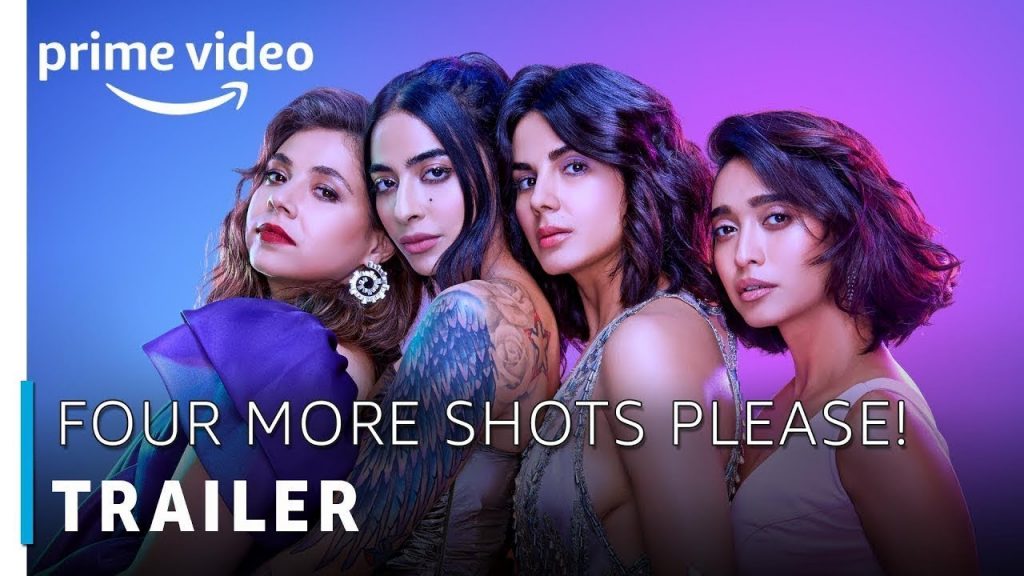 As one of the latest Hindi shows to be released on Amazon Prime, "Four More Shots Please" was highly anticipated, as streamable web series have continued to sweep the realm of South Asian content. Directed by Anu Menon, this series follows the lives of four feisty and independent women living in Mumbai, India. Many have dubbed it India's answer to Sex and the City, just a few years late. 
"Four More Shots Please" is both gorgeous and refreshing, and just the sort of thing watchers of Hindi content needed. Season one is nothing short of a ten-episode-long party covering sexuality, careers, motherhood and all the ordinary life problems in between. The series depicts the lives of four best friends — journalist Damini (Sayani Gupta), lawyer and mother Anjana (Kirti Kulhari), fitness trainer Umang (Bani J) and hopeful bride Siddhi (Maanvi Gagroo) as they fall in and out of careers, relationships and friendships in a tough to navigate Mumbai society. The prospect of a series entirely written (Devika Bhagat and Ishita Moitra), directed (Anu Menon) with a cast led by women was tantalising — almost too good to be true. A huge weight of pressure and expectation has therefore been resting on the show as a trailblazer.
I for one was quickly and completely whisked away from the beginning into a beautiful world where women are outspoken, interesting and experimental. I was won over. Whilst it did receive mixed reviews for apparently being cheesy, overacted and for its problematic reliance on depicting women as obsessed with sex, drinking and smoking as markers of 'liberation,' it should not be written off as misguided. It deserves some serious credit. 
https://www.instagram.com/p/Bw8kR2eltXZ/
This series, amongst other online series like "Delhi Crime" and "Made in Heaven," blew up and became part of the new Amazon Prime/Netflix craze for Hindi television. It's wonderful to see creative and innovative work that is totally different from the stock we are used to. 
"Four More Shots Please" is better than "Veere di Wedding" —  its' Bollywood predecessor from 2018 which was also modelled on the friendship between four progressive women. Straight off, the pilot episode is, as many have noted, wildly different and not reflective of the quality of the rest of the series. If you've watched the first episode and are put off, trust me when I say that it gets better. By episode three I found myself totally engrossed and invested in the characters, disappointed only by the rushed ending that brings too many strands and dramatic developments together in the final episode. 
Listening to the four women speak in press interviews too, was truly refreshing in that we get to hear genuinely intelligent and engaging women talk about their work and the portrayal of women on screen. They emphasised how the series was not about women reclaiming their sexual lives per se, but being agents of their own lives as a whole; sexuality just happens to be a part of this. True, they went a bit wild with the sex scenes just because they could, web series not being censored like other media, but they still had their bras on so I'm still going to limit my praise somewhat.
It was freeing to watch the protagonists shout out synonyms for "vagina" into the night — it's a scene I've been dying to watch forever. At times, it tries too hard and some scenes are overdone, thrown in for the sake of it as though trying to prove its progressiveness, and I know that future female-led shows will represent other forms of female liberation, rather than just painting strong women as 'rebellious' ones who party and enjoying sex.
https://www.instagram.com/p/ByPIKTdl2Lg/
Watching LGBTQ+ and body shape issues, as well as the female competition and bitchiness, tackled head-on, was something that really made this show and gave it the kind of layered nuance that is so needed. But the series is irredeemably elite. All four women are lighter skinned, upper middle class and well educated — privilege oozes here and Mumbai glistens. Reality and representation of various kinds of lives and paths, unfortunately, is not given priority. 
"Four More Shots Please" is a fantastic conversation starter, placing important conversations like female masturbation in the mainstream. It's fun and sumptuous and pure escapism at its finest, as well as being valuable, educational and meaningful. There are bound to be teething problems until this sort of genre becomes normalised. This is the first series with all female protagonists, fully written and directed only by women. And like with any game changer, it's not always perfect first time around, but it's out there now showing other women that things like this can really be done. The finale episode was perfectly set up for a Season Two, and I can only see it growing in strength in the future plot developments. Frankly, if there isn't a Season two, I'll be pretty upset about it!