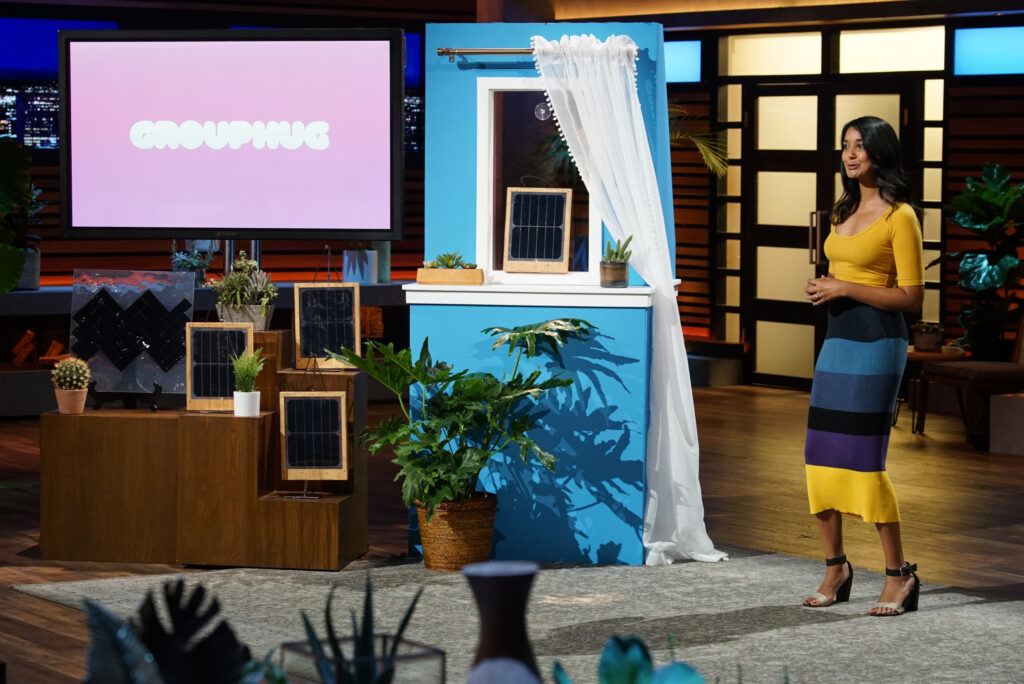 "In technology, it's so rare that women have the decision-making power…" -Krystal Persaud
Meet Krystal Persaud: a first-generation Guyanese tech entrepreneur who's responsible for creating one of the most innovative technology companies in the U.S. At just 32-years-old, Persaud is the sole founder and CEO of Grouphug Solar. Grouphug Solar may sound familiar from ABC's hit show "Shark Tank." Persaud landed a seed investment with business mogul Mark Cuban. Since the show, the company has established a reputation for reinventing the way consumers think of solar energy. 
Grouphug Solar was founded in October of 2019, and within less than a year, Persaud was approached by a "Shark Tank" producer to be featured on the show. While publicity and mentorship from Cuban have contributed to the company's exponential growth, Persaud brings an extensive resume of eight years of experience in the technology industry. Starting as an intern, she worked her way up to senior director of an electronic toy company.
Raised in an Indo-Caribbean family, Persaud's family emigrated to Queens, NY, and eventually moved to New Jersey where Persaud was raised. She recalls how supportive her family was in entering a male-dominated field. In fact, it was no surprise to her parents given their professional backgrounds.
"They have always been very supportive of me working in tech. I have three older sisters who all work in public health or medicine, also male-dominated fields. My dad is an electrical engineer and my mom is an entrepreneur & teacher, " she said.
As a product designer, Persaud used her experience to design solar panels as home decor. The idea of solar panels as both functional and stylish is new to many. When most people think of solar panels multiple panels placed on a rooftop are what come to mind. Persaud took a more innovative route to the idea of solar.
The concept first came to her while living in a New York City apartment. Without access to a roof, many solar companies simply do not offer solar options to apartment residents. Persaud saw this as an obvious problem and started designing her own panels. She incorporated art along with wood and bamboo materials in all her designs. The result was a complete hit. As friends visited her, they would inquire about the hanging panels in her apartment. She started making them and selling them locally to friends and quickly realized there was a market with a huge need that was not being met. 
View this post on Instagram
But who exactly is Grouphug Solar for? Is it for families, singles in the city, or college students?  The company caters to the conscious consumer. Many of Persaud's clients are millennials who care about sustainability and style. Not only does the company provide styled panels, but it also makes the process as fun and as easy as possible. They produce a series of educational workshops and local programming on the general concept of solar energy and how their panels function. The goal is to be the clients' first step into the world of solar energy. What most people don't understand is that regardless of where you live (apartment, home, or farm) there are solar options available to you.
While Persaud's entrepreneurial journey as a femtrepreneur has been rapid, she also represents an even larger and oftentimes underrepresented group in the technology industry — women of color. According to the National Center for Women & Information Technology few women of color "…are found in software development, technology leadership, or the other kinds of key roles that have a significant influence on future innovation." Additionally, 88 percent of all information technology patents from 1980–2010 were invented by all-male teams. Only two percent were invented by all-female teams. Latinx and Black women hold only 1 percent and 3 percent of computing jobs, respectively. When asked how the tech industry could improve such figures, Persaud had this to say:
"In the technology industry it's definitely important to hire people of color with an emphasis on women in STEM and engineering."
Considering this severe lack of representation, I asked Persaud to name one female role model who inspired her to press on in this male-dominated field. 
"One of my biggest inspirations came from working for a female CEO who was also an engineer by the name of Aya Bdeir,' she said. Just seeing her in a powerful position was a huge inspiration for me and gave me the confidence to know that I can do this! I couldn't imagine not having this experience. If I hadn't maybe I would have thought I couldn't do this. Having  powerful female representation in the tech industry made such a big difference."
Persaud prides herself on being more than just an environmental impact entrepreneur. She spent one and a half years studying all aspects of solar and is continuously perfecting her craft. At many major industry events, she found herself being one of the only women of color in the room. Though she brings years of product design to the table, some of her male counterparts would question the technical aspects of her design. In many instances, this was simply because Persaud is responsible for creating an introductory concept that differs from traditional designs current in the solar industry.  Other times, her male counterparts simply did not understand her design. As is a typical experience of many young women in traditionally male-dominated fields Persaud found that her innovative concepts and designs were at times questioned, misunderstood, or voluntarily critiqued by male counterparts. 
A prime example of this is the story of Spanx founder turned billionairess Sara Blakely. Blakely visited multiple hosiery mills in attempts of getting Spanx (control wear for women) mass-produced. She was turned away by most because they did not see the value of her product. Ironically enough most hosiery mills, which produce hosiery, were run by men. While the disconnect here lies in the difference between what men perceived as valuable to women versus what women actually value, it all translates to the real problem in most majority-dominated industries — lack of heterogeneous thinking and perspective. A female perspective in a male-dominated field contributes to diverse thinking. And it's diverse thinking that is essential to innovation. Blakely finally got the call she was waiting for from a male mill operator who offered to support Blakely's concept after receiving positive feedback from his three daughters. According to CNBC Spanx rakes in $400 million in sales annually. 
View this post on Instagram
Solar panels as home decor is a relatively new concept. While solar panels for all types of residents (renters or homeowners) have not been promoted by the majority of solar companies, Grouphug Solar is changing that through educating and serving the conscious consumer. The company is based in Brooklyn and serves all states within the U.S. From the apartments of glitzy New York City living to suburban homes, to rural areas where the stars light up the sky at night, Grouphug Solar complements all lifestyles. Learn more about Grouphug Solar panels and their line of products.