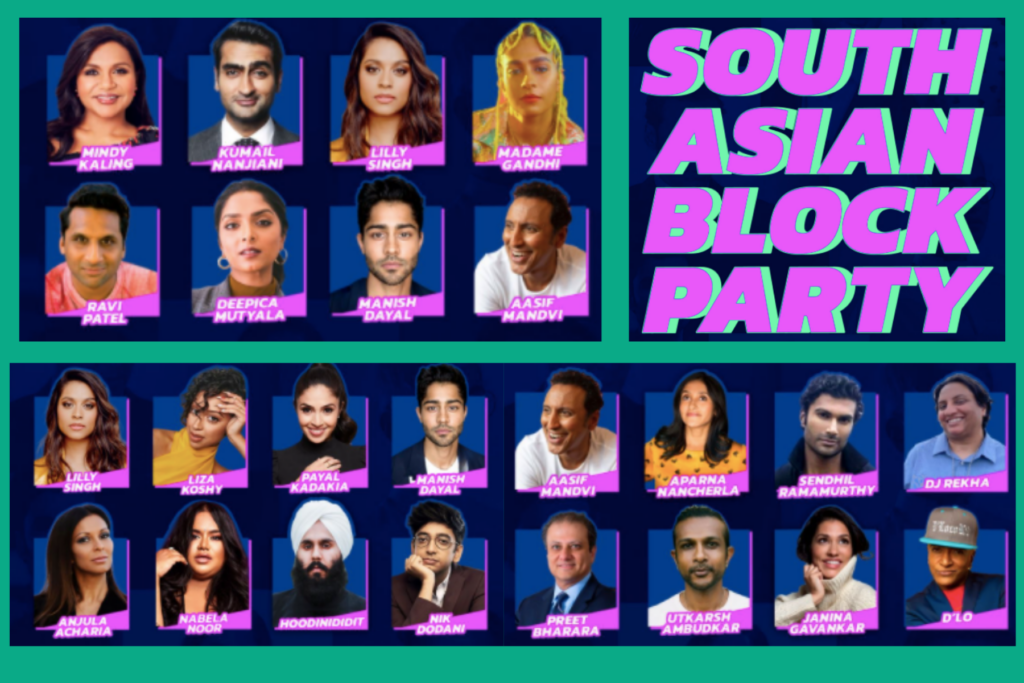 In single lifetimes, we have seen representation go from non-existent to robust. The South Asian community has grown leaps and bounds over the last fifty years, in every way. From representation on screen, behind the scenes and in office, our footprint has evolved. 
It's no secret that America is amidst one of the most pivotal elections of all time. Historically, times of great challenge result in activism and mobilization, this election is no different. With a voting rate lower than many communities, the South Asian vote has never been as imperative. 
The South Asian Blockparty is an official fundraiser for the Biden-Harris victory fund taking place virtually on October 14th at 5pm PT/8pm ET. The virtual event hopes to draw in a large crowd, raise funds, encourage constituents to vote, and use their platforms to ignite change. 
View this post on Instagram
The program lineup consists of Mindy Kaling, Kumail Nanjani, Deepica Mutyala, Nik Dodani, DJ Rekha, Preet Bharara, Payal Kadakia Pujji, Aasif Mandvi, Anjula Acharia, HoodiniDidIt, Janina Gavankar, Ravi Patel, Lilly Singh and many more recognizable South Asian names. For the first time ever, these creatives are sharing the stage for a cause that could change the course of history. 
The growth of our communities is contingent on our ability to truly rise and support one another, we asked event organizers DJ Rekha and Rajan Shah what their goal was for this fundraiser. 
"There is a critical mass of South Asian artists and cultural figures who have a significant fan base that can, we hope, inspire people to vote Trump out of office," DJ Rekha said. The aim of this event is to gather and generate excitement and energy for the first South Asian American vice-presidential candidate. More than anything else, electing Joe Biden and Kamala Harris in the most significant U.S. election of our time, and rejecting as a unified brown voice Trump and Trumpism, which has been so destructive to our communities of color, including brown, black, yellow and pretty much every other color, is singlehandedly the most important task-at-hand. 

"The reach and presence of South Asians has never been greater," Shah said. "Our influence individually is incredible, but imagine what we can do if brown communities came together?  And if we didn't come together as an entertainment community now, in what case would we? That was our impetus I feel. The community can be proud to see these newfound South Asian voices coming together in such a positive optimistic way for the first time in this way for our country's election." 
Participants Nik Dodani and Deepica Mutyala share what it means to see this type of representation ahead of the November 3rd election.  
"It's beautiful to see all of these people coming together, proud of being brown and down. It shows that we as a community have power, have a presence, take up space. We vote, we influence the vote, we fuck shit up," Dodani said. 

"It is truly inspiring to witness my fellow South Asians joining together for the first-ever South Asian Block Party," Mutyala said. "This year's election is critical for the future of our country, and I continue to be inspired by our amazing community uniting to support voter turnout efforts. When we band together to encourage people to vote and educate them on why it's more important than ever, it shows the strength and power of the South Asian community. I'm just incredibly proud to be involved and do my part during this election season." 
View this post on Instagram
To attend the fundraiser virtually, head to southasianblockparty.com and follow @southasianblockparty (IG) and @BHSAblockparty on Twitter for program updates. Tickets are exclusive to U.S citizens and eligible voters.