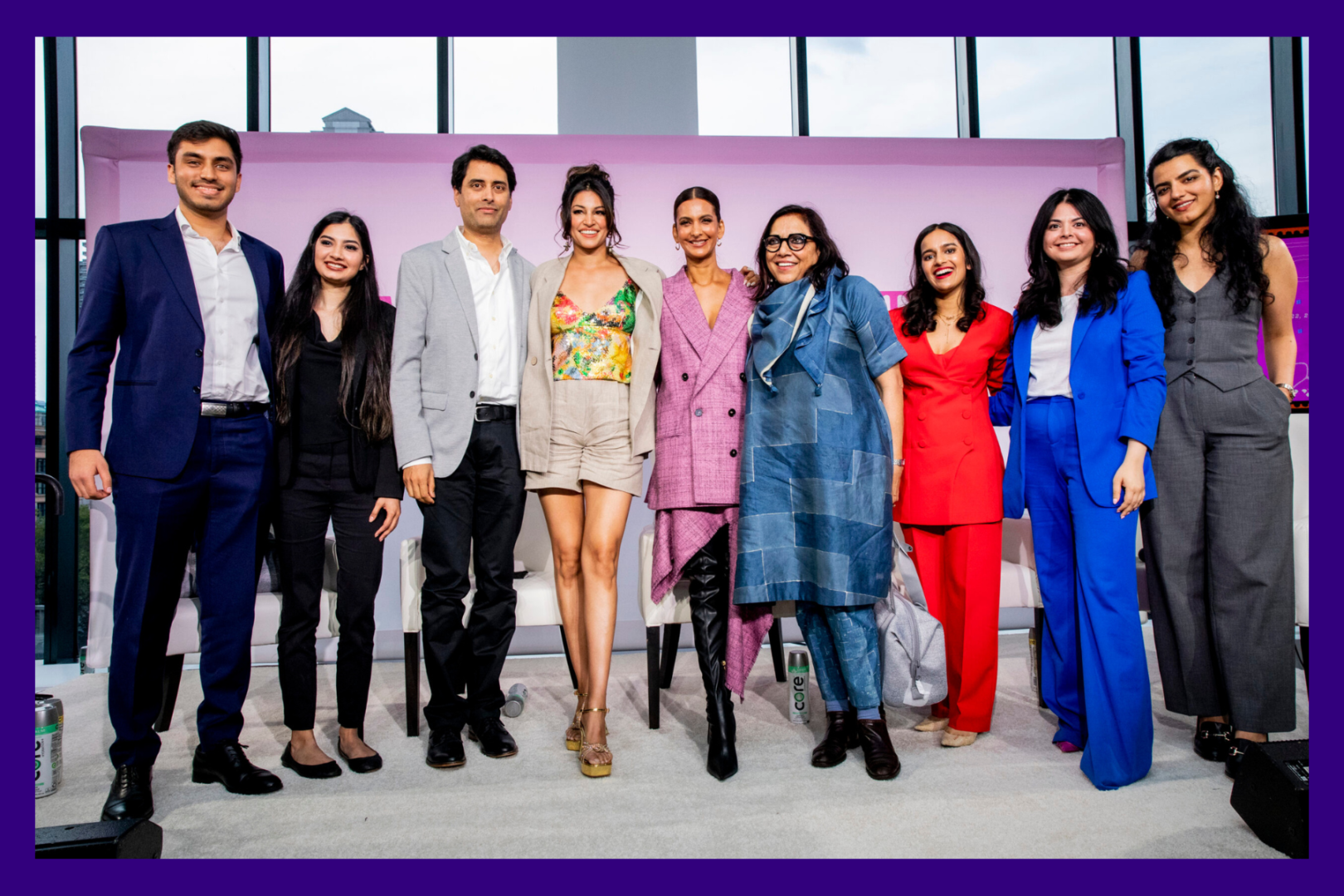 The room erupted in applause when actress Poorna Jagannathan said: "In America, I feel like I am just getting started," during The Juggernaut Summit that took place on Sept. 23, 2023 in New York City.
The particular statement, reflecting on Jagannathan's career trajectory since shifting from Bollywood to Hollywood, also captured what seemed to be the overarching message of the day: South Asians aren't having just a moment; they're starting a movement.
Hosted by The Juggernaut — a subscription-based online South Asian magazine chronicling what it calls "the unstoppable rise of South Asians" — The Juggernaut Summit was a day-long gathering that welcomed over 200 attendees from inside and outside of the diaspora. 
"This is the first summit, but hoping we can make it an annual event," said Snigdha Sur, the founder and CEO of the outlet.
Sur shared that she noticed how segmented professional conferences tend to be — specific to tech, entertainment, and business, among others — and wanted The Juggernaut Summit to be different.
"Our generation really wants to connect across sector lines and support each other without competition. I've always really admired how the Black community has managed to come together in that way with Essencefest and the NAACP, and I thought 'we [South Asians] need that.'" 
The summit welcomed 24 speakers across seven diverse panels discussing topics including mindset, investing and innovation, retail in a 21st-century economy, geopolitics, artificial intelligence, food and entertainment. 
The event was filled with a number of poignant and memorable moments.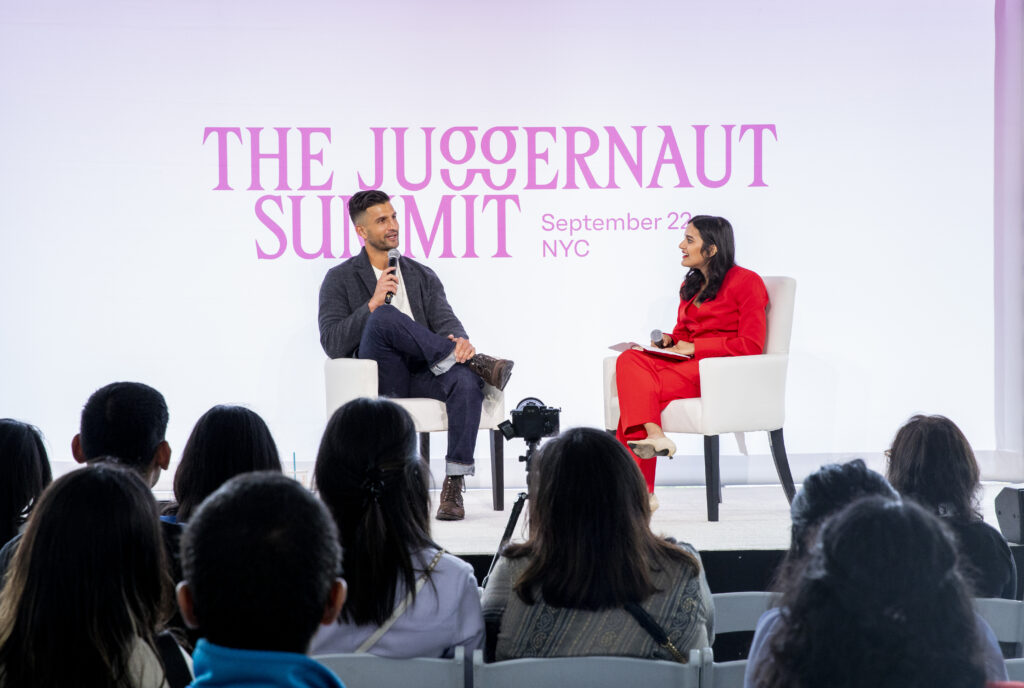 The summit began with investor, entrepreneur and creator Sahil Bloom getting candid about his professional journey and upbringing in a biracial household. 
Later, there was passionate discourse amidst the geopolitics panel of journalist Rana Ayyub, CEO of Bodhala and former Kansas State Representative Raj Goyle, Pulitzer Prize-winning investigative reporter Azmat Khan — and even audience members.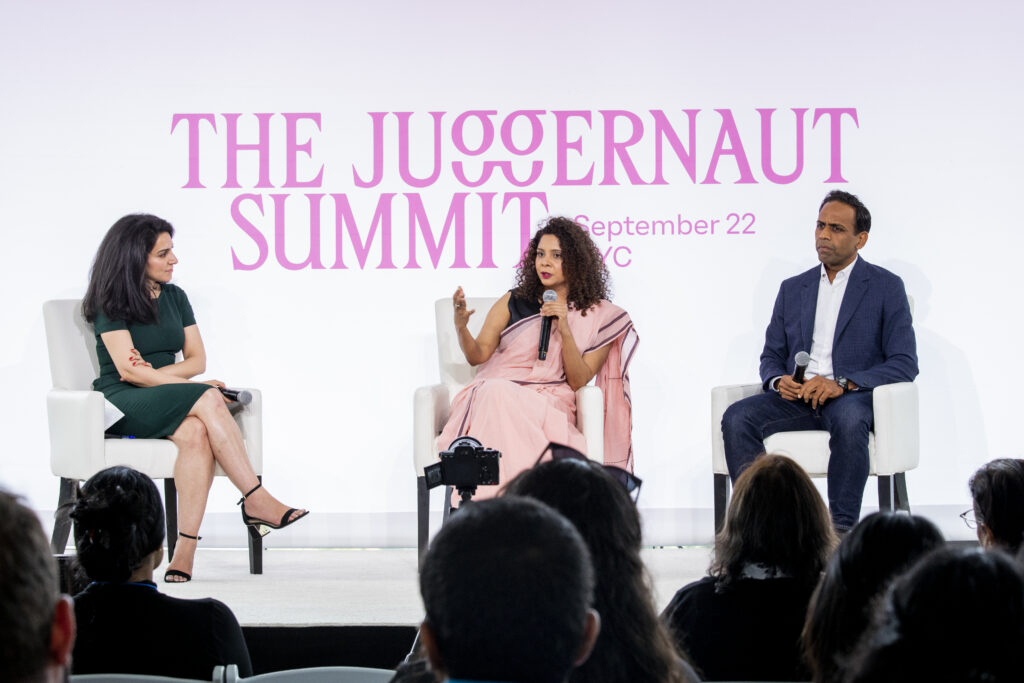 While the topics were serious, there was also no shortage of laughs. When the investment panelists were asked "Team Gulab Jamun or Ras Malai?" both sweets were even distributed on stage. 
Attendees and speakers alike were able to connect on shared experiences like grappling with guilt and taboos surrounding money, prejudice, and bias when trying to advance in their careers; social and political responsibilities as South Asians; familial expectations as immigrants or the children of immigrants, as well as little things like the event running just a bit on "Indian Standard Time" and not finding any restaurant that can cook as well as your mom. 
Time was even allocated to enjoy samosas and a cup of chai during breaks.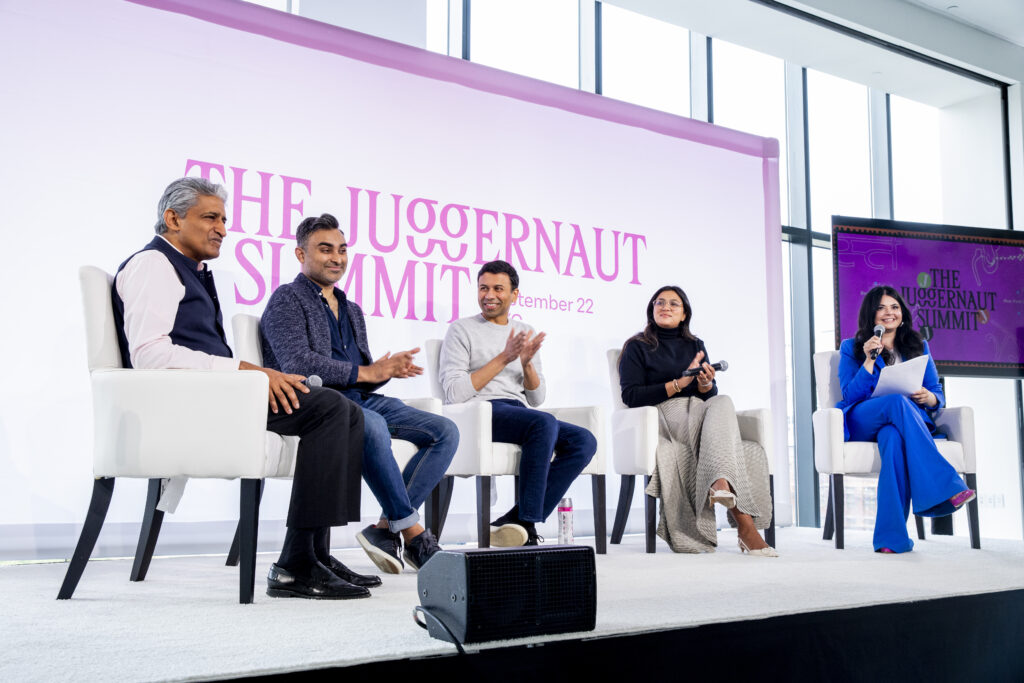 It was refreshing to hear many speakers including angel investor Arati Sharma and actress Richa Moorjani mention the importance of taking care of your mental health as individuals with ambition.
Oscar-winning director Mira Nair, food writer Priya Krishna, and director Sri Rao also urged everyone in the room to follow their passions and stay diligent noting there is so much work to be done in terms of South Asian representation and inclusion.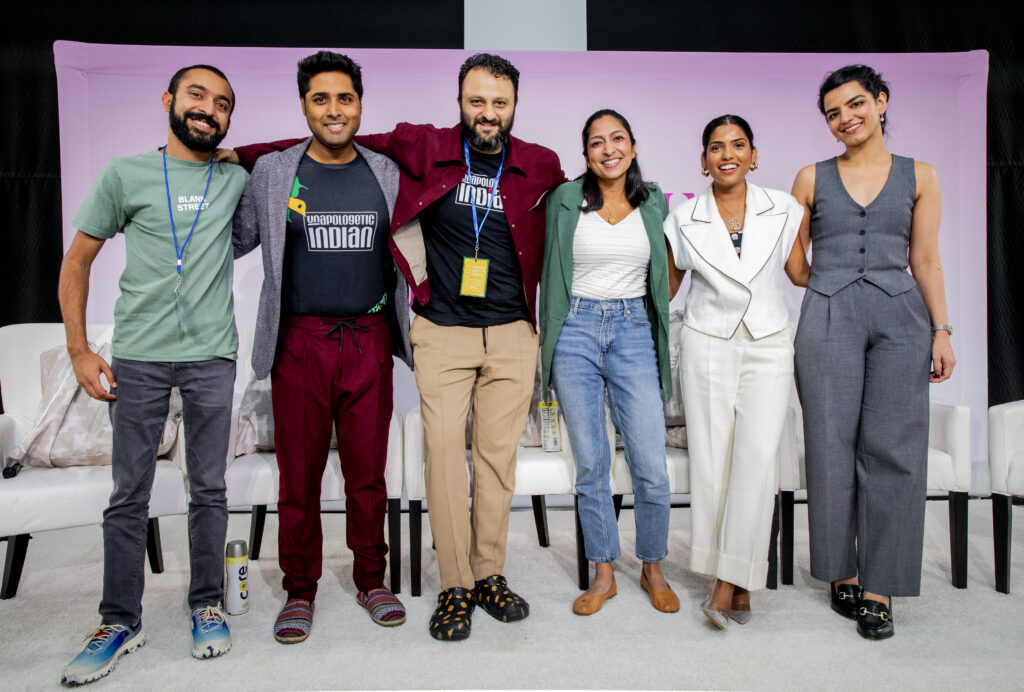 At one point in the day, Sur took to the brightly-branded summit stage to read a statement from the US Vice President, Kamala Harris, that reinforced these calls to action. 
"The Juggernaut's stories echo stories like mine and my mother's," Harris's statement read.

"She raised my sister and me to take pride in our South Asian heritage and to believe that nothing was out of our reach. It is because of the values instilled by my mother that I serve as your vice president. Each of you here today has your own story too. We stand on the shoulders of those who came before us and continue to dream with ambition to achieve the impossible….May today's summit motivate you to continue to move us forward and toward a brighter future for all."
Today, there are many more South Asians in prominent public positions than ever before in America, but geopolitics panelist Goyle raised the question of what happens should the country reach what he called "Peak Brown" or issues abroad affect South Asians domestically.
While there are no clear-cut answers to this or many of the questions raised as of yet, they all come back to the same fact: South Asians are finally getting their seats at the table and change is upon us. 
The Juggernaut Summit sparked inspiration and motivation and crucial conversations like this one that will continue outside of the Spring Studio venue.
Other guests and speakers at the event included: Benchmark General Partner Chetan Puttagunta, Anchorless Bangladesh founder Rahat Ahmed, Vice Chairman of SUN Group Shiv Khemka, CEO of LVMH USA Anish Melwani, Founder and CEO of Poshmark Manish Chandra, Unapologetic Foods co-founders Roni Mazumdar and Chintan Pandya, Vinay Menda, Sajani Amarasiri, Rohini Kosoglu, Keith Peiris, Samyutha Reddy, Amish Jani, and George Mathew.