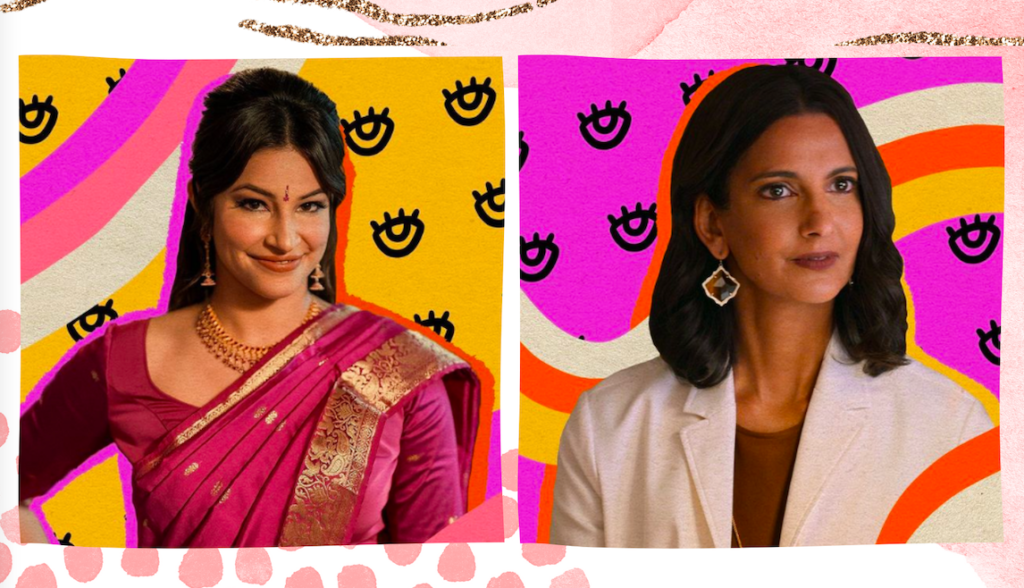 Netflix's "Never Have I Ever" landed with a splash creating buzzworthy conversation among desi circles across the globe. The hit series, now on its third season, has landed in Netflix's top 10 TV shows each consecutive season. NHIE is a coming-of-age comedy-drama produced by Mindy Kaling and Lang Fisher. Based in the United States, the series revolves around an Indian-American family and touches on issues that generations of desi women still struggle with.
Season two left viewers wondering about the state of the love triangle between Devi, the protagonist played by Maitreyi Ramakrishnan, her boyfriend Paxton, and her love interest, Ben. This season shifts to a love diamond with her first South Asian love interest, played by Anirudh Pisharody.
Although NHIE was intended for a teen audience, the experiences of the characters are relatable for all age groups. The nuances of three generations of desi women in their situations at home and work are at the forefront of the storylines. Richa Moorjani portrays Kamala Nandiwadal, a hard-working CalTech Ph.D. candidate and cousin to Devi. Poorna Jagannathan stars as the recently widowed Dr. Nalini Vishwakumar and mother to Devi. Brown Girl Mag contributors Ashley Ramcharan and Sneha Goud sat down with both Moorjani and Jagannathan to discuss their characters' growth in season three and the paramountcy of representation.
The following answers have been condensed for concision and clarity.
Both your characters are actively breaking stereotypes. Richa, your character Kamala does not want to follow through with her arranged marriage. How does this build upon Kamala's empowerment journey and what should the audience look forward to in season three?
RM: "Kamala is finding a sense of urgency, which she lacked her entire life. So many of us, especially brown girls are able to relate to that whether or not they had an arranged marriage or their parents putting pressure on them. There's pressure to fulfill your family's expectations and do what they want, whether that is marriage or school or a career. It's been awesome to portray that."
Poorna, your relationship with Dr. Jackson is unconventional, how does this reflect Nalini's growth post-Mohan's death?
"In season two, we found Nalini trying to army crawl through and move forward. But moving forward is not the same thing as moving on. The character realizes she's not ready for a relationship. Devi's not there either. She wants to be there for her daughter. In season three, we see Nalini form this beautiful sisterhood with the characters.

Nalini is also trying to find herself and find intimacy in relationships outside of the home. This idea is explored as she tries to shape up and shift how she parents Devi, otherwise she's going to lose her. That's one of the biggest realizations. If she doesn't step in and fill that emotional hole Mohan left, she may run the risk of losing her daughter.

 The relationship was two people talking at each other instead of to each other. You see Nalini step into that role of mother and friend. Nalini is very guarded and unable to express emotion but she has lovely scenes between Kamala where she takes Kamala's advice and encourages Devi to spread her wings."
How did you prepare for your portrayals of women of color in STEM, a traditionally male-dominated field?
RM: "There is a storyline in season two, where Kamala struggles with her misogynistic and possibly racist supervisor who mispronounces her name. We added a bit in where after he mispronounced 'Kamala' and after I corrected him, he mispronounced it in a different way. This is so realistic.

I am not smart enough to work in a field like science, technology, engineering and math, so sorry to my parents. I had to do a lot of research on what it is like to be a woman in this space. Despite it being a comedy, we are putting a spotlight on a real issue. Many women and especially women of color in STEM, are not given credit for their work or a voice. They're invisible and excluded.

Studies during my research showed that lack of representation negatively impacts young girls from wanting to go into these fields. I think this storyline is brilliant because the writers could have solely focused on Kamala at home or her arranged marriage but they chose to show her pursuing a Ph.D. There are many others who come to the U.S. from India or all over the world, to be in these fields. Season three is not about that storyline but it feeds into season three where Kamala continues this journey of using her voice and standing up for herself."

PJ: "There's one pivotal flashback conversation between Nalini and Mohan. She discusses not wanting to live in America and going back to India because everyone makes fun of her accent, her name, where she comes from and the food she eats. While preparing for scenes, I recall Lang clarifying its context; it's for the young South Asians or female writers in the room. These are the stories, including that of Mindy's mom, that represent overqualified women who are discounted, invisible and undervalued. I believe this show is a love letter to young brown girls and our moms. We never truly appreciate or see their struggles in a visceral way."
Devi frequently sees a therapist in the show. Mental health is a traditionally taboo topic in brown households. What are your thoughts on how mental health is treated on the show and in real life within the brown community?
RM: "I think it's incredible how our show normalizes Devi going to therapy. In season one, Nalini says, 'I think Devi should go to therapy,' but Devi thinks therapy is for white people. She ends up going anyways which impacts Nalini's arc in season one. Mental health is a topic Poorna and I think is very important. We talk about it a lot and I'm happy this show opened up that conversation to normalize it. I am a strong believer every person on this planet needs therapy."

PJ: "This is especially impactful to normalize a young South Asian girl going to therapy."
We know there is LGBTQ representation with Fabiola and Eve, but will we see any queer desi representation in season three?
RM: "Yes, you will, but you have to watch to see who."
View this post on Instagram
Poorna, what is the significance of playing a mother in a first-generation Indian American family?
"In real life, I'm a mother to a first generation South Asian boy who is exactly the same age as Devi. Their progress has been identical and it's just infuriating too. I'm exhausted but it is eye opening. First of all, I learned so much from the show, I use 'hilare' (short for hilarious) all the time. Then my son gets annoyed.
"The writing in the show does the heavy lifting. I'm a very different person from Nalini, I parent differently but the writing contains humor and vulnerability. Nalini is very strict, but she's also hilarious. In season three, you see her struggling and it's not meant to be Westernized or because she's committed to raising a traditional household and sticking to her values. It's due to her trying to understand Devi better and you see her having the courage to parent differently."
Poorna, we see different perspectives on dating before marriage from Devi and Kamala. We've seen Nalini's attitude towards Devi and boys before but it seems like her boyfriend is going to play a significant role this season. How will Nalini deal with that?
"Nalini's going to just lose her mind when the new Indian love interest enters the conversation. It's a very interesting turn of events. I can't wait for you guys to see it."
Have you noticed a change in the film industry toward South Asian stories and actors since NHIE launched in 2020?
RM: "It has changed in so many ways, meeting other people in the industry such as writers, directors, storytellers and actors. They tell me that this show has given them the confidence, platform or even the resources to get their stories out there. However, our story is only one story. We are just at the tip of the iceberg. There are many talented voices out there that need to be heard. Being South Asian is not a monolith. There is no one experience that can represent every experience of what it means to be Indian or South Asian. It's been incredible to feel empowered as an actress and to be on a collaborative set where I feel like my voice and input matters. We can work with every department across the board, hair and makeup, costumes, props, and even the writers, Mindy and Lang Fisher. To be able to feel like what we think and feel matters. I just really hope and pray that any project we're ever on after this we feel that sense of power."

PJ: "Same, just piggybacking on what Richa said, this project has become a real cornerstone for Netflix as well and for other streaming services and other networks. Whenever I read a new script and a new character is introduced, in my head I always think they're going to be white, and when they come to set and they're not white. It is such a diverse show and then you add more diversity to it with every episode and every season. That starts behind the camera. It has become a diamond and a stellar kind of a lighthouse on how things could possibly be done. It's not paying lip service to diversity. What happens when you make it diverse and what is the reaction from viewers when you make it so diverse? I didn't think in my lifetime I'd see myself reflected on TV. It's a whole version of me, not a sliver of me and that's mind-blowing."

RM: "I also never imagined that I would be a part of a show like this, especially one that would be watched not just by South Asian people, but people all over the world. That is what has shown the top people in the industry, networks, studios and executives—that a show like this can work and it can make them money because they care about that at the end of the day."
View this post on Instagram
This show is more than a comedy, in Jagannathan's words "It is a love letter to young brown girls." Topics span mental health, racism, sexism, parenting, coming of age and many more. NHIE is being received by all audiences, not just South Asians. Its ratings are reflective of relatable stories within mainstream culture.
We've seen more brown faces on the big screen in recent years, including Iman Vellani as Ms. Marvel. Diversity is more than a trend, it's vital for underrepresented communities to be seen. While shows like Ms. Marvel paved the way for more South Asian voices to be heard, brown folks everywhere can now tune into Netflix and see women who look like us—women who represent generations of women we know from our mothers to our sisters. You can watch season 3 now streaming on Netflix.