In the summer of 2016, I was a medical student at Michigan State University, and like most other medical students, I was consumed with hours of endless studying, dreaming about seeing the M.D. initials after my name and planning out the next ten years of my life, including buying my first pair of Louboutins with my paycheck —  but it all came to a harrowing stall when my dad, Abu Hanif, was suddenly diagnosed with lung cancer and then passed away less than a month later. The future plans my family and I had immediately collapsed and my sister, mom and I were left reeling from the worst moment of our lives.
Having lived through this extremely difficult, life-altering experience, I can definitively say that what's worse than losing a parent at a young age is not being able to have that last moment with them; the opportunity to have that final talk or last warm embrace, but time was not in my favor and I did not get that chance.
A few years before my father's death he was involved in the initial phases of creating a Bangladeshi Mural for the community with the team of OneHamtramck. However, the project had not progressed for many reasons, including the lack of an artist to paint it.
Currently, we live in a time where immigrants are negatively portrayed and minorities are victims of hate-filled rhetoric. The hope was that this mural would highlight the positive contributions Bangladeshis have made to the U.S. and allow others to learn about our culture.
So, on October 2, 2016, at my Dad's memorial, upon the suggestion of OneHamtramck's executive director, Bill Meyer, it was decided the project would restart in honor of my father's memory.
This is a moment of great pride for Bangladeshi-Americans worldwide, but working on this project meant so much more to me. It allowed me to better understand my hyphenated identity and use this unique two-year journey to grieve the sudden loss of my father.
Furthermore, the Bangla mural will stamp Detroit and Hamtramck, Michigan as a place that welcomes all Bangladeshis to visit and feel a sense of pride for their culture and heritage. The Bangla language is the eighth most spoken language in the world yet Bangladesh is one of the most underrepresented countries in Asia, reduced to only being recognized for poverty and overpopulation. This mural will work to highlight the beauty of the country and its people. It will also be a reminder of the struggle that so many previous generations went through to make Bangladesh the country it is today after the bloody Liberation War of 1971.
Working under the foundation of the community-based organization, OneHamtramck, our Bangla mural team is filled with motivated young Bangladeshi professionals, students, experienced social justice activists and young female Bangladeshi leaders. By undertaking the mural project, OneHamtramck has allowed us to share with others the love we have for our culture. This is very unique to see both in Western society and the South Asian world where women are often forgotten in the shadows of the louder voices of the patriarchy. This is not the case for our mural. Through this artwork, young Bangladeshi women will be able to use art to connect with and reclaim the beauty of their culture.  
View this post on Instagram
For me, working on the mural project in the Michigan Bangladeshi community has allowed me to meet so many young, inspiring Bangladeshi children who are eager for the mural to be completed in their neighborhood. Their eyes light up when they hear it and they feel so proud that they can go to school and see the painting on a huge wall that represents them and the country their grandparents or parents emigrated from. They have a sense of excitement knowing that it could be one step closer to being recognized as a Bangladeshi instead of being misrepresented as Indian or Pakistani.
These feelings of pride and excitement for the mural aren't just spreading amongst the younger generation, but it's just as strong in the elder generation of Bangladeshi-Americans. Many are excited to see their children actively involved in a community project that celebrates their culture, while others can't believe that a piece of art at this scale that represents them would ever be created in a country that they sacrificed so much to call home.
Growing up I always felt alienated by my hyphenated identity. I felt like I didn't belong in either world completely. It made me resent some parts of my culture and shy away from proudly saying I was both Bangladeshi AND American. The mural really helped in understanding that it was possible to embrace both and that my identity in itself was unique. It didn't mean you had to abandon one identity for the other or feel the pressure to act or behave a certain way to fit in.
And I hope that the mural can do just that for so many more young Bangladeshi Americans. Seeing a piece of art that represents people who look like you being celebrated and displayed for the world to see will lead to more feelings of pride for this dual identity in particular.
And wherever my dad is, I know he is smiling down on what we have all accomplished. We achieved what seemed like the unthinkable. We were able to mobilize the young generation of an immigrant community to create change and come together for a common cause.
The grieving process for a loved one has no end. When my father first passed away, I had a lot of pressure from friends and family to quickly "get over it" and move on as its been more than a year since his passing. However, what no one understands, unless they've lost a loved one, is that the grieving process is unique to each person and there should never be a time limit placed on it. I've learned this the difficult way and the mural project has been instrumental in my coping journey. It allowed me to stay connected to my father by doing activities that he was fond of: Connecting with community members and learning how to serve the Bangladeshi community, for generations to come.  
My hope for this piece of art is that it outlives all of us. I hope that some child will be able to look at this mural and appreciate that there is artwork that represents them. It portrays them. I hope, 20 years from now, the Bangladeshi-American children can proudly look at this mural we created and know that he/she belongs.
---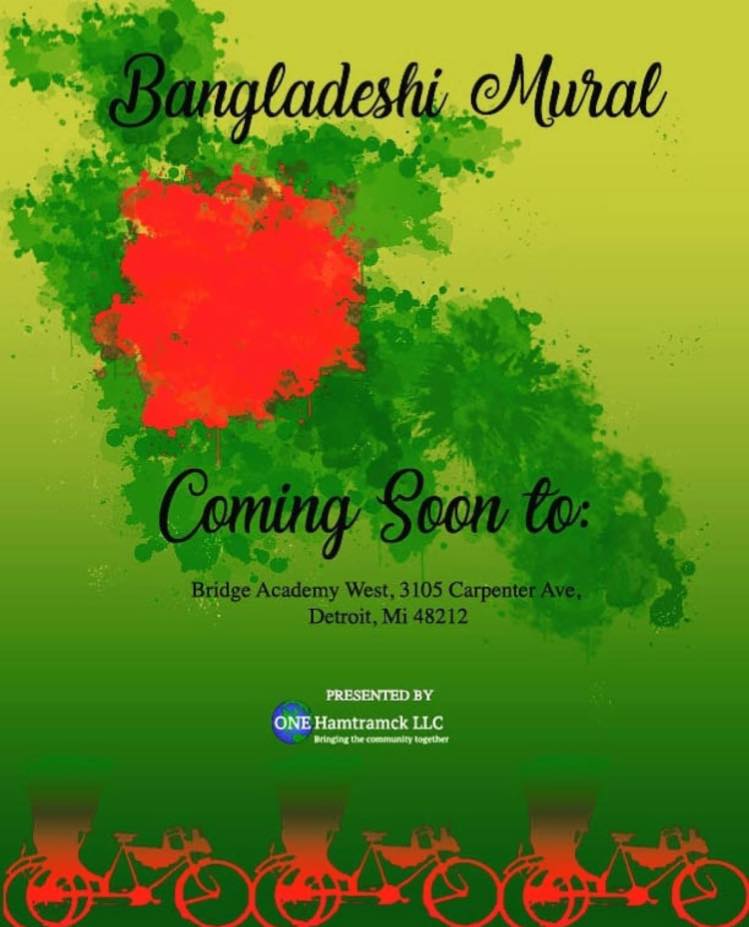 I want to recognize the efforts of all of those who were involved in successfully completing this project, especially those who were there from the start. Thank you to OneHamtramck LLC, Daisy Hanif, Bill Meyer, Abu Zuber, Yasmeen Ahmed, Nashia Choudhury, Farha Hanif, Tamanna Azim, Farhan Huq, Bushrah Rahman, Sabira Rahman, Nushrat Rahman, Mike Duffy, Twyla Meyer, Ramsey Hussain, Frank O'Donnell, Helen Weber, Kamal Rahman, and all of the rest of the committee and community members that helped reach our goal.
Please follow the independent non-governmental progressive organization, OneHamtramck LLC, for all the fabulous work they are doing to build understanding and improve communication in the community at  https://onehamtramck.org.
The Bangladeshi mural will be making history this October as the first large-scale, outdoor piece of art in America depicting Bangladeshi culture that will be painted by world-renowned muralist, Victor "MARKA27" Quiñonez.