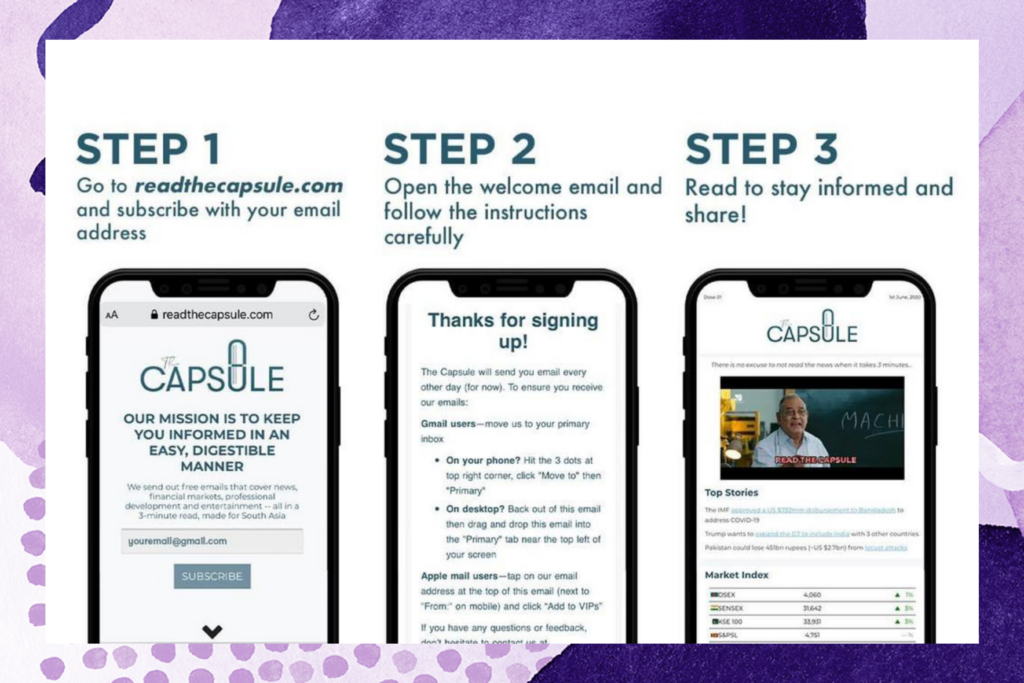 Imagine an email news subscription service that updates you on all that is happening in South Asia in three minutes! The Capsule — a new online news platform — delivers just that. It was founded by two students at Cornell University, Sakib Jamal and Umran Mustafa. We at Brown Girl Magazine recently spoke with the core team at The Capsule to learn more about the platform.
View this post on Instagram
What is The Capsule?
The name suggests the essential framework for the platform. The audience receives the information in a 'bite-sized' and 'digestible' manner three times a week and completely free of cost to your inbox.
How is it different from other news outlets?
The references used are a mixture of the "most trusted sources and local news," Muneet C., a student at UC Berkeley, mentions.
In addition to the number of features, there are also referral rewards for the subscribers. Another team member Salsabil Salah, who is an engineer by day, explains that the rewards include essay/resume reviews, interview prep, and shoutouts. The Capsule also offers some fun snippets about the entertainment industry and more.
On their social media channel, the audience can join in on one-on-one conversations with inspiring personalities like India's youngest billionaire, Nikhil Kamath, and the co-founder of HerCapital, Zabreen Khan. Basically, it is a one-stop shop of all the latest updates for the South Asian community.
View this post on Instagram
What is the key to establishing such a platform?
To build a brand, you must learn how to be "nimble" and aim to "build trust" with the consumer, as the co-founder Jamal points out.
Zafin Hassan, a student at the University of Waterloo, talks about how "asking [the] audience bi-monthly what they think about the emails and the content is [also] necessary for the platform to be successful."
If there is a topic that interests you in the realm of the South Asian community, readers from any part of the world can now submit their piece on their Google form. Subscribe to The Capsule and follow them on their social media channels to get your news in the quickest way possible.