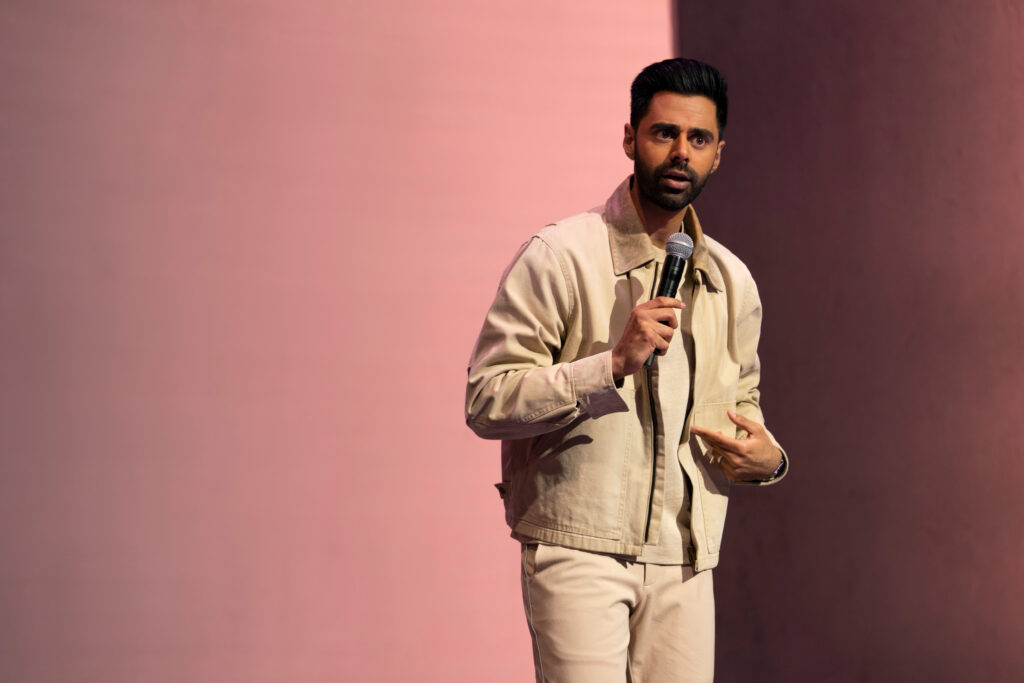 Yes, the rumors are true, much to my younger sister's dismay, I skipped my senior prom to see Hasan Minhaj's show in Toronto. Yes, I know I could have changed my ticket to the following day or waited until the special dropped on Netflix, but I didn't want to.
Now, seemingly a lifetime later as I sit in my dorm room, my politics textbook pushed to the side, in favour of watching "The King's Jester," just how right I was to skip the prom to see Minhaj's show becomes so very clear to me.
Minhaj's new special comes five years after his first Netflix special, "Homecoming King," and discusses fertility, fatherhood, and fame. The stories are incredibly intimate and broken down into conflicts that we can relate to regardless of our personal experiences. 
In the special, directed by "Patriot Act" co-producer Prashanth Venkataramanujan, Minhaj, as always, covers issues that others would shy away from discussing. It also gives us "unhinged Hasan." If you're not one for stand-up comedy, know little about Hasan, or need any convincing to trust us with 65 minutes of your life, allow this conversation between me and Minhaj to discuss what went into the production of this special to convince you. 
View this post on Instagram
What did the process of putting this special together look like? What was behind the decision to start the tour at this time and then eventually produce the special with Netflix?
I had wanted to go on tour [because] it had been several years since I had gone on tour. The last time I had even done a small tour was in 2018 before I had launched Patriot Act, but one of the things that I was thinking about was that if I am gonna go on tour if I am gonna do the special, there has to have been a passage of time, not only personally but thematically. 

What am I gonna talk about that is new and interesting or worth an hour of your time? And one of the things that PV [Prashanth Venkataramanujan] told me candidly was like 'Look, man, I need you to bleed on the page then. You need to tell me things and tell the audience things that you're too ashamed to say, that you're too afraid to say. Tell me things that you wouldn't even put in your WhatsApp thread to your friends that you grew up with. What are you humiliated by? What are you ashamed of? What is something that you haven't even told me?'

And when he told me that last part—what is something I haven't even told him—he didn't know about the varicocele repair and the infertility stuff and all the years that Beena and I were trying to conceive and start our family. So, the first story started from there and everything started flowing from that first story. Fertility, family, and as I got to the end of that and I think of my daughter (she's four now) and that's really where I started thinking about the themes of [how] there were times where I crossed the line and I went too far and that really helped me breakdown the other two chapters of the show—clout, the Saudi Embassy, the jurisprudence of jokes; all that stuff and that really crystallized everything, so one secret led to the next, which led to the next, which led to the next and before you knew it, we had a whole show. And at that point, it really felt like 'this is something that I want to share with people.'

And Beena looked it over. Beena helped curate and she changed some lines, so she's kind of low-key is a co-writer of the special. She's not a part of the WGA, but she is a co-writer on the special, in my opinion, and there are certain lines that she wrote and I'm really proud of her for writing those things, so she's in public health, but is also, in my opinion, a writer as well. And she helped shape it and edit parts of it and at that point, I was like 'yeah, we should share this with the world.'
Evidently, a great deal went into this special before it was ready to share with the world—a five-year thematic gap, reflection, self-growth, and edits from Beena—which is all the more reason to check it out.
Now onto the part of the interview where like every other journalist and talent, Minhaj and I geek out about Trevor Noah and sound design.
In this special, you do a couple of impressions—as Kumail Nanjiani, as Aziz Ansari, and as a Saudi official, of course. You haven't done very many impressions in the past, what went into the decision to amp up the impressions?
I just wanted to show you guys unhinged Hasan.
How did you work on the impressions? Did you call Trevor [Noah]?
Trevor is amazing at impressions! I do talk to Trevor about impressions and Jay Farrow and Mo Amer. Those three are so good at impressions. And I should probably mention, we're not super close but we've met once or twice now—Chloe Fineman. She's incredible at impressions.

But I realized what Jay told me is that impressions really come down to finding one inflection or one kinda like ism that like unlocks the whole thing. So with like Aziz, it was just like 'Woahhhh!' and like that opened everything up and then you can just [work from there).
That's all it took?
Yeah!!
You hold a microphone in this special which isn't something you did in "Homecoming King" or the "Patriot Act." Did you have to adjust your act to work with that?
I did, but it was really beneficial because the microphone also helps with character work, so there are times when you can hold a microphone closer for a secret or you can cup the microphone and it echos your sound. When I play Smeagle and I'm a clout monster, who's like 'Yessss!' you can hold the microphone a certain way and that evokes a certain emotion and it can project sound in a really beautiful way.

We're dorking out about sound design now, but it is true.
The Clout-Monster—do you miss him?
No!
Do you miss having that power every week?
No, no, no, no! And I think my life and the relationships in my life are much healthier because of it. I will say this just to be real, to be a thousand percent honest, it is a fight and it is a thing that to me, clout, social media, and fame are the avatars of sin. It taps into probably the worst part of, I would say, my spirit and the human spirit.

Jealousy, envy, comparison, anger—all of these really ugly, dark, low things—in Islam you call it the nuffs—these lower parts of ourselves, our nuffs, and I have to check that everyday. Anytime you open up your phone, it's like a portal to the worst part of that. The special is a reminder to myself and I hope to continue to just remind myself of that. So, it's a test on me.
Speaking to Minhaj after watching his show live and later on Netflix, just how much thought went into each aspect of the show—from the writing to the sound design—becomes abundantly clear. We are reintroduced to Minhaj five years after "Homecoming King," following the "Patriot Act" and two babies, and yet his trust in his audience and ability to make us laugh hasn't faltered. 
"The King's Jester" airs exclusively on Netflix on October 4. 
Feature image is courtesy of Netflix PR. The interview was edited for length and clarity.