6
min read
"The Sex Lives of College Girls," Mindy Kaling and Justin Noble's new coming-of-age HBO Max comedy, like the similarly titled "Sex and The City" before it, is more about the friendship between college roommates than their sexual exploits.
The series focuses on four girls from diverse backgrounds who have been assigned as roommates at the fictional Essex College. Essex appears to be a mix of East Coast Ivy League schools (partially based on Kaling's and Noble's alma maters: Dartmouth and Yale, respectively). As could be expected in a realistic college environment, initial awkwardness and animosity between the foursome soon grow to a tight bond despite their differences.
Bela (Amrit Kaur) is excited to explore her sexuality after being raised in a conservative household; Kimberly (Pauline Chalamet) is a sheltered scholarship student; Leighton (Renee Rapp) is wealthy and glamorous but hiding a secret, and Whitney (Alyah Chanelle Scott) is a star athlete who is the daughter of a prominent Senator.
After a few raunchy sex scenes in the first couple of episodes, including a naked party (based on a real party Noble attended at Yale), the show centers around the academic and extra-curricular lives of the four. The sex scenes aren't explicit as all the girls are still learning about how to navigate relationships while adjusting to life on their own.
Indian-American Bela aspires to be a comedy writer, just like her idol Seth Meyers whose poster is prominently displayed on her wall. Though she pretends to be a neuroscience major to please her parents, much of the first six episodes (season one of "The Sex Lives of College Girls" is 10 episodes) focus on her quest to join The Catullan, a prestigious comedy magazine. Bela is very reminiscent of Devi, the lead character of Kaling's "Never Have I Ever," who dreams of pursuing a career in the arts at Princeton.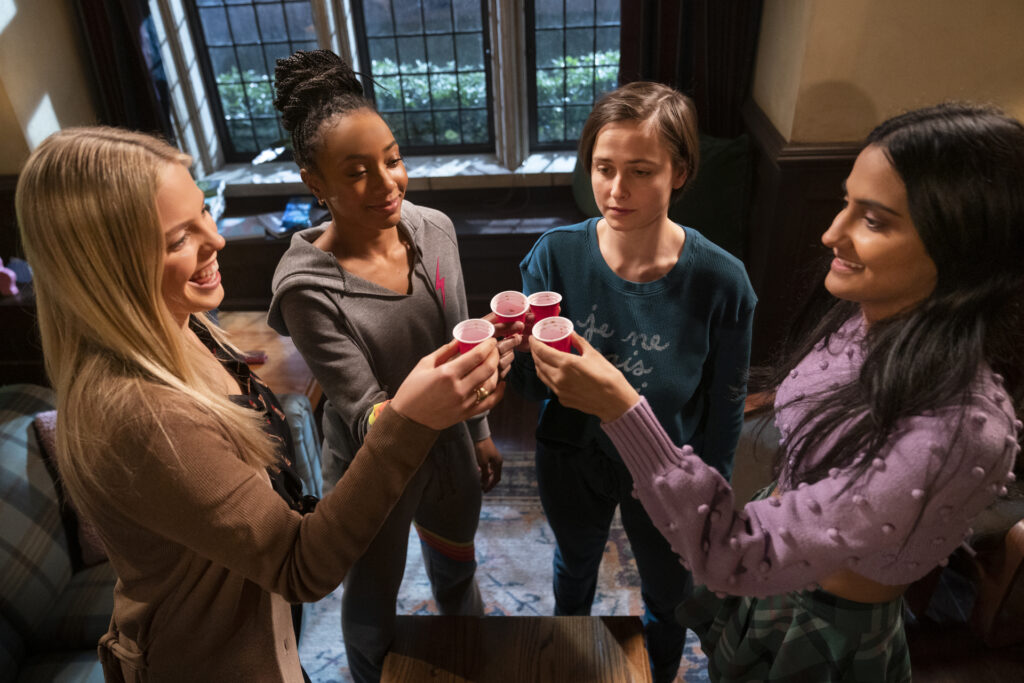 After splitting with her high school boyfriend, Kimberly struggles to fit into the rarified circle of her fellow Ivy Leaguers with impressive resumes and wardrobes. Leighton starts out treating her roommates with disdain but we soon learn that her defensiveness is armor against anyone figuring out she's gay. Whitney's affair with her married soccer coach is less interesting than the sexism she realizes the female athletes face. This is an Ivy League school, after all, so the girls are overachievers focused on their post-college plans.
Refreshingly, Bela is portrayed as the most sex-positive friend, even when her encounters backfire. Kaur's unique portrayal of a South Asian character differentiates the character from anyone on television before with trademark Kaling one-liners ("Young Stalin can get it!" she announces in the library).
I spoke with Amrit Kaur about her role and the experience of playing a very different type of South Asian character than we've seen on past TV shows.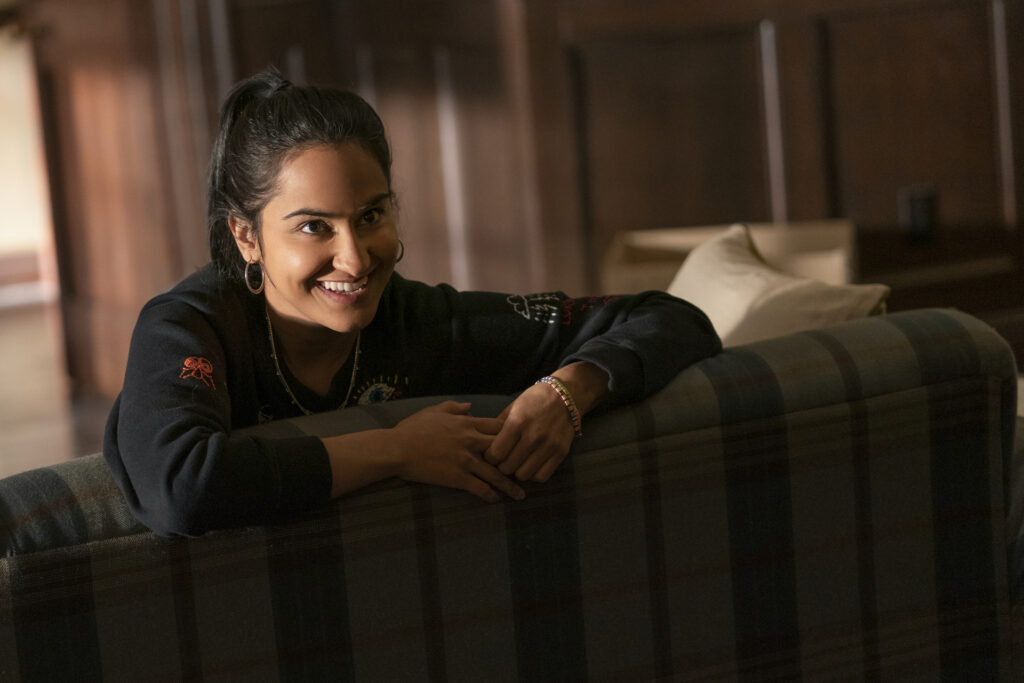 Amrit, it was so amazing to see a sex-positive South Asian character on screen. What was it like to play someone like her?
So liberating and exciting. It's almost bizarre to say it's exciting to be sexual because we've made it bizarre. That a South Asian girl is having sex and talking about sex vocally, we've never seen that on screen. For so long, we've been telling this lie that South Asian women are submissive. We saw Kalinda Sharma in 'The Good Wife' and that was it for a long time. And now this girl in our generation is talking about sex.

In the premiere, I had a conversation about sexuality with my father who comes from a small village in Punjab. He agreed that he and his friends are in their sixties and are pretending their kids are virginal.

People who were told to lie about their sexuality the most were always the people who were the most sexual and often get themselves into dangerous situations. Brown women and men will be safer by just having conversations.
What was your family's reaction to the show?
My family is just like any other Indian family, you can assume what that means. No father wants to see a girl's ass out on the screen. But the best thing is we got to have a lot of great conversations about it. Our family and our culture has a lot of work to do with breaking the lie that we're not sexual. This role is the beginning of that conversation.
How comfortable were you being scantily clad on screen, like during the naked party?
I loved it. I've done a lot of work around my sexuality with my coach. Bela is excited to be a part of this experience but Bela is not a pervert. She's a girl who's excited about new experiences.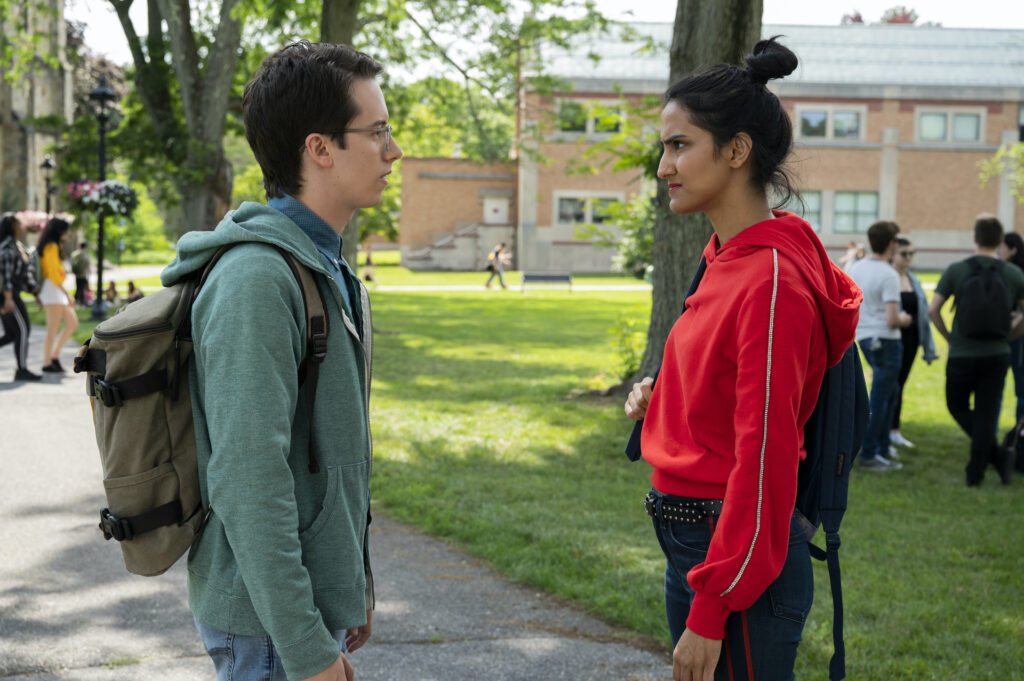 How have you faced sexism and racism like Bela did while she tried out for The Catullan? One of my favorite scenes was you telling off a comedian who joked about what you were capable of.
I've had so many. Bela is me, Amrit is Bela. There's a delusion of Hollywood, this industry where racism and patriarchy doesn't exist. That's not the reality. Black and brown women are struggling in spaces. I still have to come to terms with the world I'm in. I don't want to go into specifics but every single set has it.
How much do you have in common with Bela?
I see so much of myself in Bela. She's a vulnerable girl who wants to be liked. She's going into university hoping to be just like the white girls. She's straightening her hair, dressing like what she thinks white people wear, losing weight because she doesn't love herself. She is in search of having sex with a 10 because that will validate how sexy she is. But we don't have to look like models to be beautiful. On a lighter side, I want to be on 'SNL' and have a comedy special one day.
You mentioned in a previous interview that someone told you because of the way you look, you could only play a best friend and not a leading lady. It's so inspiring to see someone who looks like people I know on screen.
You can say it — a big nose! I have a big nose, that's what a Punjabi nose is! Mindy Kaling shares that experience of not being a stereotypical beauty and gives a voice to brown women.
You said when you were on Star Trek, a mother reached out to you on Twitter to say their eight-year-old daughter saw you as a South Asian role model. What do you think younger people will get out of your character?
I'm emotional thinking about those South Asian girls. That's the dream, to be able to make a change in the world. For girls to see somebody that encouraged them to be their authentic selves.
We talk to a lot of women who want to pursue a career in a creative field but don't have family support. Any advice for them?
The honest answer is sometimes we have to let go of our parents. I had a very stereotypical brown experience. My parents wanted me to be a doctor. I was the only girl in theatre school who lived at home. I wasn't allowed to date. But I had to be brave and say it's important to me to pursue my acting dreams at the expense of my family being upset with me.
You're also a writer and producer. Any projects in the works?
I'm writing a project right now about a Punjabi girl who dreams of an education in Canada and escaping an abusive family. But she realizes when she gets married that her husband is abusive so she has to pursue her education in secret. It's deeply influenced by my family. India is such a big country with hundreds of cultures. My goal is to tell as many of those stories truthfully on screen.
Any actors you want to work with?
So many. Meryl Streep, Viola Davis, Michaela Coel, Meritt Weaver, Phoebe Waller-Bridge, Archie Panjabi.
Gen Z might seem inscrutable to older generations, but like Kaling's recent high-school-based show, "Never Have I Ever," viewers of all ages can relate to the unrequited love, sexism and identity struggles of "The Sex Lives of College Girls."
Our four leads are typically sequestered in their college bubble, only briefly broken during an awkward Parents Weekend dinner. Each girl is hiding a secret and supports the others when faced with their family's expectations. Guest stars Sherri Shepherd (Whitney's liberal senator mother) and Rob Reiner (Leighton's conservative father) spar during the evening, indicative of today's politically charged atmosphere. A brief reference to a post-COVID-19 world places the series squarely in modern times.
"The Sex Lives of College Girls" shows that growing up is more than getting drunk and having one-night stands. The foursome navigates the complicated road to adulthood with comedy and heart. The first two episodes of "The Sex Lives of College Girls" are streaming now on HBO Max.