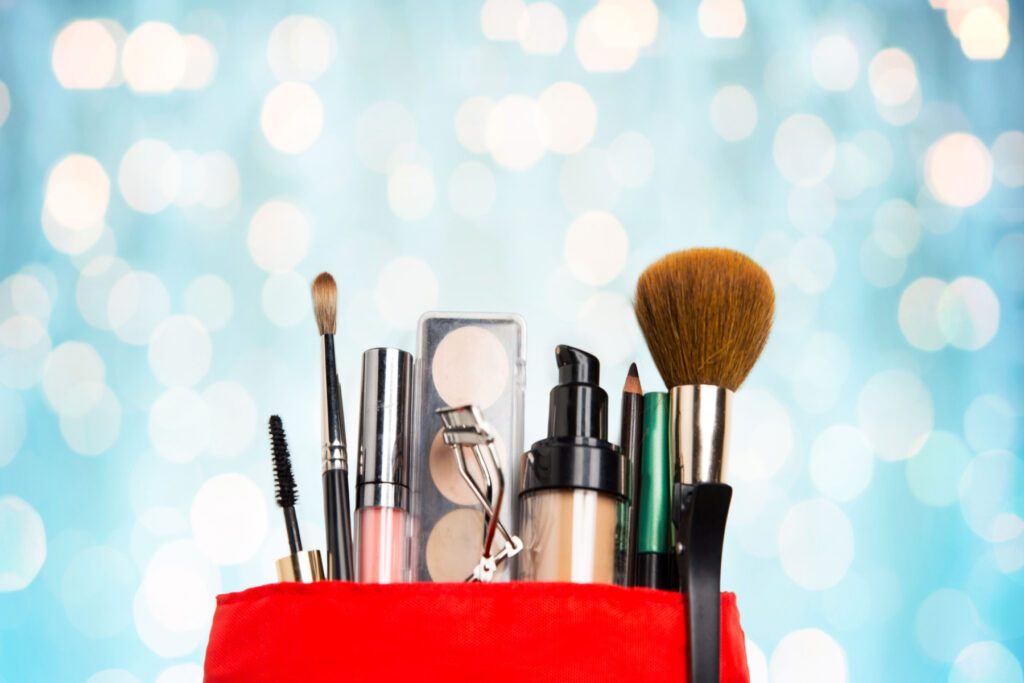 'Tis the season! If you're anything like me, you're probably comfortable in your sweats all winter long. However, with the holiday season kicking off, dressing up is inevitable so you might as well beat those winter blues with some color-popping changes for that perfect holiday glow-up.
Brown Girl Magazine has always had your back when it comes to holiday listicles. Having said that, we understand how it can get boring to read the same old recommendations, year after year. Hence, we decided to spin things a little bit and bring you a list of products that aren't all twinkle, twinkle, sparkle and shine…but still lend you that perfect holiday glow-up for a lasting impression. Keep scrolling to find out what we have in store.
First things first, winter skincare is just as important as any other seasonal routine — perhaps even more. Dullness and dryness are frequent complications experienced by many in these cold months. Whether you have oily, dry, or combination skin, we've got you covered!  
Soak Up That Oil
View this post on Instagram
Daily makeup rituals during the busy holiday season can be a cause of concern for oily skin. South Asian brand Aavrani's Purifying Oil Cleanser, with its natural ingredients, is a godsend! We suggest you give this one a go to keep a grip on those oil levels.
If you have acne-prone skin, try not to use benzoyl peroxide because it is very drying. Use salicylic acid instead! It is quite possible to develop acne at this time of the year when your skin tends to be drier because your sebaceous glands are producing sebum as we speak! Paula's Choice Liquid Exfoliant is a cult favorite. Just leave it on and exfoliate in the safest way possible. 
Beat The Dryness
View this post on Instagram
Shall I say more? CeraVe is one of the most loved drug-store brands. The hydrating cleanser is sure to take all of your makeup off and leave it feeling super moist, even if you have dry skin! 
Lip balm is just lip balm, right? Take it from me, it is crucial to find a good lip balm for dry, cracked lips for smooth lipstick application. Plump up those gorgeous lips for the holiday glow-up you've been striving for and try out Curology's lip balm (PS: They have a 30-day free trial). It is not only vegan and cruelty-free but also keeps lips hydrated for a long time. 
Universal Skin
Be it winter or summer, the First Aid Beauty Cleanser should be a staple in your vanity. It's gentle and perfect for all skin types. 
View this post on Instagram
Sunscreen is vital all year round. Even when the sun sets earlier in the winter months, your skin needs protection from UV rays. The SuperGoop Unseen Sunscreen doesn't leave an unwanted white cast and wears velvety smooth under all that makeup.
Some natural tidbits:
Mix ghee with coconut oil and apply it to keep your skin hydrated.
Use rose water as a toner at all times during winter months.
Massage aloe vera onto your skin three times a week for moisture.
Matte Eyes
All that glitters is not gold. Steer away from glitter this season, and embrace a matte finish to let your outfit steal the show. Matte eyeshadows are all we need to enhance our natural eye shape and color. Here are two brown-girl-friendly eye shadows that aren't shimmery or shiny, but will still give you the holiday glow-up you're aiming for!
NYX's matte eyeshadows remind me of Huda Beauty's nude and brown matte shades. They are rich and pigmented, and smooth to apply. Yet easy on the pocket. Above all, they are readily available. Needless to say, they are a great pick to create a neutral holiday look — just throw on a comfy sweater and blend in that eyeshadow.
View this post on Instagram
One brand name I can't leave out when it comes to listing my favorite beauty products is MAC. Even with the advent of a plethora of luxurious beauty brands, I am like a magnet when it comes to MAC products. As an 18-year-old, I used to adore the pigment of their products, and even to this day, I strongly feel their paint pot eyeshadows are an amazing pick for a classic matte eye.
Ditch That Red Lip
So what comes to your mind when picturing that quintessential holiday glow-up? Did you just imagine a deep, red lip? Not judging at all! Personally, I love me a ruby woo with a black outfit. But, chances are you aren't going to be the only one boasting a red lippie at your next holiday party. Dare to stand apart and go for a subtle shade!
This shade screams winter wonderland. Go lighter on the lips and have an icy look with this warm, creamy, semi-matte lip shade, suitable for all skin tones. 
View this post on Instagram
Live Tinted products are a no-brainer. South Asian-owned? Check. Brown girl-friendly? Check. One stick that does it all? Check, check, check. 
Crease Me Bright
If there's one look that's taking social media by storm, it's the color-popping eye look. Hues of hot pink are bound to let you dominate the holiday party, any day. Splash some pink, green, or blue eyeliner to add a fun contrast to your entire holiday OOTD. 
View this post on Instagram
If you are looking for brands with a strong pigment, make sure you test these out ASAP:  
Try the shade Daydream, part of the "Ocean" pack that consists of cooling tones. Or embrace your holiday spirit with greens and reds with the "Earth" bundle.  
The OG, Sephora, has a collection of must-have products. We all know about long-lasting eyeliner with the best precision brush. However, this eyeliner pencil deserves an equal amount of praise and is available in colorful shades. 
Nails, Nails, Nails
A head-turning holiday look is incomplete without the perfect nails to go with it. And they don't necessarily have to be super-glam, heavily metallic and extra long. Here are three minimal, yet statement-worthy ways you can make your nails stand out, this holiday season. Screenshot your favorite for your next nail appointment!
Hailey Bieber's Donut Glazed Nails
View this post on Instagram
This holographic technique is all over social media and for the right reasons. It amplifies your ski princess vibe, perfect for the colder temperatures, without looking OTT or tacky.
Minimal Pearl Nails
Do you enjoy a bit of nail art? Keep it elegant and classy by adding a pearl, or two, over a simple top coat. 
Oval Thin Tips
Fine detailing, sleek finish and stylish — in short, basic never looked this good. Period.
Blush Power
Now, let's get to my favorite part of the entire makeup routine: the blush. Essential for that "I am cold" makeup look, try these shades out for yourself. 
It's long-lasting and long-wearing with the perfect matte yet vibrant finish for the holiday glow-up you need, this season. Personal recommendation — '336 Winter Kissed' is the perfect shade to wear this winter. 
View this post on Instagram
Liquid blush isn't easy to wear but this one has a growing fan base amongst brown-skinned beauties. It's velvety smooth and super pigmented. The shade Joy is your best bet!
Show-stopping Hair
And it's time to end the holiday routine with a cherry on top — a good hair day. 
A Voluminous Blow-Dry
We thank the trend gurus for bringing this '90s hairstyle back into the game. Volume and a good bounce are all we need to complete our holiday look.
A Sleek, Pulled-back Hairdo
Take a cue from the incredible Meena Harris for this one. Be it a holiday party or a GNO, a sleek up-do won't ever let you down. And while you are at it, maybe add some dainty pearls or rhinestones or top it up with a plaid or velvet headband for a real, show-stopping moment. 
View this post on Instagram
Before you ring in the new year, see what tips/products work for you! It is usually not a bad idea to experiment once in a while — the holiday season is the prime time for it. We recommend keeping things minimal, classy and elegant for that perfect holiday glow-up. Happy holidays!
Photo Source: Shutterstock