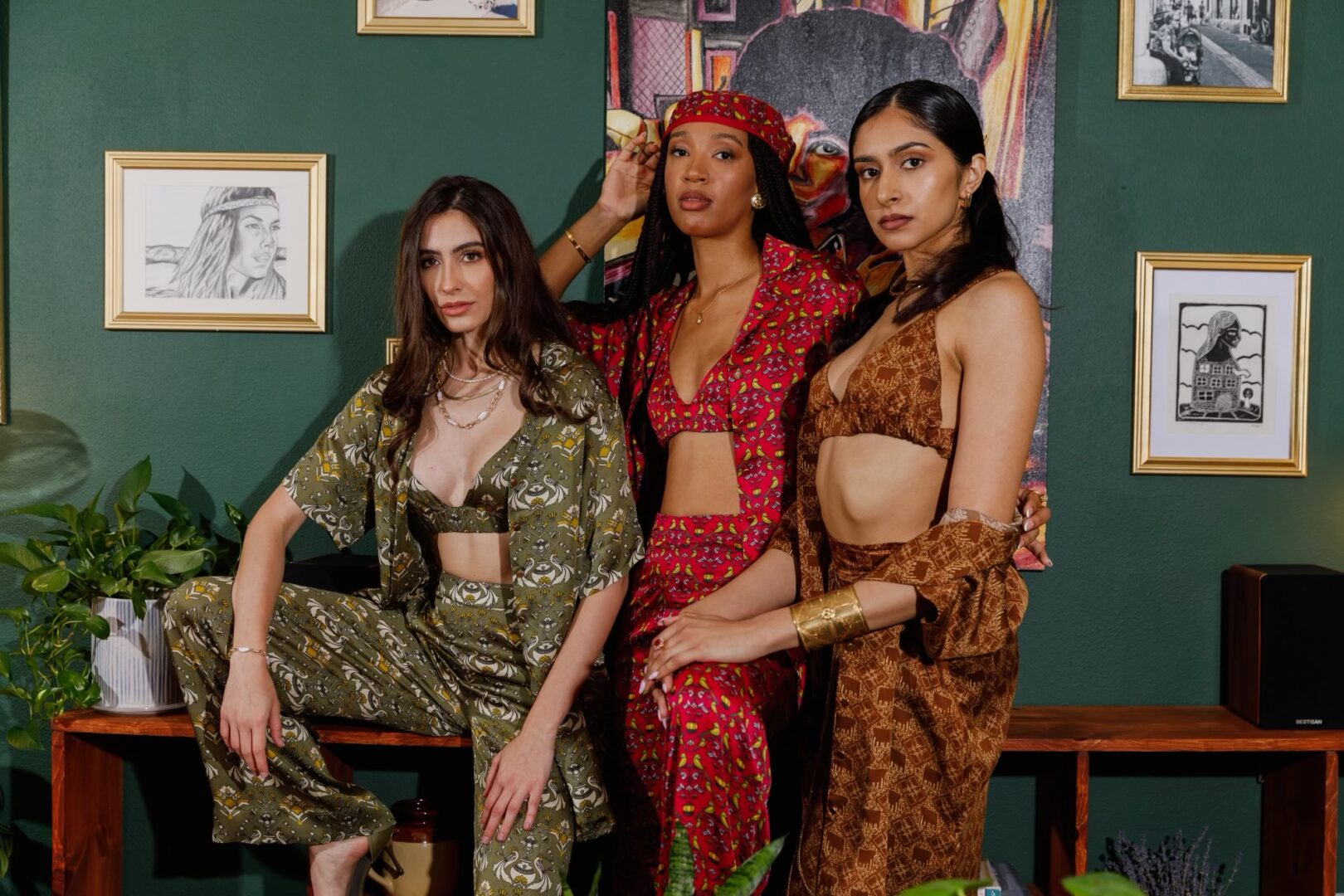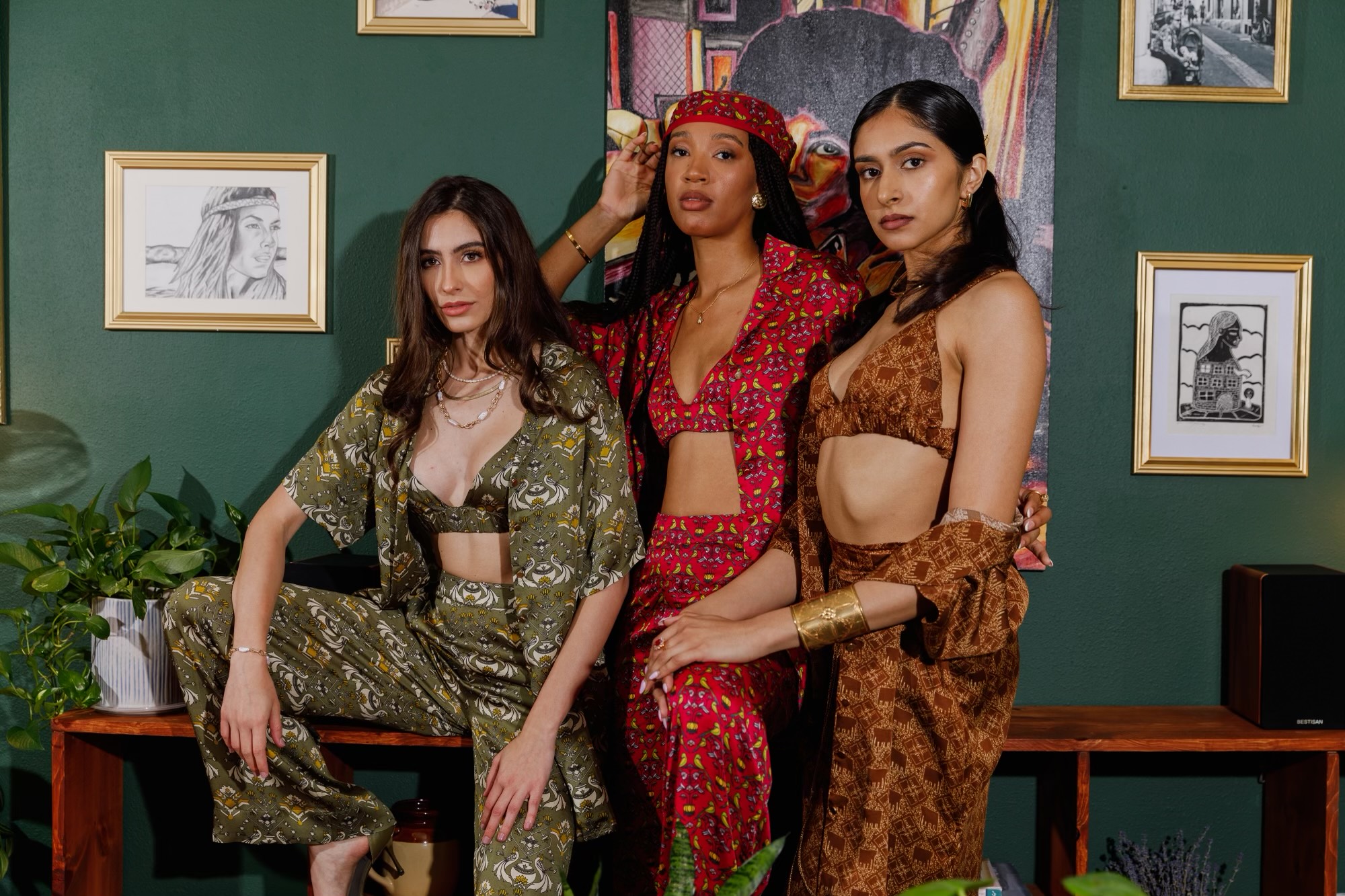 When she was young, Preeti Gore, the founder of the clothing brand Tilted Lotus, always looked up to her dad's "natural sketching" talent. His motivation led her to explore her creative side, whether it was experimenting with art or taking up sitar lessons. Regardless of that fact, she pursued a career in science and became a Physical therapist, following her gut instinct.
Stepping into the world of fashion, alongside being a PT, Gore talks to Brown Girl Magazine about her brand Tilted Lotus in depth.
Why "Tilted Lotus?" What is the significance of the name?
'Lotus' symbolizes the national flower of India, my birthplace and the land that has shaped me into the person I am today. It represents the roots from which I originate. On the other hand, 'Tilted' signifies the distinctive identity I developed while living in Western countries. With my experiences spanning four different nations — India, the UK, Canada, and the US — I've had the privilege of embracing the unique qualities of each culture. This odyssey has enriched my life tremendously, and Tilted Lotus is how I offer this special part of me to a diverse American market.
View this post on Instagram
How did the transition to the world of textiles and design occur?
Despite never being pressured by my parents, I convinced myself that pursuing a career in science was the 'right' path, and thus became a physical therapist. My first job in the US was at Houston Methodist Hospital, located in the prestigious Texas Medical Center. Driven by my passion to help others, I am dedicated to this profession and have no intention of quitting. Relocating to the UK, and Canada, and eventually settling in the US presented numerous challenges, and every time I felt shattered, defeated, or alone, I somehow found the strength to push forward. My parents, despite limited resources, supported my dreams wholeheartedly, encouraging independence and the pursuit of my passions. My husband — who I affectionately call my "Sheldon" (a nod to The Big Bang Theory) — played a pivotal role in persuading me to embrace my creative instincts. I am grateful to have him as both a strong supporter and a staunch feminist.

Two years ago, I took the first step toward launching Tilted Lotus. I enrolled in the entrepreneurship program at The Wharton School and pursued a course on starting a fashion line. I was focused on finding the right supply chain and developing a solid business strategy, but the real test came when I had to work tirelessly in the ICU during the COVID wave, back-to-back nights and days, all at the same time. Through ups and downs, failures, and victories, I finally launched Tilted Lotus in December 2022.
India to the UK…then now to the US! Did the need to stay rooted in your culture strengthen? If so, how did that help you envision Tilted Lotus?
From my childhood days, I've held onto my personal values like a compass guiding my way. During my experiences living in different countries, I noticed [I was] slowly losing myself, losing what truly makes me, me. But my love for my culture grew stronger, and I found ways to preserve it. As I wore clothing that reflected my identity and initiated conversations about culture and heritage, I discovered that these markers not only distinguish us but also bring us closer together. People are often eager to learn and experience different cultures, which inspired me to create Tilted Lotus, offering a glimpse of me to others.
View this post on Instagram
How do you aim to combine South Asian elements with contemporary designs?
The design process for creating an outfit involves a multitude of elements. Our primary objective is to take a traditional Indian art form, put a Tilted Lotus twist on it, and incorporate it into contemporary, everyday silhouettes that are both adaptable and effortless to wear. Our latest collection, Jungle Glam, embodies this unique concept flawlessly.
Who is your target audience? And, how do your pieces help express themselves?
We cater to a diverse and inclusive audience, embracing individuals of all ages, genders, races, and ethnicities. While our current selection includes unisex options, our plans involve expanding more into the realm of unisex clothing. Our aim is for our garments to transcend traditional gender norms, welcoming everyone into our fashion community, regardless of their background.

Our target demographic consists of individuals who revel in dressing eclectically, and fearlessly expressing their unique selves. Our garments become a canvas for personal stories, silently representing who they are. They complement individual styles and can be effortlessly combined with other pieces, adding a touch of boldness and confidence.
One adjective to describe your clothing line.
Expressive.
How do you want people to feel when wearing your clothes?
Our ultimate goal is for them to exude confidence, radiate happiness, and proudly embrace their true selves when they don our clothing. We want them to feel empowered, ready to conquer the world, and unapologetically display their unique style and individuality.
View this post on Instagram
You mention one of your brand values is compassion. Can you tell us a little about your vision to help your non-profit partner: Three Little Pitties Rescue?
We take great pride in being a strong corporate sponsor for the Three Little Pitties Rescue, an extraordinary non-profit 501c3 organization that goes above and beyond to rescue dogs and cats in dire situations, primarily in the Houston, Texas area. Their unwavering dedication has resulted in the rescue and salvation of over 11,000 animals in recent years, and we are honored to contribute to their cause.

As avid animal lovers, our affiliation with Three Little Pitties Rescue began long before the inception of Tilted Lotus. We have closely collaborated with them, witnessing firsthand their remarkable achievements and tremendous growth over the past few years. Their progress has been fuelled by sheer honesty, selflessness, and unrelenting hard work.

One thing that sets Three Little Pitties Rescue apart is their absolute commitment to ensuring that every donation they receive is put to its intended purpose. They maintain the highest standards of transparency and accountability, ensuring that funds are used solely for the betterment of the rescued animals. There is no room for misuse or misappropriation.

Through our partnership with Three Little Pitties Rescue, we have witnessed the profound impact they have on the lives of animals in need. We are privileged to be part of their journey and contribute to their noble mission. Together, we strive to make a lasting difference and create a better world for our furry friends.
View this post on Instagram
What can we expect next?
We are set to rock the Runway show at New York Fashion Week this fall with Runway 7 productions at Sony Hall, New York. We will be unveiling an all new collection.
Stylish, sustainable silhouettes with love. Tilted Lotus is synonymous with wearing your culture with pride. With prints that bring you back to traditional Indian art, the collections have pieces that you can wear to your next big event or even pair with your everyday jeans and a tee.
And, after an incredible showcase at Austin Fashion Week, the Slow Fashion Festival, and two successful pop-up events at Renegade Craft and Austin Fashion Week, the team is thrilled about what lies ahead this year! Their calendars are full, and they couldn't be more grateful to everyone that showered them with love and welcomed them with open arms.
Here are some exciting upcoming events Titled Lotus has planned, and they'd be delighted to have you join them in person!
New York Fashion Week: Runway 7, Sony Hall, September 9, New York
In Todo Pop-up Shop: November 4-5, Los Angeles, California
You can continue to be part of their journey by following them on their official Instagram account, here.
The featured image is courtesy of Tilted Lotus.