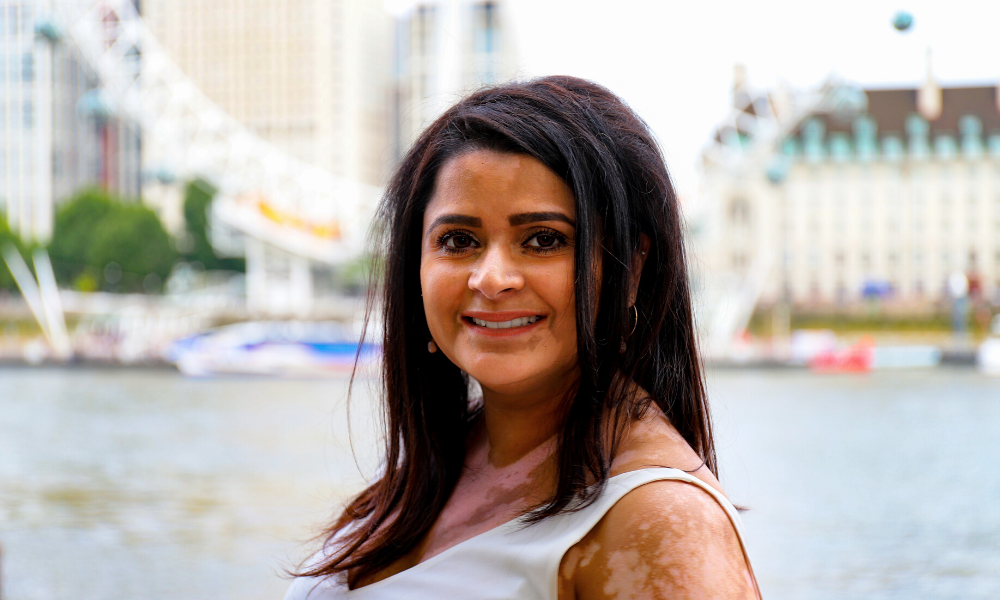 At the age of 21, Joti Gata-Aura, a Sikh woman raised in London was diagnosed with a condition called vitiligo in 1999. Vitiligo is a skin disorder where white patches develop on the skin — triggered by the lack of melanin. It wasn't until 20 years later, that Joti came out of her shell, accepted her condition and became confident in her skin.
When I was first diagnosed, no one knew in my family what vitiligo was, no one had it. And coming from an Indian and very traditional background, even your family wants to protect you. They don't want people to talk about you.
She talks about how she kept it hidden for many years while she became accustomed to her skin. She was constantly burdened with thoughts like "What were people going to say, how will they treat my family, how will they respond, will I be a let-down or a failure?" On the support she received, she says,
I was diagnosed in 1999. There was no social media, no Internet, no social groups or information about the condition. Things were very closed and there wasn't enough knowledge and understanding of any disorders or disabilities.
Today she proudly talks about her husband and two children who have supported her and accepted her the way she is. 
Gata-Aura's inspirational journey started in 2016 when she had an opportunity to take part in a BBC documentary series called "MisFITS Like Us" — which was aired last year.  This was the first time since being diagnosed she talked openly about living with vitiligo in front of a camera. Having always covered up her skin, this was a turning point for her.
View this post on Instagram
Fast forward to 2019, Gata-Aura proudly runs her Instagram page called "Vitiligo and Me," where she shares her journey with this skin condition and provides support to those who are going through the same condition. Her Instagram profile is the main platform where she raises issues about body image and talks about the challenges for people living with this condition. As she shares her journey from being reserved — through radio and magazine interviews — she talks about the time when she was unable to open her front door without any make-up. Her page allows her to confront how vitiligo was an alien phenomenon among her family and community.
Last week she organised her first Skin Social events in London alongside Natalie Ambersely — the lead ambassador of Vitiligo Society. Through her work, she has met some wonderful and inspiring women and in collaboration with these women, she is working on bringing forward some exciting and new projects.
Gata-Aura understands the impact social media and social norms have on young people nowadays and wants to use her platform to bring a positive change in the lives of people with skin conditions. She wants them to know that there's someone who knows what they're going through. Through her discussions, she has noticed a pattern, especially with people in their late 30s and 40s on regaining confidence. 
That's the time of acceptance – people start living their life rather than letting this skin disorder control them, and when they see people on social media with similar conditions, they get an assurance. Some people share their stories and mention how I inspire them but they are not there yet. I tell them that it only happened in the last two years, 
View this post on Instagram

Her body positivity campaigns like the "Body Positivity Campaign for the Good House Keeping Magazine Summer 2019" brought together people with visual differences and demonstrated that beauty is unique and nobody has to fit into that one box of what society and community perceive it to be.
 I would love to do more work with the Indian community to really bring this topic out but there's just nothing happening there which highlights or talks about such skin conditions.
She is also working with Asian bloggers to raise the subject of self-acceptance in the Asian community to address the pressure for people to look and fit into the community norms. Her work also involves talking openly about living with vitiligo in an Asian community on platforms like the BBC Asian Network's Big Debate. She recently talked about having vitiligo in the BAME community with Sunny and Shay on BBC Radio 1. 
In working with Indian magazines and the media to highlight vitiligo, Gata-Aura hopes to demonstrate the importance of representing real people in the media and aims to break stereotypes within the Asian community and make everyone feel inclusive.