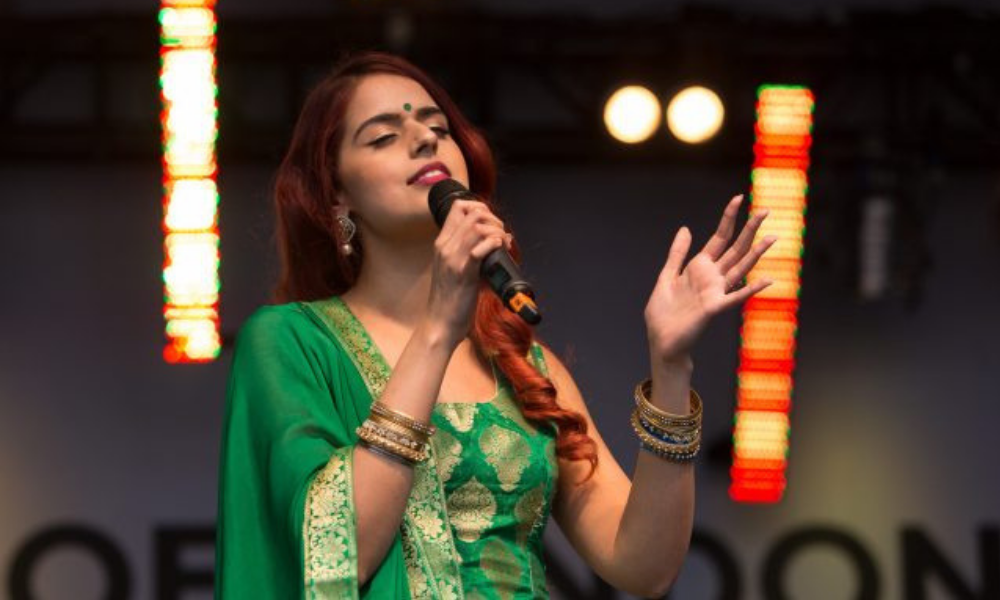 Award-winning spoken word artist and historian British South Asian Jaspreet Kaur is a powerhouse. There is hardly anything she hasn't touched or got something to say about and recently won the Asian Women of Achievement Award by Women of the Future in the Arts and Culture category, winning the "We Are The City" Rising Star Award for her work in Education and Academia. From appearances on Sunday morning U.K. live TV, speaking at TedXLondon to her fiery poetry, Kaur is making her mark on the South Asian community and far beyond. Also known as Behind the Netra for her poetry, I talk to her about her work as a History teacher and decolonisation activist in the education system, and how she wants to see young South Asian girls empowered for the future. She litters her responses with gorgeous snippets of poetry that perfectly encapsulate how she sees the world.
It often occurs to me that the vast majority of what we learnt in school, in subjects like English and History, concerned pretty much only the lives of white people. I wanted to know how much of an impact Kaur thinks this has on children of colour growing up. This impact is clearly huge — on attainment, on self-identity, on future aspirations. Kaur is passionate about the need to have more voices heard in schools. She firmly says, 
We need more teachers of colour in the classroom.
Too much is missed out when only a narrow portion of the population is doing the teaching or being catered to. She is clear though that she isn't saying British history shouldn't be taught in schools, but that it should be taught better than is currently the case.
When I was studying history in school, we were told nothing of the concentration camps the British army ran during the Boer War, the Bengal famine of 1943 or the massacres of Kenyans in the 1950s, the Amritsar Massacre or the atrocities in 1984. These are things my Dad taught me.
Kaur's father has been integral to shaping her passions and pursuing the path in life that she has taken. She feels she was lucky in that her dad inspired her to follow her interests, rather than forcing her to do something she had no love for, as this is not a privilege every Asian child has. Touchingly, she tells me,
Sometimes I do wonder if my Dad didn't encourage my love for history, would I have pursued it? My Dad used to have amazing books lying all around the house, history books, philosophy books, atlases, maps – all sorts! As soon as I could read I was reading these incredible texts. A line from my poem, Que Sera, shares that story – 'My father fed me books and encyclopedias at tea time. He said if I wanted it, the whole world could be mine.'
https://www.instagram.com/p/BeDG8m0joYO/
This childhood experience is the reason Kaur tries to inspire her students — particularly her female students of colour — to become active and engaged, and to feel like they have a stake in the future of society. She feels it's still going to take time before the stigma that defines the arts and humanities as "useless" in Asian communities will shift. The problem is two-fold, young Asians are swayed away from subjects like History and English by their parents, but they struggle to relate to the content anyway. In her keynotes speech at the Asian Woman Festival in March, Kaur noted that though activists are working hard to reform the way things are taught in schools, the government is far from ready to begin making such changes — particularly given how all-consuming Brexit has been. I asked Kaur what we could do now to avoid being discouraged, and keep up the fight?
As I answer this question, it's just been announced that Boris Johnson has become Prime Minister. A man that in 2002 column in the Spectator, Boris penned an article titled – 'Africa is a mess, but we can't blame colonialism.' In the piece, Boris described the continent as a 'blot' and suggested that it would be better off if it was colonised again. Perhaps people might excuse him for this as it was 17 years ago, but only last year summer, Boris wrote in his column in the Telegraph that the burqa was 'oppressive and ridiculous,' comparing Muslim women to 'bank robbers' and 'letterboxes.' 
She goes on to say about the U.K.'s newly elected Prime Minister,
We can't expect this man to change anything for us, so we need to make the change with our own hands. Schools themselves to have some power in what and how subjects are taught. There are incredible resources being made by organizations such as the Punjab Heritage Association, Pivotal Education and Stonewall just to name a few, that can provide schemes of work and resources for teachers to help diversify their curriculum.
The reality of the views of those running our country is chilling. Nevertheless, we can continue to support the valuable work being done by these organisations. 
British textbooks still whitewash the British Empire and fail to address the foundations of white supremacy on which colonialism was built and the lasting impact of imperial policies on colonised peoples. Today 49 % of Britons still think that the British Empire was a force for good that improved the lives of colonised nations and only 15 % think it left them worse off.
To highlight the importance of challenging this, Jaspreet offers a line of one of her poems, "Every Child Matters,"
We need textbooks that have pages made of mirrors, reflections of what these children dreamt they could be.
There are always positive impacts on children's' sense of self, to be able to see themselves reflected, rather than left out, of what is taught in schools. For Asian girls, Kaur worries that although British Asian girls, in particular, are earning amongst the highest amounts of A*-Cs at GCSE level, this is not going forth into employment numbers. 
There are more FTSE 100 CEOs named Steve and David than women and ethnic minority leaders combined. How can that make any sense? It's clearly not because we're not hard working. Our accolades will convey that. It's of course because of the wider structures at play. Structures to do with our gender, ethnicity and perhaps even our class. Unfortunately, it's structural racism and sexism at its best. So what do we do about it, how can we take some power back and empower ourselves? How do we rewrite our stories and our journeys?
Kaur stresses we must challenge this in the home and in how we raise our children — both in the community and in the classroom. She works with her brown female students, in particular, to help raise their consciousness and confidence. She runs workshops and conferences in schools around London, and works on projects like the Young Power Conference, which works with students to "break down stereotypes, explore issues of power, prejudice, and privilege, and identify paths for taking action in our communities." 
She even took some of her BAME female students to the Asian Women of Achievement Awards.
I won the Arts and Culture Category in 2017 and am now alumni and ambassador for the Women of the Future Programme. I wanted to take these girls with me so that they could hear the amazing stories of the women nominated this year. I wanted them to see they can truly be whatever they want to be, and despite the barriers they may face along the way because of their gender or the colour of their skin, they should keep on fighting the good fight. I want to give them the tools and skills to prepare for that.
I just won the Asian Woman of the Year Award for my work in Arts and Culture. Somebody pinch me? @awaawardsuk @NatWest pic.twitter.com/27tCnQq1uk

— Jaspreet Kaur (@behindthenetra) May 11, 2017
As most women of colour know, these struggles don't leave ethnic minority students once they enter the workplace, and here, we must continue to tackle them. We discussed the negligence of employers and workplaces, the 'diversity' fad that does nothing but presents an outward image of inclusivity. She feels there needs to be an entire culture shift within the workplace that tackles systemic biases from its very roots. This is a long process that, like decolonising the curriculum, requires government intervention. As we continue to lobby for such change, we must continue to empower our young brown girls to be educated on these biases, shout loudly and most importantly, take up space in every field. 
We need to connect, network and support one another and look for mentors been on a similar journey to help you navigate through this messy jungle!
Finally, I ask what's next for an activist who has already done so much to give a voice to the community. Will we get to see her hard-hitting, relevant poetry in print anytime soon? 
I am currently working on a book. It has always been a dream of mine to see my name on the spine of a book. I can't say too much at this time, but I am really really excited about it. It will be a beautiful combination of my academic and my poetic journey, voicing the themes that I am most passionate about. I'm hoping to see it alongside texts such as 'Why I'm No Longer Talking to White People About Race' by Reni Eddo-Lodge, Akala's Natives and Nikesh Sharma's 'Good Immigrant' to give you a little idea. I tweeted my journey so far, and exciting things have started to get into motion so watch this space! 
"Why aren't you published yet?"

This is the most common question I've been getting recently. After every show I get asked, "so where can I buy your #book?" and I'm so flattered but tell them that it's yet to exist. The #publishing journey hasn't been so fun. Here's the truth.. pic.twitter.com/Eura9cv8eZ

— Jaspreet Kaur (@behindthenetra) June 18, 2019
Follow Jaspreet Kaur's journey at www.behindthenetra.com.