He invited me over for dinner and asked me to wear a kurta. We had only been dating for a few weeks, and I was intrigued. I rummaged through my closet and grabbed a beautifully embroidered black kurta my dad got me from Pakistan the year before.
I showed up to find him wearing a kurta, too—albeit less flashy than mine. Ironically, out of the two of us, he was the one who had actually been to India. Two months as a Christian missionary. This tall, lanky white Southern man was smiling at me as he led me to the kitchen, where he started apologizing.
"I was trying to make you something Indian from a recipe…but I forgot to bring the recipe with me when I went to the grocery store," he started. "So, I'm just making something else from what I have."
To be honest, I'm not sure what he created that night, but the thoughtfulness was not lost on me. After a slew of Grindr frogs who croaked "no fats, no femmes, no Asians," here was this man who not only loved my brownness but wanted me to embrace it, too.
Our love for the culture was one of many reasons why I liked him. The frogs of the past didn't care, and some openly fetishized me as I made mistake after mistake.
Ian was different in all the right ways, and I knew fairly quickly that I had a keeper.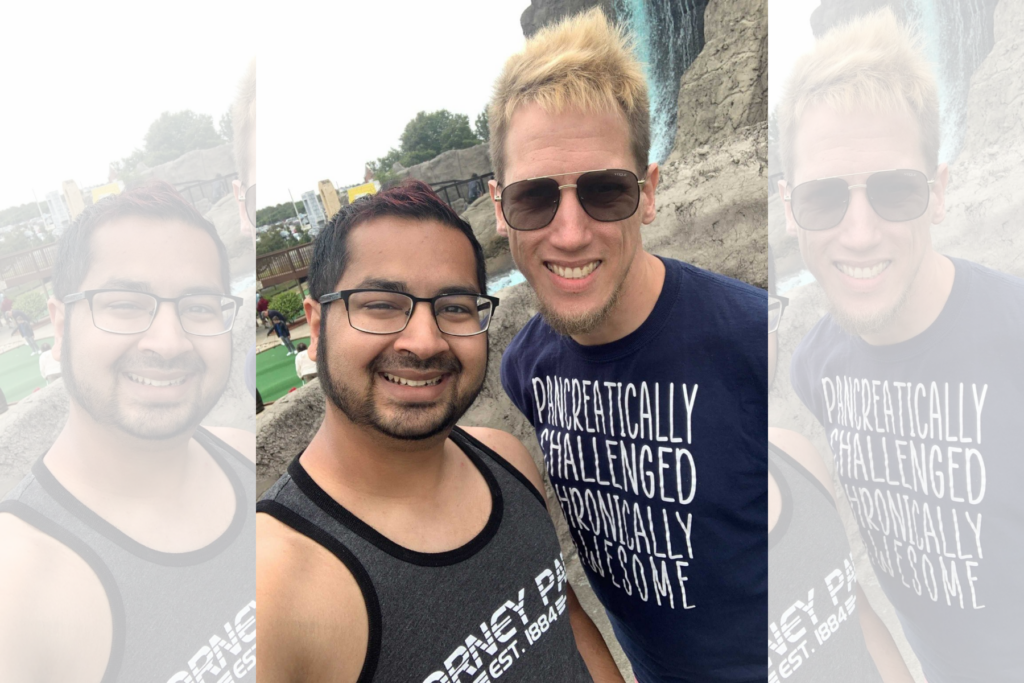 He encouraged me to explore my brownness, something I wasn't sure how to reconcile with my queerness. I'm working through that through therapy. My family essentially cut ties with me after coming out the year before. They were my connection to my culture, and without them, I felt detached from the skin I was in.
Interracial love wasn't necessarily a new concept in the family. My mother married (and then divorced) a Nigerian man after my parents divorced. Gay love was the issue at hand. It honestly didn't matter what race my boyfriend was. It was the fact that the love of my life was a man.
Ian's family, thankfully, didn't mind. My perception of a conservative Christian Southern family was challenged when his mother welcomed me with open arms.
As my relationship with Ian blossomed, I knew marriage was inevitable. It's what we both wanted, and thankfully, marriage equality was legalized nationwide a few years prior. But this marriage wasn't going to unite two families, and I firmly knew it wouldn't be recognized by my own folks.
View this post on Instagram
My parents knew about Ian. My mother actually met him once (though it was honestly an ambush on my end), and my father referred to him as "your buddy" initially and then later simply as a question mark in a text.
View this post on Instagram
Saving myself the likely drama and trauma, I didn't tell them I was getting married. No driving around to relatives' houses to bring them laddu. No mehndi ceremony. No family flying down to Florida to meet their new Southern in-laws. No fussing over what I'd wear and if my dad would cry as he sang a special song at his oldest son's wedding.
No, this was going to be very different, but I wanted to celebrate the beautiful culture I was blessed to represent—and Ian was fully on board. So was his family, who single-handedly organized our special day.
Weaving Southern and South Asian elements together reminded me how similar our cultures were. The decorum when addressing elders. The attention to detail. The love for food. The respect for strangers and family friends. We weren't so different after all.
The wedding was a beautiful blend that represented each of our cultural backgrounds. Embroidered chargers featured gold-sprayed mason jars with peacock feathers and flowers, accompanied by diyas and lanterns, laying on runners that were custom-made and monogrammed.
Samosas and sliders greeted guests alongside gulab jamun and apple pie. Ian and I dressed in blazers for the wedding ceremony and dazzled in sherwanis for the reception.
We entered the reception hall to the song "Jashn-e-Bahaara" and had our first dance to Reba McEntire's "Promise Me Love."
View this post on Instagram
We just celebrated our fourth wedding anniversary at the end of September, and I honestly couldn't imagine life without Ian. While my mother and one of my younger brothers have met him, that's it.
It's been predictably heartbreaking, but I've learned the value of chosen family since I got married, which is a story for another day.
The life I share with Ian is a beautiful blend of cultures, faiths, and pure joy. Yes, our approaches to future parenthood are quite different (steeped in upbringing and cultural context), but we'll figure it out together. Just like we always have.