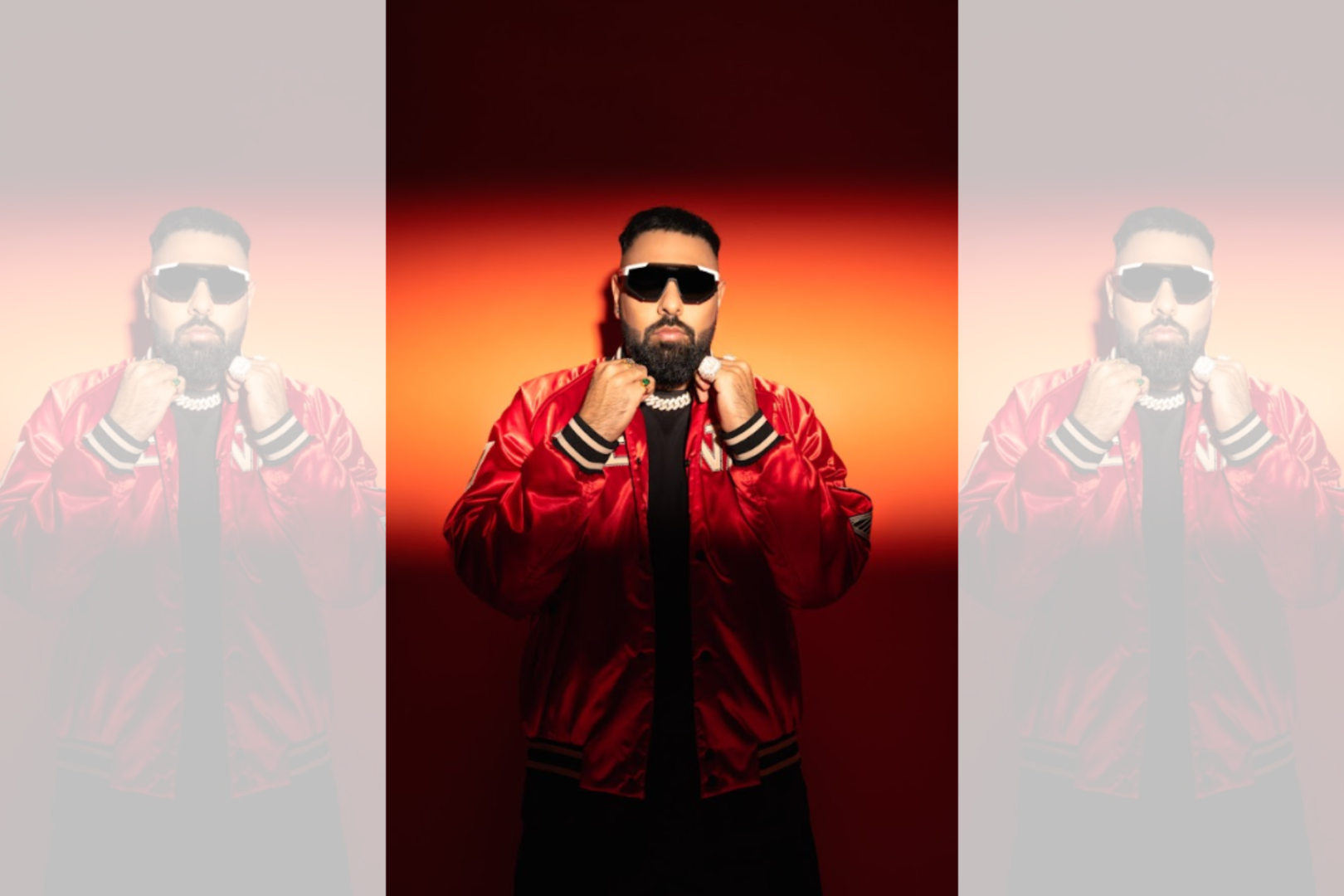 Badshah is undoubtedly one of the most influential figures in the South Asian hip-hop landscape. From farmlands to stardom, Badshah embodies the quintessential tale of humble beginnings and the rise to the top. He is one of the most successful generational artists who's donned multiple hats, including that of a reality TV judge and has built a culturally rich empire with equity in a diverse set of businesses. Voted as the world's No. 1 songwriter on YouTube by Blokur and being the first Indian artist to chart on Billboard Global 200, he is among the most bankable names in the Indian music industry; pretty much every label owner and/or film producer turns to him when in need of a guaranteed hit.
I recently got an opportunity to meet Badshah while he was in LA to record an album. Meeting him was surreal; almost like a bucket list moment. As someone whose music is a party starter in itself, it was surprising to learn that Badshah likes to keep to himself. The rapper is no stranger to a frenzy of fans huddling around him with camera phones. The environment was no different on the day we met. Yet he was kind, approachable and generous, smiling genuinely for every click of the camera. We spoke at length about his latest musical outing, his foray into entrepreneurship and South Asian representation at large. Below are the excerpts from our conversation:
View this post on Instagram
We just learnt that you've been spending a lot of time here in LA. Are you liking it better in the U.S. than back home in India? What prompted this transition of spending more time overseas given that you are someone who endorses the heartland of India?
India will always be home for me. LA is a more diverse hub where you can just jump into the studio with artists from different ethnicities. And that's one of the reasons why I'm shuttling between India and LA. The other day, I was strolling down the street and I noticed people jamming to a Bad Bunny song. In my head, I was like this needs to be a Hindi or a Punjabi song. There are multiple ongoing conversations, but everything I'm working towards globally is to represent the culture and normalize Indian-ness at a very grassroots level.
We really enjoyed the album "3 a.m. Sessions." It showed a different side of your music discography. What was the process of creating this album and what was your intention behind presenting a more personal and intimate album?
I launched it as a random drop for my fans. My label wasn't too hyped about it so I just went ahead and released it on my channel at 3am and it just exploded! The album was more about songs that I felt good making, it allowed me to dive deep with the storytelling and gave me a premise to be authentically vulnerable.
What can you tell us about your new single "Gone Girl?"
It's me revisiting my older soundscape and reinstating what my moniker stands for. Badshah is all about blockbusters and bangers. For the longest time, my fans were waiting for me to come up with an anthem and I'm all about keeping my fans happy!
While you have managed to craft a legacy of your own, there is a section of the industry that dismisses your success. Why is that?
It's human nature to not want to celebrate another's strength and success and seek pleasure from others misfortunes and weaknesses. Till the time you're an underdog, everyone wants to support you because it's relatable and unpredictable. But once you've achieved a certain stature, the same people want to invest in someone else because they feel success comes with a sense of entitlement and privilege. It's a vicious cycle of love and hate. I'm grateful for being overlooked because it reinforced my belief in myself and it pushed me to work harder. You can love me or you can hate me, but I know I've earned the respect and that's the only opinion that matters.
You're a mentor, entrepreneur as well as a philanthropist — aspects of your personality that most people aren't privy to. What prompted you to take on such varying roles in life and why do you feel it's important for artists to extend beyond their art?
My craft would be very self-limiting if I didn't blend in the element of purpose. Music helps you to build a spiritual conscience and creative appetite that can empower you to go beyond hedonism and create opportunities for community progress.
View this post on Instagram
Did you apprentice with anyone or was it more just self-education when transitioning into this prolific creative businessperson and learning the business side of things?
It was very organic. Maybe it was my love for mathematics that originated into me embracing entrepreneurship. Being invested for the long haul and having sweat equity gives me a sense of responsibility as opposed to engaging in time-bound brand partnerships based on my public stature. I have taken a lot of un-calculated risks, but I enjoy the process of creating an establishment. That business streak has been in me since I was a child. In school, I was selling comic books and in college, I was selling medicine and land. Fashion label, record company, television network, a film production house, nightclub — I've tried it all and I am still looking forward to expanding within the beverage and sports industry.
Currently, Reggaetón and K-POP are having huge moments around the world. When do you feel South Asian sounds will reach a mainstream level?
I'm hoping within the next two years. We are at the cusp of a Brown takeover and this was long overdue. In a world where every other culture and community is enjoying its fair share of spotlight, I think it's about time South Asians are celebrated and are given the due they deserve. South Asians are a hardworking lot and are invested in their craft and the world is just about waking up to how multi-hyphenate we truly are! Diljit paaji at Coachella is a great example of how audiences are investing in not just the music, but the overall cultural experience. AP Dhillon and Karan Ajula are doing great as well. Late Sidhu Moose Wala was a real legacy artist who pushed the boundaries for Indian hip-hop, sitting out of a remote village in India, and encouraged music consumption that directly put a spotlight on staying true to one's roots. Similarly, I'd like to do the same for Indian hip-hop globally — celebrate the culture, champion other artists, build an indigenous empire and be the voice of a generation without having to conform to any diktat or cater to the need of validating where I come from.
View this post on Instagram
What kind of legacy do you want to leave behind?
The legacy of a cultural juggernaut. I am working towards building an establishment that extends beyond the mundane materialism and impacts individuals on a more humanitarian level. The success needs to transform into something more meaningful and greater than just million-dollar brand deals, or stadium tours, or record-breaking streaming numbers. I'd like to build towards generational cultural wealth. When people remember me, I want them to smile recalling how they were touched by me in a way that left them with something to cherish. I don't want to just live inside minds, but also inside the hearts of people.
How do you celebrate your success?
With grace. I don't believe in hierarchical systems. I don't consider myself above or below anybody. I'm always sharing my success, and congratulating my peers on their success as well. I'm not the type to take success for granted because I worked hard for it and I'm grateful that God views me as worthy enough.
Tell us about the person behind the moniker.
I'm contrary to what you see in my public profile. I'm a happy social recluse who'd prefer a studio session over a glitzy red carpet. I feel my public persona is an alter ego as I'm quite straightforward and boring in real life. Though one thing that has stayed constant is my love for fashion, jackets, and sneakers, more precisely.
How do you feel about the Asian Underground scene in the U.K. influencing your music and who were some of the artists and tracks that helped pave the way?
In my early teens , I listened to a lot of Panjabi MC, Bally Sagoo, and Rishi Rich. They helped me pursue hip-hop more ardently and gave me a sense of direction in my quest.
As someone who is constantly in the public eye and most susceptible to hate and criticism, how do you motivate yourself on the hardest of days?
Music and family are always therapeutic, but because I've seen massive struggle in my heydays, I can come around the hard days far easier now. I've realized that the war is against myself and I have to take full responsibility. If I need to learn new things and progress, I need to befriend disapproval, embrace the struggle, and enjoy the discomfort. I've always taken the harder route. I've lost friends, rewired my brain to think in new ways, foregone old patterns, pulled myself away from anger, but it's made me feel empowered knowing that the power to change my life lies within me.
In an era where popularity is gauged as per one's social media following and streaming numbers, how important is the aspect of authenticity and storytelling for you?
Storytelling gives character, whilst authenticity builds reputation. You may forget the face or the name, but you will never forget the story. The human brain is wired to connect through stories and the more organic and real these stories are, the more an artist becomes relevant.
Speaking of numbers, does creativity get affected in the whole number game?
Numbers are a great flex, but it's in no way a measure of whether a song is a hit or not. Just because a song has 'X' number of million views, doesn't guarantee an artist's achievement quotient. These are just titles for the hype which can fade if you aren't consistent creatively. Fans still need to attend your shows and consume your music, more unswervingly.
What more do you want to see from the Indian-Bollywood music industry? What's lacking and can be done better to transcend borders and industries?
We need to embrace diversity and celebrate not just the major feats, but the small wins too. We don't need to blend in or do something that's against the culture as if we have nothing to offer. We need to stand up and own our uniqueness. Indians were born for greatness, it's our time to shine, respectfully and authentically.
It feels like you almost see it as a mission on some level, outside of just making millions and selling super dope records, to kind of get the Indian culture up. You have extensively spoken about representing the scene more authentically and taking the Indian sound overseas and how you've been inspired by the late Sidhu Moosewala's career trajectory. Why is cultural representation so important for you and what are you envisioning to propagate it?
Culture is what defines identity and representation is what bridges the gap between communities. Together they lay a foundation for anti-racist behavior and beliefs. However, there is still work to be done towards representation where diversity is seen as beautiful and valued. The barrier is tokenism, where artists are included in projects solely for the sake of diversity. We need representation that is diverse and not tokenized.
What do you think your true essence is? What would be true about you no matter how successful you get?
My commitment to the community and the craft. We are born to help people and if my art can uplift someone, I'd consider myself successful.
Who are you inspired by?
I'm motivated by everything that involves hard work because talent alone isn't enough. I'm inspired by Virat Kohli, Ratan Tata, Drake, Jay-Z, and the list just goes on.
If you could collaborate with anyone who would it be?
I'd love to collaborate with Elon Musk. Maybe I can headline a concert he organizes on Mars one day!
Any particular American hip-hop artists that have inspired you?
I really love J. Cole. He's amazing! I also love Jay-Z and Kanye West.
We hear there's new music coming up for you. What can fans expect from you in the coming year?
I have some dope collaborations in the pipeline, and an arena show in London, later this year. I'm also a judge on two reality shows and life is kind!
Lastly, what do you hope individuals take away from this interview with Brown Girl Magazine?
Face rejections with grace and accept success with humility. The attitude we bring to things changes the course completely. You give away what you want. If you want love, love unconditionally; if you want respect, respect equally. It's just a mentality thing!