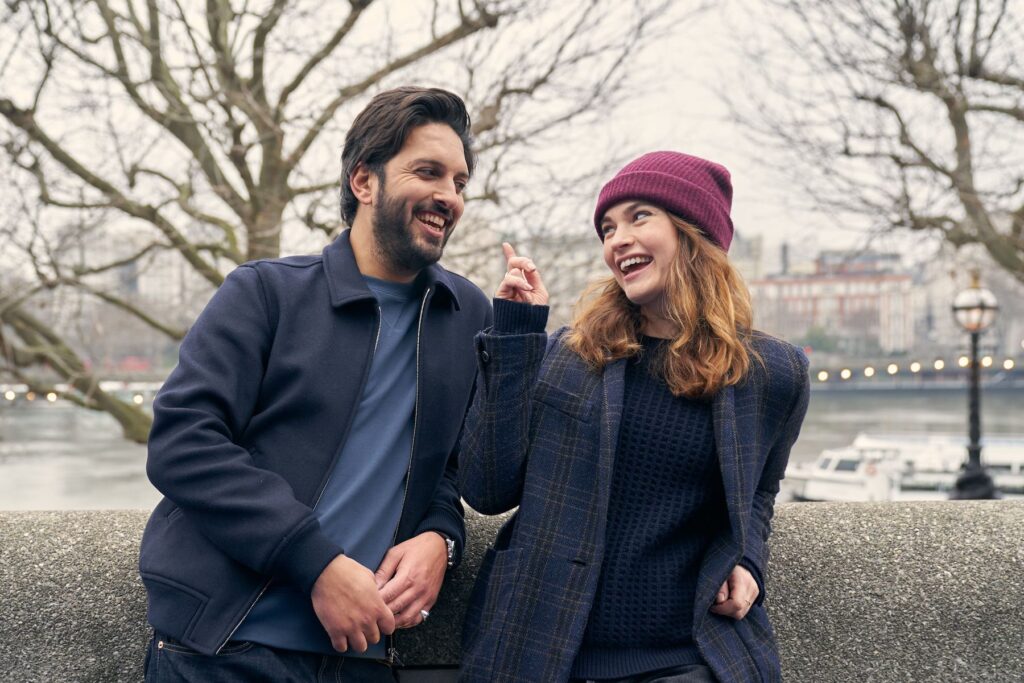 It is the strength of both British and South Asian cinema that every few years, and with increasing regularity, a film comes along that is able to successfully and thoughtfully bridge the highs and lows of both cultures. With the recognisable cross-cultural DNA of films like "Bend it Like Beckham", "Bride and Prejudice" and others before it, Shekhar Kapur brings to the silver screen an honest and comedic representation of East meets West with "What's Love Got To Do With It" — an exploration of love and marriage across international norms. 
Written and produced by Jemima Khan, the film draws from elements of her own experience of marrying then-Pakistani cricket star and now ex-Prime Minister, Imran Khan, and relocating to the country for 10 years.
"Particularly in the West, Pakistanis would quite often be seen as terrorists, fanatics and backwards," says Khan, as she reminisces about her time spent in Pakistan over Zoom. "My experience of living in Pakistan was very colourful, vibrant, and fun. I always felt like the rom-com side of Pakistan was more surprising than anything else."
A film not just about the heart, but with a lot of heart of its own, "What's Love Got To Do With It" touches on South Asian families, culture, individuality, and marriages in the 21st century. Set in the UK and Pakistan, this is a feel-good and fun story about childhood best friends and neighbours, Zoe and Kazim, AKA Kaz. And as the narrative unfolds, new light is shone on their friendship and questions are asked about the cultural norms and practices we have grown to accept.
It isn't your usual 'boy-meets-girl' tale. On the contrary, they've known each other forever; the fabric of their lives intertwined. Kaz is a British-Pakistani doctor of "marriageable" age, opting for an "assisted" marriage set in motion by his own desire rather than parental duress. 
"I think we've replaced the term "arranged" with "assisted" because South Asian parents now trust their kids more to make the right decision for themselves," said Shahzad Latif, sitting next to Lily James, who nods in agreement. "It's still a process. Some parents may have more confidence in their kids than others, but we're getting there."
Zoe – played by Lily James – is a professional documentary maker living on an inexplicably fancy houseboat (bit of a stretch for somebody having difficulty funding projects, but, at this point, a crucial ingredient for London rom-coms). As a white British woman, her method of finding love isn't one that involves parents or family.
"It was a no-brainer for me to be part of the script," says a smiling James in response to whether any culture shocks were encountered during filming and table reads. "Pakistani culture is so rich and colourful, and it was important for me to showcase this side of the country. So no, no culture shocks per se, just more singing and dancing in comparison to British culture!"
Zoe's camera is the vehicle through which the film examines Kaz's "contractual love", as she trawls dating apps while following her best friend down the assisted aisle.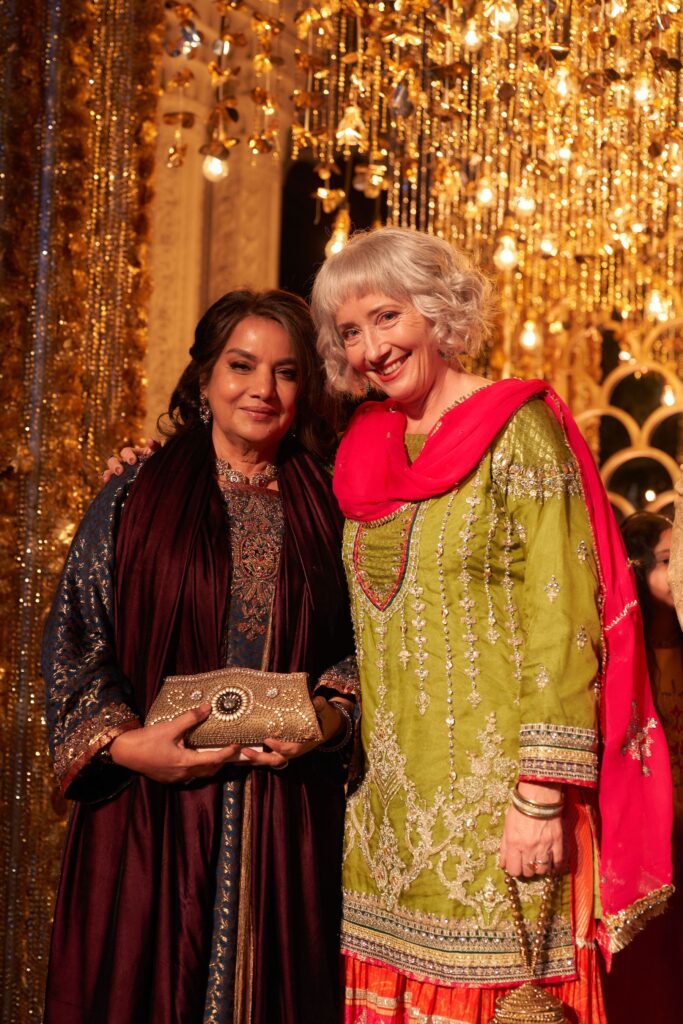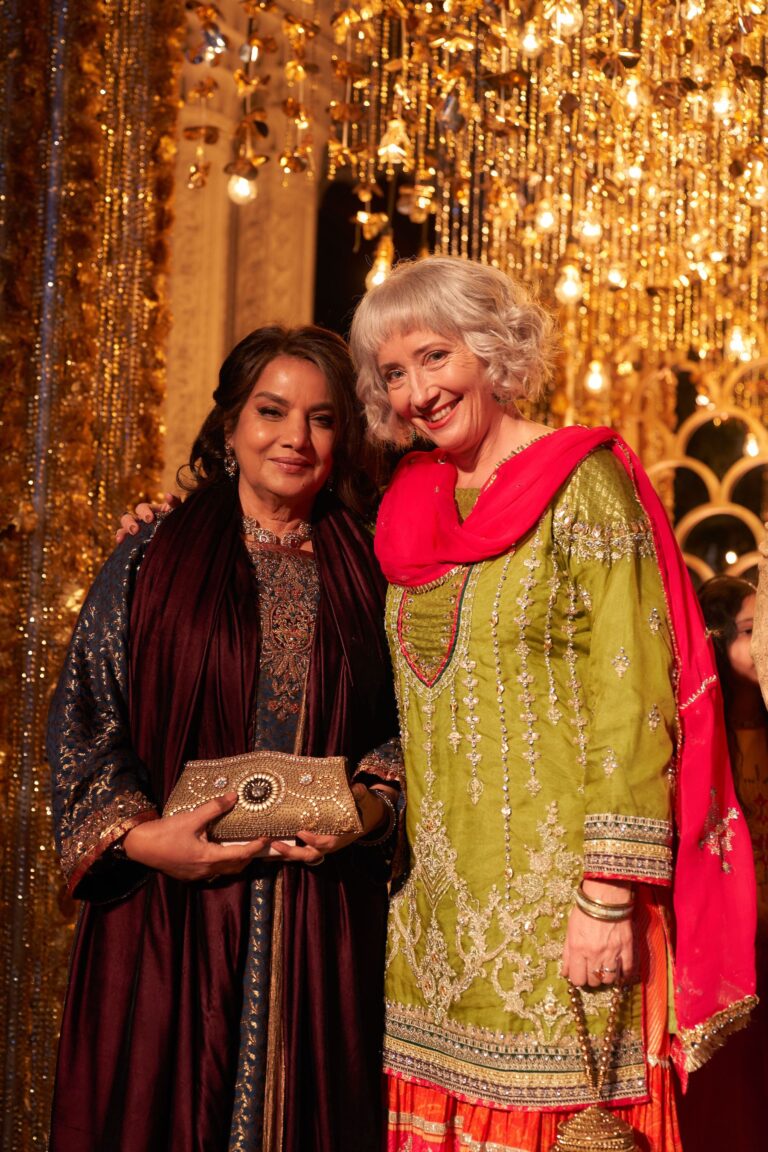 Emma Thompson's Cath plays the comedic matriarch to Zoe, eager to witness the conclusion of her daughter's swiping days by being with someone suitable. She's found a family in Shabana Azmi's Aisha Khan – a more layered mum — one that is embracing both tradition and modernity. It would be fair to say that Azmi successfully sells cinema-goers on the difficulty of that struggle.
"Today's society is slowly coming to terms with providing children the space they rightfully require and deserve to make decisions," says Azmi, reflecting on how scripts and films have evolved over time. "Gone are the days when parents would blackmail their children into marrying the first person they come across. Just because they are their kids doesn't mean they are actually children. They are adults with views and minds of their own."
Kaz is then introduced to Maimoona (Sajal Aly); a shy introvert from Pakistan, unsure about the idea of moving permanently to London. She's dealing with internal battles of her own; battles between personal desires and societal expectations.
"Maimoona may not have verbally said much, but her face said everything," explains Aly, looking beautiful and radiant as ever. "She is torn between what she wants and what society silently shoves down at her and eventually, she goes with what the latter expects."
The film navigates between London and a fabricated Lahore filmed in the suburbs of the British capital; a feat that comes as testament to the film's production design. Kaz and Zoe's jaunts across Lahore, backdropped by its magnificent architecture, set the stage for Pakistani music legends to shine, including the mesmerising voice of Rahet Fateh Ali Khan.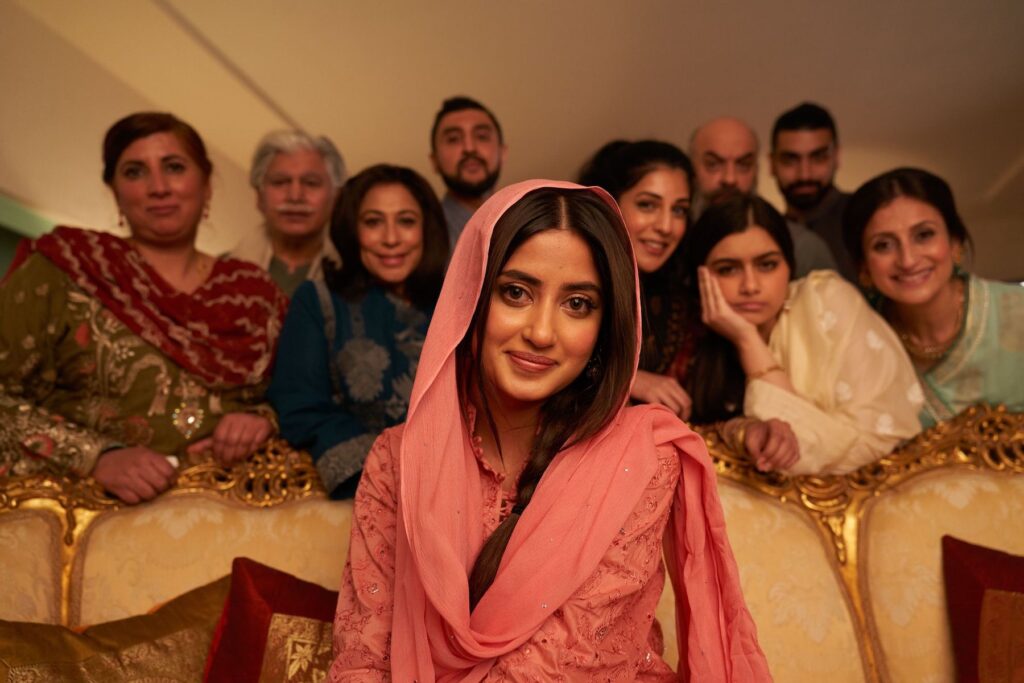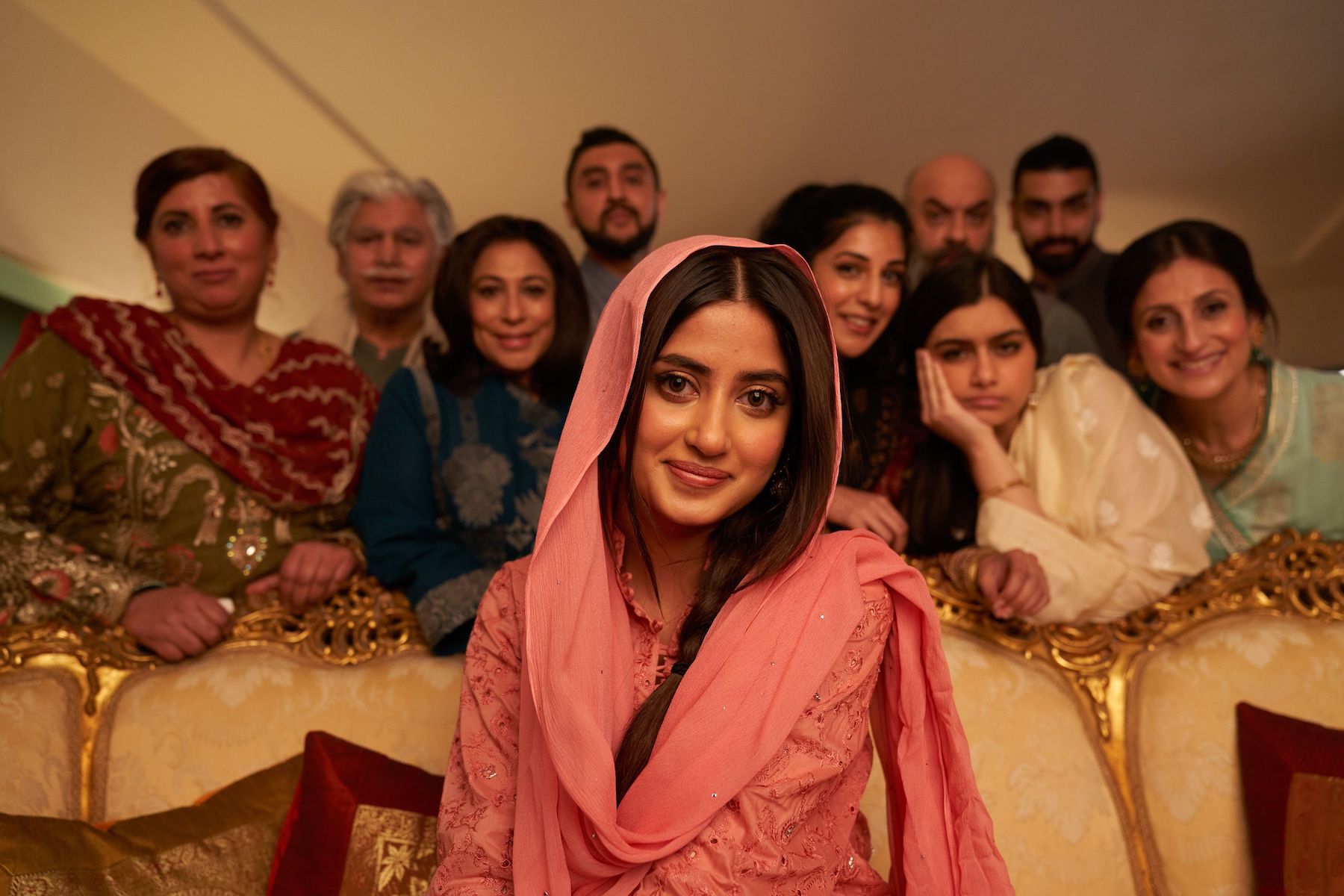 And if this wasn't enough, Nitin Sawhney and Naughty Boy add further melody to the film's music, as they talk about their experience of creating appropriate tunes such as the foot-thumping "Mahi Sona". 
"It was a great process and experience to create an appropriate language and expression of music which added elements and flavours to the film," says the duo enthusiastically. "It's also an ode to our South Asian heritage."
Even though the tone of "What's Love Got To Do With It" is distinctly feel-good, the film thoughtfully explores the unconventional ways that relationships may be built, and what multiculturalism can teach one another. Is it, in fact, more sensible to be practical about relationships? Is it possible to learn to love the person we're with? Is love really the only ingredient needed for a successful marriage? Why was Kaz's sister shunned for marrying outside of their culture? And do Western relationships draw more on the ideas of assisted partnerships than we realise?
A clever reference is drawn from the moment Prince Charles shattered many royal dreamers' hearts with his dismissive "whatever in love means" comment upon his engagement to Princess Diana, thus proving that these notions may be closer to home in the West than one might believe.
James and Latif are a charismatic pair, with Zoe married to her independence and Kaz gently questioning her prejudices. The film is also a vivid demonstration of British talent, with Asim Chaudhry playing a hilarious yet questionable rishta uncle, comic duo Ben Ashenden and Alex Owen appearing as a pair of TV commissioners with a briefcase of ridiculous ideas, and Nikkita Chadha as the confrontational Baby — the film's feisty rebel, in love with dancing. 
"It's incredible to be part of such a diverse and stellar cast," smiles Chadha animatedly, while sipping on tea at Soho House in London. "My character is defiant and nonconformist — perfectly conflicting with the name "Baby ". I'm really excited for everyone to watch the film."
Divorce is still stigmatised in South Asia — a theme often carefully avoided in desi films and television. Khan gently addresses it as a twist in the film – with a reminder that be it love or assisted marriage — amicable and mutual separations are a possibility.
As a complete package, "What's Love Got To Do With It" deftly wraps up all the emotions associated with love and family in its joyful, musical, and vibrant 109-minute runtime. With its cast, music and direction, this classic rom-com is set to make you laugh, cry and, even more importantly, make you think about the multi-dimensional nature of love within and across cultures. The film is now showing in cinemas worldwide, and we highly recommend it.
Photos Courtesy: Studiocanal/Working Title
This piece is written by Brown Girl writer Queenie Shaikh in collaboration with Marium Abid
Desk bound by day and travel bound all other times – Queenie thrives on her weekly dose of biryani and chilli paneer. She recently released her first book called The Poor Londoner, which talks about comical expat experiences people face worldwide. With degrees in Journalism and Creative Writing, her work and research on gender inequality in the travel industry is taught in universities across the globe. Her travels and everyday fails can be found on Instagram (@thepoorlondoner) and YouTube (The Poor Londoner).
Originally from Karachi, Pakistan and now blended into the hustle-bustle of London, Marium is a trainee technology consultant, by day and sometime also night, and also finishing her bachelors in Digital Innovation. In the midst of striving to be someone, she enjoys dreaming about the impossible (impossible according to desi standards and sometime Harry Potter impossible as well), and writing about them. She enjoys baking, decorating things and a cup of chai!