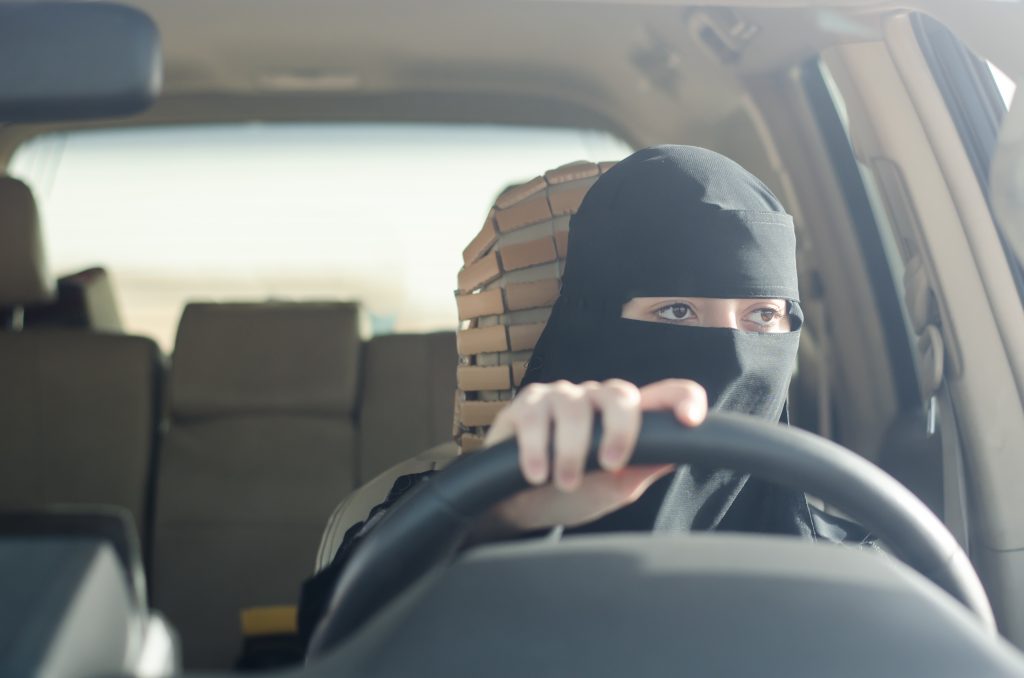 A royal decree has been issued by Saudi Arabia, that will allow women in the country to drive, the Saudi Foreign ministry said Tuesday on its official Twitter account. Following the decree, women will no longer need permission from a legal guardian to get a license and will not need a guardian in the car when they drive.
The Kingdom's Foreign Ministry announced the decision on its official Twitter account.
Saudi Arabia allows women to drive

— ????? ???????? ?? (@KSAMOFA) September 26, 2017
"This is a historic big day in our kingdom," Prince Khaled bin Salman, Saudi Arabia's ambassador to the US, said in a briefing with reporters.
The decision to allow women to drive comes along a broad reform program that earlier led to women being allowed into a sports stadium for the first time. Women were allowed to enter the National Stadium in Riyadh to celebrate the 87th anniversary of the founding of the kingdom on September 23.
Ambassador bin Salman described the step as "part of Vision 2030, which is a huge step toward a brighter future."
According to the Ambassador, the plan for the country's economic reinvention depends on youth empowerment, social organization and women's empowerment, "which is an extremely important element of the changes happening in Saudi Arabia," the ambassador said.
"We are trying to increase women's participation in the workforce," bin Salman said.

"In order to change women's participation in the workforce we need them to be able to drive to work," Ambassador bin Salman said. "We need them to move forward, we need them to improve our economy."

In conversation with CNN on why the announcement was made now, Ambassador bin Salman said, "there is no wrong time to do the right thing." "It's not religious nor a cultural issue" and said women "used to use transportation means during my grandfather's era," he added.
While there might be social issues, the Ambassador said, legally nothing can prevent the women who wish to drive, nor prevent them from wanting driving lessons without male or guardian permission.
According to the Ambassador, the choice will be up to women. "It's not 'women must drive,' it's 'women can drive.'"
In May, King Salman decreed that government agencies should list services women can seek without permission from their husbands, fathers or other male guardian. Before the decree, women were not able to access government services without getting permission from a male guardian or having him present.
State Department spokesman Heather Nauert said the US certainly welcomes the move and sees it as "a great step in the right direction".
"I think this is historical and a victory, not only for Saudi women, but also a victory for human rights," Saudi Journalist Najah Altoaibi said. "I mean from now on there is no country that places a ban on women driving, Saudi Arabia was the last country which prevented women from driving."
In November 1990, 47 Saudi women drove their cars around Riyadh to protest the driving ban. The women faced severe punishment and the campaign stopped until 2008, when Wajiha Huwaider dared to drive a car around the eastern provinces and escaped arrest.
Following Huwaiders daring action almost 10 years ago- several women rekindled the protests by driving local roads. Many were arrested and jailed for going behind the wheel.
Manal al-Sharif, a Saudi women's rights advocate- who now lives in Australia, was jailed in Saudi Arabia after posting a video on Youtube, of herself wearing a black headscarf and sunglasses while driving. Her actions provoked death threats and led to her formulating the Women2Drive campaign.
Sharif and another woman, Najla al-Hariri, became global figureheads of the cause, drawing attention from world leaders and activists to urge Saudi Arabia to end the ban.
In response to the announcement, Al-Sharif, tweeted various comments including a photo of herself in a car.
Many others have also taken to twitter and social media to express their happiness and feelings towards the lifting of the ban.
https://twitter.com/O_Wedd/status/912772617819521026
https://twitter.com/AlanoudKha/status/912967755019808768
Loujain Hathloul arrested in 2014 after trying to cross the border from the United Arab Emirates into Saudi Arabia and detained for 73 days, tweeted 'praise be to God'.
????????.

— ???? ????? ??????? (@LoujainHathloul) September 26, 2017
"It is amazing," said Fawziah al-Bakr, a Saudi university professor who was among 47 women who participated in the kingdom's first protest against the ban — in 1990. After driving around the Saudi capital, Riyadh, the women were arrested and some lost their jobs.

"Since that day, Saudi women have been asking for the right to drive, and finally it arrived," she told reporters. "We have been waiting for a very long time."
Ending the ban on women driving is expected to face some resistance.
Earlier this month, a Saudi cleric was banned from preaching after saying that women should not be allowed to drive because their brains shrink to a quarter the size of a man's when they go shopping.
Opposition scholar Madawi Al-Rasheed congratulated women's rights activists, but emphasized the challenges ahead.
"Without an elected government and political representation, we will not benefit," she said.
According to the decree, a ministerial committee has been formed to implement the ruling and it will present recommendations within 30 days.The new policy is set to be implemented on June 24, 2018, the government said.
Liesl Gerntholtz, executive director of the Women's Rights Division at Human Rights Watch, told CNN while it was a "very important step" there was still a long way to go for Saudi women.
"This prohibition on driving is just one in a vast series of laws and policies which prevent women from doing many things," she said.
Media fellow at the Muslim Public Affairs Council Marwa Abdelghani, told CNN the new laws wouldn't take effect for another year.
"Saudi Arabian women are going to continue fighting and are going to continue running these campaigns to try to overturn these laws," she said.

"At the end of the day these laws are showing how Saudi Arabia has been resisting overturning or relinquishing power to over 50 percent of the population."