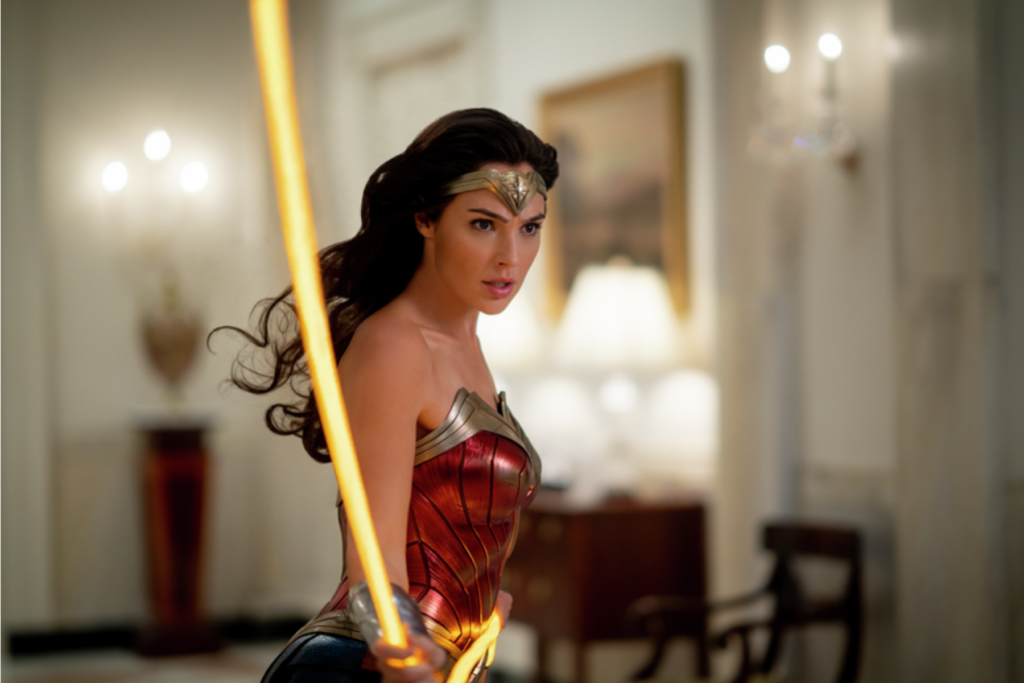 I am not going to mull on the COVID-19 pandemic under which this review is written, but I feel it's important to point out how this context influences my ultimate verdict about this film.
Spoiler alert if you read to the end, but my view is simply this. "Wonder Woman 1984" is an over-the-top, at times corny and outlandish balm to follow a totally unconventional year. Albeit, not in a negative way.
The manner of viewing takes getting used to, especially for cinephiles like myself. Gone are the jostling for seats through an online booking screen or the internal debate to spend too much money on too few snacks. Instead, it's watch-and-go (at home) as Warner Bros released the title in a Premium Video on Demand (PVOD) format via streaming services like Amazon, Google Play and iTunes.
This aside, viewers are soon thrust back into the world of Diana, Princess of Themyscira (Gal Gadot), as she works to unravel a nefarious plot spun by enthusiastic businessman Maxwell Lord (Pedro Pascal). A supporting cast of some of Hollywood's best, including a second turn for Chris Pine as Diana's World War I love interest Steve Trevor and Kristen Wiig as insecure geologist Barbara Minerva/super-villain Cheetah, help to round out a strong billing order.
Astute observers and fans of the previous film will note that Pine's character did commandeer a plane filled with explosives and flew to his death. I won't spoil the manner of his return in this sequel but it certainly raises some temporary ethical questions, which are quickly swept away by the, at times, overindulgent plot.
Directed by Patty Jenkins, as was the 2017 original, "Wonder Woman 1984" is nothing if not full throttle. It's the type of superhero film where suspension of disbelief has to be amped up to the max. Otherwise, many of its premises and pretenses fall apart but not to a level that, unlike many reviewers believe, diminishes the experience.
The candy floss neon 1980s visuals, which dominated the promotional material, also don't disappoint. There are some genuine themes here for those looking; Diana's loneliness and isolation, the life of mere mortals among heroes, the longing and nostalgia for the past mirrored in her profession and what people would do if given unbridled power to change the world.
None of it is explicitly original or leaves particularly deep cuts, but the writing is incredibly clever, and for a genre that is so often 'by the numbers', "Wonder Woman 1984" does justice to set itself apart.
View this post on Instagram
The chaotic pacing of the country-hopping narrative barely leaves viewers time to breathe, but not in a negative way and I did immensely appreciate the time taken to show Diana saving civilians and generally acting as a human would. This is a far cry from fellow DC Cinematic Universe release, 2013's "Man of Steel," whose final act totally distanced the viewer from any of the human impacts of its cataclysmic final battle.
In many respects, "Wonder Woman 1984" demands a lot from its audience, in a year when they may have become unaccustomed to enjoyment. For some, the plot holes are understandably fatal but given the timing of its release, I think that is okay.
None of its flaws outraged me enough to make it unenjoyable and there are plenty of factors to keep the average viewer entertained. Gal Gadot, for one, is unequivocally brilliant as Diana. This is why I believe "Wonder Woman 1984" is worthy of a good review. Not because it is a brilliant piece of cinema but simply that it's the right film at the right time.
When the world outside seems so grey, why not dive into a pink and blue neon adventure for a couple of hours? I certainly think it's a fantastic idea. Now that that is available as PVOD for audiences to enjoy at home, it seems like a no-brainer to escape our minds out of a year-long lockdown for a few hours of magic and mystery.
'WONDER WOMAN 1984' is available to rent at home on Premium Video On Demand (PVOD) from January 13.