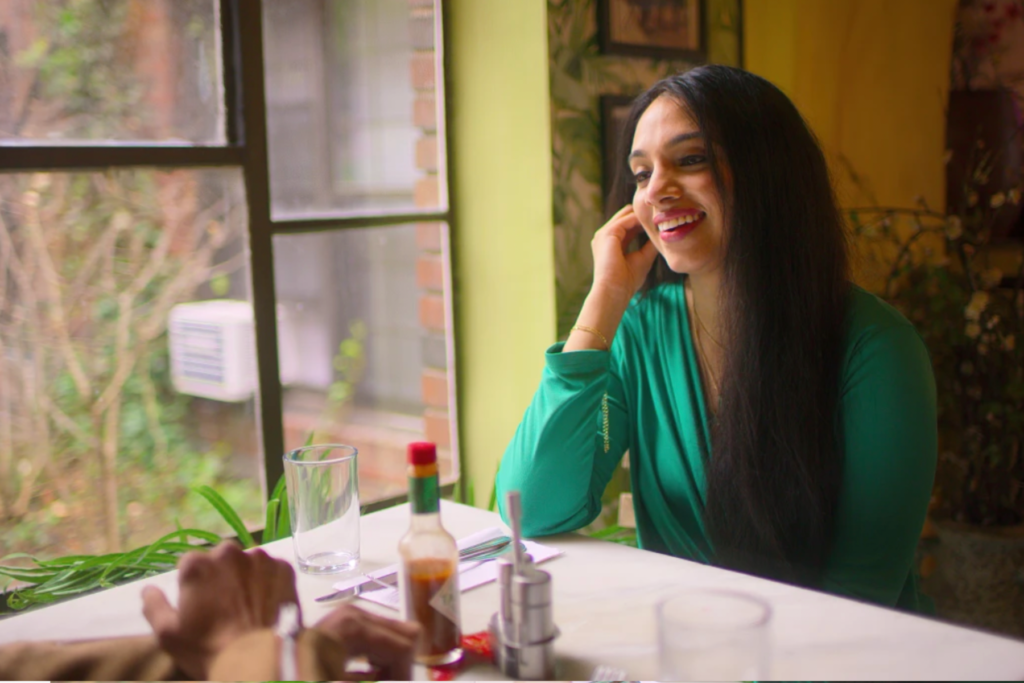 If you've just finished bingeing season two of the Netflix reality series "Indian Matchmaking," you might be wondering if any of the couples that Sima Aunty brought together are still going strong. One such real-life couple — and most peoples' favourite this season — is that of Viral Joshi and Aashay Shah.
(Brown Girl Mag's NYC team just met the couple at a few SANYFW events last week, and they're totally adorable together.)
View this post on Instagram
I must say, Viral's ovo-lacto-semi-vegetarian presence caused an instant stir. Here's a South Asian woman who's fiercely independent, loves her job, appreciates her Indian heritage, and rightfully doesn't shy away from it all. She isn't looking for her "other half." Viral is loud and proud; a quality often raising well-threaded eyebrows in desi communities. On a balmy Friday afternoon, Viral explains to Brown Girl Magazine.
It's sad that people might still think along those lines in today's day and age. But you know what, you've got to be yourself. I've built everything at a young age. My parents gave me a great life and continue to support me. Why should I lower my expectations to please others?
Joshi, an only child from North Carolina, joined Sima Aunty's roster of clients after realising her romantic trajectory was one date a year. Things hadn't worked out with friends of friends, family rishta hunting or social networking. Something had to change, a change Sima Aunty finally brings by playing Cupid. 
Nothing clicked, you know. I'd tried the apps, the connections, the family dinners, friends of friends. There were some really great guys… But without the spark. I was like, right, I'm doing all the traditional things — let's go the unconventional route and join a reality dating show!
It really is unorthodox to have your entire life laid out in front of an international audience. A woman's confidence can often be termed as "arrogance" or "pomp"— sometimes resulting in a wider-circle expectation to cut down her well-curated checklist.
This was never the case from my innermost circle. My parents are supportive, my friends understand where I come from. Of course, I'm sure somebody somewhere has some not very nice things to say, but those opinions don't matter. I'm glad I stood my ground and continue to do so. For example, some people may not understand why a Gujarati-speaking guy was one of my top priorities. I was looking for a man who understands and appreciates my language and culture just as much. To me, it's easier to share inside jokes and random bits when your backgrounds are similar.
Speaking of "lowering demands," does working with Sima Aunty come with a preparation manual? As a viewer, observing equal levels of exasperated expressions from either side of the spectrum — the candidate's as well as the matchmaker's — seems like it comes with some challenges.
Not challenges, per se — it sometimes was just a little difficult to explain to her why things I'd mentioned on my checklist were important. Her first reaction is that we're either being "too demanding" or we need to "lower our expectations." That could be a bit frustrating.
But that's a matchmaker's job! We're literally hiring them to find us a partner we're looking for, without having to settle for just the "60, 70 percent" off our checklist. Agreeing instantly, Joshi says, 
I know, right! What's up with that?! Like, you'd expect a matchmaker to atleast get us 85% of what we want, if not a 100. My expressions were literally what everyone saw on TV. Eyes widened a bit and I did a double-take haha!
But Sima Aunty did pull through, didn't she? Viral's onscreen chemistry with Aashay is softly palpable, and we eagerly wonder if it's the same in real life. 
She really did come around. Sima Aunty gets a lot of flak, but she did me a solid with Aashay. I will repeat what I said on the show; he's easily — hands down — the best guy I've ever dated.
View this post on Instagram

We're so happy to hear that, as are all Vishay supporters throughout the world. Will season three follow their story more? Do we get a glimpse into where they stand in their long-distance relationship? 
Ah, yes! I'm so happy to announce that Aashay and I are very much together, and we're also part of Season 3. Not only that, there are some huge things happening in our lives which will unfold in the next season. You just have to wait and find out.
We hope it's not a long two-year wait this time around, Viral! Here's wishing you and Aashay every happiness and success in the world, as well as the other rishta-seekers on the show. Fingers crossed all the stars align in future seasons. However — while we wait — Season 2 of Indian Matchmaking continues to stream for a global binge-watch on Netflix. 
Photo Courtesy of Netflix.