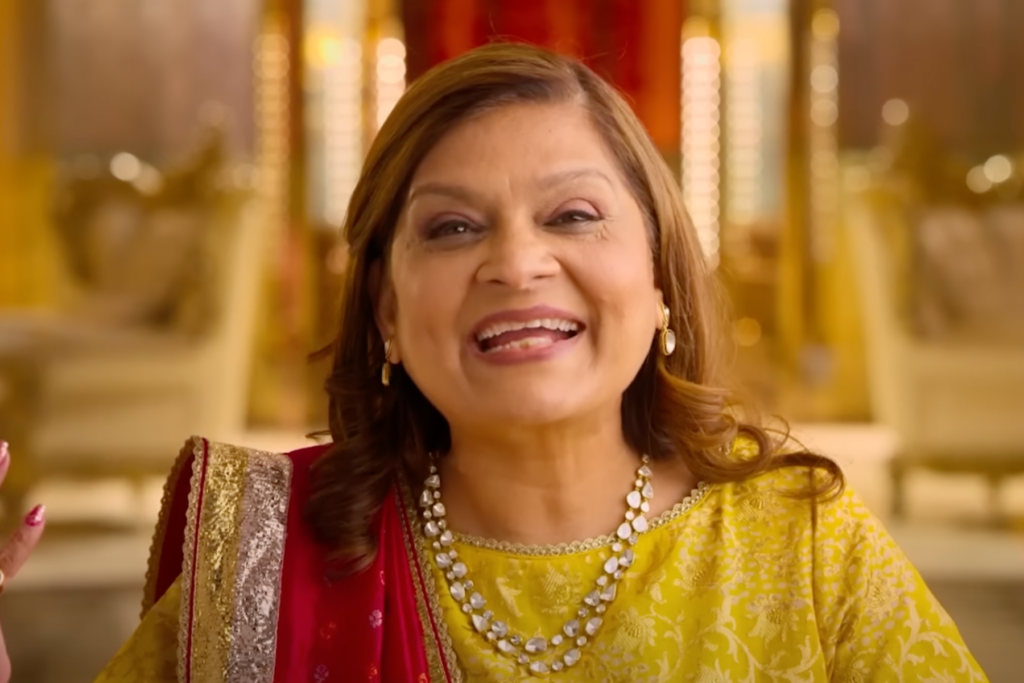 The following posts contain spoilers.
Sima Aunty is back! Season two of "Indian Matchmaking" is bigger, just as problematic (if not more) and prompts many good, bad, ugly and cringeworthy moments. The rishta games were watched as mindless entertainment in 2020 when covid reigned supreme, but now that the pandemic is on a continuous downward trend, we're able to inspect Sima Aunty's biodatas more closely.
Season two journeys some old cast mates, while newbies get a chance to break the ice during Nadia Jagessar's tristate mixer in New Jersey. Things spice up when our hostess's eye catches 26-year-old Vishal's, leading to heartbreak for former would-be beau Shekhar from season one over FaceTime. Nadia and Vishal's 7-year age gap becomes the talk of the town and Sima Aunty's subsequent disapproval, who unabashedly claims that older women with younger men "don't make a good match."
The South Asian obsession with "appropriate" age differences between partners isn't new, but the international perpetuation of such a harmful narrative has once again prompted the age-old question: how many more years of evolution do we need to finally accept that it's okay for a woman to be older in a relationship? Needless to say, Priyanka Chopra and Nick Jonas won't be losing any sleep over Sima Aunty's blunt criticism of their marital age gap.
Nadia and Vishal break up shortly after, and the internet loses no time in branding her as the new villain of the show (eye roll). For a community that strongly believes in and roots in karmic retribution, I couldn't help but find the love triangle a tad scripted by the producers for the sake of creating drama. For example, we're given no context of where Nadia and Shekhar's relationship stood after season one. Sure, there are a few mentions of tangible visits and virtual interactions but other than that, no logical explanations are offered. Why hadn't Shekhar made a move? Why didn't Nadia ask him where their relationship was headed? Was this just masala to have the show trend on Netflix? Insert Nadia's most recent video where she shares the behind-the-scenes of what really went down from her perspective.
View this post on Instagram
Of course, like most things in life, the woman in the situation bears the brunt and blame for being blindsided by Vishal, whereas nobody bats an eye over his questionable f-boy attitude.
The show's predecessor "villain," Aparna Shewakramani, is now an official New Yorker with a swanky Manhattan apartment. Since season one's wrap, she left her job as a lawyer in Houston, moved across the country and published a book, "She's Unlikeable: And Other Lies That Bring Women Down," which sadly is not highlighted in the new season but deserves acknowledgement. (Full disclaimer: the Brown Girl Magazine team hosted a premiere party for Aparna's memoir in Los Angeles in March.)
She's also not on Sima Aunty's roster anymore but continues to meet and date people on her own. Good for her, and I am all for women not changing themselves for anyone. Doing another season on her own terms was important for Aparna because she wanted women to see what taking charge of your life looks like.
View this post on Instagram
Speaking of New Yorkers, the state definitely played a pivotal role this season. Sima Aunty's band of candidates also included 38-year-old Shital from New York, who, pleased to say, found love on her own. Nice to see women not settling for "60, 70 percent" of their checklist since "100 percent, they will never get."
And in full transparency, we hosted a premiere party for season two on August 10th at Madam Ji in New York City, featuring both newcomers Shital and Vishal. It saw close to 100 people, all wanting to meet the cast members and get a glimpse of Sima Aunty, who was unable to attend due to travel.
View this post on Instagram
Now back to the show! Perhaps, my favourite newcomer on the show is 30-year-old Viral Joshi — a self-assured, calm and cool only child from North Carolina. It's empowering to see independent women fully in control of their life choices. They've got the job, the house, the money, the car, so why on Earth would they lower their standards for a lifelong partnership? Even buying a house requires multiple visits to properties before saying yes to the one. Nobody asks us to compromise on creaking floorboards. However, Sima Aunty's non-existent "magic wand" deemed that as "too demanding." Glad Viral didn't settle for her male namesake Viral and found her onscreen happily ever after with Aashay from New York.
My second favourite was Cleveland-based cardiologist, Arshneel. Sweet, down-to-earth and open to new ideas, his chemistry with Chicago dentist Rinkle was a slow burn. Despite having reservations, he decides to wear his heart on his sleeve and on the ice skating rink for their date.
View this post on Instagram
Back in India, season one's Pradhayuman is tying the knot with his lady love, Ashima. Thankfully, viewers see the actual wedding in Nawab style in Udaipur. We're also introduced to Akshay — a small town boy from Nashik, unable to convince potential partners to leave their big city dreams for his real-life chick flick. His family business is something to do with poultry/chickens?? I kind of zoned out after he called himself "the most eligible bachelor in the world" because his mum thinks so. Side note to all the men reading: It's a cringe look, even as a joke. Women are not interested in listening to mums singing their boys' praises.
Saving the subjective best for the last — Vinesh from Florida is basically looking for a smokin' replica of Barbie. He's not able to bluntly phrase it so a lot of "I need to have a romantic chemistry" is thrown around. Thankfully, the infamous Taparia lecture wasn't only reserved for her female clientele; she berates Vinesh just the same. From what we gather, he's still single and searching for love.
Many experienced couples also cameo at the beginning of each episode to share sage words of marital wisdom. I must admit, most of them had a heartwarming effect.
The show closes with Sima Aunty officially bringing her biodatas to the U.K. Not sure if next season will open with her "criterias" in a West London kebab shop, but "Indian Matchmaking" is definitely getting bigger, controversial and stirring conversations in households across the diaspora. The rishta process isn't problematic, per se — what's jarring is the constant dumbing down to find love, labelled as "compromise." As a newlywed, I can 100 percent guarantee how rewarding it is to wait for the right person without giving in to dealbreakers. Guess we have to wait and see how well the stars align in season three.
Photo Courtesy of Netflix.