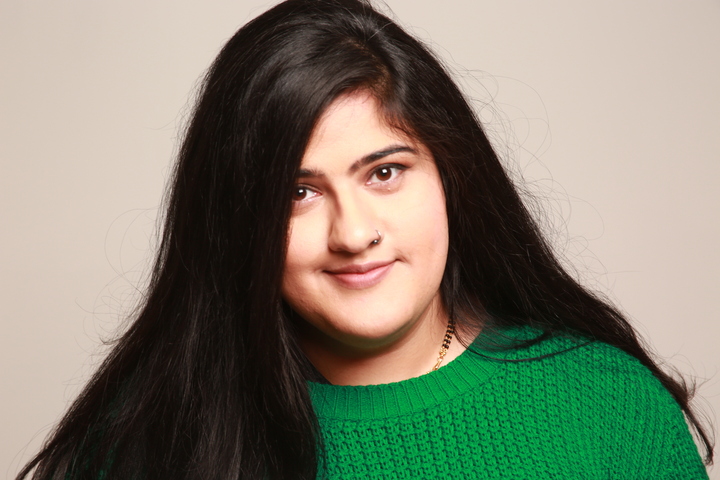 It's chand raat and we're still in the middle of a pandemic. Haphazard Eid preparations are in full swing, I remember I have a call. I jump on Zoom to chat with Bisha K Ali.
Our call was scheduled so I could learn more about her and her newly launched Netflix Screenwriters' Fellowship. I never told her, but with the loneliness of a solo Eid lurking, our call felt like a step closer to spending chand raat with family and friends. This was our first time meeting each other.
Bisha K Ali is a screenwriter, director, and executive producer by trade and a stand-up individual by choice.
Let me tell you why.
Introductions out of the way, we got to share stories about our lives. I learned that, like me, Bisha was raised by way of the television.
"There were three things really: TV, gaming consoles and the cinema."
Spending her adolescence in between Pakistan, Saudi Arabia and the U.K, the only constant in her day to day was visual media. Especially American cable TV. She might not have known this back then but this was the bedrock for her career in visual media.
We're doing a Fellowship for unrepped & under-represetend writers! Includes: A bursary to provide time & space to work on original ideas (you keep 'em completely, we keep our mitts off), mentorship, cool stuff & your 1st TV credit. Apply now w/ a script:https://t.co/7EmkhGtYa5

— Bisha K. Ali (@bishakali) May 16, 2021
The tradition of oral storytelling was ingrained into her on trips back to Pakistan. Her evenings were spent in a circle, surrounded by family members, recounting stories with each person adding their own flavour, flair and character. With an uncle fluent in hyperbole in front and a cousin whose middle name should have been cadence next to her, no two stories were ever told the same.
The two art forms coupled together set the tone for her own exploration into the storytelling domain. Bisha learnt to process the world around her through this esoteric lens. With time, she was further rooted in this ideology. She transitioned from being someone who learnt to communicate with the world through this medium to a creative who wanted to and consciously chose to communicate with the world through visual media.
By the time she was living in the U.K, she had identified a common thread: the non-existence of Asians, like us, on screen.
In the late 90s, the era of an all-time classic, "Goodness Gracious Me," was unfolding. It was an eye-opener for many, including Bisha. Here there was an ensemble of desi creatives, the legendary Sanjeev Bhaskar, Kulvinder Ghir, Meera Syal and Nina Wadia, who were tactfully showcasing an identity that was sidelined up until then. An identity that was forming, one that was neither black nor white, one that was screaming to see the light of day. An identity formed of a constellation of identities. One that owned the juxtaposition of being South Asian and British, from all possible angles.
Experimental, bold and laced with tongue-in-cheek humour, it changed the game. It showed us that we could be both. Not one or the other, the in-between.
"Goodness Gracious Me blew the door open. It was one of the few examples of us. It existed, it was a start. It showed me that we are good at what we do. And there should be more opportunities for us to be able to do this."
When probed what being a British Asian meant to her, Bisha touched upon a truth that resonated with me. The term British Asian is fairly new. When we were growing up, there was little reference to us being part of the culture. So being British Asian is still new to us. It has its limitations too. Whilst British Asian fits neatly on a form you need to fill out for administrative obligations, it doesn't quite fit into our lives just yet. Why? Because we're still figuring it out. And the term overshadows the diverse nuances of lives (British Pakistani, British Bangladeshi, British Sri Lankan, etc.) lived and still being lived in the U.K.
Key cultural narratives that would help punctuate our identities as British South Asians were lacking. Whilst shows like "Goodness Gracious Me" were representative, they didn't represent all of us. An observation Bisha still keeps in mind.
When she eventually learned that people actually write for TV, it was a pivotal moment. In between stand-up and screenwriting, Bisha sought to understand the limitations on who gets to tell our stories. She took notes.
Years later, when Bisha sat down with Anne Mensah, Vice President of Original Series Netflix U.K, she shared her frustrations on current limitations that engulfed diverse narratives in the U.K. Countless brainstorms and honest conversations around roadblocks were had. The root of Bisha and Anne's creative relationship was embedded in believing in each other's experiences and committing to creating change. Dialing back, they realised that the stories that needed to be told weren't going to come to them. They had to get to them.
Whatever their solution was to be, Bisha wanted it to be representative of her own values: kindness, respect and impact.
So, what could they create to simplify the process?
Direct Impact: Financial obligations are a hindrance to the majority of creatives. A bursary of £22,568 awarded over 12 months is part of the Fellowship to allow writers' time and space, worry-free, to focus on writing their script.
Access: Travelling to London for an opportunity might be easy for some but it isn't for most. Travel logistics such as time, accommodation and now COVID-19 are all factors to consider. Because mobility is a barrier, the Fellowship aims to give fellows access to industry mentors.
Space: With financial and physical limitations addressed, the Fellowship will cultivate a space to learn and gain exposure to the industry through developmental workshops and events.
Accreditation: Realising the importance of having a tangible achievement that would be recognised in the industry, the Fellowship offers a paid placement in a writers' room on a Netflix or Sky show. For their writer's room participation, fellows will receive credit.
Bisha's hope with the Screenwriters' Fellowship is to hold the door open for writers' by redistributing the tools available, and if need be, adding extra tools. Most importantly, she hopes to create a space where writers feel like they belong.
At some point, we have all been in spaces and places which have made us question whether we fit in, despite our longing for belonging. Bisha K Ali and Netflix's initiative is a step forward in the direction of bringing us closer to creating and sharing stories that need to be told. We no longer mind the gap. We're closing it.
You can read more about the fellowship here.
The Fellowship is open to all Black, Asian and other racially and ethnically under-represented writers in the U.K. If this sounds like an opportunity for you, a friend or a family member, please apply and/or share.