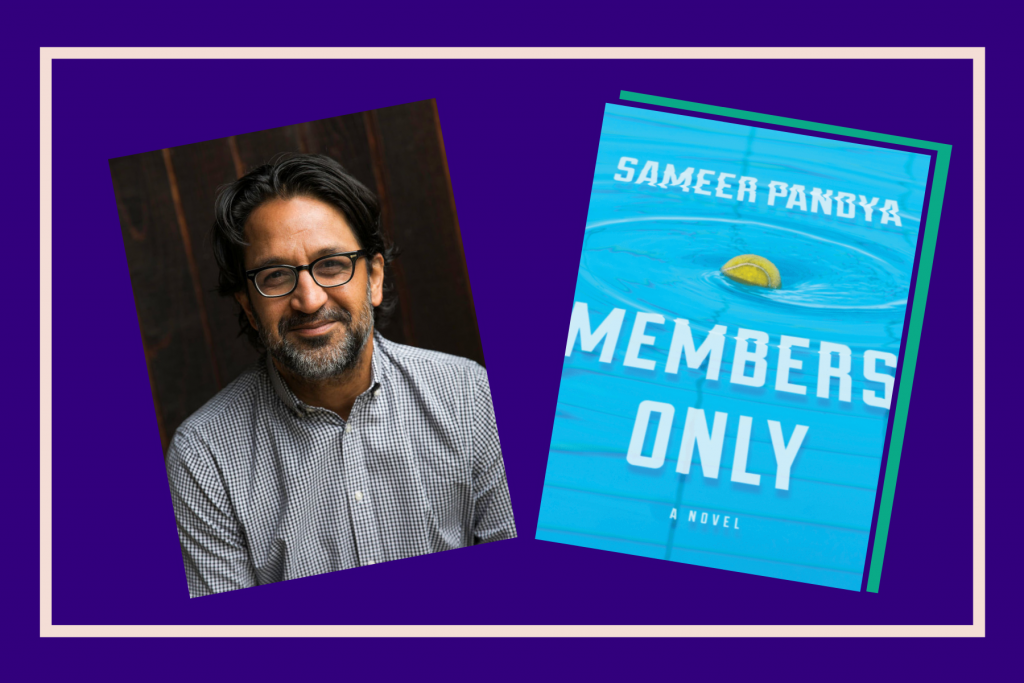 Growing up South Asian in a predominantly white community in Ohio, there were many times I pondered the question of belonging. I chuckle now as I remember my need to fit in so badly. I was uncomfortable in my own skin and chose to emulate what I saw as being American: powder blue eyeshadow, teased out bangs with a perm, begging for lunch money from my parents so I could eat what the other kids were eating (pizza!), and the need to shun any questions about my culture. The further I got from childhood, the closer I moved to my Indian-ness as I realized that being American had nothing to do with being white and everything to do with having the freedom to embrace my hyphenated upbringing (Indian-American).
This sense of belonging, of being Brown in a country that is so often seen as just white and Black, and the extremes to which some may go to belong is the crux of Sameer Pandya's debut novel, "Members Only." Pandya presents the topic of racism and its relation to the Brown community in America; a topic which is so often overlooked when discussing the experience of race. Because it is so often dismissed or not discussed, Pandya raises the question: do brown people feel an obligation to be only white or only Black,  trapped in a space which is isolating and feels neither here nor there?
The main character, Raj Bhatt, is a professor of anthropology at a small university in California. He is married to a white woman, Eva, and is a father to two beautiful little boys, Neel and Arun. From the outside, Raj's life appears to be the perfect immigrant success story. Until it's not.
The story takes place over the course of a week in Raj's life where everything that could go wrong absolutely does. Raj is a member of his community's private Tennis Club (TC for short) and is on the selection committee for new members. This is the week where an African-American couple, Bill and Valerie Brown, come for their interview to join the club. However, TC has always been a club of predominantly white members. During the interview, Raj can't hide his excitement for the possibility of having another person of color at the club. In his eagerness to connect with Bill, Raj commits a grave error in judgment. In the hopes of showing solidarity, Raj makes a remark which is clearly racist. Yep, it's that word.
Rightfully so, the selection committee, many of whom have been Raj's friends for years, are appalled. Raj is accused of being a racist. The irony of this is not lost on Raj. Throughout the years, he has been on the receiving end of racist remarks from other club members who were never addressed as being racist. As the week unfolds, things do not get any better for our main character. Raj gives a lecture on colonialism and Christianity which his students video record and upload online. They expose him for being a Christian-hater and a reverse racist. As student protests unfold and demands for Raj's apology at the Tennis Club are made, Raj's whole life spirals out of control as he is forced to confront his own career insecurities, his comfortable middle-class life and the childhood which brought him to his present state of self-reflection. 
Pandya does a phenomenal job of writing with a light-hearted hand, injecting humor into a story with heavy themes such as race relations, white-washed education, non-critical thinking in our education system and the fear of judgment keeping us away from finding our true selves. He does not shy away from the implications of speaking out. Pandya gives the South Asian Brown community a voice in the conversation on racism, our need to belong and the heartbreak of not fitting in.
For years, the Asian community has been labeled as the "model minority." Many of our parents who immigrated in the '60s and after felt the need to keep their heads down, work hard and not cause any trouble. They felt they would be rewarded for blending in. They would find jobs with decent salaries, be able to provide for their children who in turn would receive higher education degrees and earn a better place in society. This is the mindset that has been passed down to many of us first-generation immigrants. In this novel, Raj is a first-generation immigrant faced with the conflict of continuing in this fashion or speaking up against racial injustice.
Raj says it best when he recollects his school days where there were very few Indians in the community and he would try his best to blend in. "I'd come to see myself as the person in the middle, someone who could talk to everyone, translate across the aisle and bring people together. Maybe it was that I hated conflict, or maybe I could genuinely empathize with different points of view, find some common ground." This avoidance of conflict has a way of building up over the years until it implodes on us.
Raj's life does just that as the realization settles in that he is not embracing his identity to the fullest. Being true to himself may be learning how "to make nowhere the somewhere" he lives. Raj must evolve to become confident enough in his own skin to know that there is a place for him in America that respects his Brownness. In the words of the late House of Representative, John Lewis, Raj learns to "never, ever be afraid to make some noise and get in good trouble, necessary trouble" in order to stand up for himself.
Sameer Pandya stated in an interview, included within the book, that he felt "emotionally tied to this book" and he hopes he has conveyed this to the readers. I can vouch for Pandya and tell you that he succeeded. This book was subtle but powerful. On the surface, issues involving diversity and inclusion are discussed. Peeling back the layers, the more important issue at the heart of the novel is Raj's desire to belong. Through Raj's journey, Pandya lets readers know that belonging is a feeling that an entire group, organization, or society is responsible for cultivating.  
Pandya's novel evoked emotions in me which I have not confronted in years. I questioned so many of my own beliefs throughout the years of growing up Brown in America. Did I think certain things because I so desperately wanted to fit in? What parts of my life represent my true identity? What parts spoke to my need to be accepted by the white community? What parts spoke to my need to be seen by other minorities as one of them? Did I need to change anything in order to feel more aligned with my Brown roots?  
The closing of the book is emotional. Through the eyes of Raj's son, Neel, who struggles with his own sense of belonging as a child with ADHD, we learn that it is the fear of judgment from others as well as ourselves which stops us from being comfortable with our identity. Moreover, it is society's stereotypes and the related prejudices which make us feel we do not belong. Throughout his week of reckoning, Raj learns these lessons the hard way and eventually, evolves into a better version of himself debunking the belief that America is a place for "members only."
You can buy "Members Only" right here and keep up with Sameer Pandya on Instagram!