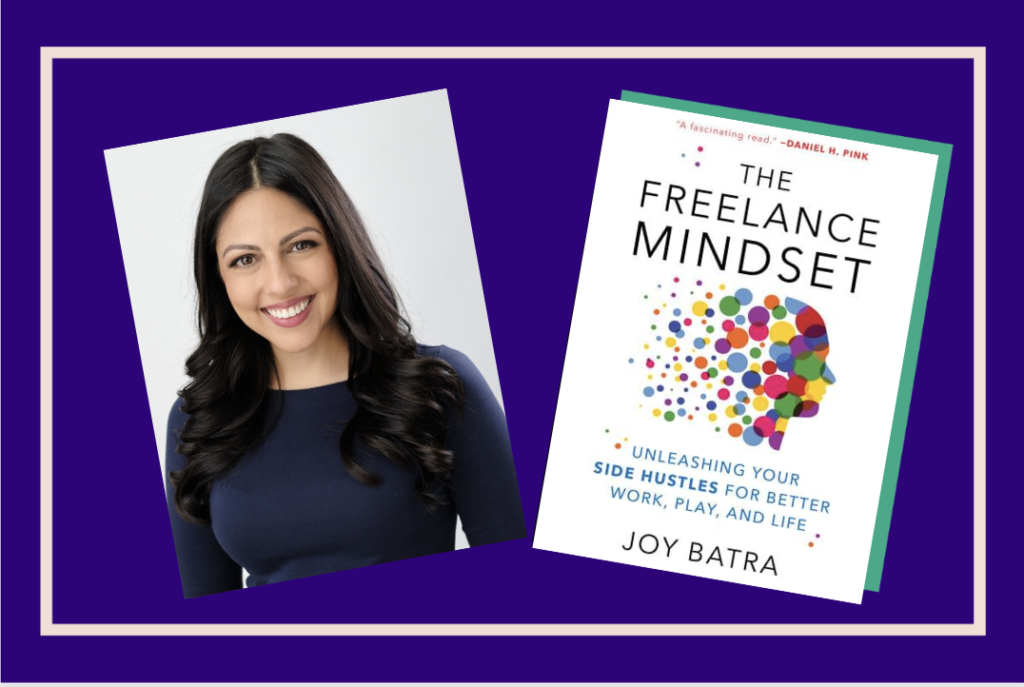 "What you do is not who you are. Our capitalist society spends a lot of time trying to convince us that we are our work, but we don't have to fall for it." 
When I first met Joy Batra, she wasn't an author. She was a multi-hyphenated individual who floored me with her charm and her aura. Joy not only had gone to business school and law school at one of the most prestigious universities in America, but she also valued her hobbies and her passions that were completely extraneous to her working persona. Her nontraditional career path was one that, at first glance, confused me. "I'm a dancer and freelancer," she had said, and I batted my eyes as if she was talking in a foreign language. What's a freelancer? Why and how did she come to identify herself as a dancer, when her degrees all point to business and law? 
Joy Batra's therapeutic and timely book "Freelance Mindset" provides relevant stories, guidelines, and motivation to take ownership of your career and financial well-being. Particularly, the book is centered around the pros and cons of life as a freelancer and practical advice for how to get started as one. At its core, the "Freelance Mindset" encourages diving deep into the relationship between career and identity, and how the balance of both relate back to your life view.
In the words of Batra:
"Freelancing is a way to scratch a creative itch that is completely unrelated to their day jobs…Freelancing harnesses that independent streak and turns it into a long- term advantage." 
Batra's older sister's advice is written with forthright humbleness and glaring humility. Batra leads us through the fear of facing our existential fears about careers, productivity, and creativity. She leans into the psychological aspects of how we develop our careers, and reminds us to approach work not just with serious compassion but also with childhood play: 
"You are naturally curious and passionate. As a child, before you needed to think deeply about money, you probably played games, had imaginary friends, and competed in sports. Those instincts might get buried as we grow up, but they don't disappear altogether."
Batra also provides us with a diverse cast of inspirational freelancers who provide their honest perspectives across a wide range of domains from being a professional clown to actors to writers. Especially noticeable is the attention paid to South Asian women through notable interviews with Vyjayanthi Vadrevu, Saumya Dave, and more. On social media, it's easy to find these women and immediately applaud their success, but behind the scenes, it takes a lot of grit, persistence, and determination to reach the successful level of freelancing that you see. Batra encourages a spiritual way of thinking that is marked by rational needs (ex. Maslow's hierarchy): not to seek immediate gratification and corporate climbing, but rather to view life as a "jungle gym" as coined by Patricia Sellers. Taking risks is part of life, and just like entrepreneurship, freelancing is just as ambitious and off-the-beaten path, despite stigmatization.
"One of the strange paradoxes of the working world is that entrepreneurship is fetishized and freelancing is stigmatized."
I recommend the "Freelance Mindset" to anyone who is starting out their career in these economically uncertain times, as well as seasoned workers who are looking for inspiration or a shift in their career life. Whether or not you are considering becoming a freelancer in a certain domain, this book is the practical wake-up call that workers and employees need in order to reorient their purpose and poise themselves for a mindset of success. I view this book as a "lifer," one to read every few years to ground myself and think critically about the choices I make and where I devote my time. 
I leave you with this quote:
"We can adopt the new belief that no single job will meet all our financial, social, emotional, spiritual, and physical needs…We have one self, and we must figure out how to integrate it into the various situations we find ourselves in."
You can purchase a copy of the Freelance Mindset here. Follow Joy Batra on Twitter and Instagram for more content!