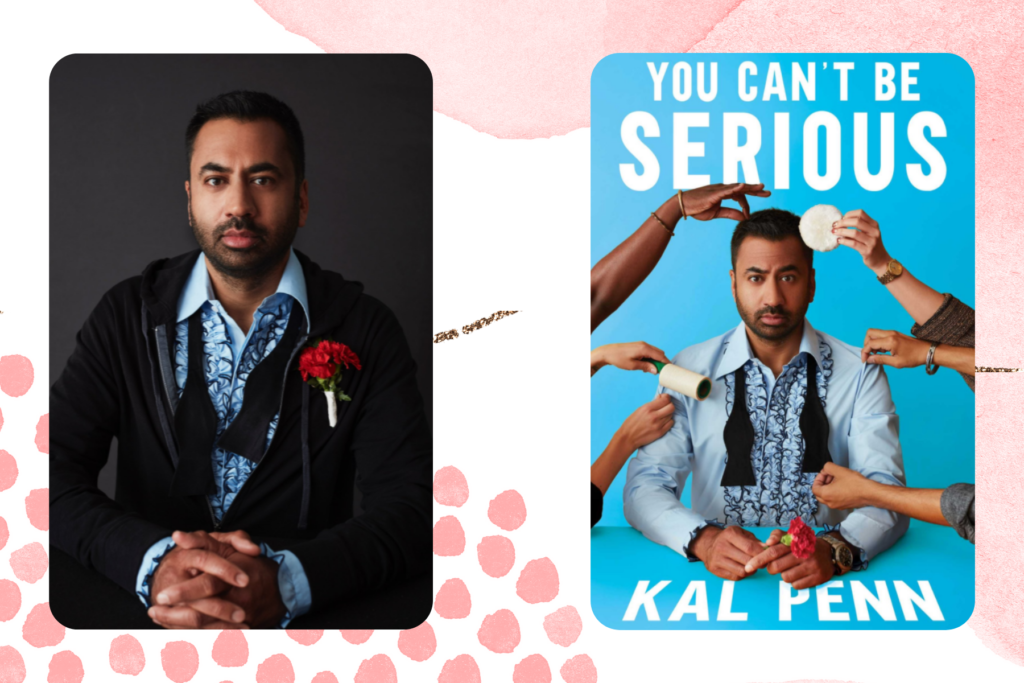 Kal Penn delivered an exciting memoir full of his nuanced experiences ranging from the realities of Hollywood and more. His personal narratives captivated audiences by letting them in on what it's like to be an Indian-American in Hollywood. Whether it's dealt with the pressures from his own community or the Hollywood landscape, Penn showcased true grit and determination as he navigated his personal journey.
The book opened up to Penn's childhood experiences, which are relatable on so many levels: being mistaken for another minority in class, being called racial slurs due to the popular culture at the time, and overly concerned aunties about college acceptances. I am sure many of our readers have dealt with similar experiences throughout their childhoods.
What I enjoyed about the introduction of the book is the empathy you felt for Penn's childhood self. A kid full of imagination who loved to daydream only to be told to conform to the aspirations of medicine and engineering due to his interest in the arts. Penn finally got his retribution when he played the Tin Man in his middle school musical production of "The Wiz."
Book launch week! So excited to share my stories with you. Get #YouCantBeSerious at your local bookstore or here: https://t.co/FXtRQNpgv1 pic.twitter.com/ijvnTZRNP8

— Kal Penn (@kalpenn) October 31, 2021
The book moved on to Penn's experiences on the West coast of attending college at UCLA. There are two very important lessons Penn recalled from his college years. The first lesson is that the South Asian community is not very supportive of each other during the late '90s and early 2000s, especially if you are in a creative field. The second is Hollywood is full of stereotypical roles for minorities during those same years. He would often be asked to perform an Indian accent for comedic relief or his direct competition would often be an individual wearing brownface. This is related to one of my favorite quotes from Penn's book, "Stereotypical representation is dehumanizing when it removes the full breadth of what it means to be a living, breathing, multidimensional person with traits that are independent of identity."
What I loved about this memoir is Penn's internal dialogue with himself. How would he react when he is met with a casting director who asks him to perform a stereotype? Would he express his emotions authentically or bottle them up and smile to get the gig in the early years of his acting career? Penn learned there are baby steps along the way to drip feed having agency in the matter and the creative work.
View this post on Instagram
The book moved on to Penn's bigger projects "Harold and Kumar" and "The Namesake." The buddy comedy "Harold and Kumar" was the first of its kind to have two Asian male leads at its center's focus. Being a part of "The Namesake" was another focal point in Penn's career, as he got the opportunity to work with Mira Nair who had given him the first taste of representation with the movie "Mississippi Masala" in the '90s.
…I also write about (after fighting for & being blessed with successes in Hollywood), making a terrifying/rewarding decision to take a temporary break from a fulfilling acting career for an opportunity to serve our country as a @BarackObama White House aide for a few years… pic.twitter.com/zeO5IEi9li

— Kal Penn (@kalpenn) September 24, 2021
The book continued by filling us in on Penn's journey of his work with Obama. He started his job working for Obama as a Campaign Staffer specifically in Youth Outreach, Field Strategy, Arts Policy Committee and lastly as a National Surrogate from 2007 to 2009. After initial work on the campaign, he returned to being an actor on the hit show House. Penn later returned to continue his work at the White House as the Associate Director of Public Engagement and Intergovernmental Affairs. He was in charge of three workstreams: President's liaison to Asian Americans and Pacific Islanders, Young Americans, and the Arts Community from 2009 to 2011.
The book dove deeper into Penn's personal life around the beginnings of his relationship with his partner Josh. On their third date, Josh and Penn sipped beers and watched Nascar. Penn initially was confused by Josh's beer koozies and love for Nascar but eventually grew to love all facets of his partner. Penn has even grown to enjoy Nascar and has become an avid fan himself, attending races.
Penn has had many projects throughout the years but being the producer and creator of Sunnyside was a triumph in its own right. The entire creative team was "first-generation, BIPOC and LGBTQ+" coming from Penn's book. The premise of the show focused on a former councilman who helped immigrants in search of the American Dream. Penn provided us with this quote in the book as the show is no longer airing:
"Television is indeed magical. They're not canceling us. They're making us disappear."
Please feel free to watch all 11 episodes and support the show here.
I truly enjoyed reading Penn's memoir as it let me in on what Hollywood is really like for someone who is South Asian. The new generation of South Asians has the privilege of seeing the world through today's modern lens. Penn ran through the fires so we could fly. Let's pay homage to the pioneers who walked through the trenches in Hollywood and made it out the other side.