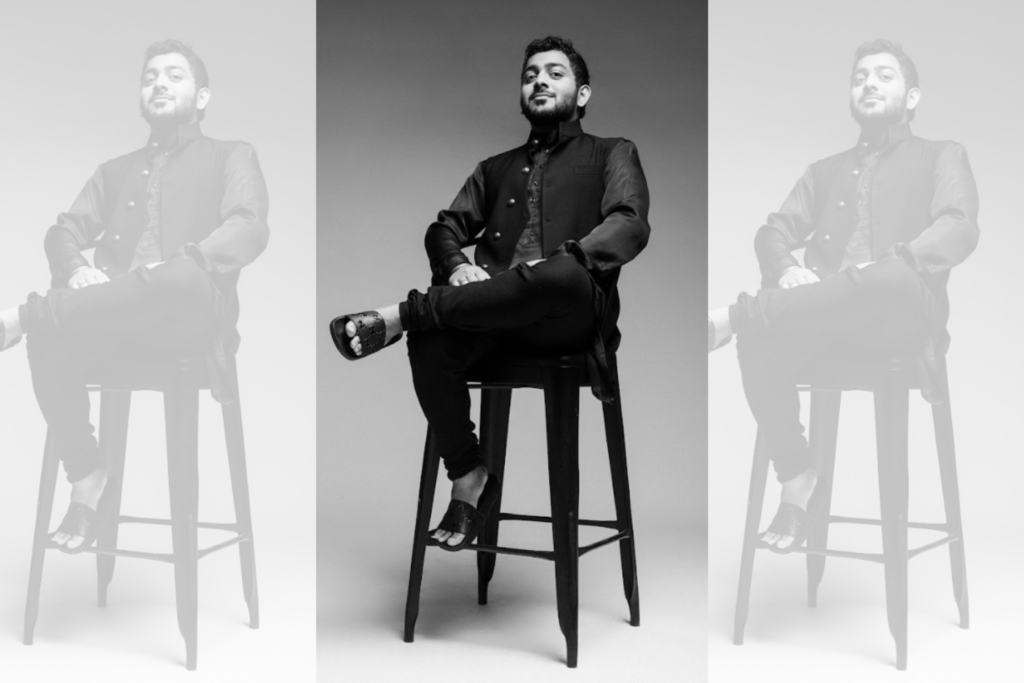 From practicing music at the age of eight to performing at venues across the globe, Ritviz became an iconic artist. His mother and father are both musicians and he is best known for composing the hit songs "Udd Gaye," "Liggi," "Jeet,"and more. The artist hails from Darbhanga, Bihar, India. Ritviz has released four EPs "Yuv," "Ved," "Dev," "Baaraat," and one recent album called "Mimmi."
Ritviz has over 2,100,000 monthly listeners on Spotify and more than 449,000,000 views on YouTube. His awards and accolades include being selected for the Forbes India 30 under 30 list and more. Ritviz recently created an original composition entitled "Aavegi" which appeared in Disney's newest series Ms. Marvel. Continue reading to learn more about Ritviz's journey!
Let's start at the beginning of your musical journey. As you were born into a family of musicians how did this impact the way you go about making music and who were some of your mentors and musical influences who guided you at the start of your journey?
I think obviously having my folks introduce me to music in the most organic way when I woke up in the morning was the best. From ma's Riyaz [practicing music] and dad playing tabla music was never really pushed on me. I think my folks did their thing practicing their music I was pulled towards it. It was just a beautiful introduction to music and honestly my only very real mentor is my mom. I think her everyday validation really just helps me do what I do.
As you composed your first song at the age of eleven, let us in on how the progression continued which led to a greater drive and passion for music.
I think once I got a taste of creating of sorts and once the expression and the need to express kicked in then it's just one after the other. I started making songs writing melodies and that became the most exciting thing because it was this cathartic process of creation.

While I am writing these melodies, I am also feeling so much better. I am feeling lighter and it's therapeutic. This became my happy and most exciting time and things started looking up when I was creating. And from there just never look back and the hope that this stays.

I think in the middle when part of creating is also facing a block, when that would happen it took me a while to adjust to the creative block. Now I try to embrace it all if it goes up it has to come down sort off.
What was the first lyric you ever wrote?
I think it was 9th grade. I had written songs before but this one I published and it was out and we released it and everything. "Sochta rehta hu mai kya hoga mere yaar tune kya dekha hai jo mene dekha baar baar kaisi zindagi hai kaisa hai yeh pyaar cahu to marjaau par lagti hai mere yaar."
I've interviewed many musicians through the years, but I want to try something different. Sing the first thing that comes into your head right now and I will add it as a voice clip.
Click the link!
As "Liggi" is one of your biggest tracks of all time we wanted to tap into what drives you as an artist. Is it the number of plays, the energy from live concerts, the ability to tell stories behind the music, or other reasons?
I think the ability to create? The high of creating while I create. I think that must be the most euphoric time that I go through every time a melody hits me. It's like anything is possible right? The sky is the limit once the melody comes in place and I am so excited about it. I can turn this into anything. The world around me becomes hopeful and I turn and turn and turn into a positive person. So, its just a beautiful journey.
"Udd Gaye" is one of the first tracks I heard from you. Tell us the story behind the creation of this track.
So I fell in love in fifth standard. It's based on my crush in fifth standard you know puppy love. I was infatuated and it took me 10 years to write this song. So, for 10 years this thought was marinating you know and I had a big crush on this girl. That's that you know childhood love.
Let's switch gears and talk about Ms. Marvel. Your tracks "Sage," "Thandi Hawa," and your original composition "Aavegi" appear in Ms. Marvel. How does it feel to have your music in the Marvel Comics Universe?
Honestly so over whelming and you know it's such a big flex. But I think the biggest flex of it all is the fact that I am a part of a bigger soundtrack that represent South Asian music and so many other beautiful artists are a part. It's great to have that kind of spotlight on the community.
Speaking of your track "Sage," what was the process of creating this iconic track that so many were surprised and happy to hear while watching Ms. Marvel?
I remember I was really anxious when I wrote this song. What's really interesting is the way I wrote this. It was a first for me where I experienced real time. I was really anxious this one night I was restless. I was moving around the night and I found myself right on the laptop. Right there I wrote this melody and I think the intro of that song is my anxiety that's turned into a melody. It's a very beautiful cathartic process of pouring those emotions into the laptop so that was a first for me.

In the past "Udd Gaye" and "Liggi" had marinated over time and then they turned into a song. With "Sage" it felt like I was facing something and right then I started writing so it was very interesting.
As you have performed live at many venues around the world from EDC Las Vegas, Sunburn Festival, the Bacardi NH7 Weekender, Zomaland by Zomato, YouTube Fanfest, and more what has been your most treasured performance? How does it feel seeing your name Ritviz on huge stages?
I think for me having my folks up on stage at NH7 Weekender Pune has to be my most treasured performance. Having them on stage for the first time in front of three thousand people and my home town. It was very beautiful.
Let's jump into your newest project "Mimmi." What were your thoughts, feelings, and emotions around creating this project?
So "Mimmi" is my mom. "Mimmi" is dedicated to my maa and the story of the album: it's a parallel between adult me and childhood self. I am trying to find unconditional love in my semi adult life and that journey of me trying to find it is what the album really is. I have found an answer towards the end only because of the person that I was searching this with, which is my mom. That's why its dedicated to her.
And the fact that me looking for unconditional is a conflict because if I am searching and looking for unconditional, it's almost as if I am I am expecting. So, I don't have to expect I have to be unconditional in nature and then there might be a result. I don't have to think about the result anyway and that is basically the story of "Mimmi."
As your role encompasses singer-songwriter, musician, and record producer we would love for you to break down your different roles and responsibilities and what they entail.
I think I don't really see myself as honestly anything not even a musician. I think all of the art that I make is just a reflection of what I am going through in my life. So it just so happens that I am taking care of separate things branches under the music designation. I think it's an interesting process but once I start writing a melody and I start focusing on the lyric or how starting structing the production everything just happens simultaneously.
Who would be your dream collaboration and dream collaborations on a track you produced globally as Ritviz?
I think my dream collaboration happened and that's my mom and we just did "Mimmi" so that's done and I am going to take this globally.
Have you faced adversity in the music industry while working in India as well as working globally?
Yeah, I think there is enough unfair stuff that happens which I think applies to a lot of industries if we really have to make a point here. I feel like one very general sense of support isn't there in the industry because I didn't receive it. I make sure that I try to show support.
Lastly, what do you hope individuals take away from this interview with Brown Girl Magazine?
I hope that people feel inspired to do what they feel is right and start trusting their own gut and their ear because we should be our own judge.
Photo Courtesy of Anirudh photography