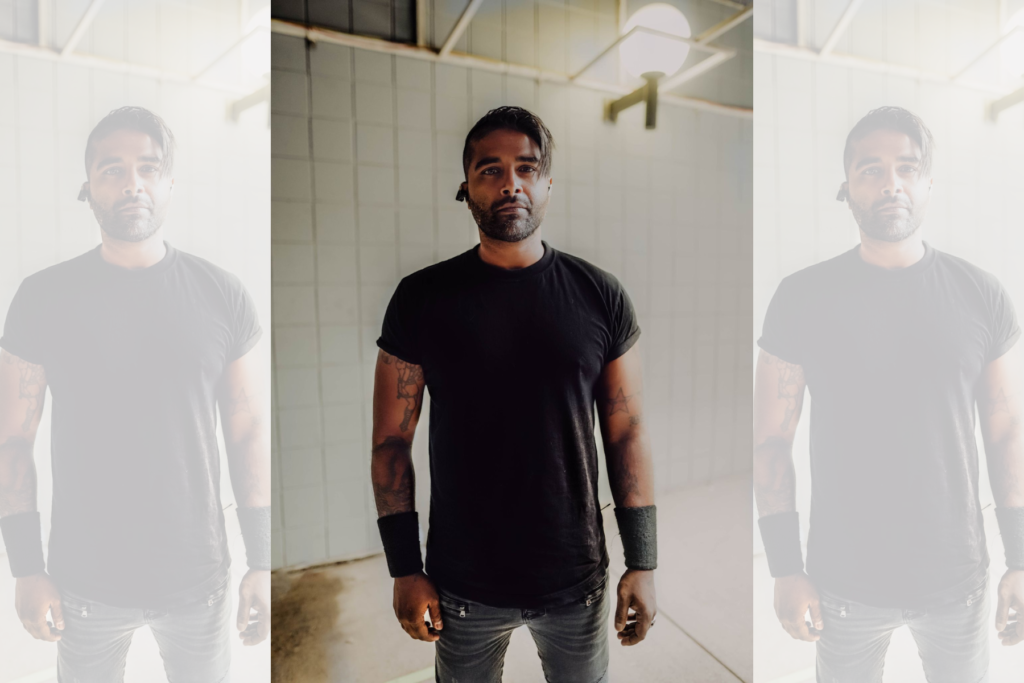 From forming bands in high school to shredding guitar solos on the biggest world stages, Dave Baksh became a guitar virtuoso. Baksh started out in bands called Embodiment, 747 and others before he joined Sum 41. The first ever guitar riff Baksh learned was called "Caught In A Mosh" by the thrash metal band Anthrax. Baksh has been influenced by the bands Genesis, Foreigner, Led Zeppelin, Rage Against The Machine, early Iron Maiden and more. Outside of rock, Baksh has been influenced by many genres including soca, calypso, funk, reggae, hip hop, and more. He has also played guitar outside of Sum 41 in the bands Organ Thieves, Black Cat Attack and Brown Brigade. It may be hard to believe, but Baksh is one of the earliest forms of North American representations of South Asians coming from the late 90's. Continue reading to learn more about Dave Baksh's journey!
Through research we learned that you were exposed to many different genres of music such as soca, calypso, funk, reggae, hip hop, and more through your uncle and cousins. What were your early memories of listening to music, what groups or artists were you listening to, and how do these genres relate, link, and impact the way you go about making different subgenres of rock music?
For me music Boils down to the beat, everything else is there to enhance that experience. A beat can move us in many different ways depending on how the music is arranged and produced. From a traditional standpoint this is a strange opinion as I'm a guitar player who should be thinking melody first.

The reason I play this way is the music you mentioned that molded me as a youth made me more conscious of my rhythm playing which is heavily percussive, meaning I tend to concentrate on my picking hand and the delivery of the note length, shape and pick angle. It also helped me understand that you can accent more than just the downbeat in a musical phrase thanks to soca and one drop reggae especially. In short, I think my percussive guitar style is my contribution to punk rock.
We were wondering if you were exposed to Chutney music at a young age as well which is a combination of South Asian Folk music and Caribbean calypso and soca music and how this impacted you?
I was, as far as impact I'm glad I'm answering this question at 42 with the benefit of hindsight. Now that I am older I can trace my love for music that makes the listener feel good to those roots in particular. I associate those musical genres with memories of family parties, joy and unity. Sad music, though I do like some has a tendency to not resonate with me, I often listen to music to bring my mood up and not down.
When was the first time you picked up a guitar and what were the first few riffs you learned? Additionally, did you start learning with sheet music, guitar tabs, by ear or other?
I was with my cousin when I first picked up a guitar, his brother and he were in a band together and I was always over at the house seeing these cool instruments laying around. The first time I picked one up I held it wrong and that same cousin had to teach me how to hold a guitar and read tablature. The first riff I learned was "Caught In A Mosh by Anthrax". My whole life has been learning and writing music by ear. I don't see any benefit outweighing any other way of learning this was just my path.
What was the first lyric you ever wrote?
The first lyric would be too old to remember. May favourite lyrics is by Ol' Dirty Bastard "If I got a problem, a problem's got a problem 'til it's gone."
What is your favorite guitar solo of all time and what is your favorite Sum 41 guitar solo to perform in front of a live audience? We loved seeing you perform Metallica's "Master of Puppets"!
To pick one solo would be too hard but I think my favourite Sum 41 solo to play live would be in "Out For Blood" off of our record Order In Decline.
You were one of the first South Asian artists from North America performing on the world's biggest stages in the 90's. What were the first grueling years like for you and did you face adversity during these times?
Well, I think that honour belongs to Kim of Soundgarden and Tony from No Doubt. I think we all face adversity when we are put under the spotlight, negativity is a part of showing yourself to the world. Punk music was the most accepting place for me to be as a guitarist with Guyanese roots because of who we surrounded ourselves with. Honestly, I think growing up as a kid in Ajax made me face more adversity than the music business. Once I found a family in music, our attitude was it's us against the world so I had support in any time I needed it thanks to the guys in the band.
Through research we learned that you met Deryck Whibley in high school and got kicked out of class for talking about music on the first day. Who were some bands and artists you both bonded over in the early years of becoming friends?
The obvious ones were Nirvana and Metallica. We always tend to like the same heavy music and our love of going to shows to see bands hasn't slowed at all.
What were your thoughts, feelings, and emotions around creating your first album and how did it feel to follow it up with another one the year after with such a quick turn around?
Our first record with a producer was a quick lesson on how to be a band in the studio. Lessons like: know how to play the song without any accompaniment were huge. I think emotionally I felt a sense of accomplishment due to pushing my boundaries and achieving things I didn't think I could do on a guitar. We recorded two records at once in order to keep touring and make the most of our time on the road.
The Sum 41 album "Chuck" was my favorite of all time. What was the process of creating this iconic album?
That album catches inspirations from many different things that were happening in the world, to us as individuals and our trip to the DRC in Africa.

So much happened during that time, it's a whirlwind and I think that the state of the world and our aggression on that record are tied together. It was at that moment that I started noticing tensions with our manager, we were all doing way to much in the way of drugs at that point and I started isolating myself from the hard drugs even though I was smoking weed chronically. This was a strange time for all of us but I think it lends to Chuck being the ruff kitten of our offerings.
Seeing you shred guitar solos on stage was one of the first forms of representation I saw for South Asians. You made rock music look more inclusive and in turn inspired me to play rock music on my electric bass by attempting your solos which I understood to be nearly impossible. What does it feel like to have a profound impact on individuals and be labeled a pioneer?
To be told someone looks up to me is a rare and beautiful thing, it makes me smile every time and makes me reflect on the guitarists I identified with as a youth. No one ever told me to my face that I would never make it due to my heritage but it's plain to see there is a major lack of us in North American pop culture. I'm honoured to be of South Asian heritage through Guyana and I implore anyone to pick up an instrument no matter where you and your family come from.
We loved seeing you form the group Brown Brigade with your cousin Vaughn Lal which encompassed soca, calypso, funk, reggae, heavy metal and more as well as showcased your lead vocal abilities. What was this time like for you to experiment with a different sound?
That album is filled with good and bad memories. My cousin and I got to work together which is something I have always wanted to do on a major level. I think that I was not a good leader at that time because I was too cocky and full of myself. The sounds we created on  Into the Mouth of Badd(d)ness were supposed to be a teaser to what we wanted to do. We wanted to be the Ween of heavy metal, giving us the freedom to write what we wanted when we wanted.

The original idea for Brown Brigade was to offer a subscription service at $1CAD per year which would give access to all aspects of the art we created; Music, interviews, paintings and other media. This idea was squashed by so many Canadian record execs;

For example we were told by The late Sen. Jon McCain's daughter Sid McCain said, "…it will never work and no one wants their music to be online, they want physical copies." We were at the mercy of big ideas and a lack of technical know how, based on how everyone gets their music nowadays I'd say we were on to something the industry couldn't wrap their head around.
You started in the music industry pre-social media where an artist and band created a following locally. How do you feel about the current generation of streaming music and how social media has exposed artists to audiences worldwide?
I think due to how people consume music nowadays there is more wiggle room for artists that don't fit in a mold, it removes some of the influence that the music business can create. People are more free to do what they want and we are free to listen to what we want with easier access and less influence.
You've had a couple of nicknames throughout such as "Pleasure" "Hot Chocolate", and more. We would love for you to tell us the meaning and story behind your nickname "Brownsound".
It's really down to how I like my guitar to sound in the studio, I'd constantly say things like: "I need it to be punchy and percussive." It needs to sound like it's puking out of the speaker! Someone told me that I was going for the "Brown Sound" which was made famous by Eddie Van Halen. Our engineer Blair Calibaba at the time said I should be Dave "Brownsound" Baksh.
I got the chance to see y'all perform live in Salt Lake City, Utah pre-pandemic. What has it felt like to get back to performing all over the world?
As I'm reflecting on this we are about to play for our biggest crowd in Paris, I tend to get emotional when it comes to playing post pandemic because of what my family went through during that time. My mother and I had to beat cancer, we lost so many beloved family members and pets during that time and I had to figure out what I am when music no longer needs me.
How has your approach to music changed when you started in the music industry to current times?
Experience, emotional awareness, less practice because my practice regime used to control my life.
Who would be your dream collaboration or collaborations?
Tyler The Creator, Earl Sweatshirt. To sit in a room and lay down some guitars on something the three of us created would be a dream come true.
How do you get through writer's block when you're not feeling creative?
Stop, mow the lawn, fold laundry, clean the bathroom. Remember how much housework sucks, then I tend to take my thankless ass back to a thankful headspace.
What are your thoughts running through your head while you are shredding a guitar solo?
Nothing, focus and feeling are all that's happening.
What advice do you have for up-and-coming artists?
To quote a great chef "Love the process." Apply this motto to all things you go through, if you don't love everything about being in a band or writing music then step aside and get a job doing something else.
Lastly, what do you hope readers take away from this interview with Brown Girl Magazine?
Relatability, possibility and inspiration, without these we can't picture ourselves in a place we want to be.
Photo Courtesy of Aaron Berkshire