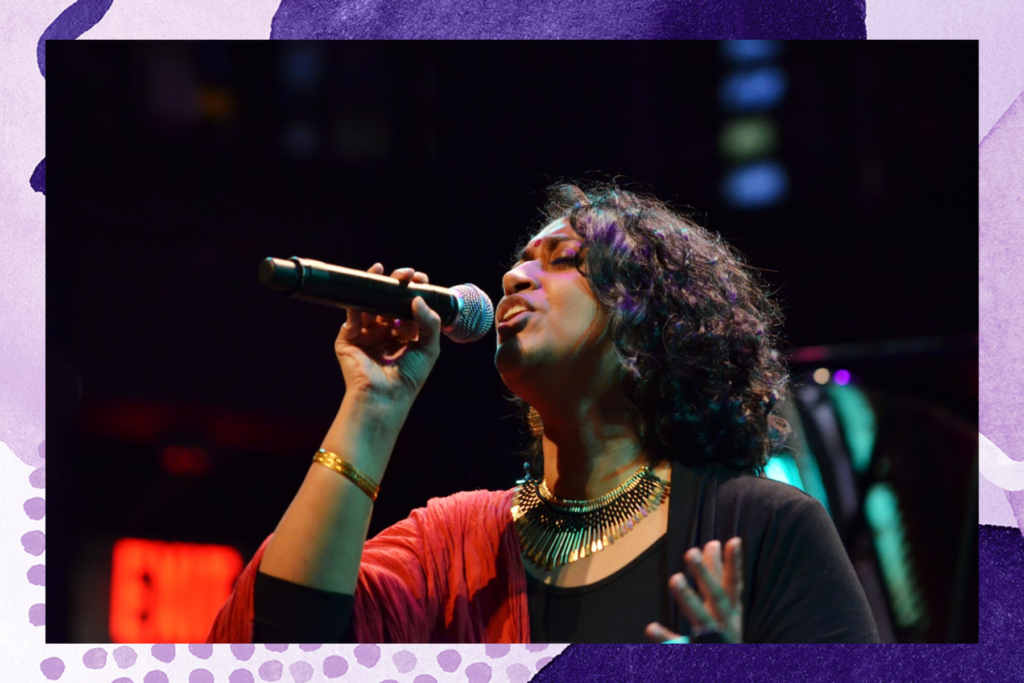 The Berklee Indian Ensemble was founded in 2011 at Berklee College of Music in Boston by the first Indian musician to be invited to join Berklee's faculty, Annette Philip. The group was created as an open and inclusive space for musicians from all over the world to explore Indian music while bringing their own cultural influences into the collective sound. The Ensemble has collaborated with A. R. Rahman, Ustad Zakir Hussain, Shreya Ghoshal, and several iconic musicians over the last decade, and is known for its signature sound that melds Carnatic and Hindustani classical, folk, Sufi (qawwali), and contemporary Indian music, with influences ranging from hip-hop and jazz to Middle Eastern and African flavors. The Berklee Indian Ensemble that just released their debut album, 'Shuruaat' (Hindi for 'Beginning') already has more than 11,500 monthly listeners on Spotify and more than 288 million views on YouTube at this point. The parent organization, Berklee India Exchange (BIX) is an incubator for Indian culture that produces concerts, tours, artist residencies, workshops, awards scholarships, and more. Continue reading to learn more about the Berklee Indian Ensemble.
As many of our readers may not be familiar with different South Asian musical styles, would you be able to define and provide a brief history of the terms Carnatic, Hindustani, Konnakol, and in your own words?
The musical traditions in India are some of the oldest in the world. Indian folk music predates all the traditions that termed themselves "classical" and between the 12th and 14th century, two streams of Indian classical music rose to prominence. Carnatic or Karnatic music in the southern part of the Indian subcontinent (the word means 'traditional' in Tamil), and Hindustani music in the north (the word 'Hindustan' is Persian translating to "land of the Indus" which relates to the Indus River and Indus Valley civilization).

In Carnatic music, vocalized rhythmic syllables are called Solkattu. The performance art/recitation of these syllables is called Konnakol, and it mimics the most versatile Indian drum, the Mridangam. In the Hindustani tradition, the vocal syllables are based on vocalizing tabla strokes and patterns, called Tabla Bols.

These ancient rhythmic languages help musicians internalize rhythms, learn and communicate intricate patterns, allow for odd-meters to be understood easily as they're based on subdivisions, and is also a language shared by dancers who have footwork that corresponds to a stroke on a drum, and recitation of rhythms.

While the roots of Carnatic and Hindustani music of India are found in the Vedic literature of Hinduism, Qawwali is a form of devotional music that expresses the mystical Sufi practice of Islam in South Asia, mainly in areas of Afghanistan, Pakistan and India. One of the characteristics of Qawwali is the presence of a group of singers who sing in unison, guided by one or two lead singers who use a call-and-response format and a fluid style of alternating solo and group passages with improvisation and repetition.
What was the process of creating the album 'Shuruaat' and what were your thoughts, feelings, and emotions, while creating this album?
The 'Shuruaat' album was a culmination of 10 years of the Berklee Indian Ensemble journey. After our music videos began going viral back in 2014 (Jiya Jale was the first), we wondered time and again, if an album would be possible. We had a vision for it artistically, as well as from a music business and music rights/legalities perspective. Our goal was to feature our original compositions along with tributes to our musical heroes, and reinterpretations of classic Indian songs. We also wanted to make sure that all contributors (and rights owners) of the songs would be equitably treated from the get go.

Interestingly, we were discouraged from even attempting to procure rights from labels, as it is known as an arduous, lengthy process. There is so much back end research and logistical planning to undertake a project of this magnitude. During the 2020 pandemic, we decided just because it might be difficult is not a good enough reason to hold back. Let's at least try! It took us two years, and we're so happy we stayed the course and persevered. As with all creative pursuits, plans evolve, and we're delighted at the results of 'Shuruaat' (Hindi for 'Beginning') and this new chapter we're embarking on!

'Shuruaat' features 98 musicians from 39 countries, along with Indian music royalty, Ustad Zakir Hussain, Shreya Ghoshal, Shankar Mahadevan, Vijay Prakash and classical contemporary duo, Shadow and Light. It is a labor of love, and what we're most proud of is how the album came about. All contributors are set up to share in the success of the album, for life! Artists need to know their rights, and positive change can be brought about when there is transparency and open communication about industry processes! And next, we will be submitting 'Shuruaat' for the Grammys! Because… Why not?
Moving on we love seeing the group perform a high-adrenaline konnakol conversation. What is going on during the performance and what is the interpreted meaning behind the conversation?
Konnakol (and Tabla Bols), as mentioned earlier, form a rhythmic language in Indian classical music. It's one of the most fascinating ways to combine math and music, and is not only intricate, but such fun to hear and perform! Although the sounds are mimicking Indian drums (Mridangam or Tabla depending on which Classical style you're performing in), what brings flavor and spice into the delivery is the expression, tone, and dynamics with which rhythms are recited. It's open to interpretation by the audience, but even in a language you don't speak, you can usually figure out the intent of what someone is saying. This makes for delightful playfulness during live performances!

In some of our pieces, we use more of a call and response method, whereas in others, Konnakol may be interspersed between melodic passages, eventually combining to play melodies in unison with rhythms.

Our debut album 'Shuruaat' includes several examples of Konnakol as well as Tabla bols. The songs, Unnai Kaanadhu Naan, 5 Peace Band, and Sundari Pennae are prime examples. In Sundari Pennae, featuring Shreya Ghoshal, our Berklee lead vocalist, Rohith Jayaraman, created an extended Konnakol segment which is incredibly complex. He starts reciting rhythmic passages, and slowly, the tabla and drums creep in, and eventually the entire band plays some really grungy progressive-rock riffs over the patterns Rohith came up with. It's always challenging to learn, and super satisfying to be able to execute cleanly!

A few years ago, we launched an online video series called #TakadimiTuesdays and invited musicians from all over the world to share their favorite rhythmic motifs, rhythm games, and compositions. One incredible thing about Konnakol is that it's something you can practice literally anywhere, anytime. It's fun, amazing as a brain game, and provides hours of entertainment! One of our all-time favorite musicians and mentors is the inspiring Mridangam and Konnakol master, B.C. Manjunath!
Some of our first memories of fusion music are Ravi Shankar working with George Harrison from The Beatles, violinist Yehudi Menuhin, notable jazz musicians, and more. How have these forms of experimentation influenced the Berklee Indian Ensemble?
The cross-cultural collaborations of the past paved the way for more musicians to see their creative works as a playgrounds where ideas, and distinct musical traditions didn't need to be siloed. That said, I feel the word 'fusion' is a little bit overused sometimes. A cross cultural collaboration needs to go further than simply juxtaposing different cultural elements together.

For the Berklee Indian Ensemble, our signature sound evolved over time due to factors beyond just music. Over the last decade, we've had musicians from more than 50 countries be part of this family. When someone brings their cultural influences into an arrangement, we first try to learn more about it. The history, the context, the meaning. We try to understand the similarities and differences, and vice versa, the musicians who've never heard Indian music before do the same. It is the reason the Ensemble (when it was an academic offering) spent six hours rehearsing each week in class, and several hours outside class, working not only on pronunciation, translations, minute nuances, and collective arrangements, but also spending time cooking for each other, tasting the food of our band members, having them learn about Indian costumes like saris, veshtis and kurtas, and even watching movies and documentaries together. With this mosaic of experiences, when we come back into the rehearsal space, the different nuances are much more assimilated and no musical element is added to 'spice things up' but rather, each musician is welcomed to be themselves, creating within ONE symbiotic musical context. If a new element comes into play subliminally, the entire team adopts it, and flows with it. It's not mere cut-and-paste or juxtaposition. It has to feel natural for us all, not just whoever introduced an idea to the band. And at the core of it all is the story. The intention behind the song, and how best to tell that story with our collective voice.
We have seen many groups and artists from decades past incorporate South Asian elements into their music. Some include The Beatles with "Norwegian Wood," The Rolling Stones with "Paint It, Black," Guns and Roses with "Pretty Tied Up," The Yardbirds with "Heart Full Of Soul," THE MAMAS & THE PAPAS with "People Like Us" Elvis Presley with "You'll Think of Me," Stevie Wonder with "Signed, Sealed, Delivered, I'm Yours," and more. We would love to get your professional opinion on if these artists utilized South Asian instruments in the best possible way or should more research has been conducted around utilizing South Asian sounds.
I was reading comments on a music forum the other day, and someone brought up cultural appropriation, integrity, and authenticity. It's so subjective, and a never-ending debate. What feels like an honor to someone feels offensive to another! As Mark Twain said, "There is no such thing as an original idea." So many melodies are inspired by bird calls, and so much of our sense of rhythm comes from our own heart beat. Can more study and research be done by ALL of us at any given point of time? Absolutely!

While I believe it's best when creators take the time to learn the context of a cultural element they're inspired by before they use it, and do their best to give credit where due, I don't feel it's my place to judge who was more authentic in their utilization of South Asian sounds.
Moving on to current times we have seen artists sample South Asian sounds from artists like Timbaland and more. Some of these include the following:
| | | |
| --- | --- | --- |
| Artists | Song | Sample |
| Erick Sermon Ft. Redman | | Chandi Ka Badan by Asha Bhosle and Mohammad Rafi |
| Truth Hurts Ft. Rakim | | Thoda Resham Lagta Hai by Lata Mangeshkar |
| Jay Ft. Kanye West | | Choli Ke Peeche Kya Hai by Alka Yagnik and Ila Arun |
| La Coka Nostra Ft. Bun B | | Mujhe Maar Daalo by Asha Bhosle |
| CJ | | Sanam Re by Arijit Singh |
How does it feel to see South Asian sounds sampled in the modern mainstream?
Across the world, we're seeing more and more sampling, whether it's from cultures that seem diametrically opposite or even from closer home, as we've seen in so many mainstream albums lately. It's interesting to see how global artists are getting inspired by Indian music and finding creative ways to incorporate them into their artistry. Some of the examples you mentioned include samples from old classics that Indians grew up with. Hearing them in a new avatar is sometimes odd if the meanings of the songs don't align. Yet, if handled tastefully (and again, that's so subjective), it's fun to hear, because a musician from a different culture will often highlight different aspects than you'd expect.

Case in point: I recently watched the amazing Noorani Sisters perform a short acappella excerpt of A.R. Rahman's Patakha Guddi. Knowing the song well, I automatically heared the original arrangement in my head, although they were singing without accompaniment. Suddenly, tons of mashups emerged online! Guitarist Andre Antunes laid a medley of Red Hot Chili Peppers songs over the powerful vocals of the Noorani Sisters. Beatboxers felt the groove differently than what I was used to hearing, and it was super cool! It helped me enjoy the piece in a totally new way, and I'm really glad and stoked that people were inspired to create their own versions!

Specifically about sampling, for me, even if a producer decides not to worry about the context/meaning of the sample, I feel the most important aspect is ensuring that the original creators of the sampled songs are notified, get the time to grant appropriate licenses, receive due credit (because it's also educational to listeners all over the world), and get to share in relevant revenue from the new track. I hope this becomes the norm rather than the exception in our industry.
There have been many cross-cultural collaborations throughout the years. We would love to learn which one of the following has been your favorite from this list and the reasoning behind it: Ravi Shankar and George Harrison with the track "Vandanaa Trayee," Nusrat Fateh Ali Khan & Eddie Vedder with the track "The Long Road," and U2 and A. R. Rahman on the track "Ahisma."
Hmm… These are rather different songs and treatments to compare. They each have unique aspects that are beautiful that we can learn so much from. Personally, if I really have to choose from these three, I'm drawn the most to "The Long Road" as I remember the original Pearl Jam song well. It's so interesting to hear harmonium, tabla and Nusrat Fateh Ali Khan's soulful Sufi offerings along with Eddie Vedder's more understated vocals. The context of the song in "Dead Man Walking" was powerful and poignant, so for me, there's a deeper emotional connection I feel to that song, and the artistic choices they made in this reinterpretation.
Moving on, we would love to learn more about the Berklee India Exchange also known as BIX?
I founded the Berklee Indian Ensemble in 2011 at the Boston campus of Berklee College of Music. In 2013, collaborating with another Indian colleague, Clint Valladares, we created an institute, Berklee India Exchange (BIX), that evolved from the momentum the Ensemble had created.

Under the BIX banner, we began to host annual artist residencies which were once in a lifetime opportunities for our Berklee students from all over the world to create and be mentored by musical legends in person. Our first guest artist was Clinton Cerejo (2013), followed by A.R. Rahman (2014), Vijay Prakash (2015), Shankar Mahadevan (2016), Shreya Ghoshal (2017), Indian Ocean (2017), Shadow and Light (2018), Raghu Dixit (2018), and Ustad Zakir Hussain (2019).

Besides productions, BIX began hosting workshops in India and other parts of the world, raised and awarded tons of scholarships for talented musicians to pursue higher students in music, and today, we are a team of 10 core members (including three amazing student employees) who form the backbone of the Institute. Our new 10-year vision is built on 3 pillars: Education, Innovation, and Community. In this post pandemic world, we are also focused on music and mental health initiatives, and believe there are innumerable ways that Indian music, and music in general, can be used to bring about positive change in the world through career and experiential learning opportunities, mentorship, and powerful collaborative projects.
As the group recently collaborated with the very talented Shreya Ghoshal on a reinterpretation of "Sundari Pennae" what was it like working with the iconic singer and how did this collaboration come about?
All our collaborators on the 'Shuruaat' album were artists in residence with the Berklee Indian Ensemble over the course of our first decade. Shreya Ghoshal was probably the most involved guest artist we've ever hosted. First off, she was open to all types of experimentation we wanted to attempt. She even chose to sit in on additional rehearsals with our string section, and what astounded us the most was this: there were two young singers, Shradha Ganesh and Shrivant Singh, who were singing duets with her. Shreya Ji agreed to conduct private vocal lessons with both of them! The students were beside themselves with joy, and to date, it's one of their most precious experiences. For someone of her artistic prowess, legacy, and super-stardom, Shreya Ji is one of the most down to earth, hardworking, kind, and generous people on the planet. We had taken some serious creative liberty, rhythmically, and were humbled by how much time she spent honoring the arrangement of Sundari Pennae, which she took to new heights! To top it all, she was so down to embody our grungy prog-rock inspired version of this Tamil song, she went an extra step for the video and sported a leather jacket! We couldn't be more grateful and honored to have collaborated with her.
It was incredible watching all of you collaborate with Ustad Zakir Hussain on the track Lady L. What was it like working with the Grammy-Winning Indian Tabla virtuoso?
Simultaneously awe-inspiring and nerve-wracking! Ustad Zakir Hussain is not just the world's most revered and prolific Tabla master; he lives and breathes rhythm. 'Shakti' and 'Remember Shakti' have always been pivotal musical anchors at Berklee. "Lady L's" soulful melody piqued our curiosity, and in true Berklee Indian Ensemble style, our featured musicians from Israel, Iran, Brazil, India, Poland, Australia, and Norway, each brought their cultural influences to the table. Having Zakir Hussain himself play with us on this Shakti tribute and BIE reinterpretation was a once-in-a-lifetime opportunity indeed!

I remember Emanuel Keller, cellist and producer of this track reflecting on how the experience of sharing the stage with Zakir Ji challenged the Ensemble musicians to hone our communication skills even more by listening, observing, reacting, and enjoying each other's offerings.

And what better way to learn from a master, than to play on the band-stand with them! We are honored to have collaborated with the maestro himself, and one of our new hobbies is challenging each other to count, and keep time with Zakir Ji's unbelievably complex tabla solo in Lady L :) A lesson in rhythmic mastery, right there!
As you all have worked with so many incredible individuals including A. R. Rahman, Ustad Zakir Hussain, Shreya Ghoshal, and more iconic musicians, what has been your most treasured and memorable experience?
Goodness, impossible to choose one…as there are so many life lessons, hilarious memories, and transformational moments we've experienced as a family with our guest artists! Perhaps, I'll share a memory related to the 'Shuruaat' album!

We've been delighted and privileged to tour and perform with Vijay Prakash in USA, India, and Toronto! Each time, the Ensemble was floored by his virtuosic improvisational skills and unbelievable vocal range. During his Boston artist residency, one of our then students, Sashank Navaladi, had an original composition, "Arz-e-Niyaz" using the poetry of the great Mirza Ghalib. Our tabla player, M.T. Aditya, loved that piece, and suggested to me during a lunch break that Vijay Ji would sound AMAZING on the song. With Sashank's permission and bubbling excitement, we asked Vijay Ji if he'd be willing to collaborate on it. He said yes immediately! It was an immense honor to have a musician of his stature agree to learn and perform an original by one of our students. He spent so much time working on the Urdu lyrics with Sashank, and really poured love, care, and attention to detail into recording the song, even working on multiple versions of his improvisation so that we would have full creative freedom to take the piece in the direction we'd like. We'll never forget that, and are ever inspired by Vijay ji's musicianship as well as his incredible professional etiquette and work ethic. Truly a gem of a person!
Is there a dream collaboration or dream collaboration for the Berklee Indian Ensemble?
Hmmmm… We are keen to expand our collaborations and include legendary artists from all over the world next! Sting, Ariana Grande, Jacob Collier, Snarky Puppy, Tinariwen, Anoushka Shankar, more iconic vocalists from the Sufi traditions, Tigran Hamasyan… There are so many exciting possibilities here!

Beyond collaborations, we will be submitting our 'Shuruaat' album for the Grammys! We are also planning to tour India at the end of 2022 and again annually (definitely looking at the festival circuit in India). We also hope to do a world tour in 2023-24. A stadium show is part of our wish-list and preliminary conversations have already begun! And of course, we will keep hosting workshops (as education is important to us) and hope our original music will find sync licensing opportunities in Netflix, Amazon, and other wonderful avenues to spread joy and keep exposing our global audiences to myriad musical nuances from the world!
Has the group faced adversity in the music industry?
I wouldn't say we've faced adversity, but I will say that there are many things we intentionally work towards, and sometimes, new ideas are met with resistance. Change is often scary. And with any creative project, you work with a variety of people who have a million different perspectives! It's fun, and also challenging at times. But that makes us all the more determined to stick with our goals, especially if it means long-term positive change in the music industry.

Some of the things we're excited to see change include:

Independent musicians being supported both, by global audiences, as well as music industry thought leaders (bookers, curators, managers, A&R reps, etc). As listeners, when we begin exposing ourselves to music from many different creators, we broaden our tastes! There's such incredible talent in our world, and it's heartening to see more platforms emerge that promote non mainstream music and acts.
A realization especially in South Asian communities, that the arts and music in particular, are a legit profession. Very often, people will expect or demand free performances, but would never expect a plumber to offer their services at no charge.
More awareness about artist rights in our creative communities through demystification of legal processes, contractual language, and open conversations about music business. I hope artists feel unafraid to enter negotiations and overall, realize their worth, and also prioritize their physical and mental health more.
Credit where credit is due, with more equitable, just, and respectful systems for fair revenue or royalty distribution across the board.
All of us giving ourselves permission to create and explore the arts, whether or not it's part of our career path, just to find some solace or way to express our thoughts. During the pandemic, although live performances were completely cut off, people craved and devoured so much music, film, podcasts, books, puzzles, crosswords, brain games, and more. I always feel grateful when I'm listening to a piece of music, that the artist went for it, and didn't hide their creative gift from the world. :)
Lastly, what do you hope individuals take away from this interview with Brown Girl Magazine?
I hope people realize that there is so much power in a single idea. The Berklee Indian Ensemble grew into a beautiful quirky family over the last decade, all from two questions: What if? and Why not? Those two questions have allowed us to challenge ourselves, dream super big, and actually do some crazy wild things that a lot of folks thought would be impossible. If you have a dream, a vision, even a seed of an idea, nurture it, please. And share the idea with others. You'll find your team, your chosen family, and it'll change from 'my idea' to 'our idea,' and that's when the magic happens! Give it, and yourself, as many chances as possible. And beyond that, just be a teeny bit rogue! You never know what's around the corner for you!
Photo Courtesy of Gaia Petrelli Wilmer