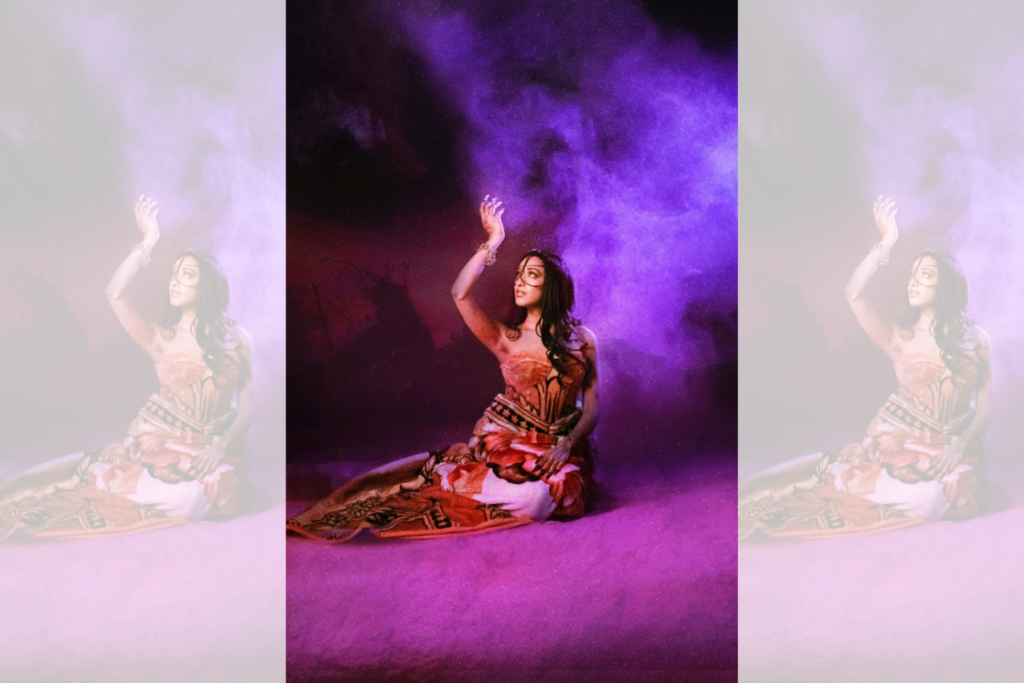 From releasing music independently to signing a deal with Warner Records, Raveena pushed her boundaries while maintaining her true self. Raveena hails from New York and Connecticut and started writing songs at a young age. She attended university at New York University Tisch School of the Arts. Raveena can be described as smiling while singing, hitting high falsettos, and creating a healing community full of love and vulnerability. Her style has been influenced by South Asian sounds, R&B, Soul, and more. A fun fact about Raveena is that she has directed many of her own music videos. She has performed at notable events such as Camp Flog Gnaw Carnival, Jakarta International Java Jazz Festival, Coachella Music Festival, NPR's Tiny Desk Concert, ColorsXStudios, and more. Continue reading to learn about Raveena's incredible journey!
Let's start off by talking about "Asha's Awakening!" We really enjoyed the song "Rush" with lyrics like "Dil Mera Taam Lo, Kehna To Maan Lo, Baaki Sab Jaane Tho" which loosely translates to Hold on to my heart, Agree to what I am saying, The rest of it let go." What was the inspiration behind using these three lyrics in Hindi?
I just grew up listening to so much Bollywood music and Indian music. I wanted to start introducing people to that language in those sounds, because it's so rare in America to hear that. So many people can relate, and I think that music is the universal language. So, it was a great way to introduce a culture in this way that people can still connect to and feel because everyone can connect through music.

So yeah, it was really an homage to where I came from, and the language I spoke growing up at home.
We were very surprised and excited to listen to a guided meditation on your album entitled "Let Your Breath Become a Flower." In terms of the concepts of mindfulness, meditation, and yoga, do you feel South Asians do not receive the proper credit for being pioneers in these fields? Additionally, do you have any plans to record more guided meditations?
Yeah, it's such a big part of my life. I was raised in a really religious and spiritual household, and I have been finding that my ancestry and specifically all the spiritual wisdom from that ancestry is my superpower. And I think a lot of our superpowers, South Asian people.

And I think it's beautiful, to come back to a space in the West, in a place where it's been so commodified. So, just messages, wisdom, knowledge from our regions have been spread out to the world. That's beautiful because, I think those concepts should be for everyone to share.

I also think it's really important to just share more experiences from people who actually, have that in their bloodline and their ancestry, because there's something deeply powerful about that.

I just want to keep sharing more of it, because I really think that it's my superpower. It's also just our superpower as a diaspora and also people from that region. There's so much history there. It's amazing.
We have seen many groups and artists from decades past incorporate South Asian elements into their music. Some include The Beatles with "Norwegian Wood," The Rolling Stones with "Paint It, Black," Guns and Roses with "Pretty Tied Up," The Yardbirds with "Heart Full Of Soul," THE MAMAS & THE PAPAS with "People Like Us," Elvis Presley with "You'll Think of Me," Stevie Wonder with "Signed, Sealed, Delivered, I'm Yours," and more. On the flip side, we've seen many modern artists sample South Asian sounds such as Timbaland as well as the table below. We would love to get your professional opinion on if these artists utilized South Asian instruments and sound in the best possible way or should more research has been conducted around utilizing South Asian sounds.
| | | |
| --- | --- | --- |
| Artists | Song | Sample |
| Erick Sermon Ft. Redman | React | Chandi Ka Badan by Asha Bhosle and Mohammad Rafi |
| Truth Hurts Ft. Rakim | Addictive | Thoda Resham Lagta Hai by Lata Mangeshkar |
| Jay Ft. Kanye West | The Bounce | Choli Ke Peeche Kya Hai by Alka Yagnik and Ila Arun |
| La Coka Nostra Ft. Bun B | Choose Your Side | Mujhe Maar Daalo by Asha Bhosle |
| CJ | WHOOPTY | Sanam Re by Arijit Singh |
I think music is meant to be shared across cultures, I think it's the universal language and it's so beautiful that we can communicate in that way across the globe with each other. That cultural exchange amongst musicians has been happening forever, it's amazing.

I do think that in America and the U.K. white musicians are always prioritized and I definitely feel it a lot in my career. Just how much we just don't get the opportunities, we don't get the proper recognition, you don't get the proper respect for when we incorporate sounds in our music from our cultures and make a blend of East and West. It's like, oh, they're just doing what's obvious to them, but when other people and specifically a white person does, it's the most experimental ingenious thing in the world.

I think that's what my issue is. It's just how much white musicians are always prioritized in the West, and how much black and brown artists, are constantly creating and quietly transforming culture, and they just don't get the credit for it. So I think that's what we need. I think the exchange is beautiful, but the giving people their flowers while they're here is really important.
Moving on we wanted to talk about the Aurora Loving Kindness Project. This is dedicated to Black and Brown women and genderqueer survivors of domestic violence, intimate partner violence and sexual assault. Your song "Stronger' off your LP "Lucid" alludes to similar themes. We would love to learn how these two are connected and what more the BGM community and readers can do to help your cause.
That's so sweet. Yeah, I created this mutual aid hub, with my friend Brittany Martinez, who does amazing community work here in LA. We did the last grant specifically dedicated to survivors of domestic violence and intimate partner violence or sexual assault. The grant, I'm trying to do twice a year now and focus on different issues in the community that are really close to my heart.

The last one was a mentorship program with black and brown musicians. It is kind of different every time and I'm trying to think of the financial model still. Currently, it's just mutual aid all funded by me. I had one friend donate a grant the cycle but because I want to keep it away from the nonprofit industrial complex, I'm trying to figure out a way I can give out the money in a way that feels against that model. I don't know about donations per se. If people just want to spread the word when grants come out, that's always amazing.
"Sweet Time" is one of our favorite songs of all time with lyrics like "I'm lost in melody, harmony, and new family. They wrap me up in a cocoon." Do you feel you are closer to your goal as you said during your Tiny Desk Concert, "In any live space that I do I just want to cultivate this feeling of softness in the room and community?"
Thank you. I think that's always the goal. Community above everything else. I think my musical spaces, are definitely open to all and it's really amazing going to the concerts and seeing how incredibly the diverse the audiences, but they're all brought together by this kind of sweetness they all have.

That's the kind of energy I want to cultivate in my live shows. I love building it little by little every year and gathering more people around the music and it's always really like-minded people across many different backgrounds. It's amazing.
We love seeing you provide major props to your team. How important is it to you to have a team that supports your vision and creativity? Any shout-outs you'd like to include?
There's so many people. My stylist Reva Bhatt she's amazing. There's too many people like my bandmates Aaron, Cale, and Tyler. Everett's been a huge part of my production team and I love my core team of Jenny, Preston, Kelly, and Chris from four strikes. I have an amazing PR team Aishah, Nick, and Emily. I have such a good team. I have nothing but only sweet things to say about my team.
Is there a dream collaboration (or dream collaborations) for Raveena?
My top three would be Solange, Noname, and A.R. Rahman.
Lastly, what do you hope individuals take away from this interview with Brown Girl Magazine?
I really just appreciate you guys highlighting the work of so many South Asian artists. It's so important and rare and needed. I find out about so many new people coming up on the scene through you guys. So, keep on the good work.
Photo Courtesy of Furmaan Ahmed