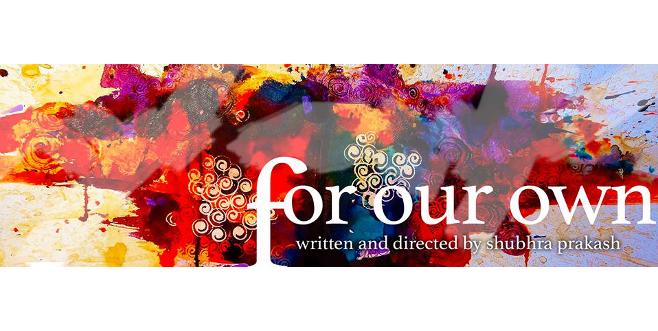 If you haven't seen the play "For Our Own," then you have really missed out on a creative experience that finely portrays aspects of the South Asian community when dealing with a multitude of taboo and sensitive topics.
Shubhra Prakash, directed, acted, produced, and wrote "For Our Own." The story she created envelopes and brings up subject matters that we can all relate to, while also addressing the matter of bone marrow donation within the South Asian populace.
I want the audience to definitely question the play and hopefully educate themselves with the bone marrow donation issue," said Prakash.
Using a family structure, Prakash's story delves into a how a family deals with the idea of being a bone marrow donor, when one of their own is called with the chance to donate.
"For Our Own" also interlaces concepts of acquiring a job in today's economy, starting a family, American societal thought vs. South Asian societal ideals, culture, religion, the generation gap, mother-daughter bond, sister-sister bond, and the bond between husband and wife. All of these themes are addressed and interlaced with intensity, passionate dialogue, intriguing characters and a cast that can truly capture and retain an audience.
The plurality of minor themes circles and encompasses the larger and more poignant issue, which "For Our Own" assuredly keeps at the forefront of the audiences attentions, the issue of donating bone marrow—to a stranger.
This portion of the play runs through like a needle and thread, aligning all the other themes together and weaving them into the fabric of a much greater purpose. If you have read previous examinations of the bone marrow donation deficiency within the South Asian community, you will understand that the chance of finding a match within the South Asian community is 1 in 20,000. The jarring fact that so many are without a match is startling when South Asians are among the most populated communities in the world.
A striking comparison made during the play discusses the idea of an arranged marriage vs. bone marrow donation. Examining the willingness to marry a complete stranger without even a second-look, but the unwillingness to donate bone marrow to save a life.
I think that it's incredible that there is a visceral bond between two human beings that can help the other survive. To me that is mind-blowing," said Prakash. "How would it feel to know that you had the opportunity to give someone a chance at life?"
The all-star South Asian cast of "For Our Own," includes faces you may remember, such as our #BGSpotlight Nivedita Kulkarni, and an entire cast that is rife with talent, integrity, and genuine skill in their portrayals of the different ideals their characters represent. For example, the unique character of "The Goddess," played by the talented Anisha Dadia, was also in other productions such as, "Dead of Night" and "Linda LeThron and the Musicbox."
"Personally, my character is super abstract! Apart from providing some comic relief to a very serious drama, I think the idea of what a Goddess thinks and believes is an interesting addition to a play that is very introspective. I am there to declare that I see all and know all, while in turn, pointing out the purpose of prayer in a temple," Dadia said.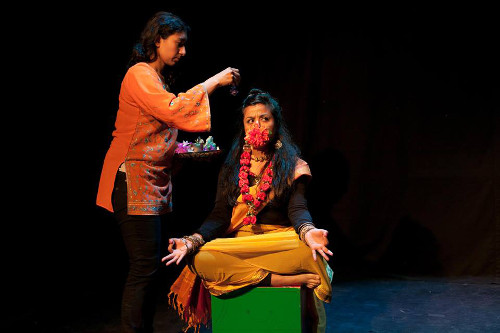 "For Our Own" was apart of the Planet Connections Theatre Festivity, which is a socially conscious art festival. After the play's NYC run during the festival, "For Our Own" won one award and received two nominations:
The 2014 Planet Activist Award to Shubhra Prakash
Outstanding Actress in a Featured of Cameo Role of a play or Musical — Anisha Dadia
Outstanding Actor in a Featured or Cameo Role of a Play or Musical — Sundar Natarajan
We at BG wish the cast and crew of "For Our Own" success in showcasing their play at more venues. A special thank you to Prakash for taking the time out to speak to us about her wonderfully written play, and Dadia for giving us some insight to her experience. And, a very special thank you to our dear friend Ekata Doshi for telling us about the play.
Learn more about the production through their Facebook Page, and make a bone marrow donation through Make Me Stronger.