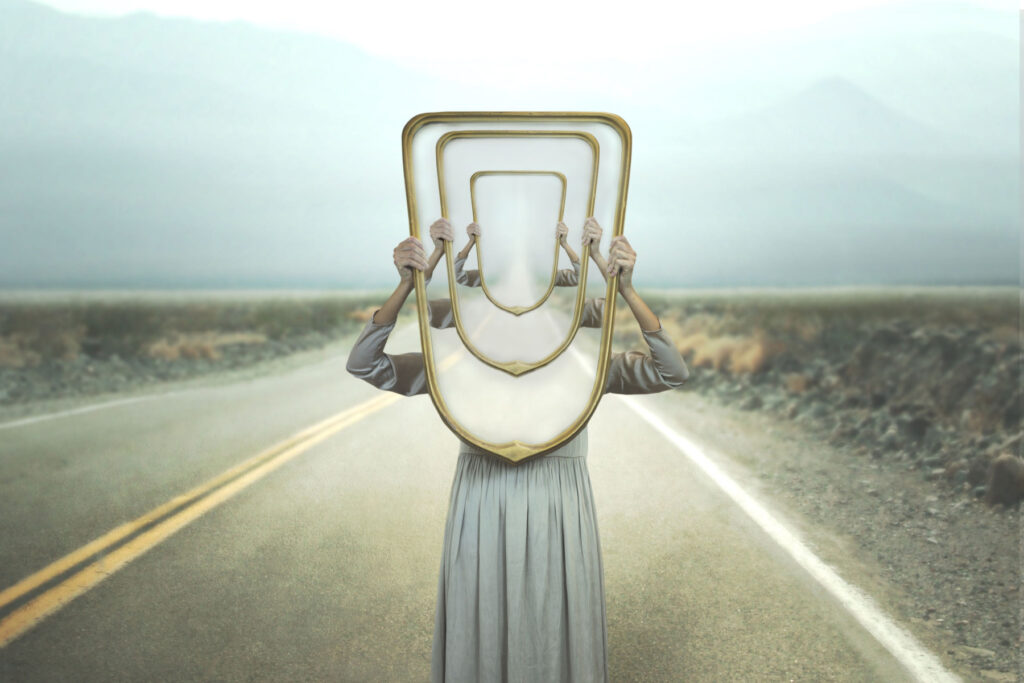 In the premise of countless movies and T.V. shows, a mirror portal exists. A character will reach for a mirror, realize their hand goes through it, and step into another world. Yet with all the unexpected excitement that awaits the character on the other side, one thing is never expressed: what happens in between? Before reaching the other side, what happens in the mirror? I created "Mirror Portal" to describe what might happen in the in-between and even worse, what might occur if you get stuck. The abstract feeling of your body parts being pulled apart and rematerialized and feeling yourself lose all thought and memory, replaced by ideas the portal feeds you are all real possibilities.
Mirror Portal
Existence in a mirror feels more solid than movies make it.
Fingers pass through the glass
And condensation drips on the other side.
Lashes pass
And you're blinking out fragments.
Your body parts remain
Membered,
Tethered as you
Venture farther into
Nether.
Your eyes still tick like clock hands.
You're never out of time.
Hours
Upon hours
To wrack a fervent brain for a memory
You never had.
Your blood still feeds your heartbeat but it strains
Instead of
Swims,
Red-rimmed,
Follows your outstretched
Limbs.
In the in-between, you're freezing but never cold.
When you cry your brain doesn't assign an
Emotion at random.
The drops circulate
And refresh,
Renew, find a new purpose inside of
You.
Warm neck, blushed
Cheeks; A lifted spirit could last for
Weeks. Your soul will
Ache for this
Liberation to
Last
Forever.
A song to you is just sugar-coated
Shrieking. And when
Hands wrap till they reach
Shoulder blades, you'll wonder whose hands begin to
Shake. You know there's
Someone else
Fated to this
State.
Existence in a mirror is binary.
Pairs feeded clouded
Gaze, though the realization of pretence is hard to take
Shape. But when you finally leave,
You won't know which one
Escaped.
---
The opinions expressed by the guest writer/blogger and those providing comments are theirs alone and do not necessarily reflect the opinions of Brown Girl Magazine, Inc., or any employee thereof. Brown Girl Magazine is not responsible for the accuracy of any of the information supplied by the guest writer/bloggers. This work is the opinion of the blogger. It is not the intention of Brown Girl Magazine to malign any religion, ethnic group, club, organization, company, or individual. If you'd like to submit a guest post, please follow the guidelines we've set forth here.