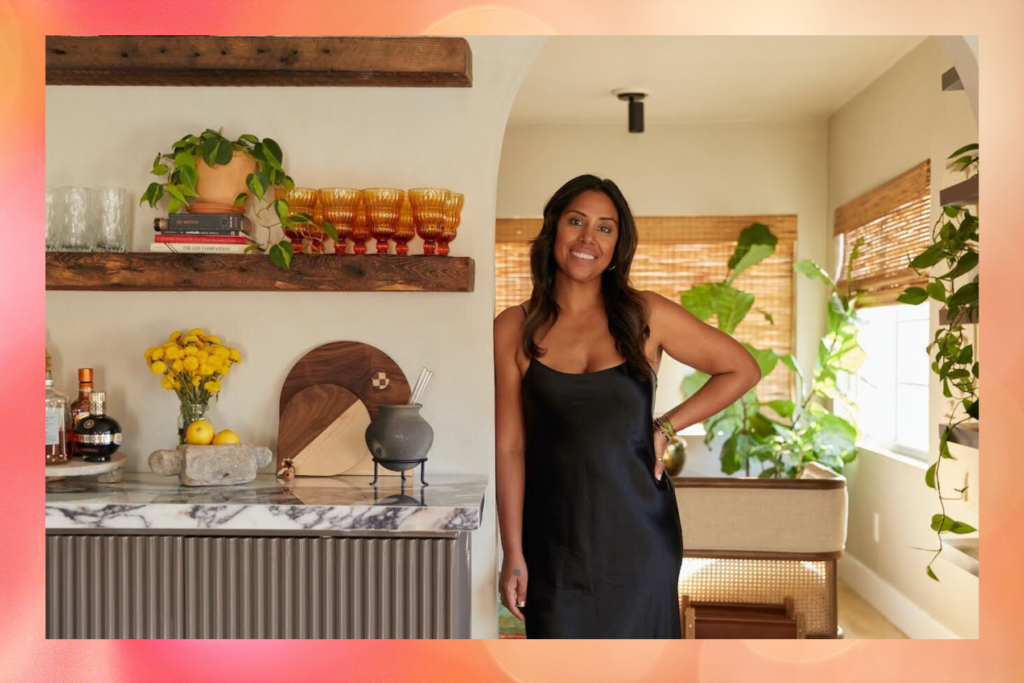 With a completely different career on an opposite coast, no previous experience or connections, and two young children in tow, entrepreneur Hema Persad knew the significant risks in moving her family halfway across the United States — from Florida to Los Angeles — to pursue new passions that would motivate and reward her. She did it anyway, forgoing comfort and stability, to mold a work/life balance on her own terms. In the city of dreams, Persad's self-taught career in fashion expedited her business ownership and launched her into collaborations she never envisioned. 
View this post on Instagram
Born to Indo-Guyanese parents in Toronto, Persad immigrated to Florida at the age of 12, after her parents' divorce, to live with her siblings and mother. A strong work ethic was ingrained in her from an early age.
"Having parents who immigrated to Canada, in the '70s, to attend university is probably where I get my work ethic from. They were both really focused on education and independence, so that was always a big priority in our household. My maternal grandmother was also entrepreneurial — her husband died and she was left to raise 12 kids so she ran multiple businesses (a grocery store, renting properties out to tenants, etc.) to make ends meet. After my parents divorced, my mom as a single mom reinforced this idea of independence and education in me and my sisters. She made a few career pivots herself so the example has always been there for me. There's definitely been this underlying message that I had to be educated and work hard so that I wouldn't have to rely on anyone else to provide for me."
Persad eventually became a lawyer and settled in Florida with her husband and daughters, but found herself unfulfilled professionally. In conversation with Brown Girl Magazine, Persad speaks on developing creativity and being forced out of her comfort zone.
You were an established attorney. Why did you leave your career, family and friends to move to Los Angeles and pursue a new passion?
At first I liked being a lawyer, but over time I became burnt out and unhappy. There was no one at my firm whose career or lifestyle I felt inspired by. Everyone was just miserable or worked all the time. I started to think about other things I wanted to do and fashion was definitely at the forefront. I did some research and decided to give styling a try. We sold our house in Florida and moved to LA so I could pursue it and it all moved pretty quickly after that.
What was your family's response to you seeking a career not often sought by Indo-Caribbean children of immigrants?
They definitely thought I was crazy. I had a stable career and was making good money so it didn't make sense to a lot of people. No one really knows what people who work in fashion do, unless you are also part of that industry. But since we do have a lot of entrepreneurs in my family, I think they ultimately figured I was a smart person so I would make it work.
Crediting her husband's partnership as crucial to her new endeavor, Persad believes that her roles as a wife and mother were actually strengthened by a change in career that re-energized her.
What were the reactions of your husband and daughters? How did you persevere as a family unit during this new chapter of your lives?
My husband was and continues to be my number one supporter. He just wanted me to be happy and even now supports me in my interior design business. My girls were really young so they had no idea what was going on. I'm glad they don't remember me as a lawyer — I was not the mom I am today.

When I was an attorney, I found it really hard to disconnect from all the negativity at work. I represented banks and lenders during the great recession of 2008, so I felt like I was just ruining people's lives all day. When I came home to my kids, that stress and unhappiness was always in the background, and sometimes I found it hard to connect with them. Now that I'm doing the work I enjoy, with a purpose that feels good to me, I'm a happier and more connected mom. I can also nurture my kids to do the same — what feels good for them, not what looks good for society.
It takes courage to intentionally step away from one's comfort zone, despite the ambiguity of the outcome. Persad knew greater possibilities were available and did not allow a lack of formal training or networks to prevent her from embarking on her goals.
View this post on Instagram
You also have no prior experience in the entertainment and fashion industries. How did you break into the design industry?
I made a very bare-bones resume saying I had a law degree and a car, and I was willing to intern with any celebrity stylist who needed help on their team. I sent that out to all the styling agencies here so they could share it with their roster of stylists and pretty quickly started getting called to intern on jobs. Stylists are always looking for good help because it's very hard to find — it's a hard job and not a lot of people want to do it once they see what it takes.

While interning, I was still working remotely for my firm on the east coast so I would do all my work in the morning and then intern the rest of the time, whenever I could. Initially I worked for free but the styling business is really small so I kept getting jobs by word of mouth because I worked hard and was really professional. That eventually led to paid assistant jobs which I did for a few years before starting to take on my own clients. I always thought of it as a paid education in styling and I think anyone who wants to break into styling should learn from other people first through interning/assisting.
Opportunities snowballed after Persad's internships and assistantships. Now, she counts several celebrities as her former styling clients, including the Kardashians, Kristen Stewart, Kate Hudson, Madonna, Neil Patrick Harris, Daniel Radcliffe and many more. She has worked on magazine shoots assisting Edward Enniful for British Vogue and W Magazine, as well as ad campaigns with Jane Fonda and Maggie Gyllenhaal. 
Oftentimes, initial goals shift and different thought processes arise. While styling proved successful, Persad realized that she ultimately needed something else. Again, she followed her instincts knowing that she did not want to settle for stagnancy, even if unsure of her next step.
Pinpoint a fundamental moment when styling that set you on your current path.
I think a big moment was helping style Andy Samberg to co-host the 2019 Golden Globe Awards with Sandra Oh. The whole thing — pre-show rehearsals, all the publicity shoots, backstage during the live broadcast, etc.

It was an exciting job, probably one of the biggest I've gotten to work on, but it also helped me realize that styling was not going to be my long-term goal. It felt like I was at the height of what people dream of doing as stylists and I still wasn't 100% fulfilled. It was actually after the Globes that I started thinking about another career pivot. I didn't plan for interior design — it never crossed my mind and I actually thought about going back into law. I guess the universe had other plans, a year later.
How did you begin interior designing?
My client Deepica Mutyala asked me to help design her new apartment. We had her place professionally photographed and once those pictures got around, more people, including some of my other clients, started asking for help with their homes. It got to the point where I couldn't do both — styling and interiors — anymore. I was honestly burned out from styling anyway — it's a really tough industry with little growth potential for me — so I chose to focus on interiors.
One unplanned moment skyrocketed Persad into a full-time business, Sagrada Studio, fueling her to capitalize on her entrepreneurial spirit.
What was the inspiration behind Sagrada Studio? What services does it offer, and what can clients expect when booking you?
The word 'sagrada' means 'sacred' in Spanish and to me the places we live in, work in, and generally spend time making memories in, are the most sacred spaces in the world. They deserve love and intention in terms of design. I picked a word in another language because all of our designs have an element of something global or international in them. I really think that 'timeless' means something different depending on what part of the world you're in. When clients book us they can expect professionalism and a very well-oiled machine. They can also expect collaboration and open communication. I'm just trying to help them bring something to life that's even better than what they imagined.
Summarize your process as you design a space. In your opinion, what successfully brings a room together?
I always start by asking clients how they want to feel in their new space. Rooms are about a feeling more than anything else – how do you feel when you walk in? After that we do moodboards and settle on a few reference images. Then we get into specifics and sourcing — we are a full-service firm, so we do everything from CAD floor plans to renderings to construction management, orders, logistics and more. Ultimately what brings a space together is good use of light and space (it has to function above all) and an overall feeling of warmth and cohesiveness. Everything we do is intentionally placed, right down to the last coaster.
Describing her style as "warm, natural, and eclectic," Persad's flexibility and openness, combined with her global influence to designing sacred spaces, often leads her to partner with other diverse businesses. 
Persad also designed the studio space for the modern bridal wear brand KYNAH.
How was your experience working with KYNAH, another South Asian brand as an Indo-Caribbean woman?
I've worked with many South Asian clients and brands and it's always nice because there's a level of explaining that we just DON'T have to do. For example, I already knew that lehengas are heavy and take up space so the racks needed to be sturdy and spaced farther apart than they would in a regular boutique.
Colorful lehengas against neutral walls, natural elements and custom racks, Persad transformed a previous smog shop into an inviting, bohemian Indian bridal boutique. 
View this post on Instagram
South Asian and Caribbean heritage is rich with design in their textiles, art and fashion. How does your background impact your eye when styling, and what influences can be seen in your own home?
I use diyas and lotas as shelf decor. I have a pink/terracotta sofa that's very Jaipur, and my walls are limewashed to look like places I've visited in India and the Caribbean. I love to travel and I love color, so every design I put out has an international or historical influence, even if it's subtle.

View this post on Instagram
In celebration of Diwali, Persad utilized traditional brass against vibrant floral centerpieces.
Persad is ready to show the world her work on a global stage, recently taking an Art Director/Lead Designer role on the show "Forever Home," associated with the Property Brothers.
Tell us how you landed the opportunity with Property Brothers and what you will be doing. How does it feel to be presented with such a significant position?
I thought it would be really cool to work on a TV show because of my background in fashion and working on so many shows and campaigns. I sent my portfolio in on their casting page, interviewed on Zoom with the production team, and a few days later I was hired. I work to design the homes for our homeowners on my episodes. I don't think I've stopped to think because I dove right in and really have not stopped. Our timelines are really short and it's so much work — there hasn't really been time to take it all in.
Self-doubt and fear still permeate Persad's whirlwind of a journey, but she continues to push through it, focus on her work and internalize the belief that her gifts are meant to be shared, not hidden. Parenting and family also keep her grounded in her ever-changing and fast-paced career. With a little faith, self-efficacy, and perseverance, she believes that anyone has the capacity to receive payoffs from the risks they take toward a more fulfilled life. 
What do you want people to take away from your story? What's your advice to others pursuing their passion?
If I can do it, anyone can. You just need to have a plan and start somewhere. You can't control what opportunities come your way but you can be prepared and you can force yourself to say yes, even if it scares you.
Through grit and determination, Persad has obtained personal and professional successes by grabbing opportunities in spite of the fear of the unknown. Leaving a comfort zone can be scary, but sometimes all it takes is one unexpected opportunity to advance a person's true potential.
To watch Persad in action, tune into "Property Brothers: Forever Home", every Wednesday at 9p.m. EST on HGTV. Learn more about Persad's work by visiting her on Instagram @hemaapersad and @sagradastudio
You can also visit her personal and professional websites. 
Featured Image Courtesy: Hema Persad