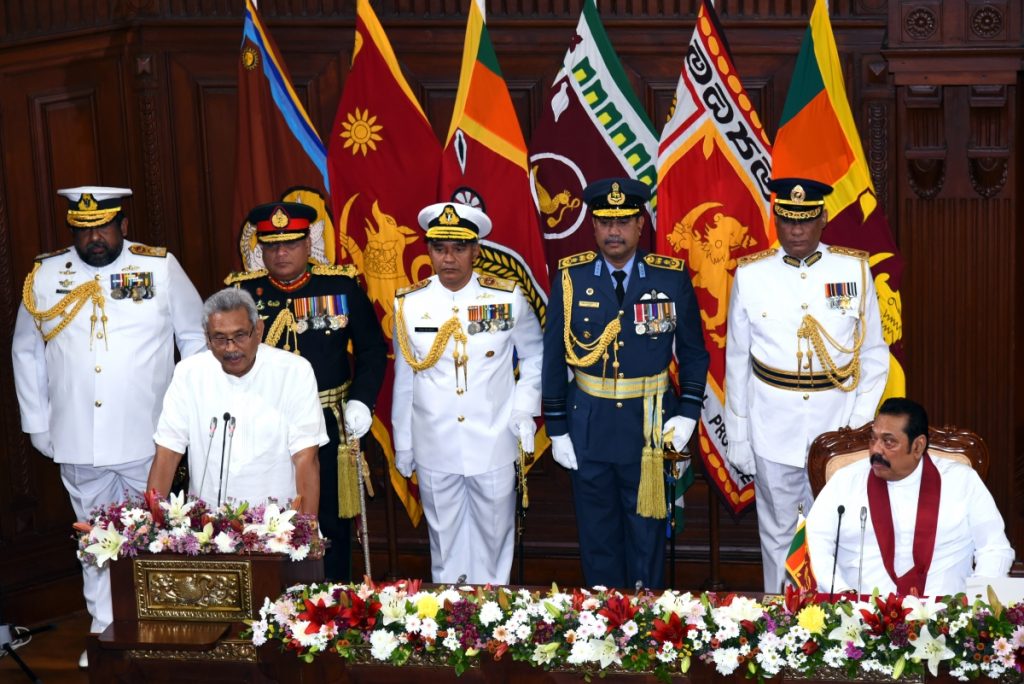 Following his polarizing victory at the Sri Lankan presidential elections on Nov. 16, Gotabaya Rajapaksa has completed his first month in office on the back of an election campaign primarily focused on enhancing national security, following the devastating Easter bombings in April and pulling the Sri Lankan economy out of its crushing international debt. His win over the former ruling party candidate, Sajith Premadasa, followed an election campaign concentrated on exploiting nationalist sentiment and racial divisions. Gota, as Rajapksa is commonly known, heavily relied on the widespread fear, anger and hostility towards the island's Muslim minority following the bombings to cement his win. 
Rajapaksa's win, with a notable 52.25 percent of the vote, was cause for concern for Sri Lankan minority groups, including Tamils and Muslims, as well as journalists and activists. As the younger brother of former president Mahinda Rajapaksa, he was defense secretary during the latter stages of the Sri Lankan civil war, for which both the Sri Lankan military and the Liberation Tigers of Tamil Eelam (LTTE) stand accused by the United Nations of breaches of international law. Allegations against the former Rajapaksa government include those of torture, enforced disappearances and extrajudicial killings of political critics, activists and journalists. 
While many remain apprehensive of the course of his presidency, Rajapaksa's initial actions as President, including a racially-charged inauguration speech and the appointment of two of his siblings to his cabinet, have been unsurprising. Below are more key developments from Rajapaksa's first month as president. 
1. Gave a racially divisive inaugural address
Having run a campaign that pandered to the Sinhalese Buddhist majority's increasing hostility towards minority groups, Rajapaksa explicitly credited his loyal base for his victory in the election.
We knew from the beginning that our majority Sinhala people will be the biggest factor in our victory," he said at his inauguration ceremony. 

"Even though I knew I could win the presidential election with the support of the Sinhala people alone, I made a special request to Tamil and Muslim people to be partners in that victory. But their response was not to my expectation. 
2. Appointed his brother as Prime Minister
Days after his inauguration, Rajapaksa swore Mahinda in as both prime minister and finance minister, two of the most powerful positions in Sri Lanka's government. While some hope that the appointment of two brothers in the country's top political positions may allow for more coherent decision-making in contrast to the marked divisions in the previous government, the absolute power afforded to a single-family threatens to undermine the principles of democracy, especially given their history.
The eldest Rajapaksa brother, Chamal, was sworn in by Rajapaksa as the minister for agriculture, irrigation, internal trade and consumer welfare. Basil, another brother, will also serve Rajapaksa's government as chief strategist.
3. Appointed an interim Cabinet
Rajapaksa appointed a 16-member interim cabinet to run his government until the next parliamentary elections. While the next election was to take place after August 2020, Rajapaksa could dissolve the current Parliament and call for early elections after February 2020.
In addition to two Rajapaksa brothers, the Cabinet consists of 14 other politicians, 13 of whom are men. The only woman appointed, Pavithra Devi Wanniarachchi, will serve as minister for women and child affairs, social security and healthcare. The only minority members of the cabinet are Tamil politicians Arumugam Thondaman and Douglas Thevaanantha, in charge of community development and estate infrastructure development and fisheries and aquatic resources respectively.
4. Introduced considerable tax cuts to stimulate the economy
According to Al Jazeera, Sri Lanka is facing its deepest economic slump in more than 15 years largely due to the constriction of the tourism sector following April's Easter bombings. The country currently owes a mammoth $34.4 billion in foreign debt, a quarter of which is owed to China, a close ally of the Rajapaksa's.
Rajapaksa's interim Cabinet announced massive tax cuts on Nov. 27, including the reduction of Value Added Tax (VAT) and the removal of a number of other taxes, including the Pay As You Earn Tax (PAYE) and Withholding Tax on interests. The tax cuts are expected to boost GDP growth and encourage trade.
5. Held a media briefing to assure press freedom during his tenure
Rajapaksa held a briefing last week with the Heads of Media Institutions, at which he stated he had "no intention to influence the media. The media has a responsibility to create a virtuous image of this country."
Meanwhile, the Sri Lanka Social Network Media Association noted that, within the first 26 days of Rajapaksa's presidency, 13 journalists have received threats. According to Al Jazeera, an employee from the Swiss embassy in Sri Lanka has also alleged that she was detained and questioned regarding a police officer who sought Swiss asylum following Rajapaksa's election. Representatives for Rajapaksa and the SLPP have labeled all allegations against them as false.