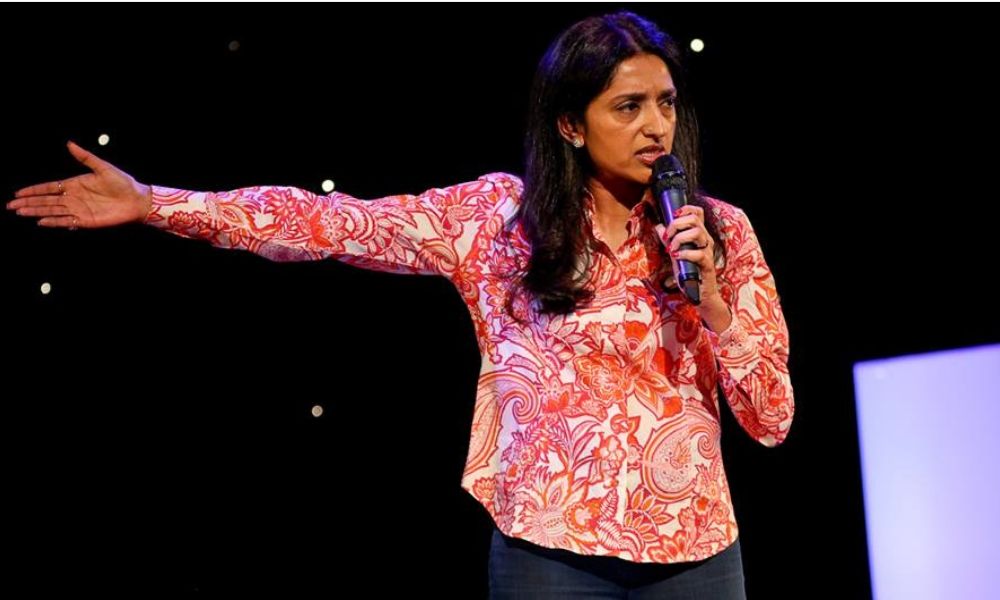 Winner of The Asian Women of Achievement Award 2019 in the Arts and Culture category, British comedian Sindhu Vee has come a long way from growing up in the Philippines whilst suffering from a stammer throughout her childhood. Her recent successful debut London tour, "Sandhog" was a hilarious take on everyday domestic turmoils — right through from love to motherhood. The Guardian also quotes that on her debut show, Vee "insightfully dissects the travails of long-term commitment and the tsunami of having children."
https://www.instagram.com/p/Bw42JeqHl5t/
Nominated for best newcomer at the 2018 Edinburgh Comedy Awards, Vee has performed at London's Apollo Theatre and featured on several comedy shows, namely "Have I Got News For You" and "QI," whilst also featuring in Channel 4's comedy sitcom "Bounty" with fellow comedian Tez Ilyas.
Born and raised in India, Vee went on to obtain degrees from New Delhi, Oxford University and the Univerity of Chicago. After basing herself in London working as a banker, the mother of three realised she was 'deathly' bored and stumbled into comedy, quickly become a household name. In an exclusive for Brown Girl Magazine, Vee tells us more, 
What makes you laugh?
A lot of things. I'm a laugher (I'm also a cry-er – good to be in balance). But usually it's something dark or irreverent…the kind of thing some say one shouldn't laugh at. Recently I was trading racial and political insults with Eshaan Akbar, also a comic, my close friend and of Pakistani-Bangladeshi descent. I mean, I'm from India and he's from those places so it stands to reason we have to go all out when we see each other. It got so bad that a (white) British comic who was in the vicinity got up and fled. Eshaan and I are still laughing at that reaction. 
When did you realise you were funny?
My 'funniness' has always been an issue, it's always been on the agenda, and not necessarily in a good way. Before high school, I was told off a lot for always trying to be funny. This is pretty much the opposite of being told you are funny. My name and 'funny' being put in the same sentence started like this. In high school, I said things and behaved in ways that I knew would help me to get airtime with the cool kids. They thought I was funny, I was just happy they thought about me. Being funny was something others saw in me. I didn't see it. It was only in my early 20s that I began to notice myself as the person who walked into a room and said things that made people laugh — over and above any other response from people, this is the one I went for. And I went for it pretty consistently. 
https://www.instagram.com/p/BvbhS9lHLSd/
Vee left her life as a banker — she loved her work but it was too heartbreaking for her to be away from her kids 12 hours a day. It was only later in life that Vee realised she was funny. However, her attitude is simple and brave.
It was a slightly wild thing to do but I didn't tell anyone and had nothing to lose really from getting on stage one time and jabbering at people. It was crazy but low touch – perfect for what I needed at the time.
How did your stutter as a child affect your confidence?
Stammering was the bane of my life into my early teens but it was also something that never stopped me from trying to talk. My desire to speak was so incredibly strong that I just powered through. I was always a bit of a loser-y kid so getting flack for my stammer was just one more thing in the basket of daily flack. God knows why it didn't make me shut up. By the time I was in my early teens, I understood that my stammer was triggered by certain letters so I worked on my vocabulary and became proficient in sidestepping trigger words in real time, as I spoke. This masked the stammer and by my late teens/the early 20s it was as pretty much gone. Sometimes even now I can feel it poking around in my throat when I am about to go on stage, but I know better than to worry. 
Do your children see you perform?
No, they haven't seen me, except for a few TV clips. They are generally quite mortified that I'm on TV. Nothing more. I like it this way. I don't want them to take too much interest in what I'm talking about. Better they focus on their studies. 
Where do you see yourself in five years time?
Doing more of the same but better at it.
Details of the 2019 Sandhog tour can be found at www.sindhuvee.com.