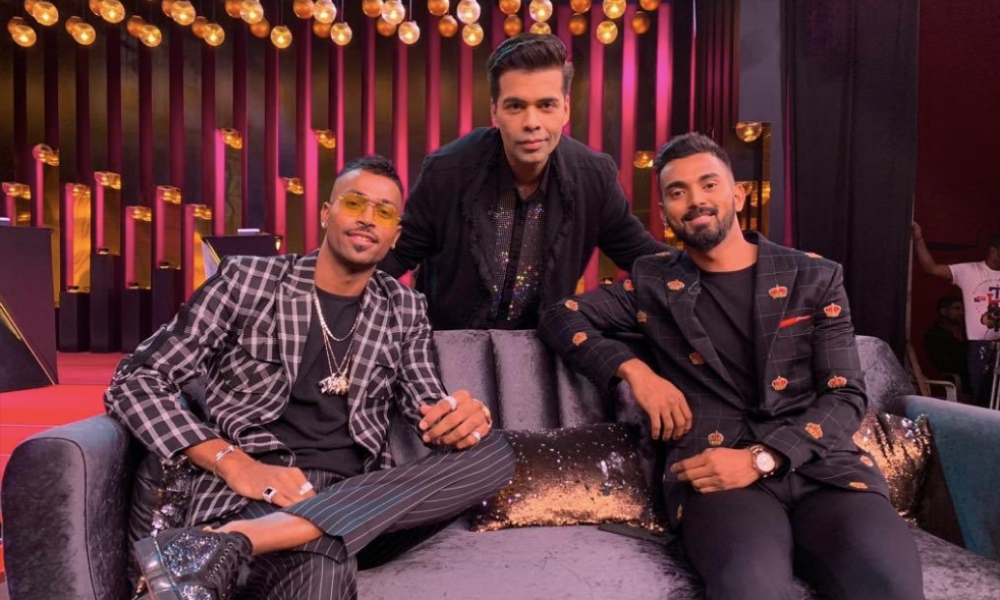 A recent episode of "Koffee with Karan" featured India's sportsmen for the first time in the show's history, with cricketers Hardik Pandya and K.L. Rahul of the Mumbai Indians revealing all about their families, competitive profession and sex lives. Within a week of the January 6 airdate, both cricketers faced immense social media backlash and were banned from the sport indefinitely.
"Koffee with Karan," director and producer Karan Johar's celebrity talk show, is known to be controversial in nature. Because Johar seems to know most of India's popular personalities on a personal level, his show creates an environment where celebrities, even with their great PR training, feel as though they are just having an intimate conversation in his living room. This is exactly why it continues to rake in high ratings. "Koffee with Karan" is a peek behind the glamorous gates of Bollywood, welded shut to the outside world. It's the only place one can watch the nation's most loved stars, unfiltered.
The only professionals in India idolized more than film stars are cricketers. As Johar acknowledged at the start of the episode, Indian cricket fans exhibit a kind of religious fervor for the beloved sport. Cricketers in the Indian Premier League are considered national role models, and there is a certain level of professionalism and sportsmanship expected of them. That's why when Hardik Pandya spouted several comments construed as misogynistic and borderline racist on Johar's show, it created a massive uproar.
#HardikPandya controversial statements in #koffeewithkaran that lead to his ban . pic.twitter.com/NdhZRogBE7

— Ejaz Waris (@drejazwaris) January 14, 2019
Specifically, when talking about attending nightclubs with his teammate, Hardik Pandya admitted that he doesn't learn the names of the women that he meets:
Pandya: "It's difficult to ask her name after talking for one hour…"

Karan: "It would be nice in the beginning to ask the name, na?"

Pandya: "There's so much to talk, man. How can I remember the name also? I mean, it's so loud."

Johar: "What exactly are you talking [about]? I want to know."

Pandya: "It's not talking. It's just watching, observing how they move."

Johar: "Is that important to you?"

Pandya: "Obviously."

Johar: "It gives you an indication."

Pandya: "As I said, I'm a little from the black side, you know. So I have to see how they move first. Then I can imagine the picture. I mean picture as in how they move."
His statements seemed to clearly perpetuate the objectification and disrespect of women, the epitome of "locker room talk," and "Koffee with Karan" viewers and cricket fans were quick to express their outrage over his comments.
Just watched the KL Rahul and Hardik Pandya's episode on Koffee with Karan and Pandya there emerged as a perfect example of "why education is equally important for each one of us".#KLRahul #HardikPandya #KaranJohar #KofeewithKaran

— Shekhar Dhingra (@shekhar_dhingra) January 7, 2019
"The episode further proves that cricket is not a gentlemen's game. It's dominated by UC, nationalist, sexist men who're smug about their privilege and the crazy fan following they have." https://t.co/88rQrTZhMw

— BuzzFeed India (@BuzzFeedIndia) January 7, 2019
Last night's koffee with karan episode with Hardik Pandya and KL was the only episode where I cringed so much instead of being entertained. Hardik Pandya is truly an epic example of how money and fame can't necessarily bring u class and he also proved how important education is!

— Saba ? (@SabrLuv) January 7, 2019
I'm just surprised that people had to wait for the Koffee with Karan episode to figure out what kind of a guy Hardik Pandya is.

— Pakchikpak Raja Babu (@HaramiParindey) January 9, 2019
Hardik Pandya's appearance on Koffee With Karan shows CRASS not class. Highly disappointing from an Indian international cricketer.#HardikPandya #KoffeeWithCricketers #KoffeeWithKaran pic.twitter.com/DaVObE7ptD

— Yash Bhati (@yashbhati0017) January 9, 2019
On January 8, Pandya issued an apology through social media, citing that he got "carried away with the nature of the show."
https://www.instagram.com/p/BsZZAuLH6d3/?utm_source=ig_web_copy_link
However, his apology didn't satisfy the Board of Control for Cricket in India (BCCI). According to the Hindustan Times, both Pandya and Rahul were issued show-cause notices just a few hours later, allowing them 24 hours to provide an explanation for their remarks on the show. They were suspended from professional cricket activity pending investigation and were sent home from the team's Australia tour.
"What happened was wrong," said former Indian cricketer S. Sreesanth about the controversy. "They said some wrong things. But there are others who have made bigger mistakes than these but are still playing."
Sreesanth's observation about the swift and unforgiving punishment doled out by the BCCI is indicative of a recent shift in tolerance of such behavior. This is likely due to India's #MeToo movement, which began in September 2018, highlighting rampant sexual misconduct by prominent figures in various professions and giving survivors a platform to share their trauma with the world.
The BCCI CEO, Rahul Johri, was accused of sexual harassment in late 2018, and the allegations were investigated by a probe panel. Though a female member of the panel (lawyer and activist Veena Gowda) recommended that Johri partake in gender sensitivity training, and the female member of the two-person Committee of Administrators of the BCCI (former captain of India's women's cricket team Diana Edulji) believed he was no longer fit to act as CEO, the BCCI came under fire for clearing him of all allegations and allowing him to return to work.
The strict form of discipline used against Hardik Pandya and K.L. Rahul could be an attempt by the Committee of Administrators to get ahead of this newest scandal and minimize additional harm to its reputation. If the BCCI had not been caught in the middle of India's #MeToo movement, it is probable that more lenient action would be taken against the players, as Sreenath points out has happened in previous cases.
Pandya also lost an endorsement deal with Gillette just before the personal care company unveiled its new international campaign — #TheBestMenCanBe — directly addressing the issue of sexual harassment and the #MeToo movement, amongst other issues stemming from toxic masculinity.
Mumbai's sports club Khar Gymkhana also terminated Pandya's honorary three-year membership, just granted to him in October 2018. According to Khar Gymkhana's joint secretary Gaurav Kapadia, the call was unanimously decided due to pressure from other club members, specifically its female members.
Because of the #MeToo movement, women's voices are being heard more than ever before, society's notions about what behavior is appropriate in and outside of the workplace are being reevaluated and companies are reassessing their values as they adapt with the times.
While there is still a long way to go, it is evident that this type of reaction would not have occurred in years past. It wasn't long ago that the Hindi film industry and the media were slow to condemn an ignorant comment involving rape made by superstar Salman Khan during promotions for the film "Sultan," and though there was a similar sense of public outrage from fans, "Sultan" still went on to become one of the biggest successes of 2016.
It's a lesson learned the hard way for a rising cricket star like Hardik Pandya, but it's this "locker room talk," unchecked behavior and lack of awareness that perpetuates the dangerous mindset that can escalate to sexual harassment and assault. And isn't accountability what survivors have been fighting for all along?