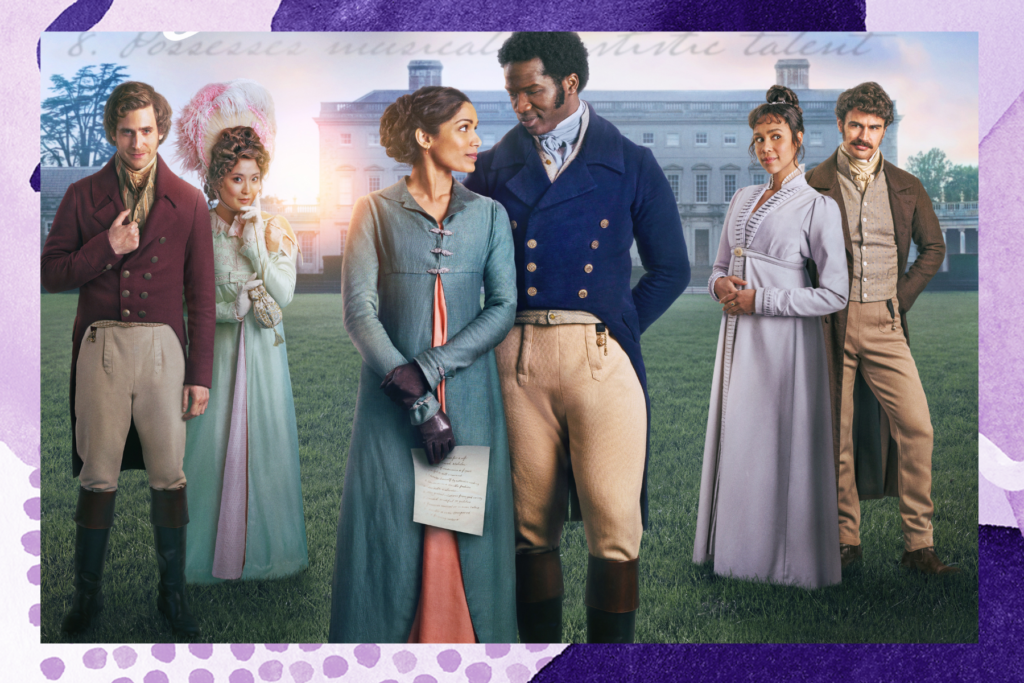 Enter 19th-century England and the world of Mr. Malcolm, London's most eligible bachelor as he searches for the perfect woman to share his life with. He is in search of a woman who fulfills his list of requirements for a perfect bride.
Does this ring any bells? Perhaps of "Bridgerton." If this is the case, you are in luck as this film takes advantage of much of what makes Bridgerton so memorable: a narrative surrounding the difficult marriage market and multiculturalism in a period piece. If you're a fan of "Bridgerton," you'll certainly feel right at home in Mr. Malcolm's London.
Directed by Emma Holly Jones, "Mr. Malcolm's List" is based on the novel of the same title written by Suzanne Allain, who later adapted the novel into a screenplay.
View this post on Instagram
The film begins with a focus on Julia Thistlewaite, portrayed by Zowe Ashton, as she tries her hand at a courtship with Mr. Malcolm, played by ??p?? Dìrísù. After being rejected on the basis of this list, Julia enlists her friend Selina Dalton, starring Freida Pinto (who is also one of the executive producers of the film), to adopt the role of the ideal match in the hopes of getting revenge. Somewhere along the way, both Mr. Malcolm and Selina develop feelings for each other; the buildup and fallout of which the film explores.
Pinto's outspoken Selina met as young girls at Mrs. Finch's Ladies Academy, which the film highlights through short flashbacks to their time at the school. Over the years, they've stayed in touch by writing to each other, though Selina's dedicated correspondence is juxtaposed by Julia barely managing to keep her friend in the loop about the going-ons in her life. Nonetheless, the friendship remains strong and Selina is willing to play along with Julia's plan for vengeance.
View this post on Instagram
Mr. Malcolm is established as a meticulous and arrogant bachelor, but as his relations with Selina develop, viewers are given context for his frosty persona. Dirisu and Pinto smoothly develop their romance with the help of long walks, arguments about politics, slow dances, and heartfelt conversations about love and hope.
View this post on Instagram
Whether you are one for romance, period pieces, dramatic scheming, or comedy, "Mr. Malcolm's List" has something to offer all viewers. For the lovers of romance, there is, of course, the development of relations between Mr. Malcom and Selina, as well as, the following between Mr. Malcolm and Julia. And if that wasn't enough, fear not because playful and passionate romances amongst other characters will also develop throughout the course of the film.
For lovers of period pieces, the beautiful sets and outfits will make you feel right at home. From the wallpapers and portraits to the corseted dresses, in-your-face hats, and horses and carriages, you will be easily swept in.
Aimez-vous dramatic scheming? If so, this revenge-driven romance is right up your alley.
And of course, with dramatic scheming comes the buildup of tension and the release of comedy. Although the film's leads are focused on the state of their romance, the supporting cast delivers the perfect comedic relief. Ashton in particular delivers her lines with razor-sharp precision, as do Sianand Gregory and Divian Ladwa who play a maid and footman, respectively.
Above all, regardless of your interests, I believe that all can find pleasure in the beauty and simplicity of seeing black and brown faces falling in love, scheming, arguing and simply living their lives. As familiar as the regency era and romance are, it is unfortunately rare to see folks that aren't white live, yet alone, thrive in these environments.
Important to note, the film is a female-driven project, with women serving as director, producers and writer.
"I can't wait until that doesn't seem like a big deal," Pinto said in an earlier interview. "It should just be organic and normal for women to feel seen and represented in movies, as much behind the camera as in front. We need complexity. We need humor. We need sadness, romance, beauty and ugliness, all of it. We want to be seen in all our colors."
Beyond this, being set in the regency era and filled with drama and comedic quips makes the film one that all audiences can appreciate. As cute and passionate as the romance is, it truly is the irrational outbursts and subtle asides and the comedy that they create that keep viewers wanting more.
Dalton and Malcolm's is a story as old as time with the addition of a list, but the accompanying characters' journeys and commentary, as well as the skin tones of the cast, makes the film feel as fresh as ever. 
"Mr. Malcolm's List" hits theaters in Canada and the USA on July 1st. You can purchase tickets here.
Photo courtesy of Bleecker Street.