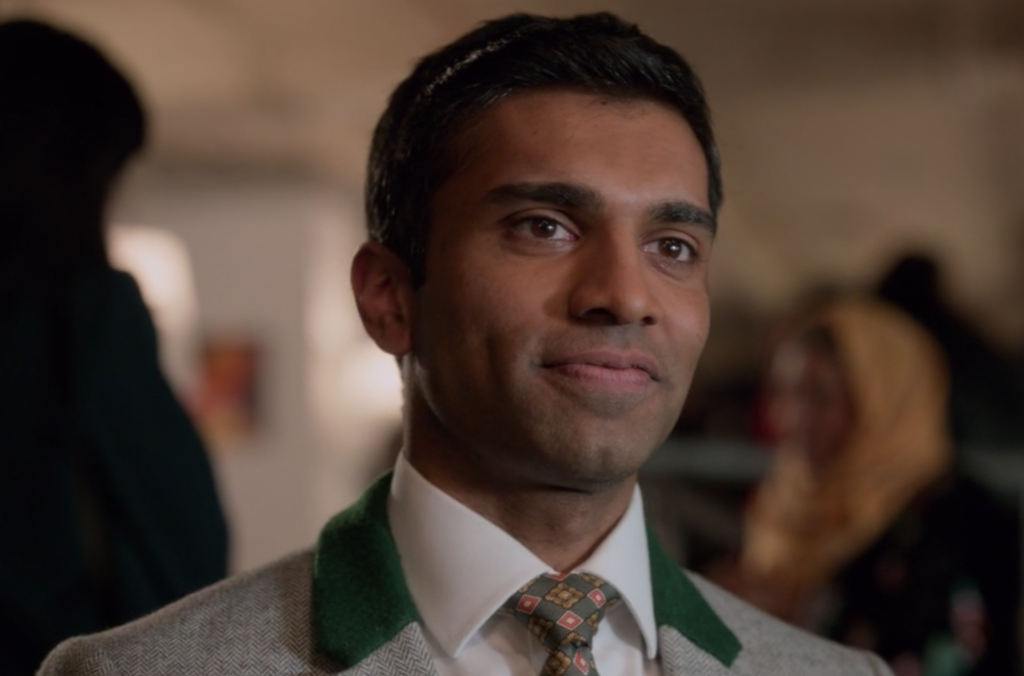 I've never been a fan of romantic comedies, but the 1994 British rom-com, "Four Weddings and a Funeral" is no doubt a classic, even for cynics like me (Young Hugh Grant, enough said). When I heard that Mindy Kaling and Matt Warburton were adapting the classic film into a mini-series, I was suspicious. Hollywood has caught the nostalgia bug and sometimes it just doesn't work (the live-action "Lion King" was a little weird, y'all). But I have to admit, the new adaptation has quickly become a routine Wednesday guilty pleasure. If you haven't seen it and need a reason to see it? Two words: Nikesh Patel.
Nikesh Patel plays Kash, a successful banker who wants to be an actor but has lost himself through the process of being the perfect son and partner. Without giving too much away, the family dynamic between Kash, his little brother (played by soon-to-be superstar Krrish Patel), and father (Harish Patel) is unique to television and really resonated with my South Asian ass — it's that perpetual struggle between figuring out what you were molded into and what you were destined to become.
I had the opportunity to speak with Nikesh about his role, the industry… and the need for brown people in sci-fi?
https://www.youtube.com/watch?v=604JeF9RNu8
Do you have an opinion on what it means to take on roles like a "Dan" vs. an "Aafrin"? Are there any benefits to doing roles that aren't necessarily culturally specific?
I feel like when I was starting out, there was just this hunger to work. 'Bedlam' was great when it came along and the storyline wasn't about my ethnicity, which was also great. I'm interested in my culture and heritage, and I'm thankful to continue learning about it. But also, I don't wake up every morning and remind myself 'Hey you're Asian, now go out and have a really Asian day.'
What excited you about Kash?
Sometimes when you're looking at scripts, writers can hammer race too hard and forget that we're human beings and our culture, and our identity can inform what we do but is rarely the be-all and end-all certainly in a modern context. So I think that was really what was exciting about Kash. It felt like there was a lightness of touch with it and an approach to culture, to being Muslim, to being a brown man in a multicultural city like London that felt very relatable. And I think humor is a really big part of that. He's a three-dimensional human being.
https://www.instagram.com/p/Bz6JIWlJj5E/
Nikesh brought up an interesting point about race in Hollywood. South Asian actors who grew up in the Western world don't wake up and throw on a sari ready to spread the word of Ganesh. They want to be known for their craft which at times can be informed by identity, but like Nikesh said, isn't the end all be all. We then digressed into a rant about how we need more brown people at the forefront of science-fiction…
Listen, brown nerds need to have their moment! I'm telling you.
You and me we're gonna make a brown sci-fi show!
Yes! I was talking the other day about the fact that there seems to be an untapped, very passionate 'Buffy' fanbase. I mean brown 'Buffy' fandom, let's make that show.
"Brown Buffy," co-starring Nikesh Patel, and produced by Nikitha Menon. Coming to a theater or TV screen near you.
It's interesting having done a bit of press recently and fielding a lot of questions of 'what led you to doing what you're doing now and what motivates you.' What's exciting is to step into stories of all kinds, and I think what you've touched on is that brown people have a lot of reference points, and it's not always about culture clash or a relationship with the Motherland. Not to dismiss those stories, but as an actor when that's all you're given to play with it's like what about that fact that I'm obsessed with sci-fi or pop culture?

I think now there is a bit of a seat change happening and I look at 'Get Out,' which is unapologetically a really good horror film that happens to deal with stuff that's really meaty subject matter. And I think similarly with 'Atlanta,' Donald Glover's elevator pitch was that it's 'Twin Peaks' with rappers, but just the fact that we've moved from black actors only playing thugs or being bound into stories about slavery. There's a similar narrative for me in terms of 'okay what are the new stories that I wanna tell'?
https://www.instagram.com/p/B0oosaWFrAJ/
That's why I think Kash is kind of a game changer for how first generation South Asians are portrayed on TV. I'm really gunning for a spinoff show about Kash's family. You in?
Listen, I'm there! I love those guys. But also, what really struck me when I read the pilot was, 'oh this family, they're everyone's family.' They're relatable in a way I was like 'oh man, I didn't know I was missing this until it was put in front of me.' It's not a family that's defined by a bunch of story lines that everyone can't relate to. The Khan family felt like a British family, which is what I think is very beautiful. And people watch that and think, 'well I have an overbearing dad' — you don't need to be Pakistani to understand that. Or the tussles that happen between a father and two sons. So yeah, I'd be ready for that spinoff.

That writer's room was such a good mix of experienced talent and up-and-coming writers — very diverse. And you feel it when you read the scripts. But another reason I'm proud of it is that it feels like in this very sort of aspirational rom-com setting, it's a really nice depiction of my home city that I've not seen before.
What is your favorite first generation Desi portrayal on TV?
Parminder Nagra as Jess in 'Bend It Like Beckham' was iconic. I really like Riz [Ahmed] in 'Shifty.' Again shining a light on a character who's a fully formed human being who goes down this path, which is really informed by his ethnicity but grounded in his terrific performance. I'd also pick Guz Khan in 'Man Like Mobeen.' And Himesh Patel who is a complete rockstar in 'Yesterday.' Hopefully we're at a point where that list is just getting longer and longer.
https://www.instagram.com/p/BxOFSUUh0OQ/
What's one thing that U.S. audiences should know about you?
I'm a massive nerd.
Okay, but there's a difference between "nerd" and "dork," and there are different sects within "nerd". So what are you a nerd about?
Oh, you're right. This might get slightly lost on me as a Brit, but we're talking like big glasses, mustache when I was 10, played loads of 'Warhammer', and read loads of comics.
So, what do we want? A spinoff show (half-hour, please) about Kash and his family. When do we want it? Ummm, how about yesterday? Check out Hulu's "Four Weddings and a Funeral." It's the show you'll hate yourself for loving… and I'm kinda okay with that.