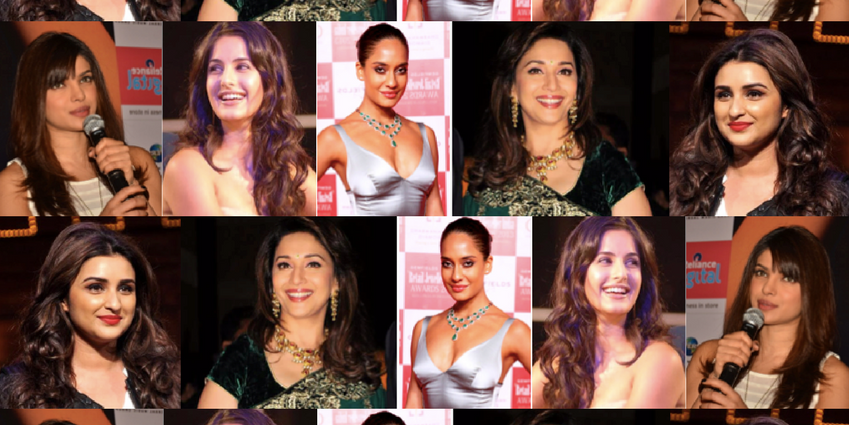 A disturbing trend has manifested upon our ideological shores. As of late, many influential women have, increasingly, vocally distanced themselves from the feminist movement, proclaiming that they are not feminists and/or don't believe in feminism.
In the same breath, many of these women have also voiced that they do believe in equal rights, opportunities, and treatment between the genders—beliefs that describe the very substance of the feminist movement and its goals. Despite subscribing to all the beliefs that constitute the feminist ideology, many women, nonetheless, very publicly insist that they are not feminists. In the Bollywood industry alone, there is a lengthy roster of actresses who have outwardly represented that they do not identify as feminists—and their reasoning for why is quite confusing.
Last Fall, Parineeti Chopra explained in an interview that she is proud of her gender and that she advocates against gender inequality, but she does not want to be called a feminist. Instead, she would like to be known as a role model for young girls, rather than be grouped into the feminist movement. At the 14th International Indian Film Academy, the iconic Madhuri Dixit said that she did not identify as a feminist, but believed that women should be independent and strong.
Priyanka Chopra similarly expressed in 2015 that she does not identify as a feminist. When asked whether she considered her American television series "Quantico" to be a feminist show because of its wealth of strong female characters, she proffered that she "[doesn't] think it's a bra burning feminist show where you're like, we hate men…[but] it gives females an opportunity to be equal with the boys."
If this mischaracterization of a movement that seeks to facilitate equality of the genders hurts your brain, buckle up, because there's so much more ahead.
During an interview with Vogue in 2015, Katrina Kaif took a clearly feminist stance and then went on to deny being a feminist. She fumed, in response to rumors that she was dating Ranbir Kapoor, saying:
"I don't think I am [a] feminist but I don't think an actress should be made to speak about the men in her life when there is so much more to her and what she has achieved. We need to respect that."
She essentially put it on the record that she believes in the feminist ideal of a woman's independent self-worth, but that she does not identify as a feminist.
In a 2016 Times of India interview, Lisa Haydon went the furthest when she characterized feminism as an overused term that she simply did not like:
"I don't like the word feminist. I don't think women trying to be men is feminism. I also don't believe in being outspoken for the sake of it, or just to prove a point. Feminism is just an overused term and people make too much noise about it for no reason. Women have been given these bodies to produce children, and the spirit and tenderness to take care of people around us. It's fine to be an outspoken and working woman. I don't want to be a man. One day I look forward to making dinner for my husband and children. I don't want to be a career feminist."
Because if you make dinner for your husband and children, you're not a feminist, as per Lisa Haydon.
To shift our geographic focus to the United States for a bit, in a recent post on her blog, Kim Kardashian controversially announced that, while there are definitely feminist characteristics about her, she does not want to be labeled a feminist, as she believes that "no one should feel pressured to be labeled as anything just because they believe in certain things and support certain values or ideals." 
The only logical conclusion that can possibly be drawn from the phenomenon of so many women believing in feminism but not identifying as feminists is that, somewhere along the line, the term "feminist" has become polluted by half-truths and harmful generalizations. It has become a label that more and more women are ashamed to don—a label that women like Kim Kardashian find stifling rather than liberating.
To be sure, feminism is not conclusively a movement that necessitates bra burning and the hatred of men. Feminism, like most ideologies, does not emerge monolithically in its varied range of manifestations. There are a number of movements that fall under the umbrella of feminism. The single, definite thing all of these approaches have in common, however, is the pursuit of actualizing the belief that "men and women should have equal rights and opportunities," as per Merriam-Webster's definition.
According to this definition, all the femme icons described above, whether they like it or not, are, in fact, feminists. Their belief in equality of the genders renders them as such, even if they do not agree with certain movements that have been established in this pursuit. Their denial is the logical equivalent of not eating food containing meat, fish, eggs, or dairy products, yet insisting on not being characterized as a vegan. It is the denial of a basic ideological classification.
Feminism does not conclusively equate to throwing away lingerie, hissing at men, and growing out one's leg hair. There are feminists who express their perception of female liberation by these means, but that does not mean that feminism is limited to these expressions.
Somehow, one end of the feminist spectrum has been sensationalized to be the conclusive face of the movement thus eclipsing the many other legitimate forms of feminist expression that exist. It is this shadow of the misconception that has led so many women to believe that they do not belong to an ideology to which they clearly subscribe and in which they surely support.
Ali Bhatt's understanding of what constitutes a feminist perfectly exemplifies how the label is so often misunderstood as attached to a single manifestation of the ideology. 
In her September 2016 interview with Cosmopolitan, she proclaimed she was not a feminist—and her fans took to the Twittersphere to let her know that they were not having it. In response, Alia clarified what she meant when she said that she was not a feminist, by citing to what she actually said in her Cosmopolitan interview:
"Any woman that feels like a man is getting more rights than her jumps up and says 'I'm a feminist.' But a real feminist is someone who takes up a cause for other women–whether it's education, employment, or helping out rape and molestation victims. I think unless you've chosen that path, you can't call yourself one."
Clearly, the concepts of ideology and execution have been confused here. Believing in feminism and devoting your life to feminist causes are distinct—the former is an ideology that supports the latter. This is the kind of confusion that likely has led the likes of Lisa Haydon to believe that one cannot be a caregiver and a feminist at the same time; that somehow the only "real" kind of feminist is the "career feminist."
On a high note, Kajol, who is not known as one to mince her words and has repeatedly asserted her stance as a feminist, reaffirmed her identification with the movement during promotions for Ajay Devgan's recently produced film, "Parched." When asked whether she identifies as a feminist, she answered with a solid, "Definitely!" and expressed her hopes that the upcoming film, which highlights the plights of four village women, will serve as inspiration for women in terms of facing problems that seem insurmountable.
Finally—a public response that is not cringe-inducing.
While unaware feminists continue to publicly disclaim their ties to a movement that represents the beliefs they espouse, feminism will continue to be perceptually fragmented despite its unifying goals. Tragically, these simple (and not so simple) misconceptions have far-reaching effects that result in the division of women with respect to how they choose to express the shared belief that they deserve to be free and equal. The misconceptions described herein represent just a fraction of the ways feminism has been distorted and defaced into something it is not—just a slice of the many ways our path to social liberation has been mischaracterized to be a controversial path leading elsewhere.
---
Elizabeth Jaikaran is a freelance writer based in New York. She graduated from The City College of New York with her B.A. in 2012, and from New York University School of Law in 2016. She is interested in theories of gender politics and enjoys exploring the intersection of international law and social consciousness. When she's not writing, she enjoys celebrating small joys with her friends and binge watching juicy serial dramas with her husband. Her first book, "Trauma," will be published by Shanti Arts in 2017.