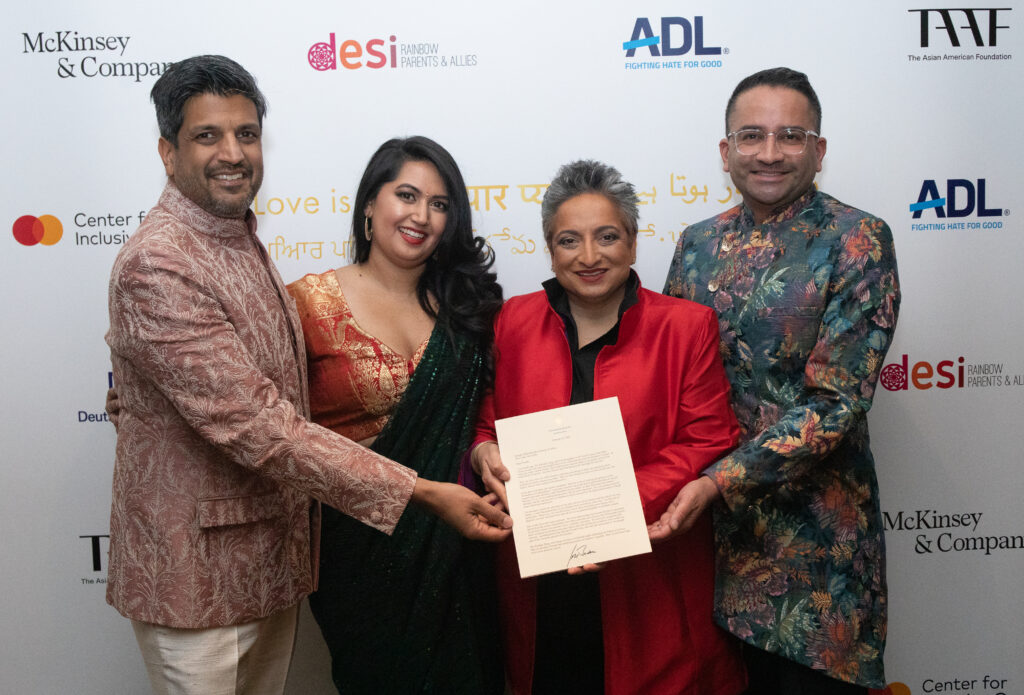 An exclusive standing-room-only crowd, dressed in dazzling colors and shimmer, packed SONA — an upscale South Asian restaurant in Manhattan — in February to celebrate queer love and allyship in the desi community.
The event, 'Pyar is Pyar' (which translates to "Love is Love"), recognized the landmark bipartisan legislation that President Biden signed into law in December: the Respect for Marriage Act. The event raised $168,000 to support Desi Rainbow Parents & Allies, an international nonprofit that provides peer support and resources to LGBTQ+ South Asians and their families.
Maneesh Goyal, founder and partner of SONA, organized the event with Shamina Singh, the founder and president of Mastercard's Center for Inclusive Growth. Both Goyal and Singh are openly queer South Asian leaders and thanked the crowd that evening for their support of other LGBTQ+ desis.
View this post on Instagram
Opal Vadhan and Gautam Raghavan from the Biden/Harris Administration read a letter from President Biden to commemorate the event.
"Jill and I — and Kamala and Doug — hope you have a wonderful night celebrating our nation at our best," Biden wrote. "May we all carry forth that American promise of freedom together. May we also know that love is love — and pyar is pyar."
"The work that you do to become visible and powerful, to form narratives, to change minds, and to make people feel something about a cause for equality — that is incredibly important," Raghavan added, before introducing Vaibhav Jain and Parag Mehta, a same-sex Indian couple that got married in 2019 in Texas.
Jain and Mehta are leading a legal effort to bring marriage equality to India, taking them to the country's Supreme Court. The couple was denied recognition of their marriage in 2020, despite the country's Foreign Marriage Act that allows the marriage of Indian citizens abroad to be recognized.
"They denied us because we are a same-sex couple," said Jain, who grew up in New Delhi. "This is a violation of the Indian constitution, which prohibits discrimination on the basis of sex; so we filed suit."
View this post on Instagram
"Parag and I are hopeful for a positive verdict. If our case wins, it would bring marriage equality to nearly 1.4 billion people across India," he continued. "Just to put that in perspective, the total number of people today who live in a country with marriage equality is about 1.4 billion. That means our cases together could double the global population of places who live in a place with marriage equality."
"We need a mechanism to help build allies in our community and to help provide the support that LGBTQ people need," Mehta added, encouraging people to donate to Desi Rainbow.
Rayman Kaur Mathoda, Desi Rainbow's board chair, challenged allies to put their dollars behind their vocal support. Her family announced a $50,000 donation to the organization's ongoing work.
Founded and led by Aruna Rao, a straight cisgender mother of a transgender adult, the nonprofit has served more than 2,000 LGBTQ+ South Asians and their families since 2020. The goal is to serve 10,000 in three years; a million in the next 10 years.
Mathoda, a wife and mother of four, recalled how painful the lack of family and community support can be.
"For most of us who come out in the desi community…coming out is still a negative experience," she said. "It is not a moment of pride. It is a moment of shame."
Mathoda thanked all allies in particular for making the road easier for queer South Asians. To find the love and acceptance they want and need. 
"Your coming out in support of us is the pivotal shift that we need to change attitudes in our community," she said.
Among the South Asian queer leaders and allies in attendance were actors Kal Penn and Sarita Choudhury, activist Alok Vaid-Menon, and the legendary DJ Rekha.
To learn more about Desi Rainbow, visit their website. 
Photo Courtesy of Lara Tedesco-Barker