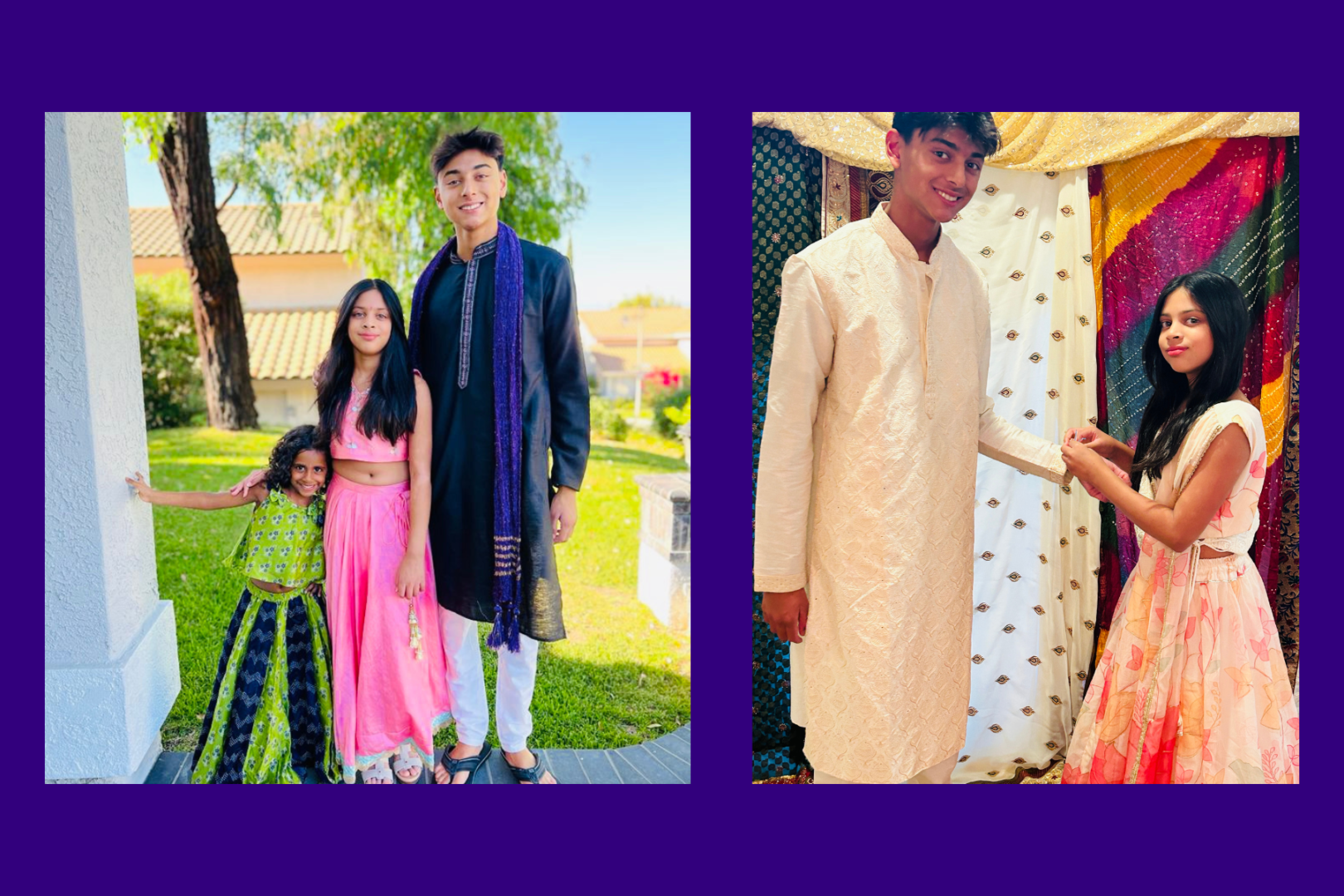 Culture, in the broadest sense, is a shared set of norms, values and beliefs. We pass down our culture to our children based on our own lived experiences, and what we believe in. The decisions we make for our families reflect the values that we want to prioritize. We also hope that our children will want to pass them down to their own children.
As parents, it's important to reflect on our cultural values: Where did they come from? Why do we believe in them today? Also, what values seem outdated or irrelevant in modern times and for our own children? By reflecting on these, parents will consciously be aware of the values that they believe are relevant, meaningful, and important to articulate to their children before they leave the nest and fly off into the world.
Our South Asian-American culture is constantly shifting and adapting to reflect changes of the modern times. Today, we are continuing to hold on to the celebrations that bring us the most joy and meaning in our lives. For example, I am attending a family wedding, this October, where the bride is Gujarati and the groom is Tamilian. They have decided to have a Sangeet which is traditionally a Punjabi custom, but they wanted to celebrate both cultures in this new way with their families because they both love music and dancing to Bollywood songs. They are also honoring their individual cultures during the ceremony by having a mangalsutra (the most important piece of the Tamilian ceremony) and the sindoor (the most important part of the Gujarati ceremony).
As we approach Rakhi this year, I think back to how I used to celebrate Bhai Phota, which is a Bengali version of Rakhi celebrated during Diwali. Today, I have chosen to celebrate Rakhi with my brother and with my Bengali-Gujrati family as a separate celebration, that takes place in August, because this way we can spend more quality time celebrating this sibling bond.
Post-colonial theorist Homi Bhabha puts forth how when cultures mix together, we often open up a hybrid, third space, which forms new ways of being and living in the world. This idea of hybridity acknowledges the space in-between cultures which is filled with contradictions and indeterminate spaces. By negotiating between these differences, we are able to create new forms of culture and identity.
"hybridity… is the 'third space' which enables other positions to emerge." – Homi Bhabha
Today, South Asian American children are forming new ways of connecting to their cultural identities. This summer, I launched my new children's book, Shanti and The Knot of Protection: A Rakhi Story, to provide more context to children about the historical origins of Rakhi, while also capturing the new and unique ways Rakhi is being celebrated in contemporary times. In contemporary times, we don't just celebrate with our immediate siblings, but also with our network of family and friends that we have created in our communities.
View this post on Instagram
We celebrate individuals in our lives (boys or girls) who provide us with a sense of protection and security. This could mean siblings that are both girls, siblings that are both boys, only children, or children who identify as LGBTQIA+ and don't identify with traditional gender norms. I wanted this story to highlight images of inclusivity and to represent and validate the experiences of all children who are celebrating this festival in the modern day and age. Through this story, children learn the importance of creating a community and feeling secure with not just their siblings but with their friends and other caring adults.
Shanti and the Knot of Protection also helps parents open up the conversation about what values they want their children to prioritize in our post-pandemic world and how to live a balanced life. In this story, Shanti's parents die and she decides to rule her queendom based on the four values that her parents taught her: strength, curiosity, community, and security. In addition to highlighting the importance of relationships, this book also highlights the importance of balancing one's life with the four domains of well-being: physical domain (strength), cognitive domain (curiosity), social domain (community), and emotional domain (security). These domains are all connected to one another and influence our overall well-being and happiness in life.
As parents, we want to be the North Star for our children and provide them with an inner compass to know what values are important and why. We also want them to know how to be resilient during difficult times. As Ann Landers states, "It's not what you do for your children, but what you have taught them to do for themselves that will make them successful human beings." Through this story, I hope parents can have important conversations with their children about prioritizing values that will contribute to their overall well-being, happiness, and resilience in their lives.
Feature Image courtesy: Dr. Amita Roy Shah