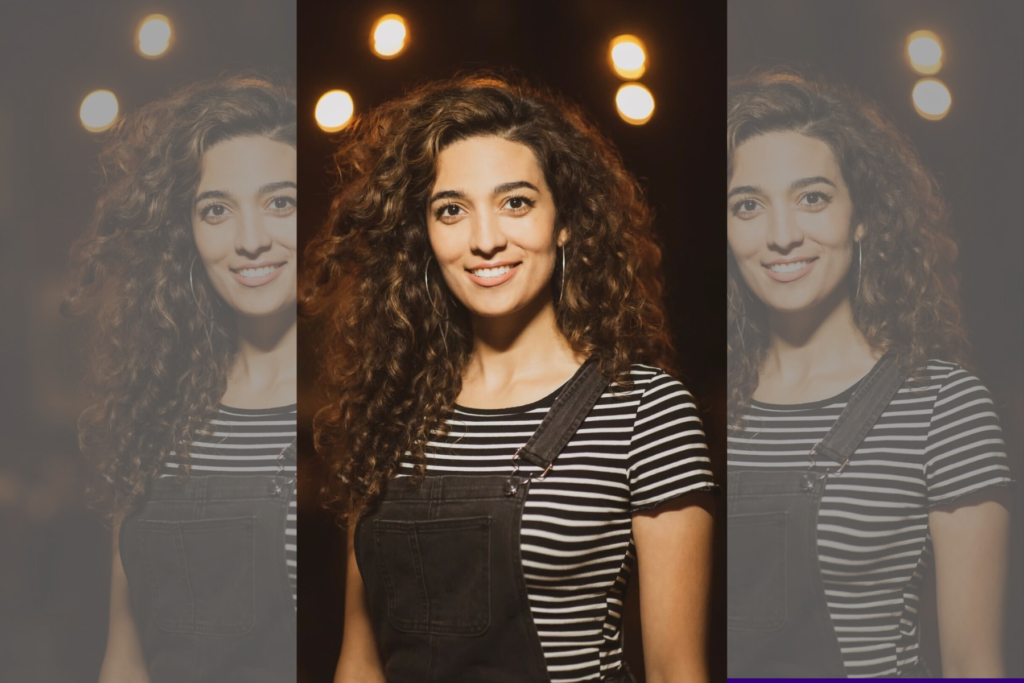 Sabeen Sadiq is a New York City-based Pakistani-American Muslim comedian, actress, and writer who recently opened for Hasan Minhaj. She hosts the No-Fly List podcast, and can be seen as the lead in the digital series Code Switched, which was recognized as one of Chicago Reader's 'Web Series to Watch in 2018.' 
Sabeen's passion for comedy began at a young age. In high school, she proudly identified as a fan of standup: After school, she would google "funniest stand-up comedians" and rewatch the clips over and over again.
"I was kind of a loner in my own way and wanted something to make me happy. Watching standup made me very happy," she explained.
Her personal favorite was Dave Chappelle's hour-long comedy special "Killing Them Softly," which she nearly memorized. In 2005, she discovered the "Axis of Evil Comedy Tour" which featured four Middle Eastern comedians and special guest comedians. The tour's name was inspired by former U.S. President George W. Bush's 2002 state of the union address that referred to Iraq, Iran, and North Korea as the "axis of evil." Sadiq was inspired by the way the group found community and relief by joking about the way their lives changed after 9/11. As a high schooler, she would often quote the "Axis of Evil" and at parties, her parents encouraged her to re-tell the jokes to unimpressed uncles and aunties.
View this post on Instagram
By 24, Sadiq had worked a variety of jobs ranging from a makeup artist to a real estate broker.  Still, something was missing:
"I never felt like I had a calling. I didn't feel motivated," she shared. 
To fill this void, she started taking improv classes at Second City Theater in Chicago. After every class, Sadiq noticed that she always left in good spirits, looking forward to the next class. However, although she enjoyed the classes, she realized that she would benefit more from an individualistic performing experience. Invigorated by the excitement of her improv class experience, Sadiq decided to perform at an open mic. In preparation, she wrote down a few bullet points of things she thought were funny, "including a joke about how I wish Morgan Freeman narrated my inner thoughts," she adds. When she got off stage, she felt relieved and exhilarated. When she asked a friend in attendance how she did, he said she did "okay." That was all she needed. Sadiq spent the next year getting comfortable on stage. She took every and any opportunity to perform all over Chicago, perfected her jokes, and in the process, built her confidence. Most importantly, however, she developed self-awareness, which she describes as the key to being a comedian.
"Knowing when you bomb a set is key because that's the only way you get better."
How Culture and Comedy Intersect for Sabeen
Sadiq describes her comedy as "whimsically honest" and even "I didn't think she'd talk about that" with topics ranging from her Muslim upbringing and dysfunctional family to "being related to white people." Sadiq feels most comfortable joking about her family because it helps her connect with people. "Regardless of one's culture and background, we all have crazy families," she jokes. When Sadiq first started frequenting open mics, she felt out of place.
"Sometimes comedy can be daunting because it's a boys' club. When you pull up to an open mic, you see all these dudes who are friends hanging out and having drinks together, and you wonder if you belong."
Over time, however, she swears that it gets better.
"Going into comedy, I prepared myself to be alone. But when I met more women in these spaces, they became my favorite people."
When she decided to pursue comedy full-time and shared this with her parents, they had mixed reactions. Her mother, who Sadiq describes as "very religious and cultural" never held her to sexist standards or stereotypes.
"She was very supportive and said I could do whatever I wanted as long as I was being a good Muslim."
Her father, on the other hand, supported comedy as a hobby but wanted her to continue working in Real Estate because he wanted her to be financially secure. At this point, Sadiq was living in her parents' home, nannying full time, and doing stand-up in the evening. "We fought about it a lot, and I decided to be upfront about it when I started making money." Although her father is still confused because he's still getting used to the idea of a Female Muslim comedian, Sadiq has gained his support.
Sadiq identifies as Muslim. When asked if she ever had to compromise on her values during her comedic journey, she shares that her comedic journey was shaped by her values. She also emphasizes the important role religion played in shaping her identity as a comedian. "Growing up, I had a beautiful experience with religion. I always thought of God as loving — my mom instilled this strong spiritual bond early on in my life. Whenever things got hard, I always knew I could turn to God." Through her comedic journey, Sadiq makes it a point to speak about her culture and religion.
"A lot of my material focuses on this idea that I'm a Muslim who does American stuff and that I'm an American who does Muslim stuff. These identities co-exist."
In her comedy, she makes it a point not to focus on relating to others. Instead, she wants to share her story and if people just laugh at it together, that connection is enough. Sadiq shares that she is very protective of Islam and is cognizant about the way she discusses it because she doesn't want the joke to be about her cultural or religious background, especially given the fact that most open-mic audiences are predominantly white.
Sadiq's Advice for Rising and Aspiring Artists
Sadiq's advice to any aspiring comedian is to "just start, and keep going." She emphasizes that all it takes is one set and a lot of consistency to get your comedy career in motion.
"Write a set, run it by friends, and keep writing. Record yourself during a set to see what gets the most laughs, and build from there. Just get started."
Sadiq also stresses the importance of gratitude through her grueling journey. She is thankful for those who have reached out over social media to share that they appreciate her work. Sadiq loves hearing others' stories and is constantly inspired by all the support she gets from people all over the world.
"It's really motivating to me," she chimes, smiling.
It's been seven years since Sadiq reluctantly performed her first set. Since then, she has been featured in Kohl's and Autozone ads nationally toured with PennyAppeal's "Wallah She's Funny," and performed at multiple comedy festivals and colleges nationwide. Currently, she hosts "Gut Feeling," a live stand-up comedy and storytelling show featuring all types of comedic acts, alongside Atheer Yacoub at Union Hall in Brooklyn, NY.
View this post on Instagram
Additionally, she hosts the "No Fly List" podcast where she and comedian Atheer Yacoub talk to "America's least favorite minorities about what it's like to be profiled, detained and stereotyped." Sadiq is on a roll, with no plans to quit anytime soon. 
The best place to follow her is on Instagram and if you want to see a list of updated shows or reach out to her, check out sabeensadiq.com.