I hope that Leila's story will resonate with readers and show them that there are multiple ways to live happily and successfully, and it's up to us to define what those terms should look like." — Zara Raheem
Brown Girl Magazine chatted with Zara Raheem, author of "The Marriage Clock," about her novel, thoughts on South Asian representation in Western literature, and advice for young writers. Check out the interview below to get into the mind of an author.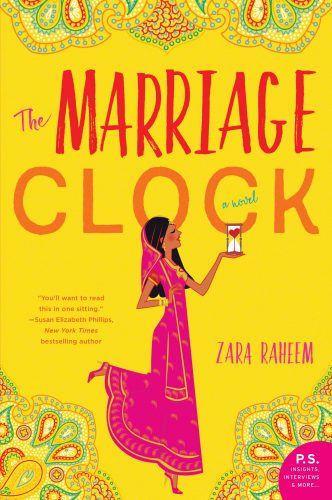 Can you tell us about the journey that led to you writing "The Marriage Clock," what inspired you?
The idea for the novel came to me while I was going through the arranged marriage process myself. Although the idea of arrangement has been explored more recently in TV shows and movies, we don't typically get to see this experience exclusively from the South Asian female perspective," Raheem said to Brown Girl Magazine. "Therefore, I wanted to write a story that would not only capture the challenges and frustrations that so many of us face in our search to find love, but also one that would highlight the social and cultural pressures placed, particularly on women, in regard to marriage and children and how these expectations impact our views of self and the choices we make.
What are your thoughts on cultural representation in literature?
As a community, it's obvious that we just don't have the same scale of representation in certain fields as other groups do. I think a primary reason for this is because many young South Asians are often encouraged to pursue careers in engineering, medicine, and other science-related fields and often there isn't the same value placed on the humanities. As a result, there's a huge lack of writers, journalists, artists, etc. who are of South Asian and of Muslim descent.

I feel like there is a shift that is beginning to occur though, and we're seeing more South Asian creatives taking the initiative to help fill in these gaps, especially within the literary industry. The truth is, we need more of our stories out there. We need a broader range of perspectives, so that one book on arranged marriage isn't seen as reflective of every South Asian-American woman's experience. As writers, we need to continue making our voices heard and the only way to do that is by telling our stories, writing our truths, and representing our culture and communities in a way that is honest and authentic to our own experiences.
Do you think that Western publishing companies take our stories seriously? Are they seeing our community's writing as mainstream or is it still considered niche?
I do think there's been a greater focus on representation and inclusivity in recent years, but there is still a lot of progress that needs to be made. Initiatives like the #OwnVoices Movement and organizations like We Need Diverse Books are definitely steps in the right direction. Even the success of books/movies like Kevin Kwan's "Crazy Rich Asians" has helped tremendously in creating more awareness on the need for more diverse stories. I strongly believe that as the demand for fresh new voices and perspectives continues to grow, it will become increasingly impossible for the publishing industry to ignore the importance of these stories if they want to appeal more widely to their readers.
View this post on Instagram
Back to The Marriage Clock. What can you tell us about your similarities and differences from the main character Leila? And what about the guys in the novel? Which of them are real and which are a little embellished?
Like Leila, I also grew up in a fairly traditional family and did not really experience 'dating' until I was in my early to mid-twenties. Although I was never given a three-month deadline (thank goodness!), I was admittedly overwhelmed with the arranged process and a bit naïve and unrealistic in my expectations. Over time, however, my experiences have helped me gain a better sense of who I am and what I wanted in life—just as Leila discovers through her own journey. In terms of the dates, I think I'd rather not reveal which ones are real and which ones are fictional for my own best interest! But after spending about four years fully immersed in the arranged process, let's just say I didn't have to look too far for inspiration.
View this post on Instagram
Do you have any advice for brown girls (and boys) facing a similar situation to Leila? Is there an overarching takeaway you want your readers to have when they've completed reading this book?
My advice is to keep doing you. There are always going to be external forces telling us, especially as women, what we should be doing and how we should be living in order to lead a happy and successful life. But in reality, there's not just one path to that outcome. I hope that Leila's story will resonate with readers and show them that there are multiple ways to live happily and successfully, and it's up to us to define what those terms should look like.
What's the next project you're working on? Inquiring minds want to know.
I am currently working on a short story collection that centers around Muslim-American characters, the South Asian diaspora, and first-and-second generation immigrants. For my second novel, I am really inspired by Tania's character and am interested in exploring in more depth the negative stigmas attached to South Asian-American women who have been previously married and divorced. Whether this novel will be a sequel to "The Marriage Clock" or a stand-alone work is yet to be decided, but I'm definitely excited by the many possibilities.