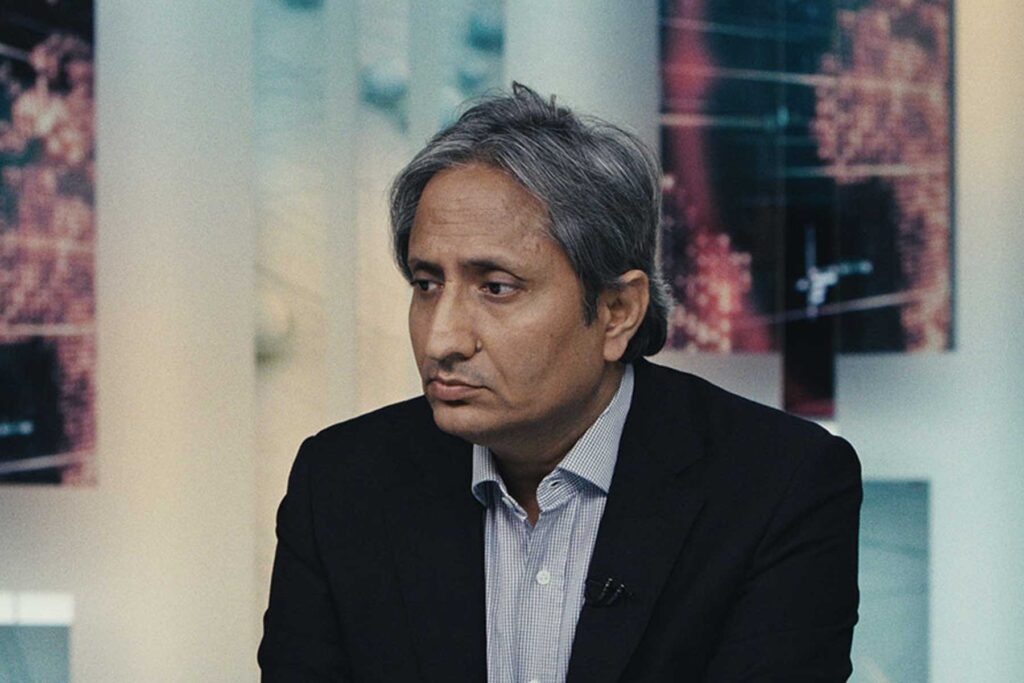 While We Watched — Vinay Shukla's riveting documentary starring veteran media personality, and journalist, Ravish Kumar — opened its screening doors to an international audience at the 47th edition of the Toronto International Film Festival (TIFF). The documentary captures the audience right from the word go, with its raw footage and a close look into Kumar's personal and professional spaces — his home and the NDTV India newsroom.
The documentary won the Amplify Voices Award at TIFF.
What makes this award-winning documentary engrossing to watch? While We Watched invokes realism, frame-after-frame, as Kumar sets out to battle mob channels — other news channels that deliver one-sided, provoking news reports — in a fight to present true narratives and all sides of the story. This fight mainly consists of a controversial paradigm, one that divides India in an unwanted manner; through anti-nationalism.
View this post on Instagram
Not only is Kumar fighting against various news mammoths to stop nationalistic journalism, and discontinue normalizing hate through news, but he also finds himself in a rut when his channel suffers because of his efforts to deliver the truth to his audience — the channel's censorship, and dwindling profits and staff, leave him with limited resources to keep the fight going, but he doesn't back down. Kumar felt that eventually, journalism becomes a "personal responsibility," and so, the show must go on.
Shukla's attempt to broadcast Kumar's integrity, and fight against misinformation, succeeds in this newsroom drama as cameras follow Kumar in his own attempt to restore true journalism. And although the documentary comes to an end after a total runtime of 92 minutes, the efforts to highlight how television media is under threat, continue.
Shukla isn't new to exploring 'systems' through his films. His debut appearance at TIFF featured An Insignificant Man, a non-fiction, political saga based on Arvind Kejriwal.
The matters he brings forward aren't light — politics through An Insignificant Man and now, the narrative of nationalism vs. anti-nationalism in the news via While We Watched. So, evidently, we wanted to know if there was a sense of fear in bringing these subjects to the foreground. In a chat with Brown Girl Magazine, the ace director gave a simple response:
No.
He wanted to shine a light on what journalists have to go through in order to speak the truth. He wanted to salute news reports and the journalists behind the reports, "who pay a cost." This documentary was like his "love letter to journalism."
He said that there was nothing to fear when bringing While We Watched to life, and in turn, he learned something new on set every day. Talking more about shooting the film, Shukla said that they followed Kumar everywhere:
We'd start shooting him as soon as he came into his car to head to work. We'd follow him around the office, move around his office. [In the evening] we'd set up the car again and shoot him on the way home, and sometimes even inside his home.
View this post on Instagram
So, why was Kumar perfect for the role? Shukla pointed out that Kumar has been in the business for decades, seen his fair share of ups and downs, and he is this,
[T]ired hero who was questioning his relevance in this world.
Talking more about Kumar, Shukla mentioned:
Ravish is actually a very funny guy and I wished we could show more of that in the documentary. He actually wrote a review on Enrique Iglesias' most recent song on Facebook and it's hilarious. You guys should go check it out.
He further added that although he tried capturing more of Kumar's humor in the film, it, unfortunately, didn't fit the genre or beat.
Will his next be just as politically charged as An Insignificant Man and While We Watched?
I'm working on a fiction project now. Something not so heavy. I want to venture into something new.
While We Watched continues its journey across the globe at various film festivals, spreading its strong message to audiences one screening at a time. It is screening at IDFA Amsterdam, this week.
Photo Source: Documentary Still/PR