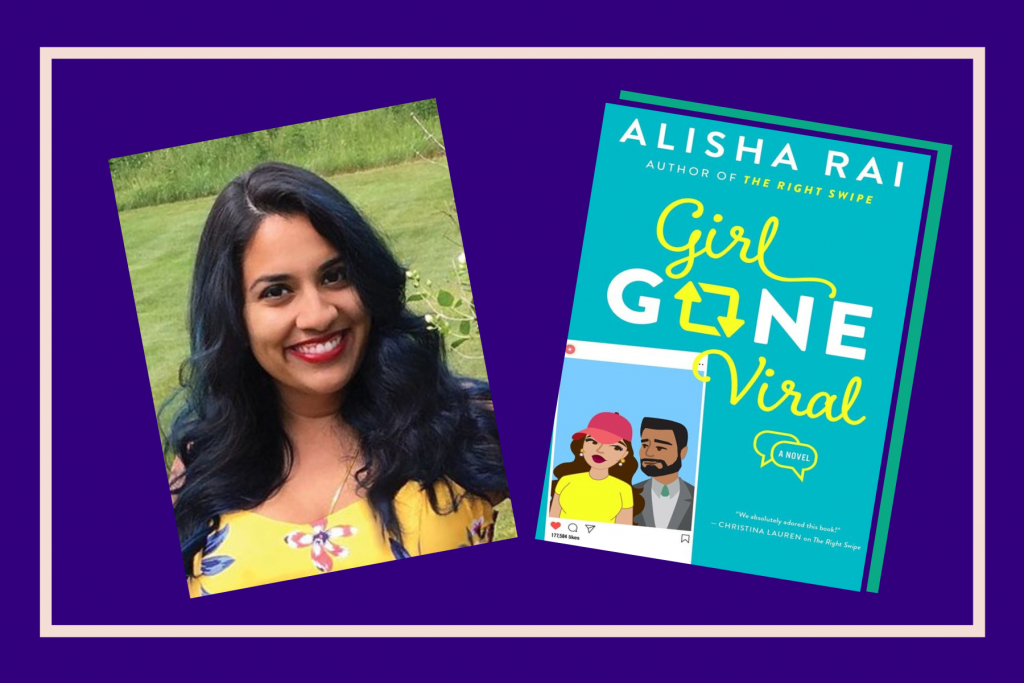 In recent years, desis have dominated the romance genre. With each and every new book, Brown Girl Magazine receives an influx of requests from our readers for us to feature writers. The level and quality of South Asian literary talent continue to be elevated, especially as we fly into a new decade. We recently spoke with Alisha Rai about her new book, "Girl Gone Viral," as well as her influences and her thoughts on romance writing.
Tell us about yourself.
I'm a romance author and attorney who was born in Jersey (woo Garden State!), grew up all over, and call now Los Angeles my home. My latest novel is "Girl Gone Viral," and it's about a girl who goes—wait for it—viral. My books have been named 'best books of the year' by Washington Post, NPR, New York Public Library, Entertainment Weekly, "O" the Oprah Magazine, and Cosmopolitan Magazine. Phew, that's a mouthful! I'm an amateur bartender, an avid apocalypse prepper and a professional cake pop lover.
View this post on Instagram
When did you begin writing?
I published my first book at 26, but the first romance I ever wrote was when I was 12. It was Nancy Drew fan fiction. Sadly, I don't think there's much of a market for that.
Where do you find your story and character inspirations?
I never know how to answer this question! They come in bits and pieces; no one story stems from one inspiration. For example, "Girl Gone Viral"'s rural Northern California setting came from an Eater article I read about a restaurant in the town. Parts of Jas were inspired by the eight million bodyguard trope movies and books I've devoured over the years. Katrina's love of her sourdough starter was inspired by a friend. I think one of the most important things an author can do is just keep their eyes and ears open all the time. You never know where inspiration will strike.
What was the inspiration behind "Girl Gone Viral?" It almost reminds of the plane bae story.
I get inspired by snippets here and there, but no, I don't base anything on real people or events. Having a date live-tweeted has long been a fear of mine, and I've wanted to write about this intersection of social media and consent for a while. I think social media has created a world where we see people as characters for our entertainment, and when we do that, we may not be as careful with them as we'd be with someone we consider real humans. As technology grows and expands, it's important for our society to continue to have conversations about what we owe to each other in terms of privacy and consent and the impact being dragged into the spotlight can have on a person.
View this post on Instagram
In "Girl Gone Viral," there's an underlying theme of privacy, or rather, the invasion of privacy. What are your thoughts on privacy and finding love in the modern age?
As someone who is frighteningly good at finding people on the internet, I was always very careful when using online dating apps. I'd recommend slightly misspelling your name if it's a unique one, avoid using any photos on your profile that you have elsewhere on the internet, not sending anyone nude photos unless you've met their mother. I am pretty in awe of how technology has evolved to meet our romantic needs, but it has some very obvious drawbacks. I think the challenge for everyone is just to balance the benefits while being supremely conscious of its dangers. Just like everything else on the Internet.
You are very adamant about representing different ethnicities and sexual identities through your characters. What are your thoughts on diversity within the romance genre, and novels in general?
I write contemporary novels, so I'd say it's more that I'm adamant about representing the world as it exists. The world I write—replete with incredibly unique people from varied backgrounds—is the world I live in. I've put down books because I feel they've failed on world-building. The last thing I'd want a reader to do is put a book of mine down for a similar reason, because the world just doesn't feel right.
A lot of us at BGM are not educated about the romance writing community. Could you tell us more about the community?
I know a predominant feeling that outsiders to romance have is that our books are simple or easy to write. It is literally far easier for me to read and summarize four hundred pages of regulations than to create a really great four hundred page romance novel out of thin air.

A refrain throughout Girl Gone Viral is "happiness is a radical act." Personally, I think it's harder to write a happy ending than a tragic one, and I think that refrain is part of the reason why. It shouldn't be, but happiness is subversive. It's not the baseline in the world, it's the thing you get in spite of everything and everyone that wants to squish you down.

So I suppose I write romance because for one, I love a good challenge, but two, I think the universe could do with a little more subversive happiness in it.
Let's pivot to the romance genre in general. How it is like being a South Asian romance writer?
We're not rare at all (see, for example, Sonali Dev, Nalini Singh, Nisha Sharma, Suleikha Snyder, Mona Shroff, Farah Heron, Falguni Kothari, Amalie Howard, Sara Desai, Sonya Lalli, and many more!). However, it has historically been difficult for us to be represented in genres where we're allowed to write stories that aren't literary or centered on misery. I think one thing that has made our entry into the contemporary romance market more of a slow trickle has been the tendency by gatekeepers and readers (usually implicitly, but explicitly as well) to "Highlander" us…in other words, assume one or two authors from our background will be enough to represent all of us. That's so silly! There's literally billions of us, this is a huge diaspora with no one dominant narrative. Saying we're all the same, why, that's doing a disservice to the authors and the readers who are blocked from getting those books.

I do see it changing, if slowly. I celebrate every year now when I see another brown woman at an industry party, because that means we're getting past the idea that there can only be one story. I hope it continues, and that readers continue to see and appreciate the diversity within our stories.
View this post on Instagram
Do you feel that writing about love, sexuality, and passion has changed your views of relationships and sex?
Nope. I've always loved to read books that model healthy relationships. I hope my books do the same for my readers so they can go forth and have healthy relationships of their own.
What is your advice to budding South Asian writers?
Make friends. Not to further your career, just to make friends. True friends are invaluable in publishing, especially when you're a marginalized author.
You can purchase "Girl Gone Viral" from HarperCollins. Follow Rai on Twitter and Instagram to keep up with her new releases and quirky life updates.
*This interview has been edited for clarity.